15 Cute and Practical Accessories to Deck out your RV With
RV Owners
Last updated on July 18th, 2022. Originally published on March 8th, 2019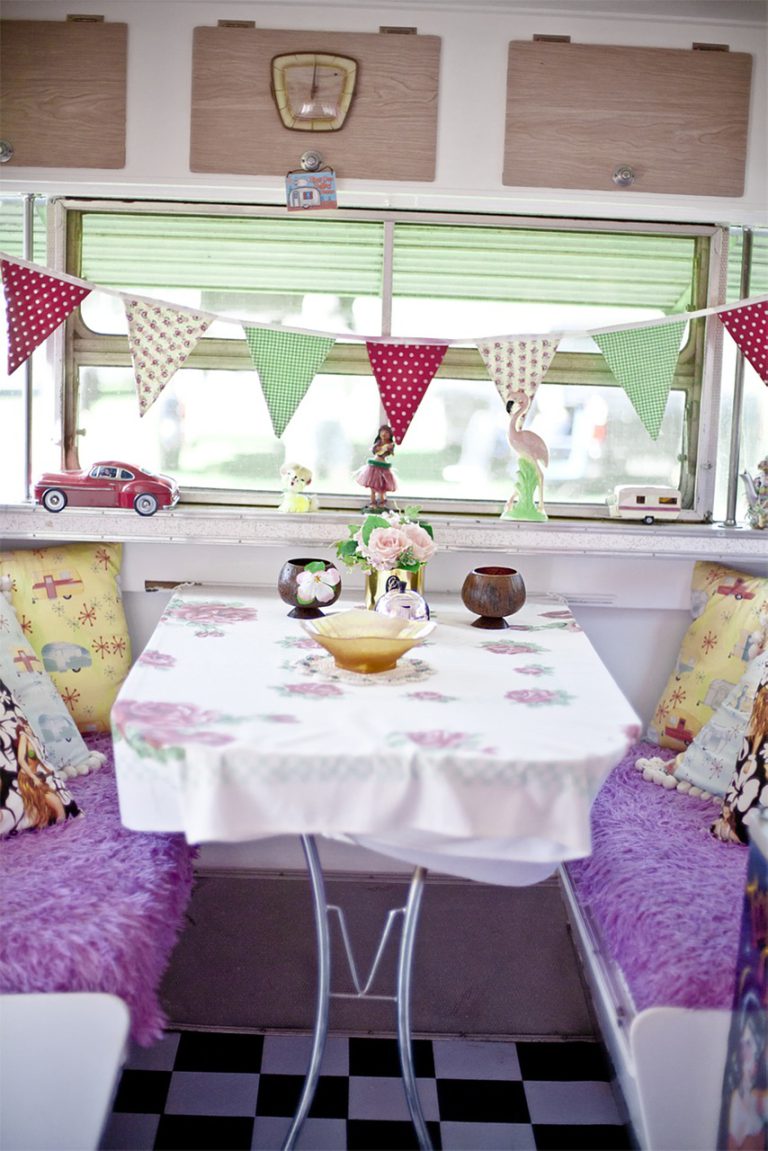 What's the fun in owning an RV if you don't own any fun RV accessories?
Okay, okay, we kid… there's still a whole lot of fun to be had camping, even if you're just in a tent.
But seriously, a huge part of the reason so many of us upgrade to the RVing lifestyle is to, well, upgrade. That means adding in some fun rv accessories, just because.
You already know your RV needs certain fun rv accessories and supplies to be as comfortable and convenient as possible. For instance, nobody wants to adventure in a rig that doesn't have bedsheets or cookware. A comfortable bed and fully-functioning kitchen is part of the point!
But if you're going to travel in style, you might as well really take that "style" thing to the next level. Why not include fun, rv-themed accessories that are both practical and cute?
In this post, we've scoured the web and found 15 adorable and fun RV accessories that serve dual purposes. They make your camping life easier, and they make you smile. What's more, they're universally under $100, meaning you don't have to break the bank to make your camper an even more awesome place to be.
But don't say we didn't warn you — these items are cute, so you're probably going to be reaching for your wallet. The good news is, we chose well-made, high-quality accessories that will bring joy to your camper for years to come, so buyer's remorse is unlikely.
Either way, enough chatter: let's dive in!
Fun RV Accessories
Here are a few of our favorite fun RV camper interior accessories, which are sure to help you make every camping trip just a little bit more memorable.
1. Fun RV-Themed Dinnerware
If you own an RV, you already know you absolutely need to invest in a set of RV-specific dishware. Nobody wants to have to clean out their kitchen cabinets every time you're getting ready to take a vacation.
And since motion is the name of the game when it comes to RV camping, you ideally want a set that's pretty much unbreakable — and ideally dishwasher safe, to boot.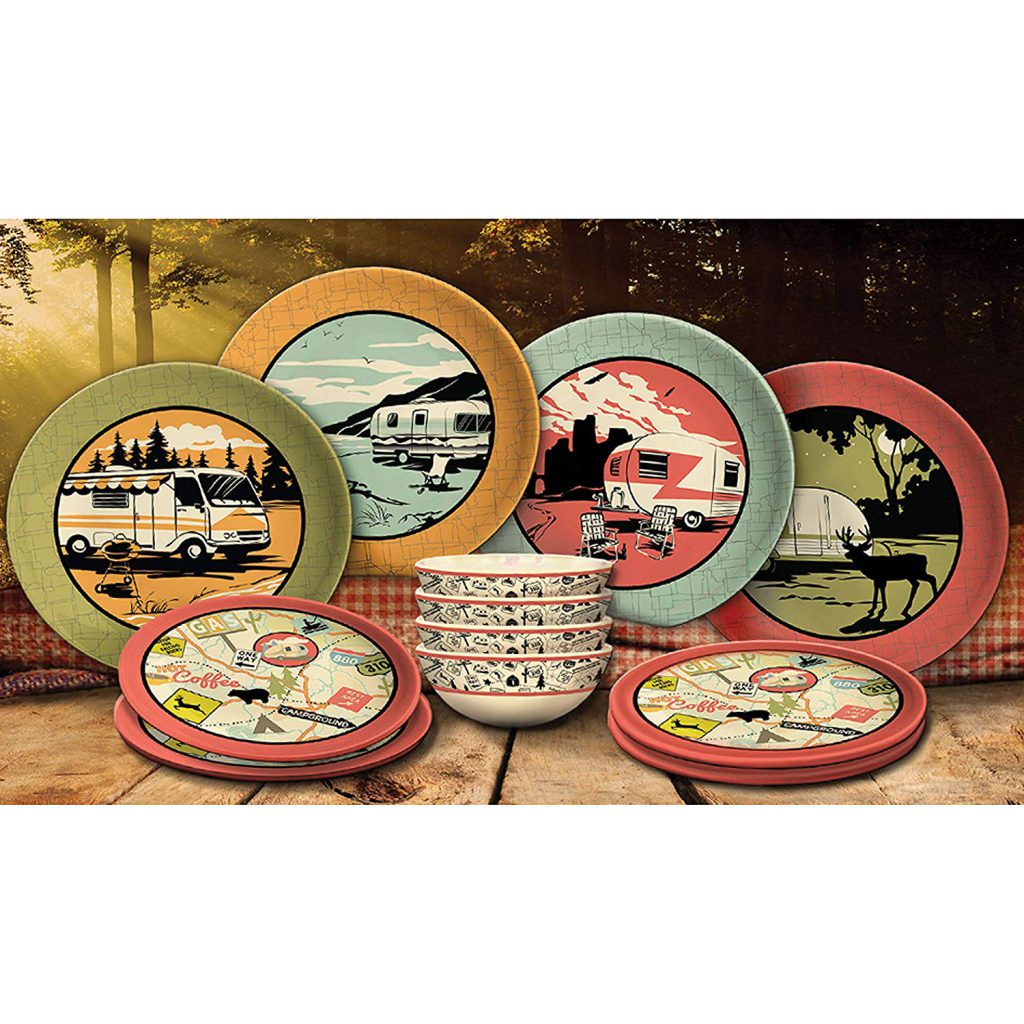 BPA-free Melamine is the just such a magical compound, and what's more, it's pretty darn cheap. You can get a whole 12-piece set for less than $50, and that includes dinner plates, salad plates, and bowls for four people.
We especially love this camping-themed version, with images of RVs, maps, and wildernesses adorning each dish. After all, what else are mealtimes but fueling sessions for more exploration? Might as well keep it on theme!
2. Camping Coasters
You paid good money for your rig (or your rental). You want to keep those finished surfaces shiny and glass-ring-free. So coasters are non-negotiable… but what is negotiable is which set you decide to settle on.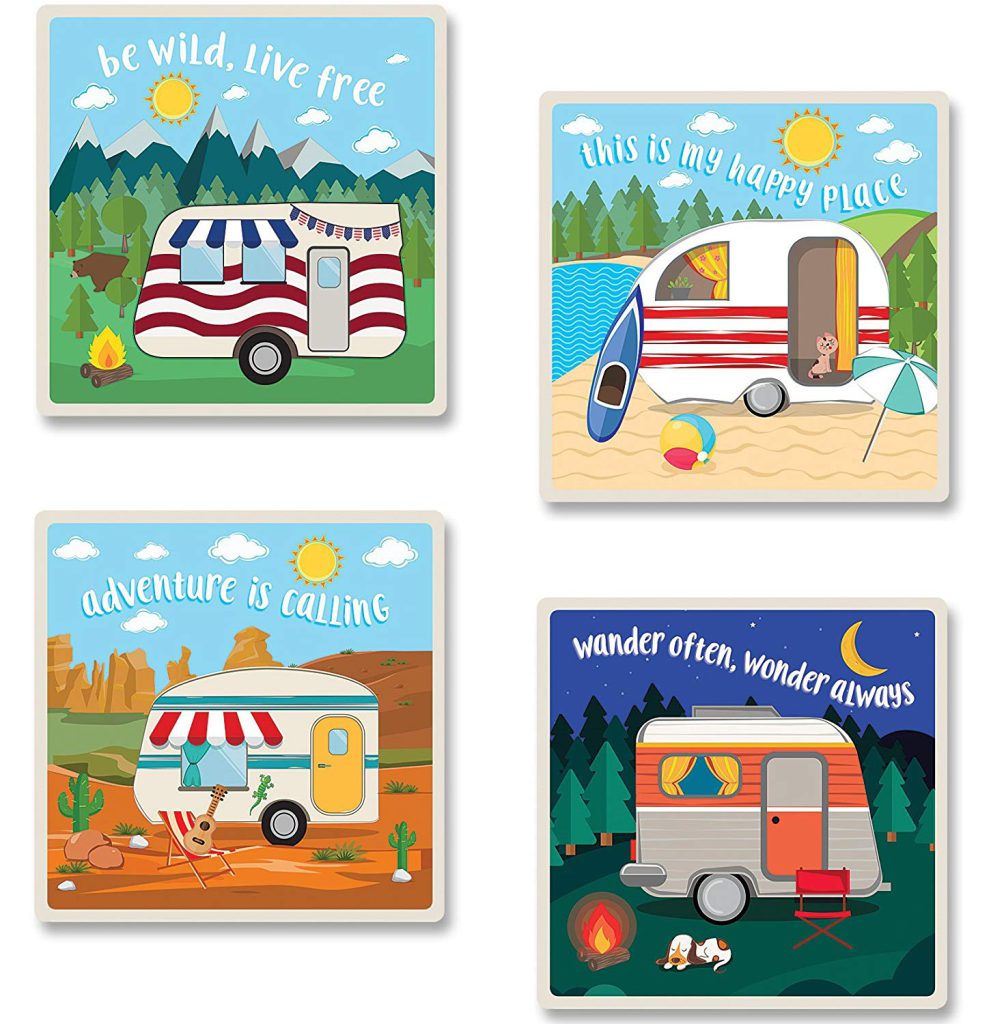 We love this set of four RV-themed coasters. Each features an image of a travel trailer in a different scenic camping location. For example, tucked by the beach with a parasol set out and a surfboard ready to go.  Enjoying a sleepy night by the side of the campfire. Taking in the mountain views in America's bear country or camped out in a cactus-strewn desert with a guitar to serenade the neighbors. They're all trips we want to take, like, yesterday. (Who knew the same stuff that protects your countertops could also be used to help you brainstorm your next RV adventure — and all for less than $20?)
3. RV-Themed Cocktail Napkins
You know how it is when you're the master of the grill. Everyone in the campground wants a bite. Who could blame them? But lots of guests usually mean at least a little bit of a mess, which means you're going to need some napkins.
So why not make the event a little bit cheerier with these "happy camper" cocktail napkins? Yes, they're a bit more expensive than plain, white fare… but we all know your amazing barbecue dishes are totally worth it. (Psst: still working on that whole "grillmaster" thing? Check out this guide, filled with tips, tricks, and delicious recipes to try next time you fire 'er up!)
4. RV Wine Glasses
Hey, we all need a tipple now and then. Why not have your daily serving of wine in a glass that matches the mood?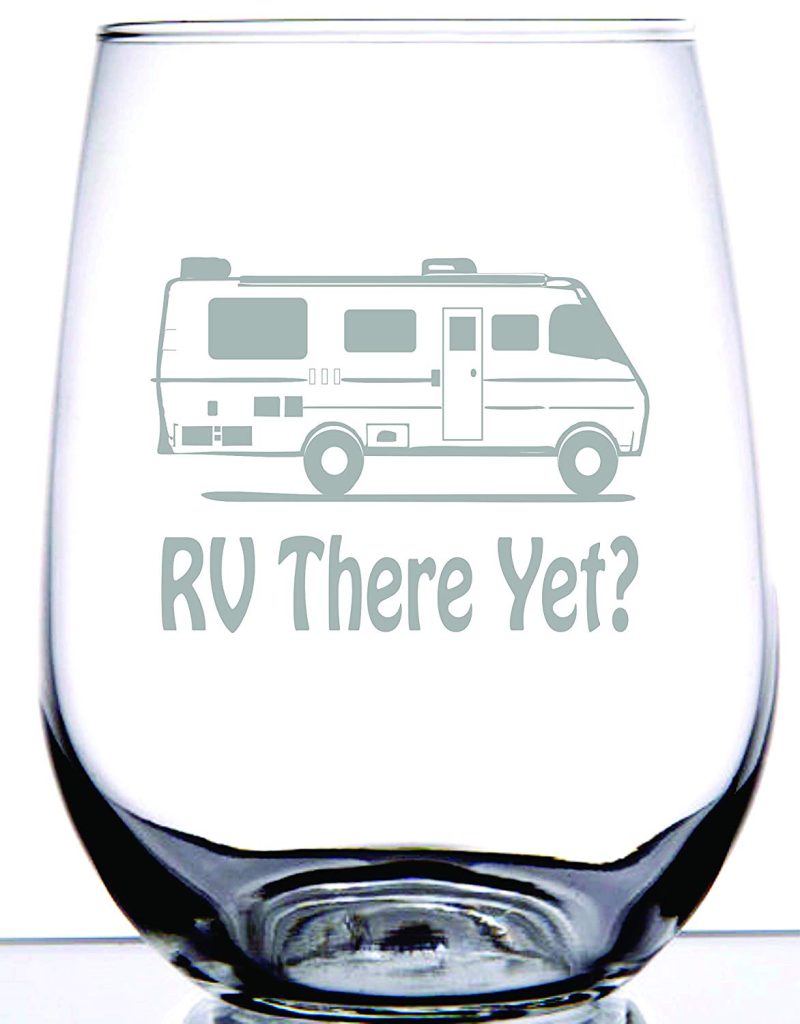 These RV-themed stemless glasses feature a slightly-snarky double entendre. Their restaurant-quality construction means that all you'll taste in your wine… is wine. Which is exactly how it's supposed to be. The laser-etched design will last forever, unlike screen-printed glasses which eventually fade.
Oh, and did we mention they're dishwasher safe? Because nothing ruins a vacation faster than having to polish wine glasses with sackcloth.
Fun RV Interior Accessories
Your mobile home should be just that: a home away from home! Here are even more fun RV and travel trailer accessories to make the inside of your rig come together perfectly.
5. RV-Themed Dish Towels
For most campers, one of the very best parts about the RVing lifestyle is the upgrade from a can of Sterno to a fully-functional kitchen. But a fully-functional kitchen means cooking up fully-functional meals… which means a fully-functional kitchen sink that sometimes gets filled with dirty dishes!
While actually doing those dishes probably isn't the top of anyone's fun vacation activities list, having the right towels on hand can make drying 'em a breeze. And if you're looking for towel sets that are perfectly suited to your travel style, you're in luck, because there are tons of RV-specific versions available on the cheap.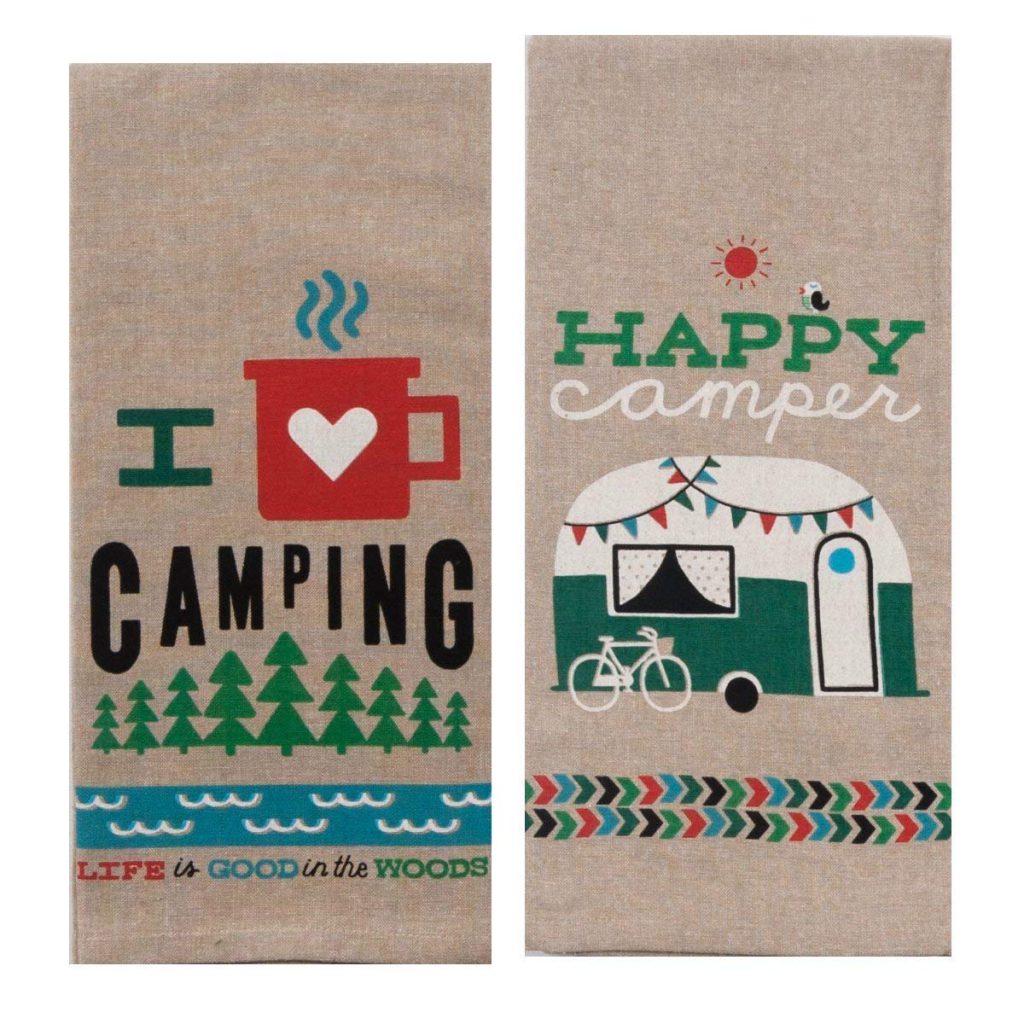 For instance, check out these adorable chambrays with a rustic-chic burlap finish. They're 100% cotton, so they're perfect for all your kitchen needs, and we couldn't agree more strongly with their statements: Life is good in the woods, and we certainly are happy campers!
But if burlap isn't your style, there are still plenty of other RV-appropriate towels to choose from. We also adore this simple white set of three, which are also made entirely of high-quality cotton and are machine washable.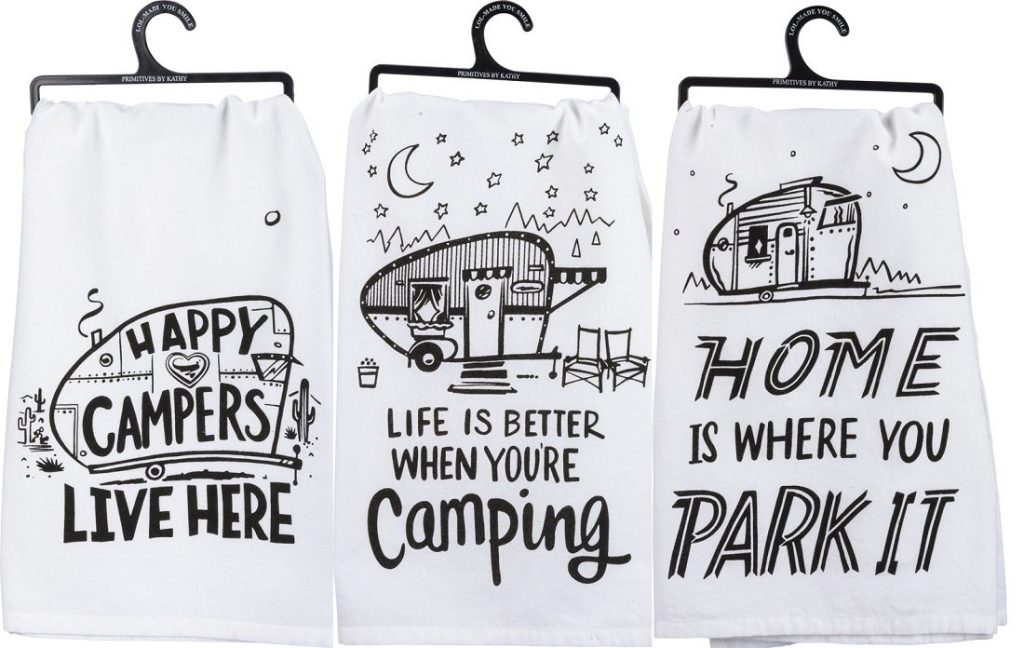 Finally, if you're not afraid of a little bit of blue humor… well, we just had to include this one.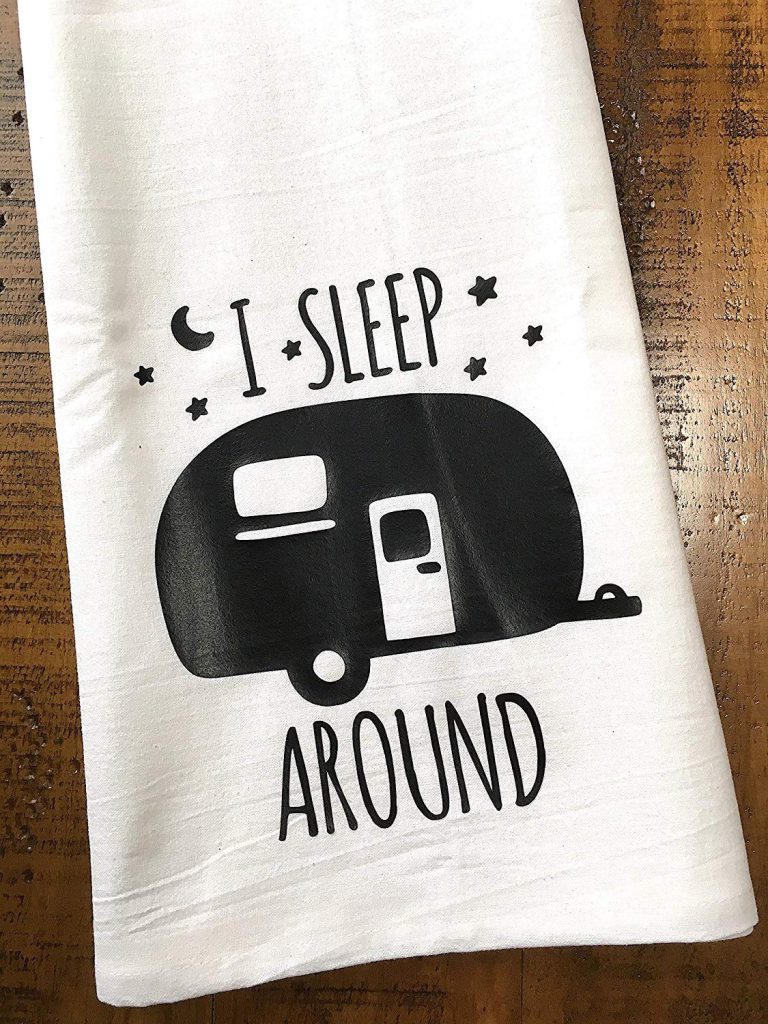 Hey, if the shoe… er, towel fits, well, you know the rest.
6. RV Throw Pillows
It's kind of one of those things husbands like to joke about, we've noticed: what's the point of throw pillows? They're not usually very comfortable, and how are pillows an acceptable form of decoration?
Of course, we who are in charge of the decorating know better: throw pillows can transform even a drab living room into a cozy-looking nook, promising abundant, plush softness.
Now, you can find throw pillows for $5 a piece at Walmart, no problem. But without spending a whole lot more, you can upgrade the deal to a more thematic set. For instance, here's one of our favorite decorative RV pillows on the market: a simple burlap design that sums up the lifestyle pretty darn well, we think!
If you've already got the pillows themselves, you can also invest in cool new covers, an easy, affordable way to take humdrum bedding and make it pop. Check out these travel-centric throw pillow cases, which feature arrows, feathers, and the promise of adventure.
7. RV Sticker Travel Map
If there's one thing every single RV needs, it's a travel map. Just like a ship's log or a road trip diary, a travel map is a great way to keep track of the adventures you've already had — after all, half the point of this style of travel is building those amazing memories. You want to make sure you actually remember them!
There are many different types of travel maps to choose from, like pinboard-style frames and kitchen magnets. But for RVers, we highly recommend this sticker map set, which is affordable, easy-to-use, and simple to install anywhere on your RV you desire, whether on the interior or exterior. (And since there are no sharp pins involved, the kids can help fill it in… which they absolutely love doing!)
RV Decor for Every Camper: Fun RV Accessories
Not every awesome RV accessory is actually RV themed. Here are a few decor and storage ideas that'll transform your rig's interior from crowded to cushy.
8. Throw Blankets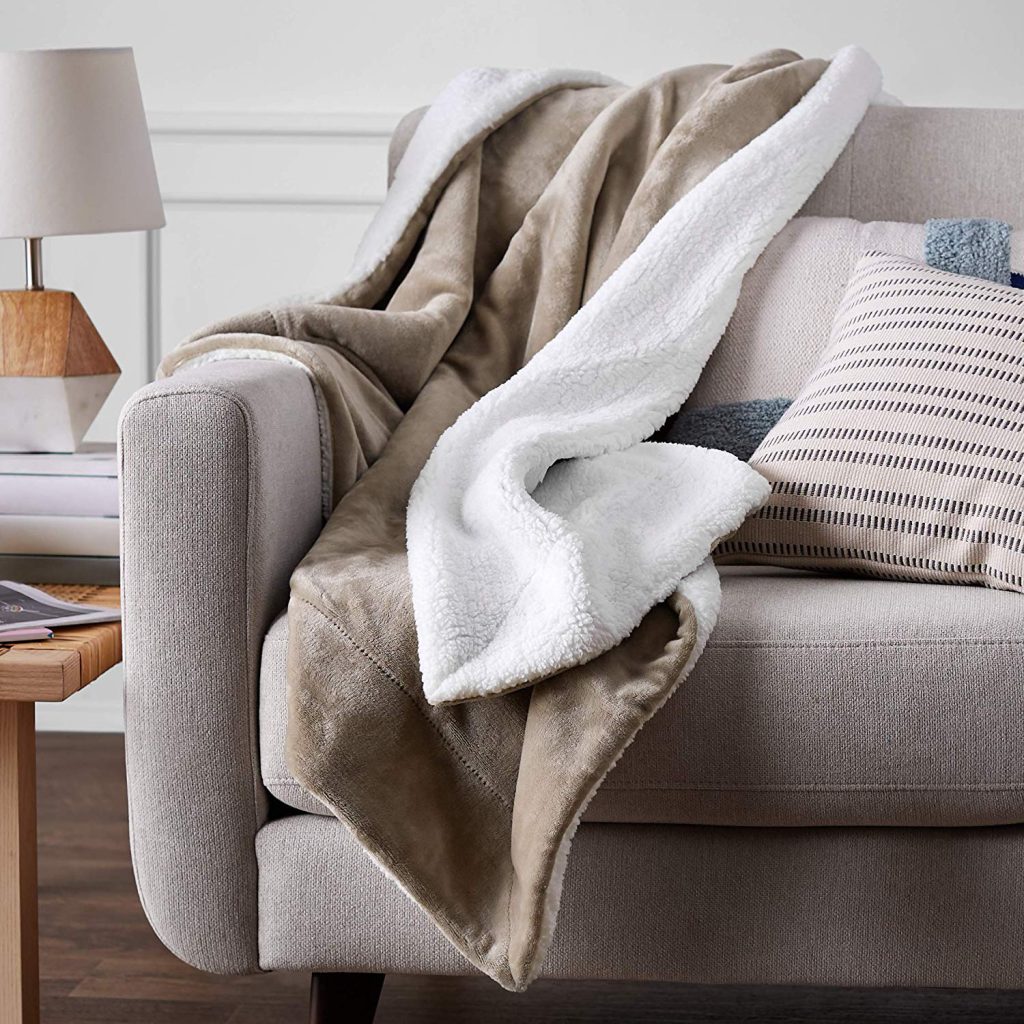 Even those who are skeptical of the power of throw pillows doubtless know the intense power of throw blankets . They can turn any couch or bed from a simple piece of furniture to the kind of cozy nook you want to curl up on and get lost in forever. And some of the softest, coziest blankets on the market are available surprisingly cheaply: take, for instance, this cozy sherpa from Amazon, made entirely of easy-to-clean polyester and absolutely soft as can be. It comes in nine different colors and is available in standard bed sizes from full to king, as well as a convenient "throw" size. Whether you just use it to drape over the couch or add it on top of your quilt for cold winter nights, it's sure to turn the "cozy" dial in your rig up to 11!
9. Cabinet Door Spice Hangers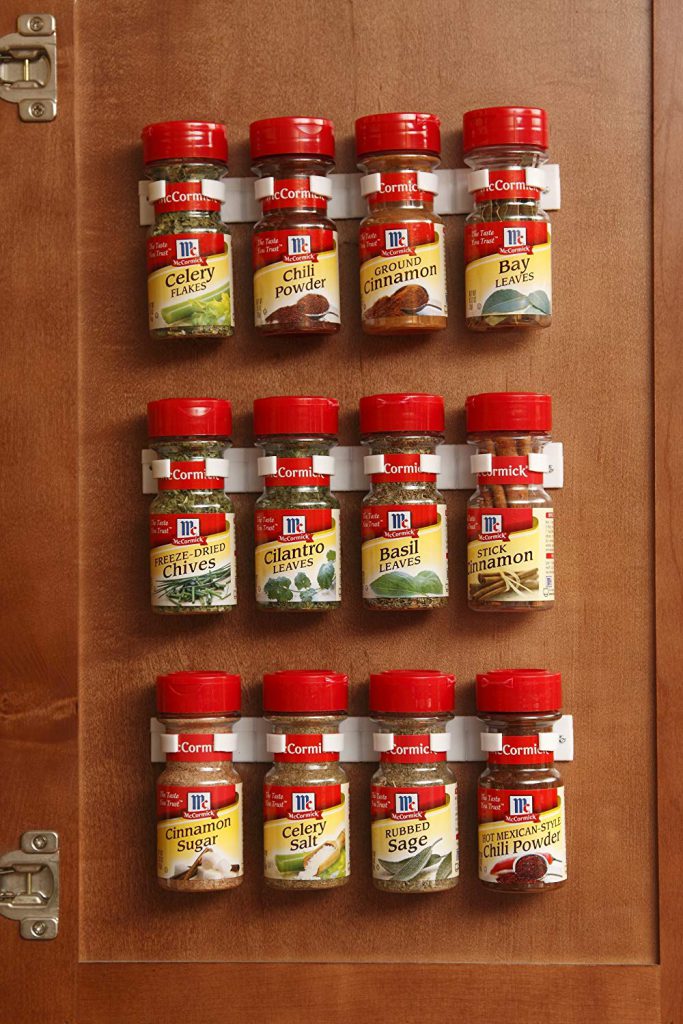 We absolutely love being able to make our favorite meals on the road… but we don't love dealing with our spices rolling around in the cabinet. (Or with picking through a mass of them in a Tupperware container, where you can't see the labels and end up scrutinizing every single one before you finally land on the one you're actually looking for.)
Which is why this simple, cabinet-door spice holder idea is so perfect for RVers. In fact, we really can't figure out how we didn't think of it ourselves first! It keeps your spices still, well-displayed, and even clears up extra cabinet space. Win, win, win!
10. RV Sheets
Psst: did you know that "queen"-sized bed in your RV isn't exactly the same as the queen-sized bed you're used to at home? Thanks to their smaller footprints, in most cases, RV manufacturers have to downgrade mattress sizes to a shorter version, which means the sheets you use at home probably won't fit right.
That's why we recommend all RVers invest in a set of sheets specifically for their rig. That way, you'll ensure a nice, tight fit (with none of those annoying midnight pull-aways)… and besides, you won't have to worry about stripping the bed at home and schlepping a set of sheets on board every time you're ready to take a trip. Trust us, it doesn't seem like a big deal, but it gets old.
This set of short queen sheets is made out of luxurious Egyptian cotton and has a 400 thread count, making them supple and soft enough for even the pickiest sleepers. They come in dozens of colors, from demure neutrals to wild animal prints, so you're sure to find one that fits your personal style!
Click here to read here about our 10 RV decorating ideas!
Cute and fun RV Accessories You Don't Want to Miss
You spend a lot of money making sure your RV looks just perfect, but don't neglect treating yourself to some goodies, too! Here are some fun RV accessories that don't necessarily have to live on your RV.
11. RV Earrings
Hey, not everything has to be about decking your rig out. You've got a whole self to decorate, too — and that's exactly why you'll love these adorable RV earrings!
Available in both a pink tinge (with a tiny trailer, or even teardrop trailer, design) and in a blue design (which looks to us more like a Casita), these cute little earrings are the perfect reminder of where you'd rather be… even on those days when you're stuck in your sticks-and-bricks house (or worse, your office).
12. RV Charm Necklaces
Whether as a gift for your favorite camping party members or just a bauble for yourself, RV charm necklaces are another great way to commemorate your favorite way to travel, especially if your ears aren't pierced. What's more, there are so many different styles and designs to choose from — these are just a few of our favorites!
Lovingly made by Deborah, who hails from Florida, these "RV There Yet" charm necklaces are absolutely darling, from their hand-stamped tags to the cute little trailer-shaped charm. And even though they're artisan crafted, they're available for under $25 with free shipping — talk about a deal, right?
Deborah also makes these adorable "Happy Camper" necklaces, which feature a wooden camping signpost as well as a different style of travel trailer charm. And we also found this adorable campfire necklace, pictured below, from a different seller (who's also based in Florida, as it happens!)
13. RV Socks
No two ways about it: your feet work hard for you all day long. They deserve quality protection — and a little bit of style, to boot. (No pun intended.)
Which is why we absolutely adore these RV-themed crew socks, made of a durable and comfortable blend of polyester, spandex, and cotton. Sock it To Me, a well-known novelty sock company, also ensures your safety and health by making sure every pair is OEKO-TEX Standard 100 certified. That means there are no harmful chemicals in their wares — which is good news for your tootsies!
Although listed as men's crew socks, these babies will easily fit many women, too, running from 7-13 in men's sizes, approximately. Wear 'em around the RV to keep your feet nice and toasty on a night in, or put 'em under your dress slacks when you head to work. (What a great way to remember what you're saving up that hard-earned cash for: more adventures!)
14. RV Wine Charms
Remember the last time you went to a dinner party — and about an hour in, promptly stopped being able to tell whose glass was whose?
Keeping a good set of wine charms on hand stops you from ever having to deal with that problem again. Plus, they're just plain-old cute.
Whether you're chilling at home on your back porch, looking longingly at your RV and dreaming of your next trip, or sitting in the RV and inviting over your next-door neighbors at the campground, these RV-themed wine charms add a touch of class to any glass, and brighten up the gathering. The set of six includes a minuscule campfire, towable trailer, portable grill and more — too cute, right? (Plus, there's no way someone will fib and say your glass is theirs, slurping up wine that's rightfully yours. The horror!)
15. Fun RV Picture Frame Accessory
What's the only thing that comes close to an actual camping trip?
Looking back fondly on the memories you created during that trip, of course. And there are few better ways to do so than with a well-placed photograph or two, whether you keep them on your actual RV or at home, where you can better look forward to the next adventure.
Nowadays, most of our photos live perpetually in digital space, claiming a spot in our Instagram feeds if they're lucky. But the vast majority just sit in our phones, forgotten. What a shame!
Why not take those memories out of hiding and display them in a frame that perfectly fits how you made them in the first place?
This adorable little metal 4×6 frame is one of our favorite travel-trailer themed accessories on the web. It's simple, but it's well-made and durable, and a great way to showcase your camping memories. (Psst: if you travel in a motorhome and have several photos to display at once, check out this design, modeled after a Class A camper.
Looking for Even More RV Accessories?
In this post, we've focused on accessories that are affordable, fun, and practical — most of which are RV-themed, making cute additions to your interior.
But there are plenty of other RV accessories you need that, though they might not be so gosh-darn cute, are super-duper critical.
For example, you won't be, um, going anywhere fast (or for very long, at least) without access to a high-quality RV sewer hose. And when we say high-quality, you'd better believe we mean it. This is one area of camping where you definitely don't want to cut any corners!
Other helpful accessories include clever storage solutions, like in-cabinet toothbrush holders, and high-quality outdoor furniture to transform your awning from a pain to a patio. The good news is, we've written about all of these different types of RV accessories (and many, many more!) lots of times here on the blog, so you have lots of items to consider if you're getting ready for a shopping spree.
Here are a few RVshare blog posts to help you find the accessories you need to make your next camping trip even more successful.
We're always on the lookout for the latest and greatest in camping technology, so keep one eye here for future updates. The RV camping field is always changing and benefiting from new technologies and innovations, and we're committed to keeping you in the loop!
Not an RV Owner Yet? Here's Why Renting a Rig on RVshare is the Way to Go
As fun as it is to imagine decking out your own personal camper with fun, thematic accessories, if you're not already an RV owner, you've got one big purchase to make before these little ones make any sense.
And don't get us wrong: buying an RV is an amazing, empowering experience that can firm up your commitment to camping… but it's also a huge project (and expense!).
The last thing you want to do is invest in a rig that ends up not being right for you and your family. Even if you purchase a used RV in cash, you're talking about several thousand dollars. In the case of a brand-new, fresh-off-the-factory-floor rig, you might easily be talking six figures. That's why it's so important to learn as much as humanly possible about what constitutes the "right" RV for your camping needs before you sign any paperwork.
Rent before you buy!
Whether you've been on several camping trips in the past or you've never even stepped foot inside a motorhome, renting rigs and actually traveling in them is probably the best way to get a real feel for what you like and don't like in an RV. As much as a walkthrough can tell you about a potential buy, you won't really learn exactly what makes you and your family tick until you spend a couple of days actually living inside the vehicle.
And what's right for you might be totally wrong for somebody else, and vice versa. For instance, maybe you're a rugged adventurer who spends most of her time outdoors anyway. All you really need is a pop-up camper with a soft place to lay your head. Or maybe you're a retired couple who's looking to kick back and spend your golden years in style, with no expense spared and every luxury imaginable. In that case, a 45-foot Class A with all the trimmings might be just the ticket.
Either way, renting RVs is pretty expensive. Even if it's just a fraction of the purchase cost. Ideally, you want each RV rental experience to help inform your upcoming purchase. There's no better way to do that than by renting on the peer-to-peer market.
Here's why…
RVshare rentals are, for one thing, listed at a fraction of the per-night cost of most rentals from the large commercial dealerships. Since you'll save money on each individual rental, you'll be able to make more of them. Which means not only more information about your preferred camping style, but also, of course, more vacations!
What's more, RVshare rentals are owned by regular people like you and me. This means they come in every shape, size, and style imaginable. If you stick with the big, nationwide franchises, you're pretty much confined to Class A and Class C motorhomes, most of which are brand-new. That might not be the camping experience you'll get if you're considering purchasing, say, a travel trailer or a used vehicle.
RVshare's secure platform makes the entire rental transaction safe and easy. Also, each rental period is backed with A-rated insurance coverage — the very best in the industry. In short, when you rent through RVshare, you have nothing to worry about other than where you're going, and how much fun you'll have when you get there.
And who knows? Once you find the right RV for you, maybe you'll end up listing it on RVshare and completing the circle. And if it's decked out with all the fun stuff we've outlined in this post, chances are you're going to get great reviews and lots of repeat customers! 😉