Travel Inspiration
Last updated on January 4th, 2023. Originally published on April 18th, 2018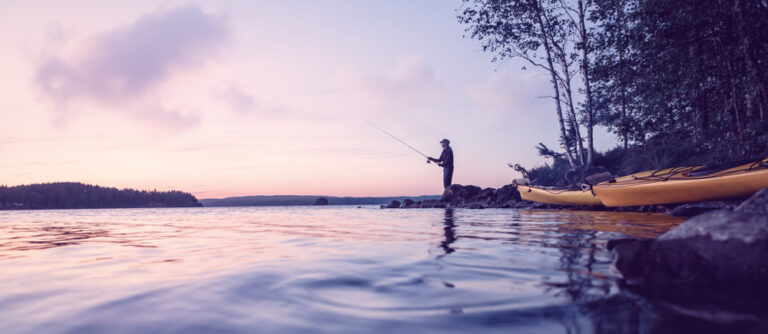 Is there anything more satisfying than grabbing a cold beer, casting a line, and reeling in tonight's delicious, fresh dinner?
Yeah, we don't think so either. A relaxing day on the water finished with a hot dish of trout or bass with those oh-so-perfect grill marks… you just can't beat it!
But when it comes to the best campgrounds for fishing, not every lake and stream is created equally. You want to ensure you've got access to good fishing, but also all the campground amenities that make your trip fun, easy, and convenient.
That's why we put together this list of some of the top fishing campgrounds in the country. So grab your tackle box and don't forget your favorite folding camp chair for those long, patient waits by the water. Whether you're an East Coaster or are settled in the south, there are great fishing campgrounds near you!
Campgrounds with Fishing
If you ask us, campgrounds and fishing go together like peanut butter and jelly. (Or, more thematically, marshmallows, chocolate, and graham crackers.)
So if you're looking for an affordable place to park your rig while you spend those long, relaxing hours on the water, look no further.
Fishing Lake Campgrounds
Think the best seafood comes from the sea? In actuality, some of the most popular food fishes are found in freshwater. Bass, trout, catfish, perch, and even salmon are just a few of the reasons to check out these fishing campgrounds on lakes and rivers.
1. Fishing Bridge, Yellowstone National Park, Wyoming
This is one of the best-known fishing campgrounds around, and for good reason. Not only is it the only campground in Yellowstone that offers fully-inclusive RV hookup sites with water, sewer, and electricity — it's also a great spot to cast a line!
Fishing Bridge RV Park is located alongside the Yellowstone River right where it exits Yellowstone Lake, which is chock-full of trout of all shapes and sizes: cutthroat, grayling, mountain whitefish, browns, rainbows, brookies… you name it, you can likely reel one in at Yellowstone Park.
Keep in mind, however, that you will need a park fishing permit to do so legally (though you won't have to obtain a Wyoming state license). You can get a three-day permit for $18, a week-long permit for $25, or go in for the whole season at $40. Heck, that's the price of one good seafood meal in a restaurant… so it can easily pay for itself in freshly-caught dinners!
2. Lake Sakakawea, North Dakota
Although it's on many campers' bucket lists, a trip to Alaska is quite a commitment. But even if you don't have a whole summer to spare, you can still get your salmon-fishing fix at this North Dakota lake!
This Missouri River basin reservoir, located in central-western North Dakota, is not a native spawning place for everyone's favorite red-fleshed fish. But in the 1970s, non-native (but still-tasty) Chinook salmon were introduced to the environment, and if you're lucky, you might just reel one in. Worst case scenario, there's still tons of perch, walleye, and northern pike, so you're certainly not going to go back to camp empty-handed. And speaking of camp, Lake Sakakawea State Park offers quiet, affordable RV camping with and without hookups, and even has an on-site dump station for your convenience.
3. Lake Bob Sandlin State Park, Texas
Make no mistake about it — there's great fishing deep in the heart of Texas. Over 125,000 trout were counted in Lake Bob Sandlin in 2015, and it's also home to white bass, channel catfish, crappie and redear sunfish. Better yet, Lake Bob Sandlin State Park offers 75 RV campsites with water and electricity, as well as a host of facilities like showers and fire rings to make for an even more easy-going trip.
Camping with Fishing
4. Salt Rock State Park, Connecticut
The Connecticut River is well-known for its abundance of flounder, herring, and trout, and it's also home to smallmouth bass, Atlantic sturgeon, carp, eel, and all sorts of other goodies. If you're looking for a spot to set up the rig alongside it, Salt Rock State Campground is your very best bet — it's the only state-owned spot complete with modern campground amenities like hookup sites, showers, restrooms, fire rings, and even two in-ground swimming pools.
This year, the campground will be open May 25 – September 3rd. For more information, check out the Connecticut state website.
5. Curry Hammock State Park, Florida
Lake and river fishing is one thing. But if you're aching to get out into the ocean to see what you can reel up from the deep, there's no better place to base yourself than the Florida Keys. This tropical paradise is swimming in charter fishing boats ready to take you out for the trip of your life — and best of all, you don't have to worry about the boat or the equipment. Just show up, fish, and take home your delicious prizes!
Curry Hammock State Park is one of the largest uninhabited stretches of land in the Keys, and it's got campsites large enough for even big Class A diesel pushers. Just be sure you make your reservations ahead of time, both for the campground and your fishing boat. Slots can fill up fast!
(Psst: If you've never had it before, and especially if you're lucky enough to catch it, be sure to give Mahi Mahi, otherwise known as "dolphin," a try while you're in Florida. It's one of the mildest, most delicious catches in the sea — and no need to worry; you're not eating Flipper!)
Places to Fish and Camp Near Me
Looking for even more places to camp and fish? You can find amazing fishing spots almost anywhere there's water. No need to trek across the country!
Keep in mind, though, that if you don't stay in a state-owned or public RV park, your campsite accommodation expenses can get pricey. That's why we recommend all campers purchase a Passport America membership — for less than $50 per year, you'll get access to half-off premium campsites at almost 1900 campgrounds across the nation! With costs these days, that can pay for itself in a weekend.
Good luck out there, anglers! And hey, if you reel in any extra, you know where we'll be.
This post may contain affiliate links.