Travel Inspiration
Last updated on December 27th, 2022. Originally published on October 13th, 2022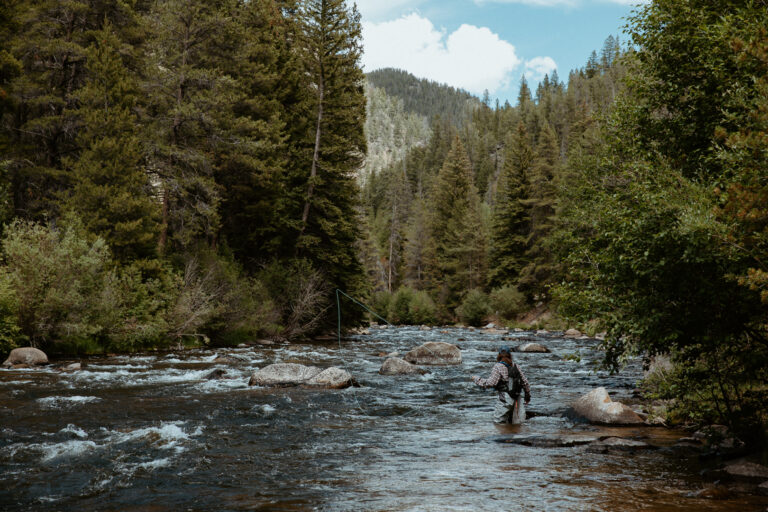 David covers the basics of taking a fishing trip in your RV or camper, including choosing a destination, packing your gear, and finding the perfect spot.
Camping while fishing is already a great adventure, but doing it from an RV or camper also adds an element of luxury and panache that tent camping simply doesn't have. Vehicle camping also makes the great outdoors more accessible to people with limited mobility or other restrictions that might limit their ability to reach popular fishing spots otherwise. While hardcore backpackers might talk disparagingly about "glamping," RV camping is a wonderful and fun activity and a great way for people to find their own little corner of the wilderness, even if it's sightly less wild.
The relative ease and mildness of RV camping doesn't make planning a fishing trip from your vehicle any less important or filled with important details, though. In this article, we'll discuss some of the most common concerns about RV fishing trips, and what you can do to address them. We'll cover some of the things you should research before you set out, discuss the pros and cons of RV-accessible fishing spots, and go over the most important gear to bring and how to pack it safely for the road.
Before You Leave
At the risk of stating the obvious, make sure ahead of time that any place you plan to go RV camping has spots available for RVs, and that you reserve one in advance if necessary. You should also check that the park or recreation area allows fishing, and fishing of the type you intend to do. Some areas ban fishing entirely, only allow it in certain spots, or require that you only do catch-and-release. You also want to make sure that your fishing license is up-to-date and covers the state you're going to fish in.
Camping in an RV is exciting because it allows people to bring a boat, if they're lucky enough to have one, but that also brings along a few headaches to think about before you set off. For one thing, you'll have to make sure your boating license and boat registration applies in the state you're in. You'll also want to make sure the campsite has a boat launch nearby, or at least a place where you can easily put in, and check the motorboating hours and restrictions on the body of water, if they apply. The last thing to watch out for is regulations designed to prevent the transfer of invasive species on the bottom of boats. These may require you to clean your boat before or after you use it on this trip.
Destinations and Fishing Spots
One of the major disadvantages of camping with an RV or camper is that it doesn't allow you to travel very far off the beaten path. Unlike fishing trips where you hike or paddle in to your chosen spot, a vehicle will not usually get you to a particularly secluded or out-of-the-way spot. You can, of course, choose to hike from your camper to a more remote area, but a day hike will still only get you so far, and going further than that will remove the easy luxury that makes RV camping so attractive to people.
Fish keeping expert David Thomas recommends "to choose to fish at off-peak times, going during the week or towards the beginning or end of the season." Night fishing is also likely to provide you with smaller crowds, as well as a beautiful and surreal experience. You might also try fishing for less popular fish, e.g., if an area is well-known for its striped and largemouth bass, you might go for catfish or rainbow trout instead, decreasing the amount of competition you'll have. Of course, you can also embrace the community aspects of fishing in a busy area; getting to know your fellow campers and fishermen is for many people an advantage, rather than an annoyance, when it comes to RV camping.
Gear and Supplies
One of the main reasons people travel with a camper or RV is that it allows them to bring more stuff with them, and fishermen can certainly benefit from this. People camping from their SUV or car and especially people hiking or paddling on their fishing trip will have to account for their gear down to the last ounce; however, those travelling in an RV or camper have the unimaginable luxury of packing a wide variety of supplies. In this section, we'll go over some of the most important gear you'll need and how to pack it safely for the road.
First Aid Kit – Forget your fishing pole and your bait; this is the most important piece of gear for any fishing trip. In addition to the usual small bandages, wraps, and creams for twisted ankles, small cuts, and sunburn, a fishing trip first aid kit should have blankets and a way to contact help, be it a regular cell phone or a satellite phone for more remote areas. Drowning and hypothermia are real dangers on a fishing trip, and no safety precaution is too much to potentially save a life.
Rod and Reel – Most anglers use a rod and reel to fish, and they're great for camping because they're so small and light, and many can even be folded up for easier storage. That lightness, though, also makes them relatively delicate, which means you should take extra care when packing one for the road. Wrap it in a blanket or other soft material to protect it, then lay it flat on the floor and secure it using heavier items (e.g., placing it behind a well-secured cooler or crate) or with straps.
Tackle Box – Luckily, most fishing gear, like hooks, bobbers, lures, and line, can stay in a tackle box or bag until it's time for them to be used; again, the only thing to worry about here is securing the box in transit. Straps and bungee cords are both great options, or placing a small tackle box inside a larger, secured box, trunk, or suitcase.
Bait – If you're bringing your own bait, instead of purchasing it on site, you'll want to make sure it stays fresh in transit. If you're using a food bait, like corn or bits of bread, you can store this as you would regular food. For live bait, the exact storage method will depend on the type of bait you have, but most types can be refrigerated in the container and dirt/bedding they came in. The bait shop you bought it at should have more specific instructions if you're unsure. Live minnows are more difficult and delicate to store and probably shouldn't be brought in an RV.
Storage – Even if your RV has a fridge, make sure to bring a cooler or other container to store your fish while fishing and once you get back on the road to keep things sanitary.
RV camping and fishing trips are a great way to have an outdoor adventure without the physical exertion and risk of a backcountry hike or long paddling trip. However, they do come with their own unique challenges that you'll have to take into account ahead of time to make sure you have the best experience possible in the great outdoors.
This post contains affiliate links. RVshare may receive compensation if you make a purchase after clicking on a product link.