Travel Inspiration
Last updated on December 17th, 2022. Originally published on February 25th, 2018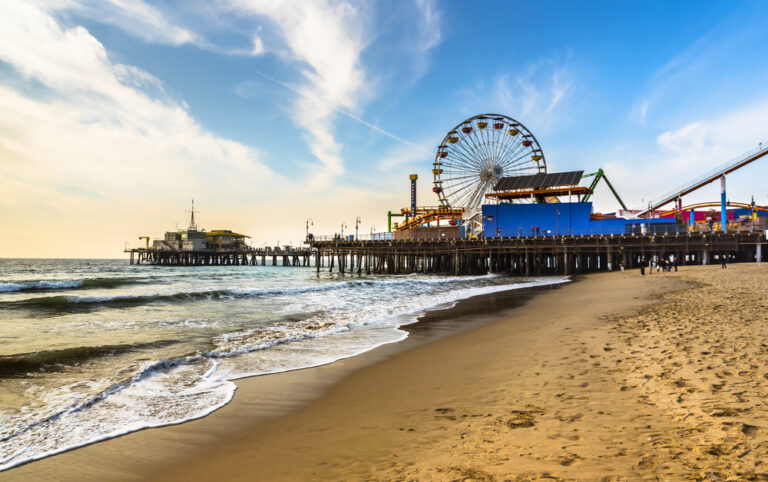 When planning a road trip, you might think the most important part is your destination. But especially when you're traveling by RV, it's all about the journey, baby!
We're lucky to live in a country crisscrossed by a huge number of famous scenic highways, from stunning coastal roads running next to the breaking waves of the Pacific to the footloose charm of Route 66.
One of the best parts of RVing is that you not only get to enjoy your destination in comfort and style, but you also get to drink in every moment of the route you take to get there. Those great big windows in your rig aren't there on accident!
So grab your best set of road maps and make sure your Passport America membership is up-to-date and valid. You've got some driving to do — and on these roads, it's going to be awesome.
Famous American Streets and Highways
There are plenty of famous thoroughfares around the globe, from the Trans-Siberian Highway in Russia to Australia's Great Ocean Road. But if you call the USA your home, count yourself lucky: some of the most beautiful, celebrated highways in the world are right here in America.
It's not really that surprising when you think about our history as a country of immigrants and nomads, constantly pulled by the spirit of discovery and manifest destiny. But regardless of how they got there and how rich their history is, one thing's for sure: these beautiful byways sure are a lovely way to get where you're going!
Famous Scenic Highways
Here are a few of the most breathtaking roads in America, just waiting for you to tackle during your next RV trip.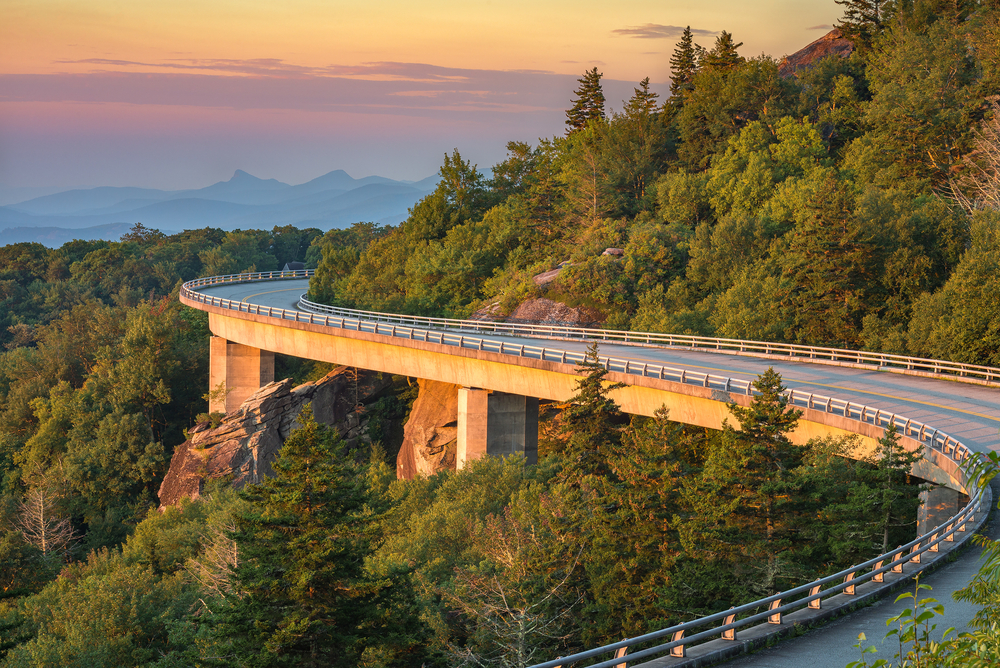 1. Blue Ridge Parkway
Winding 469 miles through the oldest mountain range in America, the Blue Ridge Parkway runs parallel to a plethora of National Forests and is also close by to the Great Smoky Mountain and Shenandoah national parks. Its span is also home to the heads of over 300 miles of trails to hike, as well as an immeasurable amount of unique flora and wildlife.
2. Overseas Highway
Headed south?
Florida's Route 1 will take you all the way from the state line down to the keys, but the most famous section runs 113 miles starting in Miami. Terminating in Key West, the Overseas Highway includes the Seven Mile Bridge, which connects Knight's Key to Little Duck Key, and is also home to some famous road races (and has been seen in a variety of television spots and movies).
3. Scenic Byway 163, or Monument Valley Highway
As seen in "Forrest Gump," "The Searchers," and "Easy Rider," this surreal 64-mile road cuts through the Navajo Nation and Utah's Monument Valley — and once you drive it, you'll understand why it's so well-loved by filmmakers.
4. Pacific Coast Highway
California's State Road 1 might be the second most-famous road in America — after Route 66, of course. Running just over 650 miles between San Diego and Humboldt county, this long, slow drive will wind you past imposing redwoods and boisterous wave breaks, leaving you feeling small in the best way possible.
Famous Route USA
Here are a few more famous roads and highways that'll carry you to faraway places.
5. Alaska Highway
Starting at Dawson Creek (no, not that one) in BC, Canada and running over 1300 miles to Delta Junction, the Alaska Highway is the route you'll take if you want to make the trek up to America's last frontier. Just be sure you leave in early summer — many parts of the highway are impossible to pass once winter comes calling.
6. Interstate 10
Connecting Santa Monica in the west with Jacksonville in the east, I-10 runs through a number of can't-miss-'em stops, including New Orleans, San Antonio, Tucson, and El Paso. At over 2,400 miles long, it's the fourth longest highway in America, and admittedly, not all of it is scenic — but altogether, oh, what a ride.
7. Route 66
Our seventh list item is an important enough one to warrant its own section. When it comes to famous highway names, this historic highway can't be beat. I mean, who hasn't heard of Route 66?
Starting in Chicago and carving its way through the desert to Los Angeles, this historic road is not one to miss. If you're ready to get your kicks, here are some of our best recommendations for spots to stop along the way.
Wylan's Kuku Burger, Miami, Oklahoma
It might not be the most famous Miami, but this Oklahoma town is home to one of the best burgers you'll have in your life. This 1960s drive-thru is one of the most famous restaurants on Route 66, and no wonder — it blends nostalgia with convenience, and its made-to-order fare is way better than anything you'll get at bigger fast food chains with golden arches.
Winslow, Arizona
As far as famous places along Route 66 are concerned, this one's probably the top — thanks to the famous rendition of "Take it Easy" by the Eagles, who croon about hanging out at an intersection in this otherwise (honestly) unremarkable town. You can even visit Standin' on the Corner Park for the full effect!
Santa Monica Pier
After a long (long) drive down the more than 2,000 miles of this historic desert highway, you'll be ready to stretch your legs and your lungs at this famous Los Angeles fun zone. Take a ride on the Ferris wheel or just kick back with some popcorn or cotton candy — after all that driving, you deserve it!
What are your favorite American highways and byways? Let us know! And check out the following books for even more ideas for your next great RVing adventure.
Happy trails!
This post may contain affiliate links.