Explore Local: St. Louis, Missouri
Travel Inspiration
July 16th, 2020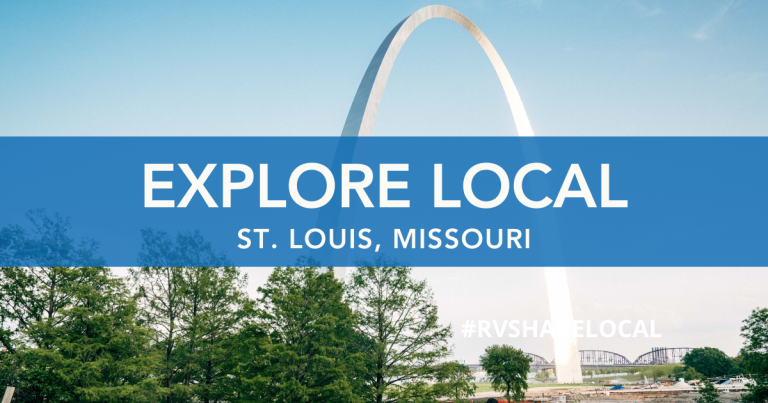 Baseball, beer — and an abundance of exploring to do. St. Louis, Missouri may be known as the "gateway to the west," but it's got so much more in store for those who choose to stick around and spend some time before venturing further toward the pacific.
Along with its iconic arch, St. Louis is also home to a wide variety of fantastic restaurants, museums, cultural exhibits, and entertainment options. It's also the birthplace of none other than rapper Nelly, of "Hot in Herre" fame (amongst others). You can even visit with the beloved Budweiser Clydesdales in this one-of-a-kind city, and that's just the tip of the iceberg.
Read on to learn more about why we love St. Louis — and all the places to explore and things to do while you're there!
Why We Love to Travel
From meeting new people to experiencing new sights, sounds, and smells – is there anything more exciting or rejuvenating than a break from the day-to-day mundanity? Traveling is an excellent way to immerse yourself in a new culture, setting, or way-of-life, but the best part is this: you don't have to venture far from home to enjoy what this world has to offer.
Whether your journey takes you across your own city, to an unexplored part of your state, or even to the other side of the world, there's no doubt you will still learn a lot about your surroundings – and yourself – along the way.
Benefits of Traveling Locally
While the culture an hour away from your home might not be drastically different from what you're used to, you can still gain a deepened sense of appreciation for where you've laid your roots. Plus, traveling locally has a lot of benefits:
More cost-effective. Local travel is certainly a budget-friendly way to explore! Many activities and local parks are free or have a low cost of entry. For day trips, you can also pack your own meals to save.
Eco-friendly way to travel. Travel is hard on the environment, but putzing around your area is more sustainable than air travel.
Quick trips. Getting out locally means you can do it more often! Long weekend trips are a lot easier to take when the destination is a short drive away.
Easy to plan. Preparing your itinerary for a local getaway will likely save you some time and stress.
More convenient. Especially if you have little ones, sticking close to home may be much more convenient than far-off destinations. If you forget something, have an emergency, or need to cut the trip short, being close by definitely has its benefits.
Explore Local: St. Louis, Missouri
St. Louis was founded all the way back in 1764, originally a French fur-trading settlement established by Pierre Laclede. Its name is a nod to King Louis IX — the only French king to ever be canonized by the Catholic church.
It was a full 40 years later that Lewis and Clark began their westward journey from St. Louis in 1804, shortly after Thomas Jefferson signed the Louisiana Purchase. The town was the site of the 1904 World's Fair and has more free tourist attractions than any other U.S. city outside of Washington, D.C., meaning it's easy to play tourist without spending a dime.
And we do mean "play" tourist. It's so easy, even for people who've called the city home for decades, to forget about the great bounty of things to do in one's own backyard. In this article, we're going to walk you through all the top things to see, do, and experience in St. Louis. So strap in — we've got a lot to cover!
State Parks in St. Louis
Although St. Louis itself is a decidedly urban landscape, there are plenty of great countryside escapes just outside of town. Here are some of the best state and national parks in the St. Louis, MO area.
Castlewood State Park is one of the most popular destinations for city-dwellers seeking a rural retreat, covering more than 1,800 acres just west of town in St. Louis County. Straddling the Meramec River, Castlewood offers tons of outdoor recreation options, from hiking to fishing and boating.
Cuivre River State Park is a bit further than Castlewood, but also considerably larger: covering more than 6,400 acres, this wild space is a great place to get metaphorically (but not literally!) lost in.
Robertsville State Park is another area option that borders the Meramec River, offering a small number of reservable campsites (more than half of which offer electrical hookups!).
Route 66 State Park is a small one, at less than 500 acres, but a great place to celebrate the history of The Mother Road, as it's called. Explore

interpretive

and educational information at the Visitor Center, a former 1935 roadside inn that travelers called home for a night (or two) on their way west.
Gateway Arch National Park is, in fact, a national park — which a lot of St. Louis visitors don't realize! Built back in 1963 to represent this city's position as a westward gateway, the arch is a great place to get more familiar with the area's history… or just to enjoy a sweeping view of the city on one side and the Mississippi on the other.
Mammoth Cave National Park may be a bit of a drive, nestled as it is in southern Kentucky. But if you call this area home, it's well worth your time: it's the largest cave system not just in America, but in the world… and they're not even done excavating it yet! (Just be sure you plan ahead for your tour, as you're not allowed into the caves without a guide.)
Best Hiking Trails
Whether or not you have the opportunity to travel very far out of town, there are some great opportunities for wandering. Here are some of the best hiking trails in St. Louis for every fitness level.
White Buffalo Loop Trail
A moderate adventure tucked into Lone Elk Park, White Buffalo Loop Trail measures just three miles in total and sees just over 300 feet of elevation gain, making it a doable excursion that will still leave you with at least a little bit of a sweat. Known for its forest cover and tree shade, this trail will make you feel like you've meandered far into the woods, even though you're right in town.
Fort Bellefontaine Loop Trail
Fort Bellefontaine County Park preserves the fort of the same name — and you can visit it yourself by taking the Fort Bellefontaine Loop Trail, which meanders less than three miles round trip while introducing visitors to the remains of this impressive fortress. Built back in 1805 and serving an important role in St. Louis history, this fort is a living piece of history to explore and discover.
Spring Valley Trail
Cliff Cave County Park is a popular destination amongst St. Louisans, and Spring Valley Trail may be the most popular hiking path in the park. Winding a little less than three miles all told, this trail offers river views and sweet St. Louis forest cover, and is a great option for beginning hikers looking for a slight challenge.
Forest Park Heels Path
Running parallel to the "wheels path," the Forest Park Heels Path is the main pedestrian throughway in this beloved green space. With approximately 6 miles to wander round trip and little elevation gain, this trail is a good option for runners as well as those looking for a slower stroll.
Creve Coeur Lakeview Loop Trail
St. Louis might be landlocked as far as oceans are concerned, but the Creve Coeur Lakeview Loop Trail will make you feel like you've washed up on a beautiful beach — right here in the heartland. The footpath offers a mix of shade and sunshine, so be sure to bring sun protection along with you. Dogs can use this trail as well, but must be leashed!
Best Restaurants in St. Louis
You're going to need lots of fuel for all the exploring you're going to be doing — so good thing St. Louis is known for its eats! Here are some of the best restaurants in St. Louis, no matter what you're hungry for.
Cunetto House of Pasta
When it comes to date night, nothing beats Italian — and if you're looking for the best Italian restaurant in St. Louis, you're probably looking for Cunetto House of Pasta. Food has been a family tradition at this place since 1972, and it's been named a favorite by locals for many years running.
Bogart's Smokehouse
Listen — it's just not the full St. Louis experience if you don't have some barbecue. And Bogart's Smokehouse offers some of the very best barbecue in town. Although they're known especially for their ribs, seasoned with a house-made rub and smoked over apple and cherry wood, there's honestly not one bad meal on the menu.
Tree House Bistro
Vegan and vegetarian fare might be as far from barbecue as it's possible to go, but you can still find some incredible plant-based cuisine in St. Louis. Tree House Bistro proves that you don't have to incorporate animal products to make an unforgettable meal — or an indulgent one, given its loaded Beyond burger and fried "chikn" sandwich.
Gokul Indian Restaurant
Indian food is one-of-a-kind: spicy, filling, nourishing, delicious. If you're looking for the best Indian restaurant in St. Louis, we'd steer you towards Gokul Indian Restaurant, which also offers catering and online orders.
Chava's Mexican Restaurant
In search of a different kind of spice? Chava's Mexican Restaurant is considered one of the best in town, whether you're in the mood for tacos or tostadas. The St. Louis location is built into a historic barroom, so your meal is served with a side dish of atmosphere.
Sushi Ai
You'd be forgiven for thinking you're too far from an ocean in St. Louis to find good sushi — or any good Asian food at all. But you'd also be wrong. Sushi Ai offers delicious, authentic, and most importantly fresh delights from hand rolls to hibachi. Yup, there's hot food on the menu, too — truly something for everyone!
Fun Things to Do in St. Louis
You've wandered. You're well fed. Now you're wondering what else there is to do in St. Louis.
Well, we're just getting started! Here are some of our favorite to-dos in town for every kind of situation.
For Kids and Families
Got the kid along for the adventure? You're in luck — St. Louis is chock full of family-friendly things to do. Here are a few faves.
Saint Louis Zoo
Recognized as a leader in conservation, education, research and animal management, the Saint Louis Zoo houses more than 17,000 animals representing 600 distinct species, and also offers a special Children's Zoo specifically designed for the kiddos. Perhaps the coolest feature of all: the zoo is totally free to visit. That's a hard deal to beat, are we right?
Grant's Farm
The kids might not drink Budweiser (we hope!), but they'll doubtless be delighted by the opportunity to meet and greet the famed Clydesdales the suds are associated with — which you can do here! Grant's Farm is also the historic home of none other than Ulysses S. Grant (as the name suggests), and has been the home of the Anheuser-Busch brand for decades. There are a ton of attractions to see and do on campus for both the parents and the kids.
Missouri Botanical Garden
Founded all the way back in 1859, the Missouri Botanical Garden stands out as one of the best in the country — and is also the oldest. Case in point, its herbarium, which is home to more than 6.6 million specimens, is second only to New York's. Free daily tours are offered if you and your family want to learn more about the flora around you, or you can just kick back, relax, and meander the pathways on your own. By the way, even if you don't have the kids along this time around, traipsing through the gardens is easily one of the best things for couples to do in St. Louis!
At Night
There sure is plenty to do in St. Louis during the daytime… but what about after night falls?
Not to worry. Here are some of our favorite after-hours diversions.
City Museum After Dark
City Museum is already a great stop to add to your St. Louis itinerary, offering visitors a unique glimpse into a wild and whacky world constructed of repurposed architectural and industrial objects. And during the City Museum After Dark event, you can enjoy the exhibits until 11 p.m., accompanied by live DJs, good food, and adult beverages. (21+ only!)
Nighttime at the Arch
Don't get us wrong — we (highly) recommend venturing to the arch during the daytime, too. (That's also the only time you can take the tram to the top.) But for a one-of-a-kind, uniquely St. Louis experience, we recommend packing a picnic and heading to the grounds after sunset, where you can gaze upward at the illuminated arch and all it stands for.
Cheap and Free Things to Do in St. Louis
As mentioned above, St. Louis has one of the largest collections of free things to do in the country! Here are a few more attractions you can get into without paying a dime.
Cathedral Basilica of Saint Louis
Also known as the St. Louis Cathedral, the Cathedral Basilica of Saint Louis is both a sacred space and an architectural masterpiece. It cost $3,000,000 to build back in 1914, an equivalent of almost $77 million (!!!) today. Even if you don't attend a mass, you can visit for free, so long as you're not interrupting services.
Saint Louis Art Museum
World-renowned for its collection, which spans a stunning 5,000 years of cultures, genres and creations, the Saint Louis Art Museum also bears the distinction of being one of the only American museums of its caliber that's totally free to enter. From Van Gogh to Dali, there's something here for everybody, even if they don't consider themselves an art lover. (Do beware that you may have to pay up to $15 for parking!)
Spas in St. Louis
Need some pampering and R&R?
We've definitely been there — and here's where we go in St. Louis when we're feeling that way.
Morgan Ford Massage & Spa
With three locations to choose from, Morgan Ford Massage & Spa is a St. Louis institution — and it's well-known for a reason. Offering a wide range of services all performed by competent and friendly professionals, Morgan Ford is a great option whether you're looking for relaxation or rehab and everything in between.
The Spa at Hotel Saint Louis
You don't have to be a guest at this resort to enjoy its indulgent spa services, which are offered in a chic and relaxing atmosphere. The Spa at Hotel Saint Louis offers not only bodywork and facials, but also beauty treatments such as nail care and hair styling. They also have a range of treatments with CBD infusions.
Best Gyms & Yoga Studios
Keeping in shape is important, no matter what else is going on in your life! Here are the best places to sweat it out in St. Louis.
The Lab Gym
Simple and straightforward — not that the work you'll be doing there is easy by any stretch of the imagination. The Lab Gym in St. Louis is a great place to go to increase performance, get stronger, and get results.
Yoga Source St. Louis
Yoga, when done right, can help you achieve a wide range of objectives — but perhaps the most important? Becoming a better version of yourself. Come see how at Yoga Source St. Louis.
Day Trips in St. Louis
One of the coolest things about St. Louis is how central it is to so many other amazing places! Here are some great day trips and weekends to take when you're calling St. Louis your home base.
Kansas City
You might take a train, you might take a plane — but if you have to walk, it would still be worth it to get to this midwestern gem, known for its barbecue, jazz music, craft breweries and more. The Missouri side might be more famous, but it's worth crossing the border into the Kansas side, as well, if only to check another state off the list!
Louisville
Louisville is nothing if not a city with heart: it's where none other than Muhammad Ali was born and bred, not to mention the famed Louisville Sluggers, which are still manufactured in town. At four hours away, this one makes more sense as a weekend getaway than a day trip, but there's plenty to keep you occupied during your visit!
Nashville
A lot of places try to lay claim to the "birthplace of country music" distinction, but it's undeniable that Nashville has played a huge part in the proliferation of the genre. Even if twangin', soul-bearing lyrics aren't your thing, it's hard not to love this city, which offers visitors a seemingly endless array of places to drink, dance, and have a good time.
Note: some of these activities may need to wait until businesses fully reopen from coronavirus closures. However, there is still much to see and experience in St. Louis that you can enjoy today! What are your favorite spots in St. Louis? Send them our way to [email protected] or by tagging us on Instagram @rvshare and using the hashtag #rvsharelocal.