Travel Inspiration
June 17th, 2020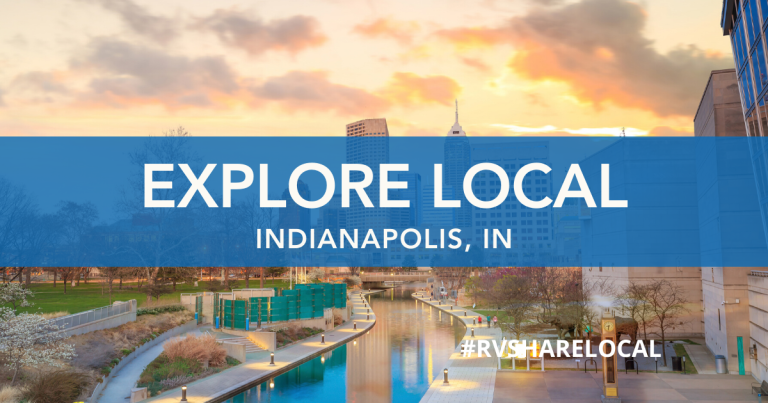 Indianapolis – or 'Indy' as it's affectionately referred to by locals – is both the state capital and most-populous city of Indiana, with well over 800,000 people calling it home. From its world-famous attractions and significant railroad history, to the delectable dining, thriving local entertainment scene, and so much more, locals and visitors alike will agree on one thing: there's never a dull moment in this city.
So, even if you've had the pleasure of living in or near Indy for decades now, there's no doubt that there's still plenty of corners of this city just waiting to be explored. That's why we've put together this insightful guide, as often, it's the regions within our own backyard that we tend to overlook!
Ready to discover the best of Indianapolis? Let's get started!
Why We Love to Travel
From meeting new people to experiencing new sights, sounds, and smells – is there anything more exciting or rejuvenating than a break from the day-to-day mundanity? Traveling is an excellent way to immerse yourself in a new culture, setting, or way-of-life, but the best part is this: you don't have to venture far from home to enjoy what this world has to offer.
Whether your journey takes you across your own city, to an unexplored part of your state, or even to the other side of the world, there's no doubt you will still learn a lot about your surroundings – and yourself – along the way.
Benefits of Traveling Locally
While the culture an hour away from your home might not be drastically different from what you're used to, you can still gain a deepened sense of appreciation for where you've laid your roots. Plus, traveling locally has a lot of benefits:
More cost-effective. Local travel is certainly a budget-friendly way to explore! Many activities and local parks are free or have a low cost of entry. For day trips, you can also pack your own meals to save.
Eco-friendly way to travel. Travel is hard on the environment, but putzing around your area is more sustainable than air travel.
Quick trips. Getting out locally means you can do it more often! Long weekend trips are a lot easier to take when the destination is a short drive away.
Easy to plan. Preparing your itinerary for a local getaway will likely save you some time and stress.
More convenient. Especially if you have little ones, sticking close to home may be much more convenient than far-off destinations. If you forget something, have an emergency, or need to cut the trip short, being close by definitely has its benefits.
Explore Local: Indianapolis, Indiana
It doesn't matter if you're setting out as a solo traveler, a couple, or a family, Indianapolis has an exciting experience on offer in almost any direction you look. If you're craving getting back to nature, then there are plenty of nearby state parks and hiking trails to satisfy your itch. If it's the fast-paced entertainment of the city you desire, then the bustling nightlife, local performances, and one-of-a-kind attractions have got you sorted.
Read on to learn our favorite picks from this city's incredible array of opportunities.
*Note: Some of the suggestions may not be doable due to coronavirus closures, but keep this list handy for when things start opening back up more! Be sure to check individual pages for specific operation details.
State Parks in Indianapolis
If you're looking to explore nature in or around the city of Indianapolis, then you're in luck. The region is also home to several state parks and recreation areas, offering outdoor activities such as hiking, biking, swimming, camping, and so much more.
White River State Park: As the United States' only cultural urban state park, White River State Park has a wide variety of activities on offer, including everything from biking and boating, to visiting renowned attractions such as Indianapolis Zoo, White River Gardens, the Eiteljorg Museum of American Indians and Western Art, and so much more.
Fort Harrison State Park: Located less than a 30-minute drive from the city center, Fort Harrison State Park has something to offer year-round. See the bright and beautiful blooms in spring, canoe down Fall Creek in the summer, view the stunning array of foliage in fall, or sled down the park's tallest hills during the winter.
Eagle Creek Park: Spanning over 3,900 acres of land on the northwest side of town, Eagle Creek Park is one of America's largest city parks. It's home to numerous hiking trails, a 1,400-acre lake, picnic areas, a swimming beach, and more. Enjoy a spot of fishing or sit under the tree canopies for a relaxing Sunday lunch.
Mounds State Park: Less than an hour drive from the city center is Mounds State Park, famous for its 10 unique earthworks built by prehistoric Indians which date back to 160 B.C. Here, you can also enjoy a Nature Center, Naturalist-led hikes and interpretive programs, and even a swimming pool in summer.
Summit Lake State Park: A little further out from the city, but still within an easy drive, is Summit Lake State Park, which (as the name suggests) is a water activity heaven. The large lake is perfect for boating, swimming, and fishing, while nature lovers will enjoy the bird watching and wildlife observation area.
Cataract Falls State Recreation Area: About 30 miles southwest of Indianapolis is Cataract Falls State Recreation Area. Here, you can enjoy scenic outdoor activities such as hiking, picnicking, biking, and taking in the stunning waterfall views. Just north of the state park, look out for Cagles Mill Lake, a teardrop shaped body of water, as well as a quaint, recently refurbished covered bridge.
McCormick's Creek State Park: When you're in the region, it's only fair that you make the effort to check out Indiana's first state park, McCormick's Creek. You'll find lots of activities – both indoors and outdoors – to partake in, including hiking, camping, bird watching, swimming, tennis, and picnicking, as well as visiting the Nature Center, Canyon Inn, park amphitheater, or historic monuments such as the Statehouse Quarry.
Want even more suggestions? Check out some additional state parks in Indiana.
Best Hiking Trails
Ready to get your legs moving and lungs filling with fresh air? While there are plenty of state parks to visit within the region, there are also several recommended hiking trails located in and around Indianapolis.
The Indianapolis Cultural Trail: The best way to see each of Indy's cultural districts is on foot. This 8-mile trail tours the City Circle, starting out in the Fountain Square district before taking trekkers through the Wholesale District, Market East District, Mass Ave, Indiana Avenue, and White River State Park and Canal.
The Monon Trail: This converted rail-trail is one of the busiest greenways in the country. The 10.4-mile Indianapolis Greenway starts on 10th Street and continues all the way up to 96th Street. It offers a fantastic mix of urban and rural scenery, allowing locals and visitors alike to experience much of what Indianapolis has to offer.
Pleasant Run Greenway: For something a little greener, which also meanders through some of the city's most peaceful neighborhoods, the Pleasant Run Greenway is a great escape. The trail stretches from Ellenberger Park in the historic Irvington area, to Christian Park and on to Garfield Park south of Raymond St. It runs along Pleasant Run Creek and is also popular among bikers and rollerbladers.
Best Restaurants in Indianapolis
Once you've worked up an appetite hiking some of the city's most popular trails, it's time to feast on the finest food Indy has to offer. Whether you're looking for a quick bite to eat or a lengthy, fine dining experience, there's something for absolutely every appetite in this city.
St. Elmo Steak House
This award-winning restaurant has been a landmark in downtown Indianapolis since 1902 and offers a world-famous shrimp cocktail, upscale decor, and steak, chicken, and seafood dishes that locals have been raving about for decades. Find out for yourself why St Elmo's has been named one of "10 Great Classic Restaurants Well Worth Visiting" by Forbes.
Milktooth
If the wait to get a table at this unique brunch, coffee bar, and cocktail spot has got you feeling discouraged, perhaps this will seal the deal: it was named one of the "best restaurants in the world" by Conde Nast Traveler. Milktooth utilizes the wonderful produce and agriculture of Indiana to serve "world inspired breakfast and lunch fare". We hear the house-made cocktails aren't to be missed either.
Caplingers Fresh Catch
If you're craving some fresh seafood while in the area, don't look past Caplingers Fresh Catch. With over 125 years of experience within the seafood industry, it's no wonder that locals and travelers alike are raving about this place. Their lunchtime fish sandwiches fly out the door!
Bazbeaux Pizza
No time spent wandering around this city is complete without stopping in at Bazbeaux Pizza for one of their signature pizzas with traditional and exotic toppings. It's open for lunch and dinner and offers several crowd favorites, including their Pizza All Quatrro Formaggio, which features dollops of ricotta cheese, as well as cheddar, mozzarella, bacon, and mushroom.
BRU Burger Bar
Any burger enthusiast will agree that when you find a joint offering chef style burgers of this caliber, you just don't look back. BRU Burger Bar offers a wide range of delectable burgers, as well as fries, shakes, salads, and appetizers. Favorite burger toppings include sweet chili mayo and cucumber slaw or habanero hot sauce and Havarti.
Fun Things to Do in Indianapolis
After a hike around the area and a stomach full of delicious food, there's no doubt you're wondering: what should we do now? Don't fret, as there are plenty of fun things to do in Indianapolis to suit any occasion.
For Kids and Families
Looking for some fun things to do within the city that will keep the kids entertained? You've come to the right place!
The Children's Museum of Indianapolis
The Children's Museum of Indianapolis is the world's largest children's museum, making it a must-visit for any child (not to mention, adults too!). The Dinosphere transports visitors back to the land of dinosaurs, over 65 million years ago, while other attractions include a chocolate themed slide, International Space Station, Lilly Theater, National Art Museum of Sport, and so very much more.
Indianapolis Zoo
You'll find this popular attraction in White River State Park, offering 64 acres of both indoor and outdoor animal attractions (which are home to over 1,200 animals) as well as three acres of stunning outdoor gardens. You can get up close with exotic animals and learn about the Indianapolis Zoo's conservation efforts.
Conner Prairie
Connor Prairie is an outdoor museum whose mission is "to inspire curiosity and foster learning about Indiana by providing engaging, individualized and unique experiences." It's also a Site of Conscience, connecting past struggles to today's human rights movements. Here, families can experience a Makesmith Workshop, a real working farm with animals, one of Indiana's first brick homes, a Lenape Indian Camp, 1859 Balloon Voyage, four-story treehouse, and more.
On the Cheap
Looking for things to do in Indianapolis on a budget? These are our top picks!
Garfield Park Conservatory and Gardens
Requiring just a $2 admission fee for those over the age of 2, the Garfield Park Conservatory and Gardens is a great place to enjoy an afternoon of exploring without breaking the bank. It's the oldest park in Indianapolis and offers a conservatory, sunken garden, arts center, outdoor pool, picnic shelters, tennis, softball, walking trail, playground, and more.
NCAA Hall of Champions
For just $3 – $5 per person, you and your family can enjoy some time at the NCAA Hall of Champions enjoying the exhibits, sports simulators, a 1930s retro gymnasium, ski simulator, and more.
At Night
What should you do in Indianapolis once the sun goes down? We're glad you asked! Here are our suggested night-time attractions.
Indiana Grand Racing & Casino
If you're looking for that Las Vegas feeling in the heart of Indy, then the Indiana Grand Racing & Casino is for you. There's live horse racing, The Grand Buffet Restaurant, slot machines, and anything else you'd expect the city's largest casino to have on offer.
The Vogue
Starting in 1938, The Vogue opened as the region's first air-conditioned movie theater, before being converted into a nightclub in 1977. It's frequently awarded "Best Place to Hear Live Music" and "Indy's Best Dance Club", so is certainly worth a visit if you're feeling like catching a movie, busting some dance moves, or listening to a live gig.
Free Things to Do in Indianapolis
If you're hoping to not even spend a dime while exploring the city, then you're in luck. There are plenty of fun, family-friendly, and fantastic things to do in Indianapolis – all of which are completely free.
Indiana Landmarks Tours
Become a tourist in your own city by embarking on a free public tour by the Indiana Landmarks Center. They also offer a free walking tour of Monument Circle and other famous city attractions on selected dates, so check their website to see when you can participate.
Workout Wednesdays on Georgia Street
Fancy working up a sweat during your Wednesday lunch break? On Downtown Indy's Georgia Street's west block Boardwalk every Wednesday beginning at noon, you can partake in a free group workout session suited to all levels of fitness.
Spas in Indianapolis
If this long list of activities within Indianapolis has tired you out, then perhaps a visit to a local spa is in order? Enjoy a facial, massage, or just some seriously good relaxation at these amazing spas in the city.
Transformations Salon & Spa
Located on S. Madison Ave, Transformations Salon & Spa is a highly rated establishment providing massages, body treatments, skin care treatments, nail services, luxury spa day retreats, and so much more. Their honey body polish and pomegranate cran-apple body scrub are highly recommended.
Studio 2000 Salon & Day Spa
Situated on Monument Circle, Studio 2000 Salon & Day Spa is open 7 days per week and caters to all of your needs when it comes to massage, skincare, waxing, hydrotub, body wraps, salt glow, manicure/pedicures, make-up, and more. You might walk in feeling tense and tired, but you'll leave feeling refreshed, rejuvenated, and ready to take on anything.
Best Gyms & Yoga Studios
Looking to hit the gym in Indianapolis, or perhaps a relaxing yoga session is more your thing? It doesn't matter what your mind and body is craving, this spectacular city has the perfect place on offer.
The Hot Room
With the motto "sweat, stretch, transform", The Hot Room in Indianapolis is your go-to for classes in hot yoga, hot power vinyasa, hot power sculpt, inferno hot pilates, and yin yoga. Plus, when you refer a new friend to The Hot Room, and this friend takes advantage of their Intro Month, The Hot Room will donate the cost of one meal in your honor to the Patachou Foundation. Feeling good and doing good!
Indianapolis Fitness and Sports Training (IFAST)
If you're going to go to a gym in Indianapolis, why not go to the gym? Indianapolis Fitness and Sports Training (IFAST) has repeatedly been named one of the best gyms – not just in the state, but in the country – by Men's Health and Women's Health magazines. They offer personal training, physical therapy, and sport-specific training.
Day Trips Near Indianapolis
Looking to fulfill your wanderlust by heading outside of Indy for a day? You could spend decades within Indianapolis without barely scratching the surface of all there is to do in this large city, but consider these day trips next time you fancy a new adventure.
Shipshewana
Around a 3-hour drive north from the city is Shipshewana, a quaint rural town serving as the heart of Amish Country. Visiting the region will be like taking a step back in time. Horse-drawn buggies serve as the main transport, while Amish shows and cuisine are also on offer. Don't miss a visit to the Shipshewana Trading Place while you're here – it's the largest flea market in the Midwest!
Santa Claus
With America's famous Christmas hometown just over 2.5 hours' drive away from the city, it makes for a great day trip without venturing too far away. Everything in this cute neighborhood is Christmas or Santa themed, making it a family favorite for decades now. Don't miss the world's first theme park, Holiday World & Splashin' Safari, as well as Santa's Candy Castle and the Santa Claus Post Office.
As a final reminder, some of these activities may need to wait until businesses fully reopen from coronavirus closures. However, there is still much to see and experience in Indianapolis that you can enjoy today! What are your favorite spots in Indianapolis? Send them our way to [email protected] or by tagging us on Instagram @rvshare and using the hashtag #rvsharelocal.