Travel Inspiration
May 8th, 2020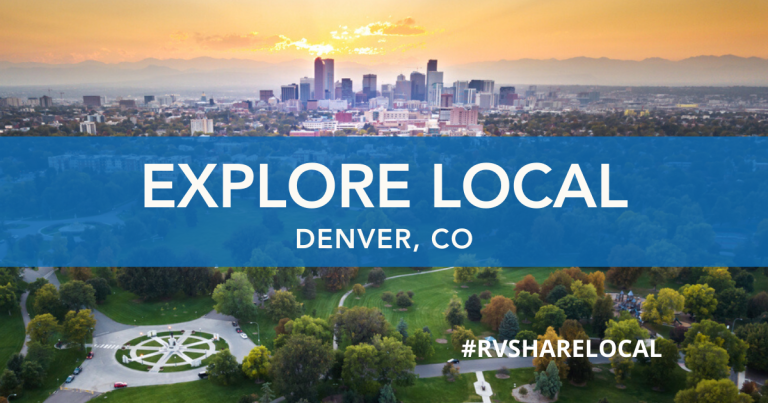 Seeing new places, experiencing new things, meeting new people stirs something inside us all… That feeling of wanderlust is buried deep in our souls! But here's the thing – you don't have to go far to fill your cup. Sometimes the best adventures are the ones close to home.
So join us as we Explore Local: Denver, Colorado.
Why We Love to Travel
So why do we love to travel in the first place? Well, we've already said that a huge appeal is the new-ness a place has to offer. Getting to experience cultures that are different from our own or eating cuisine that is not what we're used to are amazing ways to grow as individuals and learn about others. Seeing how other people live helps us keep an open mind and even gather inspiration to bring back into our daily lives.
Travel is also a great way to get away from the day-to-day. Breaking up our routines with a fun trip definitely recharges the batteries and helps prevent us from getting burnt out. 
But again – you don't have to go far from home to get this perspective! 
Benefits of Traveling Locally
While the culture an hour away from your home might not be drastically different from what you're used to, you can still gain a deepened sense of appreciation for where you've laid your roots. Plus, traveling locally has a lot of benefits:

Explore Local: Denver, Colorado
Today, we're digging into Denver, Colorado. This guide is perfect for those living in or near Denver who want to get to know the city even more. If you're looking for fun things to do in Denver, this is the guide for you!
*Note: Some of the suggestions may not be doable due to coronavirus closures, but keep this list handy for when things start opening back up more! Be sure to check individual pages for specific operation details.
The Mile High City
Denver is dubbed the Mile High City because it is, indeed, a mile above sea level. This makes the air dryer and thinner. If you live in Denver, you are already accustomed. But if you're using this guide to explore the area while you're passing through, here are some tips for adjusting to the altitude.
State Parks in Denver, Colorado
Cherry Creek State Park
Situated near the heart of Denver, Cherry Creek State Park offers a lot to see and enjoy year-round. During summer, swim in the 880-acre reservoir, or fish, bike, hike, and explore the park. During the winter, you can still fish – though it will be ice fishing! 
Best Hiking Trails in Denver
If you're looking to stretch your legs, Cherry Creek State Parks has over 20 trails to choose from! Most of the trails allow for dogs, such as the Cherry Creek Trail and the 0.65 mile Vista Trail. There is also an off-leash dog park on-site. As far as camping in Denver goes, Cherry Creek also makes for a great night away.
If you're looking to fish, Sloan's Lake Park is one of the city's best parks for just that. The path along the water is just as nice as any water-related activity you'd find here. The paved loop path is great for people of all skills and accessibilities. The park also allows for leashed pups! Don't miss the Colorado Dragon Boat Festival every July (well, in a non-coronavirus world!). 
Roxborough State Park
If you're looking to get out of the city but only barely, hit up Roxborough State Park! This park is a treasure trove of some of the best scenic hiking trails in Denver, CO. Willow Creek Falls trail is easy and about 4 miles long. For another easy trail, Fountain Valley Trail should be on your list! While it's not paved, many note that in good weather, it's wheelchair and stroller accessible.
Wildlife in Denver, CO
There are countless species of wildlife in Denver to try to spot while on your hikes – safely of course! Some are easier to find than others, but bird watching is a fun way to pass the time, whether you're casually looking for them in your bike yard or heading out to the trail. Colorado is home to over 400 birds – see if you can spot a Mountain Bluebird in the mountains or a Hooded Merganser on the South Platte River. 
Rocky Mountain Arsenal Wildlife Refuge was founded primarily to protect Bald eagle nesting. It's now home to many mammals, birds, reptiles, and more. Plan a visit here to see these great animals, including bison and prairie dogs. Between the wildlife drive, hiking, nature programs, and more, you'll find something fun for the whole family. You can also get involved as a volunteer or support the conservation efforts.
City of Denver Plant Guide
While out and about, take a moment to notice the plants that call Denver home, too. How impressed your friends will be when you go on a hike and can point out plants by name! Okay, we would be impressed at least if you pointed out a  Mountain snowberry shrub or Woods Rose bloom. Check out our regional plant guide for more.
Denver Restaurants
These Denver hot spots have great food and atmosphere, but there are so many we could add with these favorites. They make for great takeout options during coronavirus limitations, too!
Breakfast
If you're looking for a good classic breakfast spot, Jelly is where it's at! With two locations in Denver, you must make it to one of them. You won't regret pairing anything you order with a side of donut holes!
Known for their sweet dishes, Snooze has a handful of locations across town. But you won't just find pineapple pancakes or funky monkey french toast – their savory dishes are just as delicious!
Head to Sassafras for an amazing brunch set in a cute old house. Anything you order will knock your socks off but if you ask us, the beignets and bloody mary flights should definitely be on your list.
Lunch & Dinner
The OG of vegan fare in Denver, the menu at Watercourse is filled to the brim with mouth-watering vegan comfort food. They have breakfast here, too. During COVID, you can even order pantry staples with your takeout!
American and Latin food served up in these shipping containers for a very chill vibe. The menu changes seasonally to keep things fresh and interesting! If available, scoop up the buffalo roasted chicken and jalapeno cornbread – yum!
If you're into Taco Tuesday – or really, Taco Anyday – stop by El Jefe. Some favorites are the mushroom tacos and of course the salsa flight. Paired with a good marg, and this dinner is a win!
Duo is great for a romantic date night or catching up with a friend over wine. The exposed brick offers a cozy feel, and even with a seasonally changing menu, you'll find delicious options for all types of diets. 
Safta may be temporarily closed due to the coronavirus, but it is a must for when they resume operations! Be sure to order their blue crab hummus – you will not regret it!
Local Insider Tips From Katarina Weiss Anderson:
Serving everything from breakfast to late-night drinks in a cool Cap Hill venue, City, O'City offers an extensive and well-crafted menu that goes far beyond the typical array of processed, under-seasoned soy products you often find at veg-friendly spots. Some standout items are the kimchi pancakes, the "chicken" and waffles, and cauliflower chorizo tacos. Offering small and large plates at a variety of price points and a special late-night menu, City, O'City is a good bet if you have dietary needs to accommodate but don't want to eat mediocre food. 
The Thin Man Tavern
Perfect for weeknight dates, the Thin Man's vibe is a little bit Brooklyn, a little bit film noir, and a little bit dark Italian Renaissance church. Whatever you consider its aesthetic, it totally works – I've never met anyone who didn't love the vibe of this place. Here you can find local specials on tap and an amazing array of in-house infused vodkas and a good amount of outdoor seating. Have a picnic at nearby City Park and then come grab drinks from the best bartenders in town.
Food & Drink Activities in Denver
So maybe you're not only looking for great food but to do something out of the ordinary while you eat and drink, too! We bet these fun food activities will pique your interest.
Denver Food Tours
With so many amazing restaurants in Denver, a great way to experience them is through food tours. Luckily, Denver has dozens of highly ranked tour groups – here are a couple to start with!
Denver Cooking Classes
Denver Drinking Tours
Fun Things to Do in Denver, Colorado
If you're looking for more fun things to do in Denver this weekend – or anytime – there is no shortage. From educational opportunities to getting active to finding the perfect places to shop, we have you covered!
Cultural Activities in Denver
Remember how we said you can learn about Denver plant life on your hikes? To really dig in, plan a trip to the gardens! There are actually two locations to visit the Denver Botanical Gardens, but both offer the same breathtaking scenery. Not only will you find beautiful blooms here, you'll also get to peruse science and art exhibits, too!
A couple blocks from Union Station, you can enjoy a good baseball game! Take the family to see the Colorado Rockies at Coors Field. It's super easy to get to and makes for a great day out.
Dubbed Denver's "Living Room", Union Station is the perfect place to get a drink, shop around, or really do whatever you're feeling! Union Station is filled with top Denver restaurants and local stores. Check out the weekly farmers market or schedule an event in this beautiful 100 year old Denver landmark.
There are many cool museums in Denver, and this one is especially unique to the area. Margaret "Molly" Brown was a survivor of the Titanic, and her home was preserved and turned into a museum to celebrate and share about her activism, philanthropy and passion through educational programs, exhibits, and stewardship.
Denver Shopping
Not only is Denver known for its amazing outdoor scene, but there is also some great shopping to be had, too! If you're looking for a fun weekend activity in Denver, check out these cool shopping districts:
Wellness in Denver
Denver offers loads of great yoga studios, gyms, and spas to take care of your mind and body. Many even are offering online classes during COVID. Here are just a few to check out!
Local Insider Tip From Katarina Weiss Anderson:
This studio is incredibly well-renowned for its fantastic instructors, welcoming and non-judgmental atmosphere, and non-corporate approach that really fosters meaningful physical and spiritual practice (which can mean whatever you want it to mean). The space is big and airy, with lots of big windows and no mirrors to make you self-conscious. They have a 30 days for $30 intro deal where you can take as many classes as you want in that first month, so it's absolutely worth checking out.
Day Trips Near Denver
As much as there is to do in Denver, there's so much to do within just a couple hours of the city. 
So, not quite far enough for a day trip but also not exactly in the city center, plan to head to the Red Rocks for all kinds of activities. It's a beautiful venue to catch a concert, but you can also hike, bike, practice yoga, or visit the Colorado Music Hall of Fame. Whatever you have planned, you certainly can make a full day out of it!
Skiing and Snowboarding
Colorado is home to some of the country's best skiing and snowboarding, and Denver is perfectly centrally located to be able to take advantage. Vail, Breckinridge, and Keystone are all popular resort towns under two hours from Denver. There are shuttle options if you're not up for driving after a day on the mountains or you can crash at the resort for a fun weekend away!
The Garden of the Gods is a must-visit for those in and around Denver. At just over an hour south of Denver, this park offers breathtaking views and lots to do. You can go climbing, take open-air Jeep tours, go horseback riding, hiking, and more. Garden of the Gods spans nearly 500 acres of relatively untouched land and admission is free.
Rocky Mountain National Park
If you're looking for National Parks in Colorado near Denver, you're in luck because there is one less than two hours away! Rocky Mountain National Park is home to Longs Peak mountain, reaching over 14,000 feet. The park has over 300 miles of hiking trails, colorful wildflowers, and wildlife including moose and black bears. There are many programs for people of all ages throughout the year for some educational opportunities. 
As a final reminder, some of these activities may need to wait until businesses fully reopen from coronavirus closures. However, there is still much to see and experience in Denver that you can enjoy today! What are your favorite spots in Denver? Send them our way to [email protected] or by tagging us on Instagram @rvshare and using the hashtag #rvsharelocal.