How the Dempsey Family Successfully Listed their RV with RVshare
RV Owners
November 29th, 2017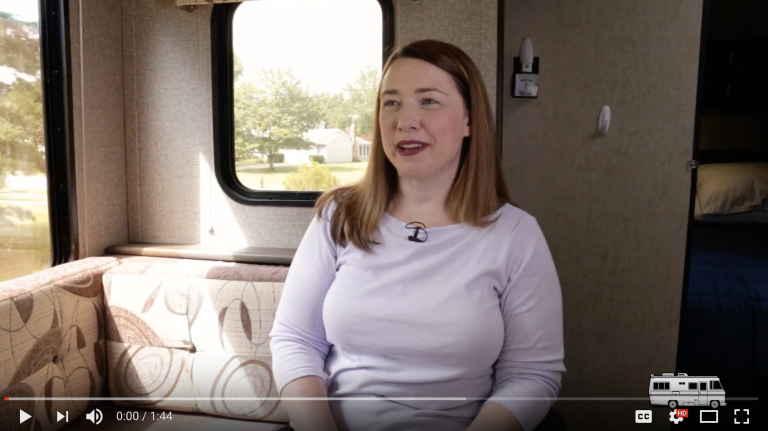 Last week we learned how Doug and Becky Dempsey went from campers to business owners by using their knowledge of the camping world to start successfully renting their RV with RVshare. Today, we'll hear from them how they navigate the RVshare platform, and why they say good communication makes all the difference.
Can you tell me about the RVshare listing process?
Becky: I started creating [the listing]; I put all the information together. I was not done with the listing yet; we didn't have pictures up, we didn't have some of the information; and we still were investigating the insurance aspect. So I saved the listing, not knowing I actually posted it, and the next thing I know, literally the next day, we started getting emails about people wanting to rent the RV. I was like, "Doug, I think we're gonna have people interested in the RV, because I accidentally posted it," and then this whole thing was born.
So that night we went through, we made sure we had all of our information up. We had all the pictures up that we wanted to have. We talked to the insurance company. We said, "What do you need from us?" This was before RVshare offered the insurance, just a few months before. We wanted to make sure we were covered, so that if damage happened, we were taken care of. We talked to the insurance company. Everything was set.
When was your first booking?
Becky: I think it was in April — so before the summer started. And it was for a couple that went to the Alive Christian Music Festival at Atwood Lake. And we thought, "You know what, this is perfect. We're gonna deliver it, set everything up and talk to the people. We'll get everything situated. I think we'll be okay with this."
We were still iffy on people trailering it themselves because that was a little bit more concerning. We thought, "We'll just make sure we deliver it," and then that way the liability is off the renter as far as transportation was concerned; we'll just take it there. So we were hoping to focus on delivering the RV to the renter, but then we started getting requests for people who wanted to rent it themselves and we thought, "Okay, we're gonna have to get comfortable with this now real quick," and about half of our rentals this year [were from ] people [who] trailered it themselves.
Have you had any issues with people trailering the RV?
Becky: We had no issues, and everybody was really knowledgeable in what they were doing. We met them a day or two beforehand, went over everything with them, made sure they knew how to use the hitch and the anti-sway bars and all that. And we have had no issues. So it's been awesome.
Tell us how RVshare facilitates communication between you and the renter and what communicating through the RVshare platform is like.
Becky: Communicating through RVshare is very easy. What happens is a renter will contact us and say, "We're interested in such and such dates" for whatever camping trip they want to go on. I actually get a text message so I know when an email has come through, and then I'll also get an email notification. So if I'm near a computer, I can easily go onto the website, log into my account and respond, or I can respond directly through my email on my cell phone; so it's super easy and convenient. If we're out and about doing anything, I can always take a few minutes to stop and communicate with them.
So [a potential renter] basically requests a quote and that starts the communication process. I'll write back to them, "Okay, those dates are available. Do you need delivery? If you need delivery, where are you going? How many people?" And then we just start asking questions about their camping trip.
From that point, then we decide how we're going to move forward with the pricing. We offer delivery within a 50-mile radius of our address; anything outside of that, we do a custom quote. So we'll see what they need and if they're going to trailer it themselves. And, we start getting into making sure they have the proper tow vehicle, that they're aware of the stability bars and the hitch system, and that they know they're gonna have to use it. We'll just start the communication from there; it's been super easy.
How quick is the back and forth between you and the renter?
Becky: I know when I'm curious about something or I have a question, when I reach out to somebody I'm like, "I need that answer right away," so I always try to get back to people within the first hour, if not maybe two hours, especially if it's during the day when I have time to do that. If it's in the evening and I'm with my kids, it might be a little longer, but it's never more than a few hours. And people are always so complimentary saying, "Thank you so much for getting back to me so quickly, because we've contacted people, and we never hear back from them," which is really a compliment, because I really take pride in that.
We've had a lot of really great communication and a lot of people have decided to rent with us — a lot more than we ever could have imagined, so it's been great.
That's a really good tip for RV owners on RVshare: be efficient in your communication process. What other things do you advise to make this process easier as an owner?
Becky: I think, as the owner, communication is number one. A lot of times renters don't know what a full site hook-up means. They don't know what kind of campsite or campground they want to go to. They're unfamiliar with a lot of the terminology.  [I'll] say, "Do you have a 30-amp site or a 50-amp site?" And they're like, "We don't know." And then I'll say, "What campground are you going to?" "We're not sure yet." And I'm like, "Do you know if you're gonna get a full-service site?" And they say, "Not sure." And I'm like, "Okay, let me help you with all of that; here are the differences." So when it gets to the point where there's so much communicating back and forth, I'll just say, "You know what? Why don't you just call me?" And I'll give the renter my phone number. So, communicating is number one, because there are so many unknowns. And especially if somebody doesn't have any RV experience.
You know, I actually wrote out in a Word document a response so that if somebody did ask me [via email], all I had to do is cut and paste, because I was typing constantly.
We had a renter who was doing a dog show at a park where there were no hookups. We were able to work all of the details out with her ahead of time, so that when she got to the park in order to use the camper for the comfort of her and her dogs, we were able to get everything set up. We knew what was going on; she knew what to expect.
We want to manage the expectations, so nobody's disappointed and everybody has a really good experience — us and the renters. And that just comes from communication; that's absolutely number one.
What about RVshare makes it the best peer-to-peer RV rental platform?
Doug: What I like about RVshare is the fact it is so easy to do, and the process is so smooth, just so easy. My wife handles all of the logistics as far as listing the RV and taking pictures and writing descriptions, but what I like about RVshare is the fact that people come to you. I don't have to go and chase anybody down or ask anybody if they want to rent it.
They come to us, we okay it, my wife works out the details, and then I usually either deliver the travel trailer to the campsite and set it up for the people, or if they choose to trailer it themselves, they can come to our house. We hook up the travel trailer, make sure everybody is safe and then they can drive away and go to their campsite or wherever it is that they're going to go. The platform is just extremely user-friendly, so the ease of RVShare is just wonderful.