RV Parts & Accessories
August 25th, 2019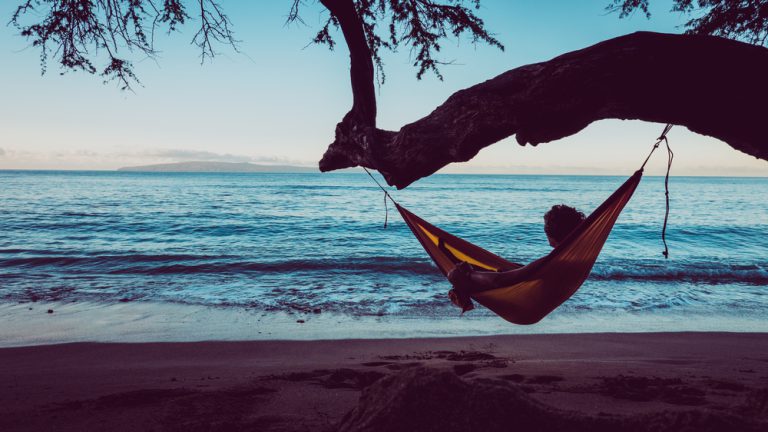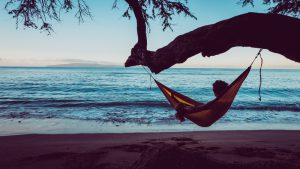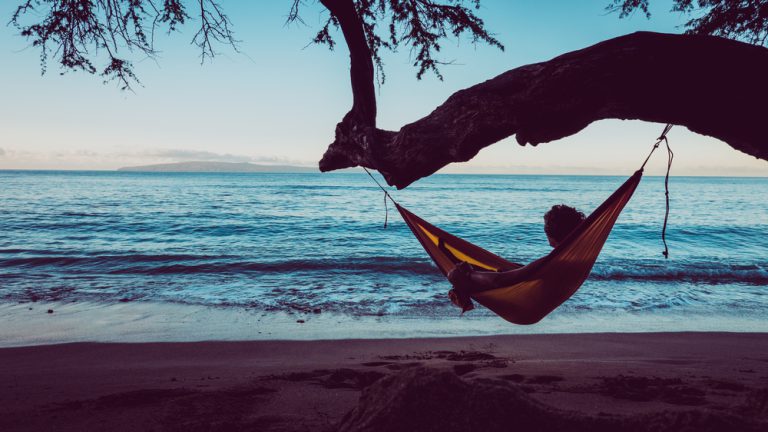 Don't get us wrong: here at RVshare, we're all about… well, RVs. (You probably could have guessed.)
But most RV campers got their start the old fashioned way: sleeping in a tent on the ground. In fact, even seasoned travel trailer and motorhome dwellers often go back to their humble roots and take a tent camping trip, even just for nostalgia's sake.
But if you're craving a night of sleeping under the stars, have you ever considered trying something different — like a suspended tent, or camping hammock?
Hammock camping is all the rage lately, although the tradition of sleeping in hammocks goes back literal centuries. They were initially invented by the native inhabitants of the Caribbean, Central America, and South America, and were used on board ships by sailors who discovered this unique way of sleeping during their travels.
But the camping hammocks we're talking about bear little resemblance to the rope versions you've seen slung between the columns on a beach house porch. In this post, we'll walk you through the best camping hammocks, tree tents, and other gear you need to enjoy sleeping under the stars — but off the ground.
Hammock Camping Gear
Let's start with the most basic piece of hammock camping gear: the camping hammock itself. Many campers actually skip the tent altogether and simply sleep in a well-designed hammock, sometimes even without a rain fly or other form of overhead shelter if the weather is mild enough.
Unlike beach hammocks, camping hammocks aren't made out of net or rope, and are instead crafted of lightweight, breathable fabrics that will keep you warm, dry, and evenly suspended. And they also lack the same spreader bar setup that beach hammocks have — which may look classic, but have a few decidedly negative consequences when it comes to hammock camping physics.
For one thing, spreader bars can throw off the hammock's natural center of gravity: the way your weight pools at the lowest point of a hammock's collected fabric, or "sag." That's why it's so easy to fall out of one of those inviting-looking beach hammocks. We wouldn't be surprised if you've had that experience yourself!
Along with being tippier, hammocks laid flat with spreader bars also tend to be less comfortable… which is why many campers balk at the idea of hammock sleeping initially, thinking it would be murder on their back. But if you get the proper kind of hammock, which is actually designed for long-term sleeping and camping, nothing could be further from the truth. Your hammock will leave you feeling refreshed, well-rested, and without that annoying kink in your spine that makes the day's adventures uncomfortable or downright impossible!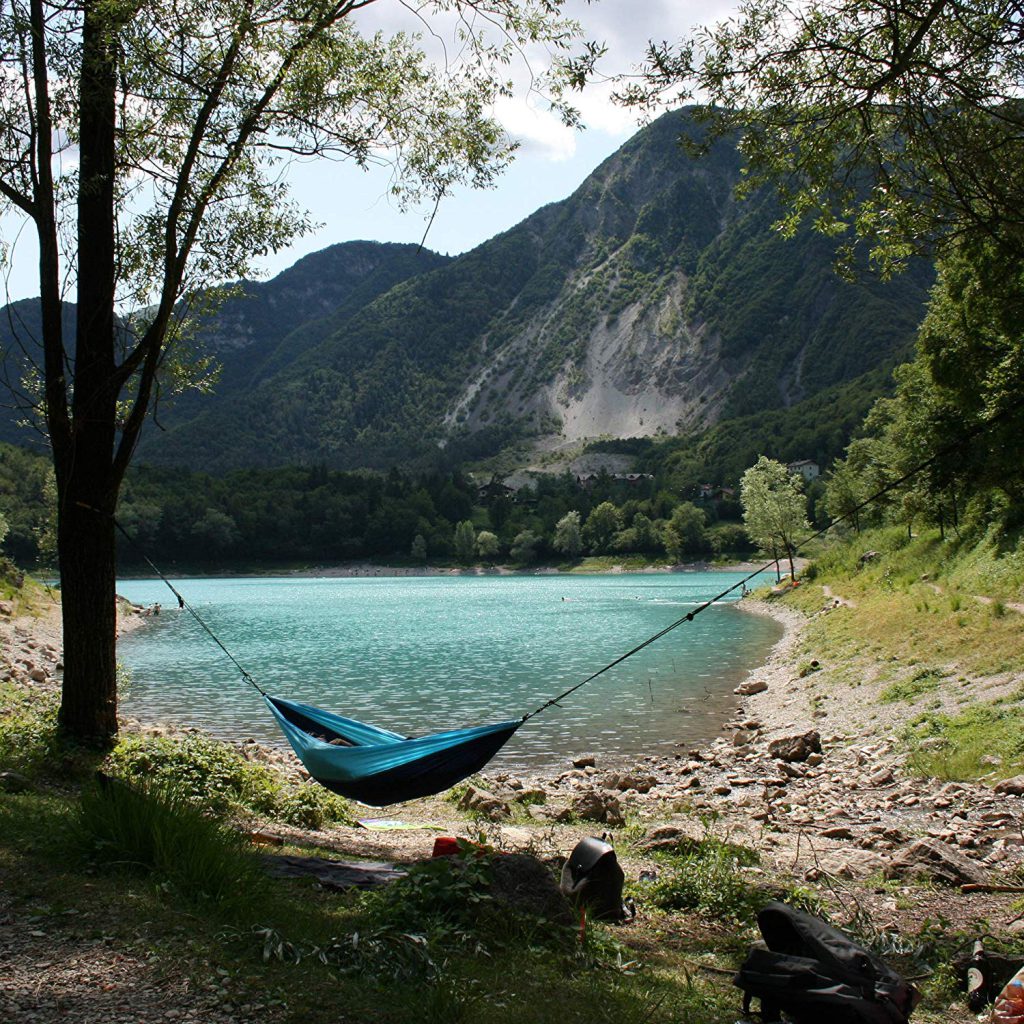 For instance, check out the camping hammock pictured above — a product made by Wise Owl Outfitters and which comes in both double and single sizes. As you can see, it connects to the tree by a single point on either side, rather than having the weight distributed with a spreader bar, which allows your body to create the perfect sleeping space with its own natural weight physics.
Hammock Bug Net
If you'll be camping somewhere hot or rainy, you can also look into hammocks with mosquito nets, to help keep you bug-bite-free for the duration of your stay. Some campers also bring along their own bug nets or a rain fly to create impromptu shelters over their hammocks, which can make for a more intimate, cozy experience. For example, the Lost Valley Camping Hammock Bundle includes a mosquito net, rainfly, tree straps, and compression sack to keep it all in — and it only weighs four pounds, making it super backpackable.
Plus, these hammocks are affordable, to boot. Many high-quality camping hammocks can be purchased for between $20 and $50, which is a whole lot less than even a small tent. And when you're camping in a tent, you've got lots of other moving parts to deal with: there are the stakes to set it up, of course, but also your ground tarp, sleeping bag, sleeping pad… all of that extra headache goes out the window when you're trading a hammock for your sleeping bag.
Hammock Tent
If straight-up sleeping in a hammock seems a little beyond the pale to you, there are still other options for getting yourself sheltered while suspended off the ground. Hammock tents, or tree tents, make camping off the ground feel a lot more similar to terrestrial camping. (And they look pretty neat, too.)
For example, the UBOWAY Triangle Hanging Tree Camping Hammock Tent shown above can be used for camping, backpacking, hiking, and climbing, and it's strong enough to hold up to 882 lbs thanks to its triplicate set of tensile-strength tree straps. Of course, as with all camping hammocks and suspended tents, making sure you have a firm connection to your anchor (most often a tree) is of utmost importance — so be sure to review the instructions that come with your particular piece of equipment. It's also important to ensure you're using the right kind of anchor: a well-established, hardened tree that won't become damaged by the pressure of the hammock strap, and which will bear your weight without bending or breaking.
Hammock Underquilt
Even campers who are eager to try out suspended camping are sometimes caught up by one fairly major detail: how do you stay warm when you're sleeping in a hammock?
Well, for starters, you can choose a warm spot to camp it. Since hammocks are made of lightweight, breathable materials, they're comfortable even in tropical conditions, but they can also let cold winter air through very easily.
If you do want to use your camping hammock in a place where Jack Frost visits each year, no worries — it's totally possible! It just means investing in a little bit more gear up front. Depending on your budget and what you already have at your disposal, it might not be a very big deal to get yourself set up to deal with chilly situations.
You can use the plain old sleeping pad or sleeping bag you already have to add some extra insulation to a camping hammock, but you can also invest in specially-designed hammock quilts that are made to fit easily both along the bottom of the hammock and on top as a cover. There are also specially created hammocks that use quilt material in their construction, which can make for a much more comfortable camping experience in cold-weather areas. (For example, check out the One Tigris Night Protector, which remains comfortable at temperatures down to 40 degrees Fahrenheit.)
There are also specially-designed sleeping pads built for hammock campers, which help eliminate the annoying shoulder "squeeze" that can be caused by using a regular pad in a hammock. But our best suggestion is to avoid hammock camping in extremely cold weather… after all, the whole point of this kind of camping is to make it enjoyable and freeing. Why not enjoy a nice, warm night somewhere?
For dedicated adventurers, camping in tents, hammocks, and other forms of "roughing it" are all part of a fun adventure. But when you're ready to upgrade to the kind of cozy that involves real upholstery and a memory foam mattress, RVshare has got your back. Your next camping trip can involve full-sized kitchen appliances, cozy interior design options, and all the leg room you could ask for… and with RVshare's unique and user-friendly platform and policies, renting an affordable rig is totally worry-free and easy.
For one thing, each of our rental vehicles is covered by a unique, top-in-the-industry set of insurance coverages, so you'll never have to wonder "what if?" about unexpected surprises on the road. We also have an available 24/7 roadside assistance upgrade, so if you're new to the camping lifestyle or nervous about actually driving such a big vehicle, you can put your mind at ease on that front, too.
Finally, renting through the peer-to-peer market means your hard-earned travel dollars are going right back into the camping community. You'll be funding the adventures of other travelers and road warriors just like you, which feels a whole lot better than lining corporate coffers. And since regular, private owners don't have to worry about the overhead expenses of running a business, they can afford to pass on those savings to you in the form of lower per-night rental costs. It really is just about as win-win as it gets!
Whether it's in a hammock, a tent, or an RVshare camper, enjoy your trip!
This post may contain affiliate links.