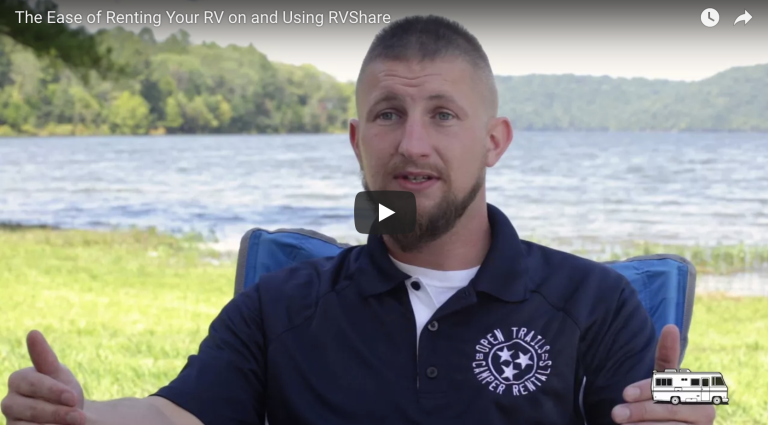 Trey Long is about as enthusiastic and excited of a person as you can get. Pair that purely positive energy with his lifelong desire to own a business and you've got an incredible RVshare user whose business, while only in its infant stages, is growing exponentially — so much so that he now has his own storage and manufacturing facility.
Trey's journey into RVshare-dom started when he realized having a camper for him, his son and wife to return to after a long day in Disney World would be his ideal setup. Particularly because the cost to rent the camper was better than a hotel room.
But then he thought, "Wait — why not just have my own camper and then rent that to others in my position." So that's what he did – purchased an RV for a trip, then listed it on RVshare to, well, share with others. At first, offsetting ownership costs was his goal. However, after surpassing that eight times over, Trey focused his next goals on creating a rental empire in the state of Tennessee. And now, he's not far from that achievement.
However, the income is truly a secondary benefit to Trey. Besides being able to provide for his family — including a newborn son, Trey loves being able to share his blessings with others, build genuine relationships, and offer people the trip of a lifetime.
His energy is infectious and portrayed through every response he provided in our sit-down interview. Read on to learn how his goals have shifted greatly, how RVshare is helping with that and to learn some advice he offers potential RVshare users.
Evolution from Lifelong Camper to Camping Business Extraordinaire

Tell me about your history of being a camper and what brought you to purchasing your own trailer?
Trey: Growing up, we had a pop-up camper. Every summer, that's how we traveled for vacations, whether it was to an amusement park or to a state park to see the surrounding areas — [like] Fall Creek Falls. Then as I got into middle school, I joined the Boy Scouts. In the Boy Scouts, we went everywhere — whether it be camping at a campsite or backpacking through the Appalachian trail — and we camped mainly in tents. We've [also] hiked the Appalachian trail in North Carolina, Tennessee border, in the Smoky Mountains as well. We've hiked everywhere.
Not until recently, we bought our first actual camper, which was a 2018 Heartland Mallard travel trailer, and it has been a blast to camp in. We have spent numerous nights out camping at different state parks and campgrounds in the central US area, taking road trips there.
Tell me about some of those road trips you've taken with your family?
Trey: Recently in our campers, we went to Indiana, and then to Louisville, Kentucky — the Louisville Slugger museum. At the time, it was just my wife and my nine year old son. Now we have a new baby on the way, and he's gonna have his first trip in November, going to Fall Creek Falls.
At what point did you realize that you go camping enough that you should purchase a trailer?
Trey: Me and my wife, when we dated and in our early marriage, we went camping a lot in a tent. Taking a nine-year-old in a tent is no big deal; that's fun for him. But we were expecting a baby boy, so we thought, "Hey, what can be easier than setting up a tent? An AC with the young child and a restroom."
In the beginning of 2017 with our new son coming, we had started to look and go to the different shops to see what campers are available, what styles, what platforms, what layouts, to see what would be best for us. Finally, after doing months of research and trying to figure out what would be the best one for our family, we decided to purchase one in May of 2017. Since then, it's been a blast.
Why did you purchase the trailer you purchased?
Trey: The reason we decided on the trailer we picked was, the Mallard was small — 20 feet — but also had the ability to sleep five. With the weight of the trailer, at 3,500 pounds, we knew that whether my truck or my wife's vehicle, whichever car we needed to take to accommodate with the dogs and the kids, both of them would be suitable to pull it.
It's worked out great. That camper sleeps five people comfortably, and has plenty of room, just enough room to keep you comfortable inside and outside.
When and where to was your family trip in your new trailer?
Trey: This is kind of interesting. We bought our trailer one week before Memorial Day in 2017, our plan the following weekend to [go to] Indiana and Kentucky. We listed it on RVshare the night that we signed the papers. Within that week, when we didn't even have the trailer at our house, we were scheduled to pick up on that next following Saturday, we had already booked out eight days on rvshare.com.
That was really, really exciting, to have that instant rental out, knowing that this platform does work.
Did you get still get to take your trip?
Trey: Oh. Yeah, yeah, yeah, yeah.[It] booked out eight days for the first couple weeks of June. We were still able to have our trip in Kentucky.
Finding and Using RVshare
How did you hear about RVshare, and what made you even look for a rental platform?
Trey: In 2016, we took a family trip to Disney World. We drove my wife's small hatchback car 12 hours, from Tennessee to Disney World. That was a fun trip with my nine-year-old, my sister-in-law, and my wife. When we got down there, me and my wife were talking, and we were like, "Man, next time we do this, let's rent a camper. Let's rent an RV and take it down there."
In preparation of our trip for Memorial Day 2017 to the Louisville Slugger Museum, as well as the Kentucky Derby, Churchill Downs and the amusement park [and before we had our trailer purchased], I was thinking: My wife was looking at hotel rooms, and what we would spend for a hotel room. Then I remembered that the year before, I was like, "Let's rent an RV." I did a quick Google search, "RVs for rent in Nashville, Tennessee," and it popped up. We had a couple local people, and I was looking at their prices. The next listing down was rvshare.com, and I hadn't really heard of it before, so I clicked on it.
I got to scrolling through there, and that night when we talked, I said, "Hey, let's look at renting a camper and taking it on this vacation, because for what we're gonna pay a hotel room, we can take a camper there." It would be a fabulous experience for my nine-year-old to stay in a camper.
Then, me, being myself, I'm like, "Why are we gonna rent a camper? This is an excellent platform." So after spending about four days researching the company, trying to find out the pros and cons of the company, and speaking with individuals via phone and email, [my wife and I] were like, "Let's go ahead and buy a camper, and list it on here to help offset the cost of ownership."
Can you just talk about the whole listing process and using RVshare as a communication tool?
Trey: When we finally purchased our camper and we went to list it on RVshare, it was just like uploading a photo to Facebook. Take a picture, and then hit "upload," and put a description in there. The interface was very easy to use. One of the great things was they gave [us] a suggested price. You can put a price on how much you want to charge your camper for a night, then a description of what makes your camper great and what makes it better than others in the area.
One thing that's been great for us is: we use our camper, as well as rent it out as a business. Anytime we have a family trip that we want to take, we can get on [RVshare] and block off those dates for our personal trip.
Once we got everything listed up and filled the description out, it was just a matter of [adding] pictures and then hitting "activate." Once you activate it, RVshare sends over your VIN number for insurance, and you're instantly approved for insurance, so your vehicle is covered no matter what with commercial insurance — which is great, because you have no worries if damages happen.
Have you experienced any damages?
We actually had damages happen; we were a little sad, but we knew going into renting campers that, "Hey, look. We're sharing this with other people, and damages are gonna happen." With that outlook, we just hoped that it would be later rather than sooner.
It's been a great eye opener, working with RVshare, and the communication between RVshare, and us, and the renter who rented the camper. It's been a great way to see RVshare's effort and their due diligence to try to get to the bottom, and try to get the insurance claim answered and filled out. Within the first 24 hours of placing the claim, I had five phone calls and four emails from RVshare and the insurance company with RVshare. The communication was great in that aspect.
Now we have our camper, the parts are back in, and the camper's great again. It's ready to go back out, and we didn't lose any downtime. And that's one big thing I was concerned about is, "What are we gonna do if we have these rentals, but our camper's damaged." Working with RVshare, we were able to figure out a way to make everything work the way it needed to be, so not only you as a renter got taken care of, but the owner, as a camper, was taken care of.
Even though damages do happen, they were happy to help. [RVshare] wanted to help, and [the renters] felt bad that they did it. Between RVshare, myself, and the renter, everything was just a smooth transition of getting paperwork filed, and getting the trailer back to where it needed to be.
Evolution of Trey's Business
How did you evolve your business so quickly, where in your first year of ownership you bought not just one, but two, trailers?
Trey: Shortly after we bought our first one, I realized that this could be a supplemental income, to help out with our new baby that we just had coming into the scene in the end of June, and to help with daycare costs, formula costs, diapers, because we all know how expensive those are.
We crunched some numbers, went and got a business license, set up a business account to run the camper rental through RVshare, and it has just been week in after week out. We can't keep a trailer in our driveway on the weekends. Most of the time, they're gone during the week. It's great to hear where they've been.
What made you realize this could be a supplemental income?
Trey: After listing on RVshare, the first month — the month of June — we had our camper out for 25 days. About one week into July, we already had 26 days of July booked out. I was getting phone calls, messages and emails saying, "Hey, we want your camper. We want your camper." I was having to turn people away.
I had a conversation with my wife: "I don't know what we're doing. Are we doing it right? Are we doing it wrong? This is crazy. We have 45 days booked out in 30 days of having our RV listed on RVshare." In our minds, we're just completely amazed. I told her: "I can't keep turning down people, because that was one of the things that attracted me to RVshare — being able to help people and let people enjoy what we have.They're looking for a way to have an affordable vacation and enjoy things that we have to share with them. We need another one."
She looked at me like I was crazy. I'm like, "We do. I can't keep turning these people down, because this is great." Whenever they come back, you hear their stories — you're talking with them or they write a description of their trip in the camper in the notebook that we leave in the there — they tell you what's going on and how great of a time it was.
So towards the end of July, after talking with my wife for about three weeks, we finally found another used camper, which is the one we're at today, the 28-foot Wildwood Bunkhouse. We found, looked at it, and it looked brand new. I had to ask her very nicely if we could get it.
We bought that one, brought it home, did a TDOT inspection on it — made sure that the brakes, the propane, fire extinguishers, all the lights and electricity, AC were good. Then within having this one at our house for a week, we had 20 days booked out on it. That was at the end of July/first week of August. Now we're in the middle of September, and we have 60 days booked out on this one.
On our 2018 Heartland Mallard, we are right at 118 days booked out on it since Memorial Day. It has just been amazing to see the demand.