Travel Inspiration
November 16th, 2021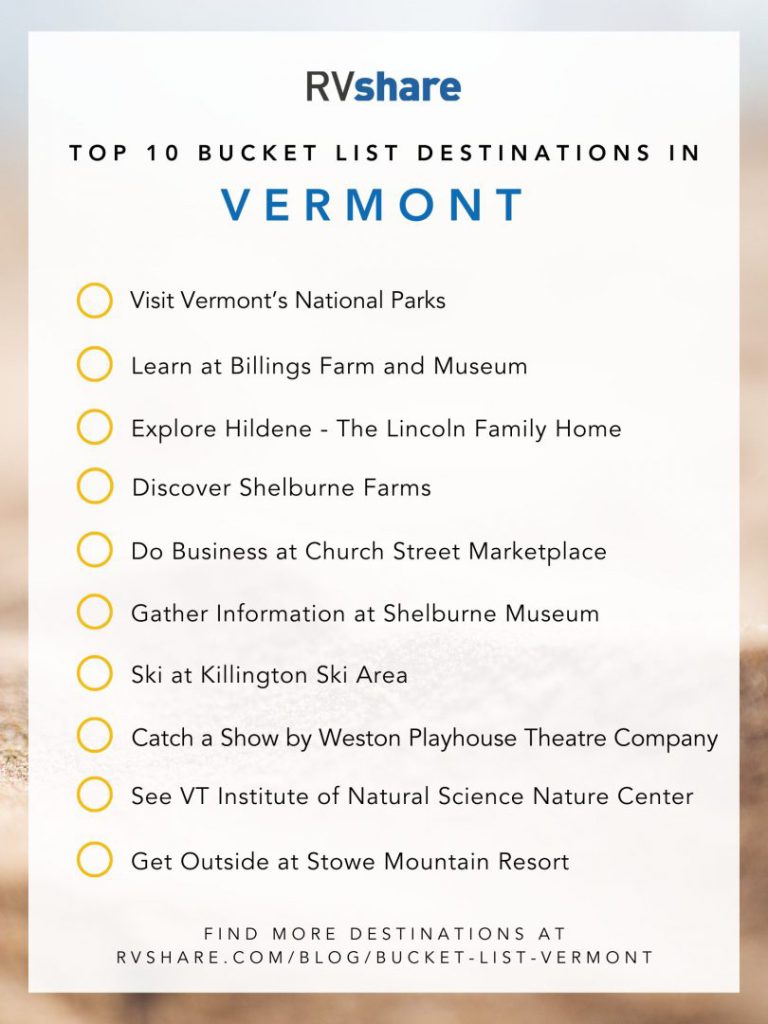 Vermont is a beautiful and often overlooked state that every traveler should make a point of getting to at least once in their life. The place is absolutely gorgeous in both winter and summer, and there are tons of amazing things to see and do all year round.
The biggest problem? Choosing which things to see and do while you're there. This is where a Vermont bucket list comes into play.
By creating a bucket list that you add to as you find new and interesting things to check out, you can easily keep track of your best ideas and ensure you see the things that are most important to you while spending time in the state. Additionally, having a travel bucket list helps you keep track of which things you didn't do, so you can make sure to catch them next time around.
If you're like many people, you may have no idea where to begin when it comes to creating a travel list. That's okay, because we're here to help!
Below, we've included our Vermont bucket list. Use this to get some bucket list ideas and start creating a list of places to visit and things to do when you finally make it up to Vermont.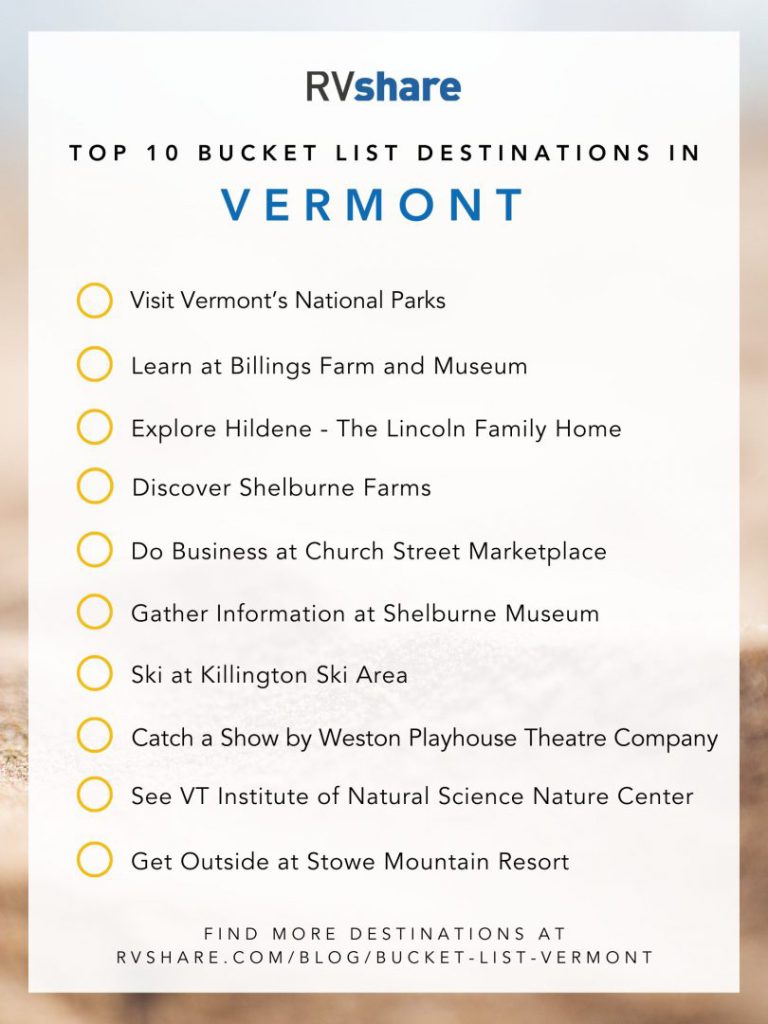 What is a Bucket List?
Before we go on, it's important to make sure we're all on the same page. Therefore, we want to touch on what exactly a bucket list is, just in case you haven't heard the term before. Basically, a bucket list is just a list of things you want to do before you kick the bucket. Think of it as a lifelong to-do list that only includes the things you truly want to do.
You can of course keep a single bucket list for all of your must-dos. However, we like to keep individual travel lists for every state, making it easy to plan a trip on a whim and ensure we fit in as many awesome things as possible.
The Vermont bucket list below is a wonderful example of one of these state travel bucket lists that should inspire you and help you get started making your own.
— Bucket List Vacations: Vermont's National Parks —
One of our absolute favorite things to do in any state is visit the national park sites. Every state has at least a few, and all of them are well worth seeing. In Vermont, you have three to choose from, and we firmly believe all three should be on any Vermont bucket list.
#1. Appalachian National Scenic Trail
A 2,180-mile-long public footpath that crosses through 14 different states, the Appalachian National Scenic Trail is a super cool thing. The trail wanders through a variety of environments and offers gorgeous scenery around every turn. Why not wander a part of this amazing path and see some of America's beauty for yourself?
#2. Marsh-Billing-Rockefeller National Historical Park
The Marsh-Billing-Rockefeller National Historical Park is a lovely little piece of Vermont nature that must be explored to be truly appreciated and understood. The park preserves the place where Frederick Billings established and managed a forest and dairy farm, and is named for himself and the other owners of the property. 
#3. North Country National Scenic Trail
Another national trail that makes its way through the state of Vermont, North Country National Scenic Trail is a fantastic little path that you really should visit at least once. This trail winds through the hills and valleys of the North Country, and historic sites along the way help tell the story of how the United States became what it is today.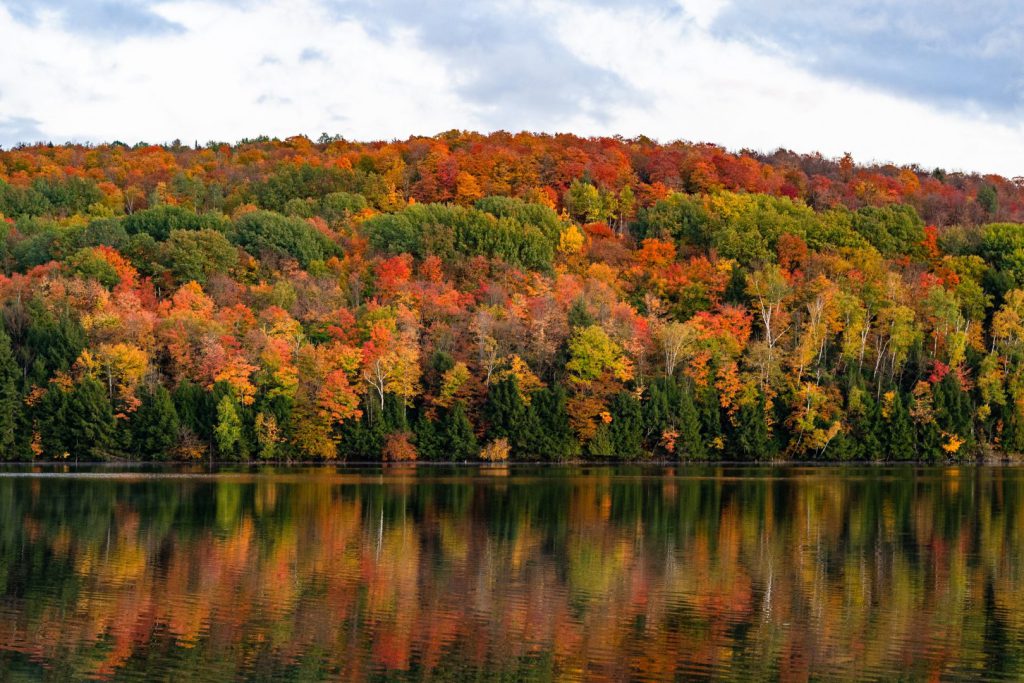 — More Vermont Bucket List Experiences —
Of course, you'll want more than those three parks on your list. Fortunately, there are tons of other options to pick and choose from! Below we've listed our favorite spots in the state so you can decide which ones will fit best on your Vermont bucket list.
#4. Learn at the Billings Farm and Museum
One of the best outdoor museums in the country, the Billings Farm and Museum is home to a fully operational Jersey dairy farm. It also plays host to a gorgeously restored 19th-century home that now serves as a museum. Learn about the history and culture of Vermont in the house before venturing outdoors to engage with the many animals onsite.
#5. Explore Hildene: The Lincoln Family Home
A beautiful mansion, Hildene was first owned by President Lincoln's son Robert Todd Lincoln. The home was then passed down from one Lincoln generation to the next until 1975. These days, visitors can tour the home as well as the lovely grounds surrounding it. The tour guides are knowledgeable and helpful, and the whole experience is quite interesting.
#6. Discover Shelburne Farms
Another awesome farm attraction, Shelburne Farms is a working farm that covers a full 1,400 acres. It is a National Historic Landmark and is the campus for the farms' non-profit, which works to educate others in order to create a sustainable future. Here you can attend environmental education programs, explore walking trails, stay in the onsite inn, or visit the historical barn to visit animals, make cheese, and even grab lunch.
#7. Do Business at Church Street Marketplace
Looking for some seriously good shopping and dining while in Vermont? If so, we highly recommend Church Street Marketplace. This shopping district is located in downtown Burlington and covers four blocks. The area has won awards, and when you see the hundreds of shops and restaurants there (as well as the street performers at every corner), you'll understand why.
#8. Gather Information at Shelburne Museum
Want a huge variety of things to do on a single campus? Shelburne Museum is the place to go for that. This beautifully landscaped space is home to a variety of historic buildings such as the Webb Gallery, the Pizzagalli Center for Art and Education, and the Round Barn. In these buildings you will find exhibits on art, history, nature, and more. You're sure to find something that interests you no matter who you are—an impressive feat, if you ask us.
#9. Ski at Killington Ski Area
Skiing is a must-do when visiting Vermont in the wintertime. Fortunately, there are tons of great places to go skiing. One of our favorites? Killington Ski Area. This place boasts 1,500 acres of skiable terrain and 73 miles of ski trails. Whether you're brand new or an old pro, you're sure to find a trail that suits your needs, making this a great option for everyone visiting the state.
#10. Catch a Show by the Weston Playhouse Theatre Company
Vermont is home to a surprising number of excellent theater companies. One of the best is the Weston Playhouse Theatre Company. In fact, they're so good we think you should make a point of seeing one of their performances while you're in the state.
#11. See Animals at the Vermont Institute of Natural Science Nature Center
Set on a lovely 47-acre campus, the Vermont Institute of Natural Science Nature Center is a wonderful place to learn about wildlife. The institute is dedicated to environmental education and research, as well as avian rehabilitation. Guests can sign up for animal encounters and check out the onsite exhibits, as well as the playground for kids. Depending on when you visit, you might also have the opportunity to watch animal feedings or rehabilitation.
#12. Get Outside at Stowe Mountain Resort
Another fantastic place to ski, Stowe Mountain Resort is a wonderful place to spend some time. Don't care to go skiing? The resort offers tons of other outdoor recreation opportunities, including snowboarding in winter and hiking and biking during the summer months. Of course, the onsite eateries and spa are all pretty fantastic as well.
#13. Drive to the Top of Mount Mansfield
Another Vermont must-do is driving up to the top of Mount Mansfield. This is the highest peak in Vermont, and those who reach the top are rewarded with a spectacular view. Fortunately, you can drive to the top via the Auto Toll Road. This steep and winding road is thrilling, to say the least, and certainly isn't for the faint of heart.
#14. Get Hands-On at the Montshire Museum of Science
A hands-on science center with more than 140 exhibits, the Montshire Museum of Science is a great place for people of all ages to have a blast while learning something new. Here you can see the world the way a bird does, learn about native plants, discover the amazing world of astronomy, and more.
#15. Admire Art at Bennington Museum
Art fans should pay a visit to the Bennington Museum. This museum focuses on showcasing art from New York, New Hampshire, and Vermont. Some of the art housed here was created as early as the 18th century, while some is from this year, and there are pieces from every era in between. This museum is the curator of the largest collection of paintings from artist Anna Mary "Grandma Moses" Robertson.
#16. Time Travel at Ethan Allen Homestead
Ethan Allen played key roles in protecting Vermont homesteading rights. He also aided the Continental Army during the Revolutionary War. When visiting the Ethan Allen Homestead, guests will learn about the life and times of this extraordinary man while touring his historic home and walking in his footsteps.
#17. Check Out the Vermont Ski and Snowboard Museum
As mentioned above, skiing is a must-do when in Vermont, and many believe snowboarding is something you should try as well. That said, you probably can't hit the slopes every day of your visit. Why not visit the Vermont Ski and Snowboard Museum on one of your off days so you can learn more about these fascinating sports?
#18. Inform Yourself at ECHO Leahy Center for Lake Champlain
Dedicated to educating people about ecology, culture, history, and opportunities, ECHO Leahy Center for Lake Champlain is a wonderful place to learn about the environment of Lake Champlain. Check out a National Geographic experience film while you're there, and be sure to check the calendar for special events that may be happening during your visit.
#19. Experience the Fairbanks Museum and Planetarium
Home to the only public-access planetarium in the state of Vermont, the Fairbanks Museum and Planetarium is a wonderful museum. The focus at this attraction is on the natural history of New England's Great Northern Forest. More than 30,000 objects are on display, and the interactive display makes the whole experience especially engaging.
#20. Shop Cold Hollow Cider Mill
Have you ever seen cider being made? What better place to see it than Vermont? At Cold Hollow Cider Mill you can watch the process happen right before your eyes. Not only that, visitors are encouraged to try a cup of this incredible cider while they watch. If you like it, you can buy more to take home. Also available are hard ciders, apple cider donuts (also made fresh in-house), and a variety of other locally made items.
#21. Walk Morse Farm Maple Sugarworks
Another food item that just screams Vermont is maple syrup. That's why we highly recommend a visit to Morse Farm Maple Sugarworks. Here, you are welcome to tour the grounds via guided motorcoach or on foot. Videos and live presentations help orient guests by giving them the history of the farm, and all guided tours end with a special treat.
#22. Take a Ben & Jerry's Ice Cream Factory Tour
Okay, we were all aware that apple cider and maple syrup are made in Vermont, but did you know Ben & Jerry's Ice Cream comes from this state as well? It does, and visitors are welcome to tour the factory so they can see the process for themselves.
Just be aware that tours take place whether or not ice cream is actually being made, so if it's important that you get to see actual ice cream in production, you will want to check their calendar first.
#23. Visit the Vermont Teddy Bear Factory
Yet another item that is created in Vermont? Teddy bears. Specifically, those made by the Vermont Teddy Bear Factory.
This company started as a one-man operation in 1981. These days, the bears are in high demand and are made by the thousands on a 57-acre campus, which guests are invited to tour to see the teddy bear making process. Guests are also able to make their own bears or send their own bears to the "doctor" for repairs during their visit.
#24. Tour Lake Champlain Chocolates
If cider, syrup, ice cream, and teddy bears aren't enough to satisfy you, why not try some locally made chocolates as well? Lake Champlain Chocolates is a family-owned business that has been operating since 1983. They create chocolate from locally sourced ingredients, and it is absolutely phenomenal. 30-minute tours of the candy-making facility are offered regularly and even include a tasting. Best of all, these tours are free!
#25. Grab some Things from the Warren Store
A historic business that dates back to the early 1800s, the Warren Store started as a boarding house with an attached stagecoach shop. Clearly, stagecoaches are no longer in high demand. Therefore, the business has since been transformed into a mom-and-pop shop that includes a bakery, deli, and general store. It's a popular spot for tourists and locals alike, and is quite a fun place to shop.
#26. Ride Green Mountain Railroad
Vermont is an absolutely beautiful state. This is true no matter when you visit, but we especially love the colorful fall time there. Why not see some of the gorgeous Vermont countryside by taking a train ride? Green Mountain Railroad offers a variety of train rides through the countryside, and every single one offers spectacular views of Vermont's natural beauty.
As you can see, there are tons of ways to fill your time in Vermont. In fact, there are so many things to do, checking all of these experiences off your bucket list might be a little bit challenging. Visiting the state in an RV can help.
We have tons of amazing Vermont rental RVs available. Book one for your time in Vermont and have a blast hopping from one location to the next, seeing and doing everything on your Vermont bucket list. Why not book today so you can start your Vermont adventures as soon as possible?