Travel Inspiration
November 2nd, 2021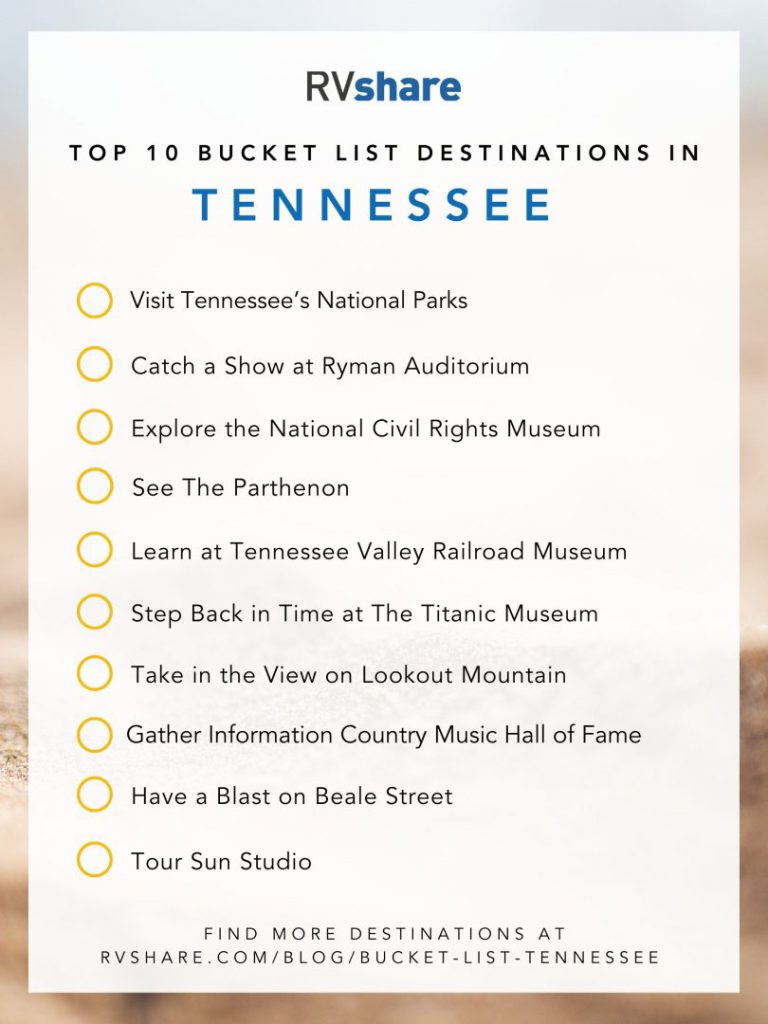 We love Tennessee! The music scene, the barbecue, the friendly people, and the gorgeous scenery all make for an absolutely amazing place to visit. In fact, we have a hard time deciding what to do while in the state. This is where a Tennessee bucket list comes into play.
A travel bucket list helps you keep track of which things you want to experience most while in a particular place, making it easier to plan. Additionally, a travel list can help you narrow down options by making it easy to see which things you think are worth doing and seeing.
Not sure which items to add to your Tennessee bucket list? Check out our list below to get some bucket list ideas of your own.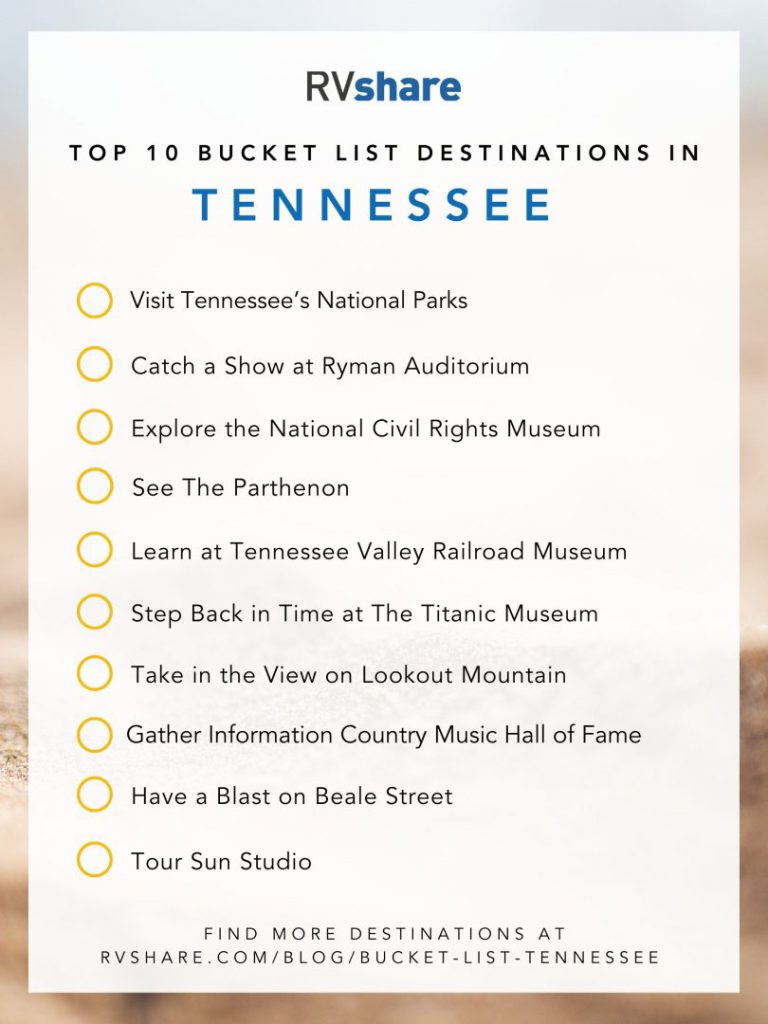 What is a Bucket List?
Wondering what a bucket list is? We're sure you aren't alone, so we'll take a minute to explain the term. Born from the phrase "kick the bucket," a bucket list is a collection of places to visit and things to do before you die.
Many people keep a single long bucket list that contains all of the things they want to experience most. However, we much prefer keeping multiple bucket lists, one for each place we hope to visit someday. Hence, the state bucket lists in this series.
Today's Tennessee bucket list is a perfect example of a location-specific travel bucket list. Read on to see what we included and get some inspiration for a travel list of your own.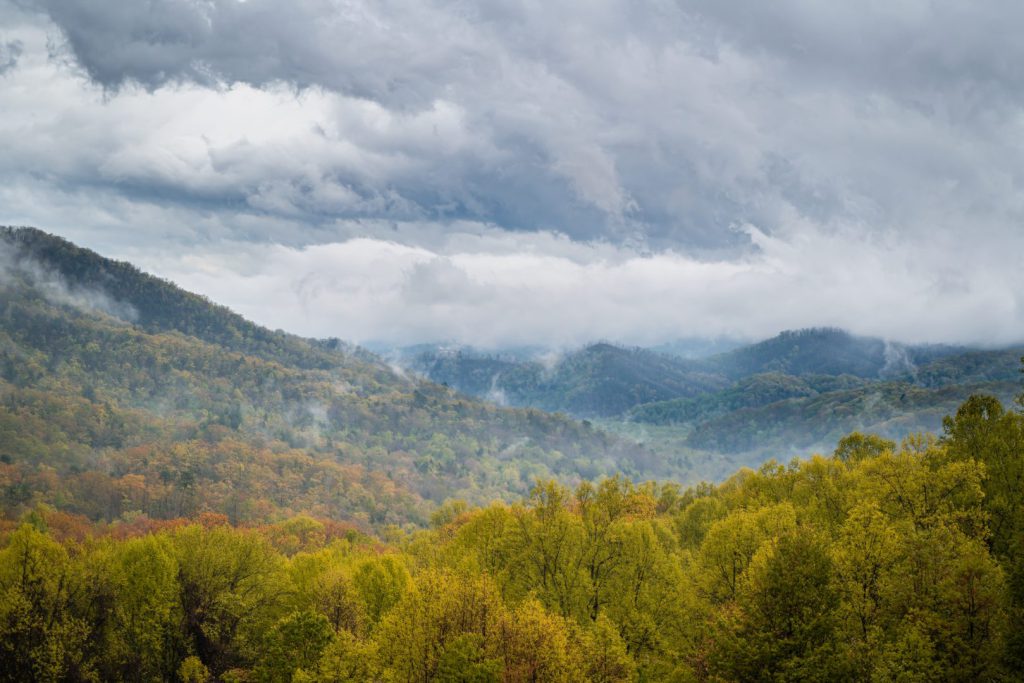 — Bucket List Vacations: Tennessee's National Parks —
When it comes to finding bucket list destinations, we recommend always checking out the national parks in any given state. The National Park Service does a great job of preserving beautiful places and making them accessible to all. Additionally, NPS sites give you the opportunity to step back in time and learn something new.
The following NPS sites made it onto our Tennessee bucket list:
#1. Andrew Jackson National Historic Site
Andrew Johnson was the US President from 1865–1869, and his was one of the most complex presidencies in history. Because he and Congress disagreed on reconstruction methods following the Civil War, the Constitution served as their guide during this time, evolving as a living document with changes that are still vital today. Learn about this and more at the Andrew Jackson National Historic Site.
#2. Big South Fork National River and Recreation Area
Protecting the Big South Fork and the Cumberland River, Big South Fork National River and Recreation Area encompasses a full 125,000 acres. With miles of gorgeous scenery, this spot is a wonderful place to explore, play, and learn as you spend time outdoors, soaking up the beauty of Tennessee.
#3. Chickamauga and Chattanooga National Military Park
During the Civil War, Chattanooga was known as the "Gateway to the Deep South." Union and Confederate forces fought hard for control of this important city, and in September of 1863, the Confederates were victorious at nearby Chickamauga. However, in November of that same year, Union troops won a battle and took the city. Learn about these historic events at Chickamauga and Chattanooga National Military Park.
#4. Cumberland Gap National Historical Park
Cumberland Gap was the first great gateway to the west. Travelers of all sorts traveled this route, heading through the mountains and into modern-day Kentucky. Today, the park stands as a reminder of the challenges these travelers overcame, and offers visitors a chance to walk the old trails and admire the scenic features of the area.
#5. Fort Donelson National Battlefield
Yet another Civil War site, Fort Donelson National Battlefield started as a Confederate fort. On Sunday, February 16th, 1862, the fort was won by Union soldiers, a victory that left the North feeling elated and the South absolutely stunned. This surrender allowed both Clarksville and Nashville to fall in Union hands and paved the way to victory for the Union.
#6. Great Smoky Mountains National Park
Easily one of the most beautiful places in the country, Great Smoky Mountains National Park sits on the border of Tennessee and North Carolina. This gorgeous park features mountainous forests, a diverse collection of plant and animal life, and the last remaining remnants of Southern Appalachian culture.
#7. Manhattan Project National Historical Park
With locations in New Mexico, Washington, and Tennessee, Manhattan Project National Historical Park certainly is a unique kind of park. The three sites focus on the events and science that led to the creation of the atomic bomb, and ultimately, the end of World War II.
#8. Shiloh National Military Park
The Civil War was intense to say the least, and some of the most epic and intense battles of the war were fought in Shiloh and nearby Corinth. Both of these battlefields saw bloody battles that resulted in thousands of deaths and helped change the course of history. Learn more by visiting both Shiloh and Corinth National Military Parks.
#9. Stones River National Battlefield
Another incredibly bloody and important battle of the Civil War was fought at Stones River National Battlefield on the last day of 1862. This battle resulted in important gains for the Union—gains that would eventually help the Union to win the war. Learn about this battle and how it affected the people who lived and fought here at Stones River National Battlefield.
#10. National Trails
Tennessee is also home to a huge number of national trails. Be sure to check out a couple of these trails and their visitor centers while you're in the state:
Appalachian National Scenic Trail
Natchez Trace National Scenic Trail
Overmountain Victory National Historic Trail
Trail of Tears National Historic Trail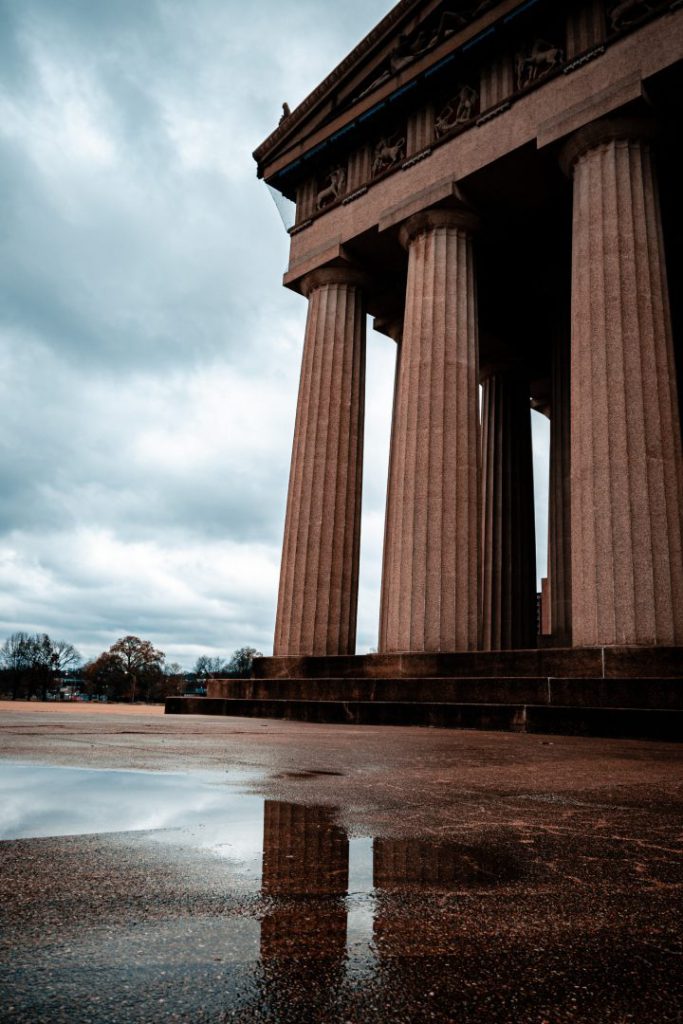 — More Tennessee Bucket List Experiences —
Need even more ideas for your Tennessee bucket list? Good news! There are tons of amazing options out there. From museums to good eats, we're sure you'll find some things you love checking out in this amazing state.
Try these ideas on for size.
#11. Catch a Show at Ryman Auditorium
Known as the "Mother Church of Country Music," Ryman Auditorium has quite the history behind it. It was first constructed as a tabernacle in the 1890s. It has seen an enormous number of performances and changes throughout the years—including serving as home to the Grand Ole Opry from 1943 to 1974—and now serves as a premier performance venue that all travelers should make a point of seeing.
#12. Explore the National Civil Rights Museum
An absolutely incredible learning opportunity can be found at the National Civil Rights Museum. This well-put-together and informative museum tells the story of the Civil Rights Movement of America. It helps visitors connect with the movement in a very personal way and is a powerful attraction that should not be missed.
#13. See The Parthenon
Yes, the original Parthenon is in Athens, Greece, but that isn't the Parthenon we're talking about today. The one on our list is actually in Tennessee, and is a full-scale replica of the Greek Parthenon. It was originally built for the Tennessee Centennial Exposition of 1897, but now stands in Centennial Park in Nashville and serves as a miniature art museum.
#14. Learn at Tennessee Valley Railroad Museum
Have a train enthusiast in your travel party? If so, the Tennessee Valley Railroad Museum is an awesome pick. This museum features a huge variety of historic train engines and cars and allows guests to learn about the history of train travel. Best of all, some of the museum's trains still run, giving guests the opportunity to take a steam train ride.
#15. Step Back in Time at The Titanic Museum
There are actually a few of these Titanic Museums across the US, and we think they're well worth visiting if you ever get a chance. This is especially true of the Tennessee location, which is the biggest and possibly the best. Experience what it might have been like to ride aboard the Titanic and immerse yourself in history as you feel the temperature of the water the ship sank into, see artifacts from the actual ship, and read the stories of individual passengers.
#16. Take in the View on Lookout Mountain
One of the prettiest places in Tennessee is Lookout Mountain. This ridge sits slightly overlapping the Georgia state line, and offers an incredible view to anyone who makes their way to the top. The mountain has a rich history, including being the site of the Battle of the Cherokees and the Battle of Lookout Mountain during the Civil War. Be sure to see Ruby Falls and ride the Incline Railway during your visit.
#17. Gather Information Country Music Hall of Fame
Unsurprisingly, Tennessee is home to the Country Music Hall of Fame. This is a must-see for country music fans. It focuses on preserving and sharing the traditions, history, and evolution of country music. The museum does this through touchscreen exhibits, vintage videos, artifacts, and more.
#18. Have a Blast on Beale Street
Another fantastic place for music fans to visit is Beale Street. That said, this street is focused not on country music, but on blues and soul music. The numerous clubs all offer fantastic music performances on a regular basis, and the music history behind this street makes it extra fun to visit.
#19. Tour Sun Studio
Yes, we are including another music-centered attraction. This one is Sun Studio, the spot known as the birthplace of rock 'n' roll music. The studio initially opened at Memphis Recording Service in 1950, which shared a lot with Sun Records. In 1951, the song "Rocket 88" was recorded at the studio, earning the spot its title and fame. Since then, countless music stars have recorded here. Today, guests are invited to tour the studio and hear some of the stories behind it.
#20. Peek Into the Past at Belle Meade Plantation
In 1807, Belle Meade Plantation was just a log cabin set on 250 acres of land. The plantation did grow though, and in its heyday the place included a mansion, numerous outbuildings, slave quarters, and 5,400 acres of land. During this time, celebrities and even presidents visited the plantation. Today, there are only 34 acres of the plantation remaining. These 34 acres welcome visitors, offering educational tours and a peek into the past.
#21. Dive Deep at Tennessee Aquarium
A huge and amazing aquarium, Tennessee Aquarium is the perfect spot for families with kids and those with an interest in fish and other aquatic life. The attraction features two buildings—one that focuses on river fish, and the other with a focus on ocean life. The whole aquarium is entertaining and educational, and well worth visiting.
#22. Enjoy the Day at Memphis Zoo
Looking for another awesome place to see and learn about animals? Why not check out the Memphis Zoo? This is considered one of the best zoos in the country and one of the top things to do in Tennessee. Over 500 species call the zoo home, and there are more than 3,500 animals total. We especially love the "Animals of the Night" exhibit, as well as the "Northwest Passage" and "Primate Canyon" areas.
#23. Time Travel at Andrew Jackson's Hermitage
The perfect place for history lovers, Andrew Jackson's Hermitage is an amazing place to step back in time. This beautiful house was built between 1819 and 1821 and was the home of President Andrew Jackson. The house has been restored to look exactly like it did when Andrew Jackson called it home, and a visit to the historic site is sure to be informative and interesting.
#24. Connect With the King at Graceland
Another great (though totally different) Tennessee historic home is Elvis Presley's Graceland. Take a digital tour of this amazing mansion and learn all about the King and his home. Visit the various rooms of the house, check out Elvis' private airplanes and his car collection, and see the rock 'n' roll legend's gravesite.
#25. Visit the Grand Ole Opry House
No visit to Tennessee is complete without catching a performance at the Grand Ole Opry. This show started in 1925 as a radio broadcast called the WSM Barn Dance. Eventually, the show grew into what we know it as today. These days, the Grand Ole Opry House plays host to country music concerts each and every week, which are broadcasted across many different channels.
#26. Get Hands-On at Adventure Science Center
The perfect spot for some hands-on fun, Adventure Science Center is an absolute blast for kids and adults alike. Here you can learn about space, biology, and just about any other science topic you can think of. Snap a photo in a photo booth to see what your kids might look like as adults, and hop in a flight simulator to try your hand at being a pilot. No matter what you do here, you're sure to have a blast!
#27. Be Awed at Lost Sea Cave
A bizarre natural wonder, the Lost Sea Cave is a beautiful spot for sure. It's located in Craighead Caverns and holds the largest non-glacial lake, known as the Lost Sea. Not only is there an enormous lake in this cave, but there is also a waterfall, some crystal clusters hanging on the cave walls, and a whole lot of history.
#28. Check Out Hatch Show Print
A unique and interesting attraction, Hatch Show Print is one of the oldest letterprint stores in America. It first opened in 1870, and the incredible work the shop put out ensured the company rose in ranks to become one of the most well known print shops out there. During the golden age of country music, the shop really took off, creating posters for country music celebrities left and right.
Today, the shop continues to create posters, and guests are invited to tour the shop and learn about the print-making process.
#29. Stop By RCA Studio B
Another famous Tennessee recording studio, RCA Studio B is known for producing "Nashville Sound" country music. Artists such as Waylon Jennings, Elvis, and Dolly Parton have recorded here. Today, the studio is on the US National Registry of Historic Places and hosts activities, tours, events, and more.
#30. Have Family Fun at Discovery Park of America
Looking for an attraction that has something for everyone? Discovery Park of America is an excellent option. This museum plays host to a giant model of the human body, an earthquake simulator, a 20,000-gallon aquarium, and a whole lot more. The diversity ensures nobody in your party will be bored, and the number of exhibits ensures you'll be busy all day long.
#31. Get Your Thrills at Dollywood
Have some thrill seekers in your party? Dollywood is the place to be if you're looking for thrills. That said, those who prefer less intense rides will also find things to see and do in this amazing theme park. We love the roller coasters, kiddie rides, family rides, performances, and other forms of entertainment, and Dolly fans will appreciate that the park incorporates little tidbits about Dolly Parton's life throughout.
#32. Stroll Through Parrot Mountain and Gardens
Yes, we mentioned aquariums and a zoo already, but Parrot Mountain and Gardens is a bit different in that the focus here is on tropical birds. Designed by renowned artist Thomas Kincade, the whole park is absolutely gorgeous, blending the architectural style of Europe with the bright colors of the Amazon. Birds are everywhere you look, and guests are even invited to feed the colorful animals.
As you can see, Tennessee is an awesome state where you will never ever be bored. That said, finding places to stay as you travel across the state checking off your Tennessee bucket list can be a bit of a challenge. For this reason, we highly recommend a Tennessee RV rental instead of a hotel.
An RV allows you to go from one place to another freely and in comfort. This kind of freedom makes it easy to do everything on your Tennessee bucket list so you can finish your trip feeling accomplished.