Boondocking in Oklahoma
Top Campgrounds
Last updated on June 23rd, 2022. Originally published on May 5th, 2021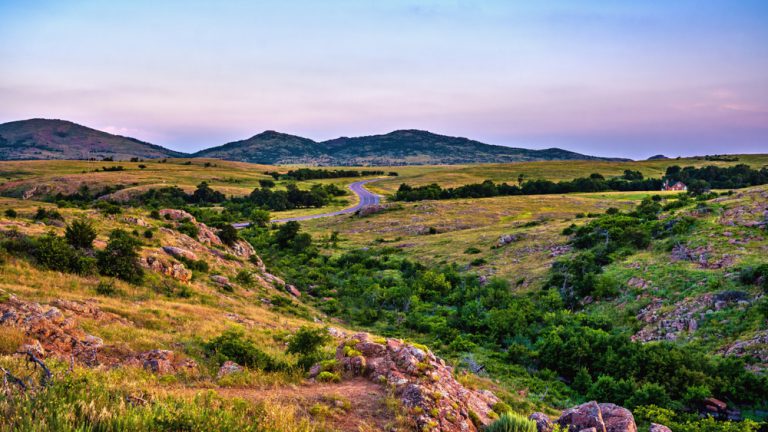 Boondocking Oklahoma is a pleasant surprise for RV travelers; beyond the interstates lies a wealth of natural beauty. Camp in the wide-open plains, hike among the rocky cliffs of the Wichita Mountains, and explore historic outlaw hideouts in the San Bois Mountains. Small lakes dot the dry, arid landscape, creating welcome oases in the summer heat. Figuring out where to boondock in Oklahoma can be challenging because less than 2% of the state is federally owned. When you know where to look, you'll find campsites near most of the major outdoor attractions.
Boondocking Sites in Oklahoma
Spring Creek Dispersed Sites
Choose a free campsite with a view of the water at the Spring Creek Dispersed Sites. Located on the western edge of Oklahoma, about 15 miles from the tiny community of Reydon, this spot is a great place for a relaxing weekend. There are plenty of trees for shade and a sandy beach for swimming. Summer weekends can be busy, but the camping area is usually quiet and peaceful.
Lake Watonga Public Fishing Area
End your days with sunsets over the water at the Lake Watonga Public Fishing Area. This area allows camping for up to 14 days at a time, making it one of the best spots for boondocking in Oklahoma. Bring your fishing gear because the lake offers excellent trout fishing in the winter, as well as opportunities to catch catfish, sunfish, and largemouth bass. The shores of the lake are well-developed, so you'll find restaurants, parks, and boat ramps nearby. For gas and groceries, head eight miles south to the town of Watonga.
Lake Carl Etling Public Fishing Area
Rocky shores surround a calm lake at the Lake Carl Etling Public Fishing Area. Bring a motorboat or kayak to launch from the two boat ramps or cast from the shore to bring in walleye and bass. The dispersed campsites around the lake are first-come, first-served, and you can stay up to 14 days. This spot is located in the far northwestern corner of the Oklahoma panhandle, about 28 miles from Boise City.
Lake Vincent Public Fishing Area
If you're near western Oklahoma, spend a few nights at the Lake Vincent Public Fishing Area. This small, pretty lake is surrounded by wide-open spaces. Weekends can get loud, especially on pleasant spring and fall days, but winter and weekdays are quiet and relaxing. Stay for up to 14 consecutive days for free. The closest towns are Higgins, Texas, and Arnett, Oklahoma.
Blue River Public Fishing Area
Pull your RV into scattered dispersed campsites near a river at the Blue River Public Fishing Area. Sites here are located on both sides of the river; check the map for approximate locations. Nearby, you can drive to the Tishomingo National Wildlife Refuge and the beautiful Lake Texoma. The nearest town is Tishomingo, which sits about 10 miles south. This spot offers free camping in Oklahoma for up to 14 days in a 30-day period. 
Where to Boondock in Oklahoma
Public lands are the best places to boondock in Oklahoma. Though they're limited, many are open to dispersed camping. Start with the areas that are managed by the Oklahoma Department of Wildlife Conservation; most of the designated public fishing areas allow dry camping near lakes and rivers. The exceptions are the Lower Illinois River, Kiamichi River Access Area, and the Arcadia CEA. If you're heading to a fishing area, you can camp only in designated dispersed sites. These camping areas are scattered throughout Oklahoma, usually well away from major cities. 
Another option is the Ouachita National Forest, which straddles the border of Oklahoma and Arkansas. You can camp anywhere in the national forest as long as you don't see signage that prohibits it. The Forest Service requires that you stay within 150 feet of a road and at least 100 feet from a water source. Campfires are allowed but only in existing fire rings. Make sure to stay away from any developed area, including trailheads and picnic areas.
Free Camping in Oklahoma
When preparing for your boondocking trip, it's a good idea to map out potential campsites in advance. Most sites are separated by hundreds of miles, so it's a good idea to have a backup plan. In most cases, you'll be camping within an hour of the nearest gas station; make a note of the nearest option and ensure that you have enough fuel for the return journey.
The wilderness of Oklahoma features gentle terrain and moderate grades, so it's easy to get around in an RV. Since most dispersed campsites are managed by the government, the access roads tend to be well-maintained. If you're visiting in April or May, keep track of the weather; these are the most common months for tornadoes. For the rest of the year, the weather tends to be warm, sunny, and perfect for outdoor adventure.
When you're well stocked and prepared for the weather, boondocking in Oklahoma is remarkably relaxing. The state offers long stretches of unbroken plains, so you can see for miles in every direction. Since dispersed campsites tend to be located near small towns and used by locals, you'll have plenty of opportunities to meet people and gain a deeper appreciation for each distinct region. Before you head out on your trip, check out our blog for all you need to know about boondocking.
Boondocking is a great way to get off the beaten path in Oklahoma. From the open prairies to the wild rock formations, each part of the state offers something new to explore. Are you ready to try dry camping? Rent an RV from RVshare, and you can set out on an adventure any time of year.