Top Campgrounds
Last updated on June 23rd, 2022. Originally published on June 4th, 2021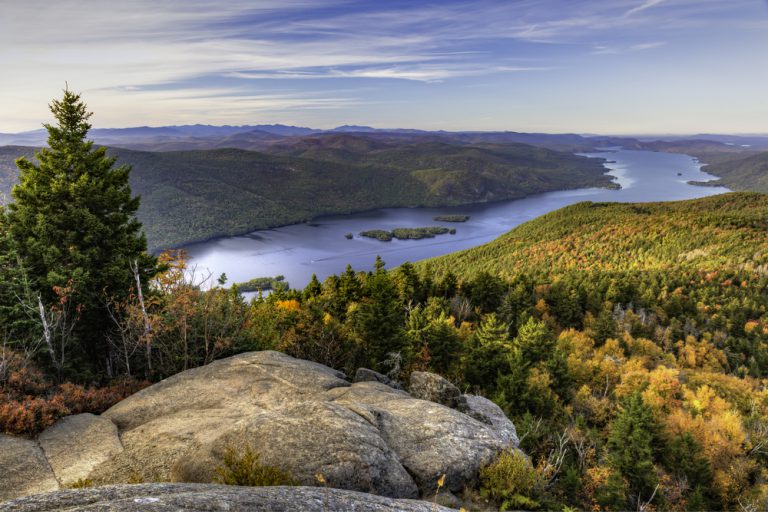 Boondocking in New York can make for a challenging adventure, but it is especially fun if you are traveling when the weather is mild. You can camp in a land-designated Forest Preserve, but it is not allowed in Wildlife Management Areas. There are plenty of great spots from the Catskills of the southeast to the Adirondacks in the north area of the state if you know where to look. 
Boondocking Sites in New York
North Harmony State Forest
The North Harmony State Forest is a charming park near Panama in the southwest corner of the state. The forest covers 2,561 acres and has up to five free sites available. This state forest is a gorgeous area for free camping in New York, and it is a terrific option for cross-country skiing, snowshoeing, hunting, and hiking. This forest serves as the home for a variety of wildlife, including deer, rabbit, turkey, and grouse. You can camp at one of the sites marked by a yellow camp disk located along the Wiltsie Marsh Area, Jasper Park Area, and Snake Forest Road. 
Chautauqua Gorge State Forest
The Chautauqua Gorge State Forest covers 538 acres near Chautauqua and is a great place for fishing and hiking. The day-use area has fire rings, picnic tables, and outhouses, along with a nice quarter-mile loop trail that is a great way to stretch your legs. Two stopping places give you the opportunity to rest and to observe the scenery. When the leaves are sparse, you can even catch sight of the gorge. There are eight designated primitive campsites along Hannon Road where you can spend the night. 
Sugar Hill Fire Tower
The Sugar Hill Fire Tower is near Watkins Glen and is open year round with free camping. It was built in 1941, and it stands 75 feet tall. The tower cabin is open during part of the year, and the stairs are always open to climb at your own risk. This is one of the last fire towers accessible to the public in New York; you can see about 15 miles from up there. This is also a spectacular area to spot wildlife like black bears, white-tailed deer, beaver, and mink. Be sure to keep an eye out for the many bird species that roam here, including the state-endangered Henslow's sparrows. 
East Otto State Forest Campground
The East Otto State Forest Campground is located near the town of East Otto. This forest covers 1,354 acres and is popular especially for camping, hunting, and fishing. You will find a good mix of sizes and species of trees, as well as some manmade ponds and wetlands. There are no formal trails here, but you can follow old skid roads and farm roads for a good hike. There are 14 sites located along Kriedeman Forest Road that are numbered with a yellow camp disk, and they are given out on a first-come, first-served basis. If you want to enjoy some good fishing while you are there, check out Stickney Pond on that same road. 
Windfall Ponds
Windfall Ponds are located in the Windfall Creek State Forest near Carrollton. Hunting and trapping are allowed on this property that will require some hiking through rough terrain. The best fishing will be found at Twin Ponds or in some of the streams. There are three designated sites in this area ― two at Thorpe Hollow Road and one at the Windfall Pines. 
Where to Boondock in New York
Upstate New York has many spectacular areas for boondocking where you can enjoy the natural beauty and wildlife. Many state forests allow boondocking, but they do have a few guidelines to follow. You should make camp at least 150 feet away from any nearby roads or hiking trails. You also need to be at least 150 feet away from any bodies of water. You will find the most attractive camping areas in the northern part of the state, especially to the west in the more rural area.
Free Camping in New York
When preparing for your boondocking trip, be sure to do your research to find state lands with primitive campsites. Make sure you stock up with a couple of days' worth of food and water, warm clothes, and flashlights. If you plan to build a fire, you need to get your firewood within 50 miles of your destination. Fires need to be built in existing fire pits at the campsites and should be no more than 3 feet tall and 4 feet wide.
There are plenty of black bears in the Catskills and Adirondacks, so you will want to store your food, garbage, and toiletries in a bear-resistant canister or hung in a tree. Please care for the forest by packing out everything you pack in, and do not disturb the wildlife or plants. If there are no pit privies for waste, please bury all human and pet waste. Camping above an elevation of 3,500 feet is also prohibited in New York.
Camping in these areas will make for an enjoyable, serene vacation. There are plenty of bodies of water to enjoy fishing, hunting is acceptable, and hiking around the forest will bring some interesting wildlife encounters.
Before you head out on your trip, check out our blog for all you need to know about boondocking. This will be a wonderful journey, but it is a rural area, so you will want to pay attention to detail when it comes to planning and preparing.
Although boondocking may not be something that immediately comes to mind when one thinks of New York, there is a vast acreage in the northern part of the state with gorgeous water features and plenty of room to explore in the Catskill and Adirondack Mountains. This place is rich in wildlife, outdoor activities, and all the peace and quiet that New York state has to offer. Making the trip in an RV will surely heighten an already unforgettable experience, so visit RVshare to find the vehicle that will best suit your needs.