Boondocking in Nebraska
Top Campgrounds
Last updated on June 23rd, 2022. Originally published on April 16th, 2021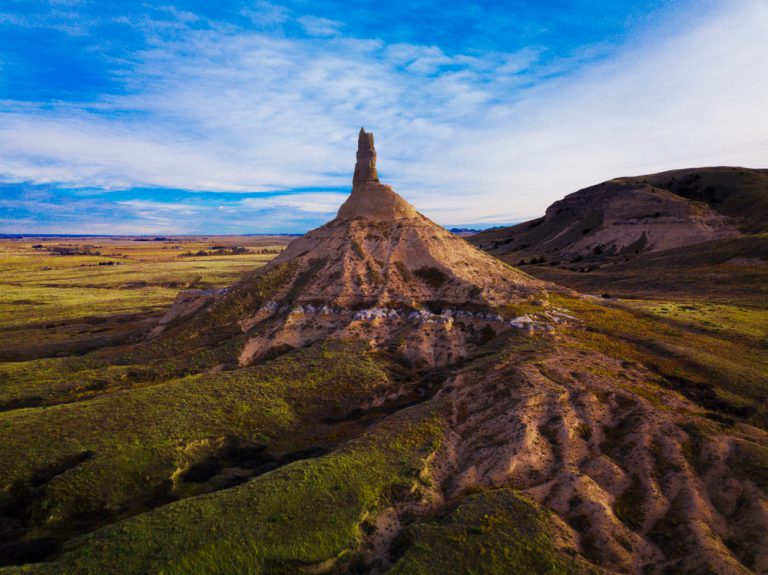 When it comes to camping and outdoor adventure, Nebraska is one of the most underrated spots in the United States. Many travelers simply speed through on I-80. However, when you venture beyond the interstate, you'll find a wealth of stunning outdoor landscapes. Pull your RV off the road in one of the national grasslands, or sleep next to stunning rock formations. Boondocking in Nebraska takes you to campsites tucked into the rolling hills or set on the banks of beautiful rivers and reservoirs. As other adventurers head north to South Dakota or west to Wyoming, you'll have the state's untouched wilderness all to yourself. 
Boondocking Sites in Nebraska
Cliffs Trailhead
The Cliffs Trailhead is one of the most picturesque spots for boondocking in Nebraska. A small collection of dispersed campsites overlooks a lovely rock cliff and a tree-covered bluff. There's a large trail network nearby, so you may hear noise from ATVs on weekends. The Forest Service offers a vault toilet on-site for convenience. The small community of Chadron is also about 12 miles north.
Spotted Tail Trailhead
If you're interested in hiking or mountain biking, pull your RV into one of the free campsites at the Spotted Tail Trailhead. From here, you can access the Pine Ridge Trail or the Spotted Tail Loop Trail, which are both open to hikers and non-motorized vehicles. From here, it's a seven-mile drive to Chadron. This is a quieter alternative to the Cliffs Trailhead camping area.
Oglala National Grasslands
Oglala National Grasslands is situated in the northwestern corner of Nebraska, about 23 miles from the town of Crawford. Pull your RV into a quiet campsite and enjoy the peaceful views across miles of open grasslands. Nearby, you can hike through the bizarre formations at the Toadstool Geologic Park or discover the fascinating history of the Paleo-Indian bison bone bed at the Hudson-Meng Education and Research Center. The entire grassland is open for dispersed camping; call the ranger's office for recommendations. 
Samuel R. McKelvie National Forest
Looking to go off the grid? Head straight to the Samuel R. McKelvie National Forest. This remote landscape is a great spot for free camping in Nebraska. You can camp anywhere as long as you're at least 100 feet from a water source. Make sure to contact the Forest Supervisor's Office in Chadron to ask about any current fire restrictions as they can affect where you're allowed to camp. Fill up your tank and your cupboards in the town of Valentine, which sits about 37 miles to the northeast.
Nebraska National Forest at Halsey
The Nebraska National Forest at Halsey is another spot with an array of free camping options. In this area, you can set up camp anywhere outside of a designated campground as long as you're within 300 feet of a road. Check the Motor Vehicle Use Map to find local roads. Keep in mind that this is a popular deer-hunting area during rifle season. The nearest communities are Halsey and Thedford. 
Bayard City Park
If you happen to be passing through the town of Bayard, you can camp for free for two nights at Bayard City Park. The park has three RV sites, each available on a first-come, first-served basis. A fee is charged for any night after the first two; you can pay at the city office.
Oliver Reservoir Recreation Area
Oliver Reservoir Recreation Area offers some of the most developed free campsites in Nebraska. Each one is flat and grassy with plenty of shade trees, and many sites sit directly on the water. At the reservoir, you'll find a playground, trails for hiking and biking, and a large reservoir that's open for fishing and boating. This is a convenient option if you're traveling across the state on I-80, which is a short distance south. The town of Kimball is located about nine miles east.
Where to Boondock in Nebraska
When you're planning where to boondock in Nebraska, start with the national and state forests. They're scattered around the northern part of the state, offering easy access to the remote, lightly populated wilderness areas. National grasslands are another lovely option. Most free campsites are located away from I-80.
Free Camping in Nebraska
When preparing for your boondocking trip in Nebraska, it's helpful to note the distance from your campsite to the nearest town. Roads through the national forests and grasslands can be bumpy, turning a 15-mile drive into an hour-long journey. It's always a good idea to fill your gas tank and stock up on supplies before you drive into the wilderness.
Occasionally, the weather in Nebraska can be a factor in your camping trip. Tornadoes are a possibility in spring and early summer; in the winter, you should be prepared for cold winds and snow. During winter storms, I-80 may close to traffic near the western border with Wyoming.
Weather aside, Nebraska is an excellent spot for boondocking. Whether you head to the Sandhills region in the southern part of the state or the remote grasslands in the north, you're more likely to encounter local outdoor enthusiasts than tourists. The state's legendary wide-open spaces offer exceptionally beautiful campsites and views that extend for miles. Before you head out on your trip, check out our blog for all you need to know about boondocking. 
Boondocking is a fantastic way to experience the surprisingly diverse landscapes of Nebraska. With an RV, you can pull into a beautiful campsite and be ready to enjoy the wilderness in minutes. Don't own an RV? Head to RVshare to find and rent an RV in any convenient location in Nebraska.