Boondocking in Georgia
Top Campgrounds
Last updated on June 23rd, 2022. Originally published on March 16th, 2021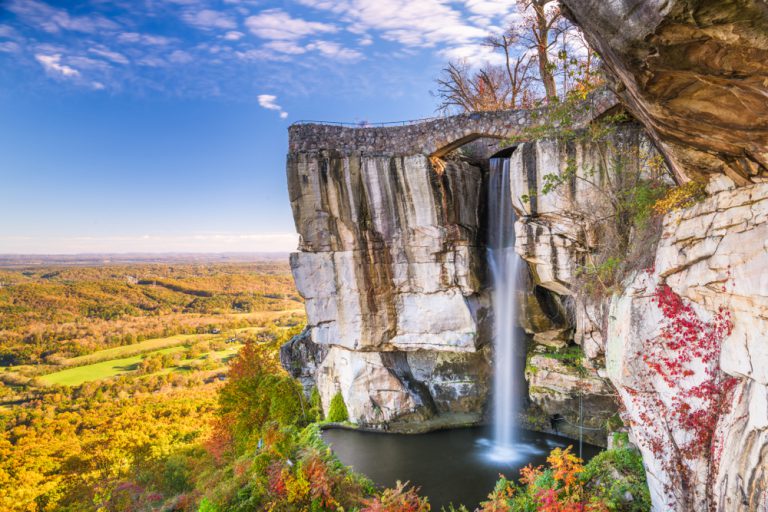 Boondocking in Georgia is a longstanding tradition in which adventurers come to escape the daily grind and indulge in leisurely days of fishing and hiking. Enjoy coffee and a glorious sunrise at Walter F. George Lake, or leave behind the sights and sounds of civilization in the dense wilderness areas near the Chattahoochee National Forest. Whether you want to fish in a mountain stream or have a summit all to yourself, Georgia has a free campsite to suit. The weather is welcoming and warm year round, so it's always the right time for an escape.
Boondocking Sites in Georgia
Ball Field Dispersed Camping Area
Sleep deep in the stunning North Georgia wilderness at the Ball Field Dispersed Camping Area. A hiker's paradise, this spot is a great home base for exploring the Emery Creek Trail and the paths in the Cohutta Wilderness. The Lake Conasauga Recreation Area is 1 mile away and offers canoeing, swimming, and wildlife watching. Be sure to stock your kitchen and to fill your gas tank before you come — the closest town is Chatsworth, which sits 22 miles and a 1-hour drive to the southwest.
Redlands Wildlife Management Area
Georgia's Redlands Wildlife Management Area is a convenient place for free camping. This WMA maintains a number of free, dry campsites; most are called "hunt camps," but they're open to anyone. Sites are marked on the Redlands Wildlife Management Area's interactive map. Some of the most beautiful options are located near the northern reaches of Lake Oconee, which sits about 14 miles from Madison.
Oconee Ranger District
The Oconee Ranger District of the Chattahoochee-Oconee National Forest offers 38 different dispersed campsites in the north-central part of the state, making it one of the best spots for boondocking Georgia. The campsites are spread out over a large area about 60 miles from Atlanta; talk to a ranger for specific locations.
Sprewell Bluff Wildlife Management Area
Set in the hills east of Manchester, the Sprewell Bluff Wildlife Management Area maintains a small selection of primitive campsites. The Pigeon Creek Campground has four spots, and you'll find another location on Tom Brown Road. Just south of Pasley Shoals, there's campsite tucked into a bend of the Flint River. Most spots sit on dirt roads, but the terrain is easy to manage; however, after it rains, it's a good idea to walk or to drive the roads in a passenger vehicle before you take your RV.
Nimblewill Creek Dispersed Campsites
If you're interested in fishing and hiking, head north to the Nimblewill Creek Dispersed campsites. These free Forest Service sites are located along Nimblewill Gap Road (FS 28-2) about 15 miles from Dahlonega. Each of the sites is located along a creek that's known for its exceptional trout fishing; the Bearden Falls trailhead is a short drive up the road. Most spots have a fire pit, and the thick forest provides plenty of shade.
Walter F. George Lake
Camp on the banks of the beautiful Walter F. George Lake, which is one of the most picturesque spots for free camping in Georgia. Located in Rood Park and operated by the U.S. Army Corps of Engineers, these sites are ideal for fishing. The tiny community of Georgetown sits about 15 miles south, right next to the Alabama border. You can stay for up to 14 days.
Hickey Gap Campground
Pull your RV into free, well-maintained forest campsites at Hickey Gap Campground. This Forest Service site offers vault toilets, and RVs up to 24 feet long are welcome. Alcohol is strictly prohibited in this area, and the campground has quiet hours from 10:00 p.m. to 6:00 a.m., making it a great option for families. Nearby Chatsworth offers basic services and supplies.
Where to Boondock in Georgia
As you're planning where to boondock in Georgia, start your search with wilderness management areas (WMAs). Many of the state's WMAs offer a number of dispersed campsites and hunt camps. A significant percentage of Forest Service land is also open to boondocking; check with the closest ranger office for restrictions and seasonal road conditions. You'll have the best luck finding sites in the areas away from major cities, including Atlanta and Augusta. The mountainous, heavily forested Chattahoochee-Oconee National Forests in the northern part of the state are particularly great for free camping.
Free Camping in Georgia
When preparing for your boondocking trip, keep the seasons in mind. Although Georgia has mild winters, some high-elevation campsites close down in the winter. This usually happens at sites near the Tennessee border. In the summer, bring more water than you think you'll need; the heat and humidity can be intense, even in the mountains.
Most of the free campsites in Georgia sit far from large cities; many require a slow, bumpy drive down forest or mountain roads. To make the most of your trip, make a stop for gas and groceries before you arrive. Keep in mind that many spots don't have cell phone reception, so it's a good idea to tell a family member about your destination and when you'll be back online.
When you're prepared, boondocking in Georgia is a fantastic way to experience the state's wilderness. Pull your RV into lush forests, or set up camp next to remote mountain streams. Whether you're interested in hiking, fishing, biking, and hunting or you simply want to relax and enjoy the sounds of nature, free campsites make the ideal basecamp. Before you head out on your trip, check out our blog for all you need to know about boondocking.
With its stunning mountains and dense forests, Georgia is an adventurer's paradise. Dry camping is the perfect way to get off the grid and to explore the state's lightly populated area. Fall asleep to the sound of the wind in the trees, and spend your days soaking in the solitude of the forest. Renting an RV from RVshare makes it easy to boondock Georgia any time of the year.