5 Best Portable Dog Fences for RV and Camping Trips – 2022 Guide!
RV Parts & Accessories
Last updated on June 16th, 2022. Originally published on July 26th, 2020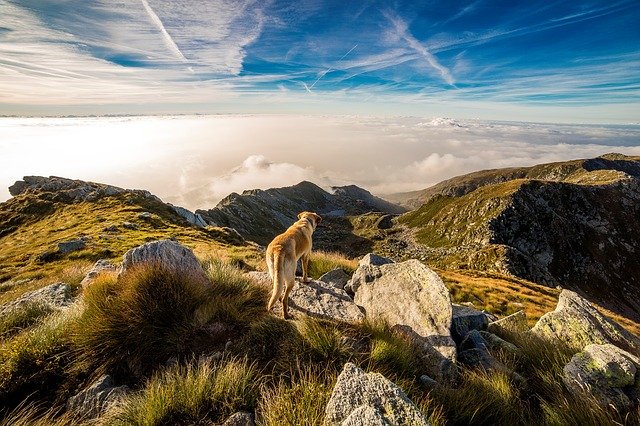 When you hit the road in your RV, you don't want to forget your furry family members! Many people enjoy traveling with their pets, and those cute balls of fur can make the journey a lot of fun. You will need a few extras to keep your pup safe and make sure they don't get lost in an unfamiliar area. An RV dog fence gives your dog a chance to run around at your campsite – humans aren't the only ones who like to stretch their legs after a long journey!
RV Dog Fence
There are many options for RV pet fences. The one you choose will depend on a few factors including the size, age, and activity level of your pet. We'll take a look at a few of the camping dog fences available so you can make an informed choice.
Best Portable Dog Fence for RV
Here are a few great RV fences to consider:
This is a great option for small or medium-sized dogs. There are several sections of fencing, so you can make the play area larger or smaller, depending on your dog. The materials are sturdy and the playpen is easy to set up. The rubber feet on the bottom mean you can use this indoors and out without ruining your floor. The fencing also comes in a variety of colors and sizes. The fence stands 34″ high. The playpen also has a door, so you don't have to remove a section of fence to let your pooch in and out.
Customers with larger dogs say they have knocked the fence over, so it's best for small to medium animals.
Dimensions: 63.0 x 63.0 x 34.3 inches
Price: $80.61
This portable dog fence for RV comes in several sizes, so you can purchase just the right size for your dog. It's made of durable materials that hold up outside, and it's rustproof and weather-resistant so you can set it up at your campground and keep it up until you leave. The fencing is easy to install and it stores flat when you're not using it. The fence has a door so you don't have to remove a panel to let your dog out.
Dimensions: panel options from 31.5"W x 24" to 31.5" x 40", can choose a set of 8, 16, or 32 panels
Price: $141.99 – $528.88
This playpen can be customized depending on the size of your pooch – from a 24-inch small dog pen to a 48-inch extra-large pen. This pen can be used inside and out, and a black rust-protective coating means you can keep it up in all kinds of weather. The fence is easy to install and folds down flat to store.
Dimensions: panel options from 24″W x 24″H to 24″W x 48″H, 8 panels included
Price: $31.99-$63.99
This portable dog fence for RVs is a great option for small to medium-sized dogs. It's also a good choice if you have several dogs as there is plenty of room to run and play. The metal poles in the fencing making it very sturdy, and it is weather-resistant as well. It is a very large pen, so if you have a small dog who doesn't need much room to roam, this could be overkill for you.
Dimensions: each panel is 31"W x 32"H, 16 panels included
Price: $228.97
This play yard can be configured in many different shapes or could be connected with several playpens for even more room. It's coated so the fence is rust-proof and holds up to all kinds of weather, and the metal stakes mean the panels are easy to arrange and set up.
Dimensions: Total area is 66.52 sq feet
Price: $225.77 plus shipping
Best Portable Dog Fence for Camping
There are plenty of fences that are suitable for pets, but you'll want to decide which one fits your pup the best. You'll want to consider whether the space allowed is enough for your dog, how high the fencing is, and how old your pet is – a puppy is going to need a lot more room to run than a more sedate, older dog.
Benefits of RV Portable Dog Fences
You'll find that there are many benefits to having an RV dog fence. If you want to allow your pooch to roam without always having to be leashed, or want to let him get some exercise while you're hanging out at your RV, a camping dog fence is a great solution.
What should I look for when buying a Portable Dog Fence?
When buying a portable dog fence, you'll want to consider a few factors.
Size
You'll want to take into account your dog's size – a small chihuahua is going to need less room than a large German Shepherd. You'll also want to consider how much room you have to set up a fence – a very large dog playpen won't help much if your RV camping space is small. Finally, if you have more than one dog, you should take that into account when calculating the size of dog pen you need also.
Height
Again, this will depend on your dog. A large or tall dog is going to need a fence that reaches a lot higher than a teacup poodle will need. Consider not just their height on all fours, but their height when they're up on their hind legs trying to reach you. Also, if your dog is a jumper, you'll need to consider that in the height of your fencing.
Weight
You'll want a lightweight fence that is easy to carry in and out of your motorhome and is easy to set up. This is a delicate balance – you'll want it sturdy enough to stand up to your dog, but light enough to carry and store easily.
Material 
Look for a dog pen that is weatherproof so you can leave it up for the duration of your stay. Also, you'll want a pen that is easy to set up and take down, and one that stores flat is easiest for tucking away when you travel. You'll also want to consider whether the material can stand up to your dog biting or clawing at it.
Adaptability
Many dog fences are able to be customized – combined with other units, or configured in different ways. If this is important to you, be sure you get a pen that is customizable. If you have a puppy, you may want to consider purchasing additional panels to add as he grows.
Traveling with your pup can be a fun adventure! Be sure you have a way for him to exercise and enjoy himself, not just while he's out exploring with you but also back at the campsite with a portable dog fence.
This post contains affiliate links. RVshare may receive compensation if you make a purchase after clicking on a product link.