Travel Inspiration
February 20th, 2020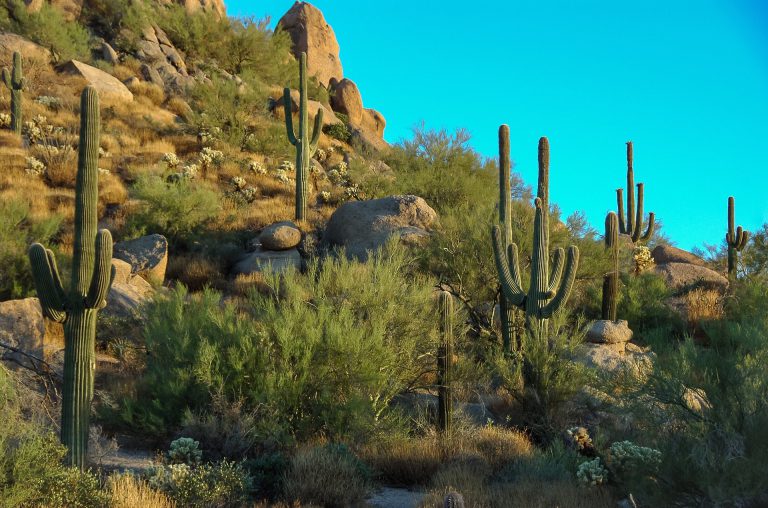 One of the very best things to do when exploring the American west is to go hiking. This area of the country offers some seriously amazing views and the natural environments are beyond wonderful to explore. This is especially true in Arizona, where there's a new natural wonder around practically every corner, and of the Arizona areas, we especially love hiking around the city of Phoenix.
Hiking in Phoenix is absolutely gorgeous, and the Phoenix-area hiking trails are certainly plentiful. That said, knowing which trails to pick can be a bit overwhelming, which is why we've gone ahead and done the research legwork for you in an effort to make your decision a little easier.
In this article we'll be sharing the 11 best hiking trails around Phoenix, along with a handful of our top tips for getting the most out of these experiences plus some answers to the most common questions on this topic.
Finding the Best Hikes in Phoenix
The first question to answer is, how do you actually go about finding the best hiking trails in Phoenix? Well, there's the obvious option of just jumping in and seeing what you can find. Others might prefer reading reviews. However, the easiest—and often the best—option is to ask friends what they think.
Unfortunately, not everyone has friends they can ask this question. This is where we come into play. As promised, you'll find a list below of our favorite Phoenix hiking options. We've sorted them by difficulty and included important information about each one, so you can make the best decision for your hiking group.
Best Phoenix Hiking Trails for Beginners
We'll begin with the easy hiking trails. These two are the best Phoenix hiking trails for beginners, as well as for those who are younger, older, or out of shape.
Both of them have very little elevation gain to speak of, and might even be considered scenic walks rather than true hikes. That said, they are well worth taking even if you are a more experienced hiker, as they offer some beautiful views.
Hole in the Rock Trail
Distance: 0.3 miles
This Phoenix, Arizona hiking trail is incredibly popular with locals and tourists alike. It is an "out-and-back" trail with some stairs that end in beautiful views. Most people can do this hike in a mere 20 minutes, making it a great one to do with reluctant kids (or simply to fill a small amount of time).
Double Butte Loop Trail
Distance: 2.2 miles
At 2.2 miles, this trail is much longer than the Hole in the Rock Trail. Nevertheless, it is a relatively easy loop trail with an elevation gain of about 114 feet. Dogs are welcome on this trail, making it a great place to get out with your pup and do some hiking near Phoenix.
Best Medium Hiking Trails in Phoenix
Wondering about the best medium hiking trails in Phoenix? There are an enormous number of wonderful trails that fit into this category. In fact, this was the most difficult category to narrow down. However, we think we did a pretty good job of listing the five best moderately difficult trails in the area.
Telegraph Pass Trail
Distance: 2.2 miles
This is a popular trail, so expect a lot of traffic. That said, it is stunning despite the crowds. The trail features colorful wildflowers and a large number of birds. It's also dog friendly, a major plus for those of us looking to get out with our canine friends.
Dreamy Draw Loop Trail
Distance: 3.7 miles
As the name suggests, this is a loop trail—something we appreciate, as it means there's always something new to see throughout the entire hike. Once again, wildflowers are found along the trail and there are plenty of pretty things to see along the way. This trail also happens to be a great option for biking, if you are so inclined.
Freedom Trail
Distance: 3.6 miles
Because of the inclines, we highly recommend going clockwise on this loop trail. You will gain over 1,100 feet in elevation, making parts of the trail quite strenuous, but the trail is fairly leisurely otherwise. This trail does not have any shade, so do prepare accordingly.
Dixie Mountain Loop Trail
Distance: 4.6 miles
Used for hiking as well as biking and horseback riding, this trail is a great option no matter how you prefer to see the outdoors. It's a busy trail, so be prepared to see others along your way, and make sure to bring plenty of water to last the entire 4.6 miles.
Lookout Mountain Summit Trail
Distance: 0.9 miles
Ideally, you would take this hike between the months of November and April. It's a super short trail, making for a quick yet moderately strenuous hike thanks to the elevation changes. Be sure to keep an eye out for snakes and generally watch your step while hiking this rocky trail.
Best Advanced Hiking Trails in Phoenix
Finally, we come to the advanced trails. These are incredibly challenging options and should only be attempted by experienced hikers who are in good shape. Because they are hard to finish, we don't recommend these trails for most children, but children who have hiked similar trails could do okay.
Piestewa (Squaw) Peak Summit Trail
Distance: 3.5 kilometers
The climb this trail requires is quite challenging. That said, it's a relatively short trail, and the views you're treated to along the way make it all worthwhile. It's incredibly popular, so be prepared for crowds. Also, don't forget your camera so you can prove you made it to the top!
Holbert Trail
Distance: 7.4 kilometers
On the easier end of the difficulty spectrum, Holbert Trail offers a wonderful, slow incline that leads to some seriously awesome views. The canyon you hike through on this trail is gorgeous, and the petroglyphs found toward the beginning of the trail are super neat.
Beware of the many off-trail paths that exist here though, as it's all too easy to make a wrong turn.
Camelback Mountain via Echo Canyon Trail
Distance: 2.4 miles
Want to hike Camelback Mountain? Echo Canyon Trail is one excellent option. You will want to make sure to bring plenty of water for this strenuous hike and make sure to wear proper shoes, as a certain amount of rock scrambling is required.
Echo Canyon Trail is the most popular Camelback Mountain trail, and it's one of the most popular north Phoenix hiking trails besides, so you will probably run into several other hikers along the way.
Camelback Mountain via Cholla Trail
Distance: 2.6 miles
Looking for a less crowded hiking experience? You may prefer Cholla Trail. While this trail is a bit more difficult than the Echo Canyon Trail, the lack of crowds makes the extra work worthwhile. Again, you will need a lot of water and proper footwear. It should also be noted that this trail is best explored between September and May.
Tips for Hiking in the Phoenix Summers
One problem with hiking in Arizona is the fact that, to do so in the summer, you must brave some pretty extreme temperatures. Not only is this uncomfortable, it can actually be unsafe. In order to stay as safe and comfortable as possible when hiking near Phoenix, AZ in summer, make sure to heed the following advice.
Stay Hydrated
First and foremost, you absolutely must stay well hydrated while hiking in the Phoenix area during the summer season. To that end, we recommend investing in a Camelbak water pack and filling it completely before hitting the trail. It also never hurts to pack a bottle of some type of sports drink as well.
Wear a Hat and Light Clothing
Most of the best hikes in Phoenix offer very little shade. Create your own shade, keep your face cool, and prevent sunburn by wearing a hat with a brim during your hiking adventures.
Additionally, you will want to wear clothing that is both light in color and in weight. Fabrics should breathe easily, and quick-dry fabrics are even better. Long sleeves are also a good idea to protect your skin from the sun.
Take Sunscreen
Of course, a hat can't protect all of your skin from burning. This is where sunscreen comes into play. Put some on before leaving the house, and then be sure to reapply it often, as sweat will wash it away.
Always Bring a Map
Always print out a Phoenix hiking trails map and bring it along with you on your excursions. Phones and GPS are great when they work, but counting on them to get us around in nature is not always the best idea. The further away from the city one gets, the worse their cell reception becomes.
Since getting lost in the hot Arizona sun could be fatal, a paper map is crucial.
Consider a Night Hike
If the daytime heat is just too much, you might consider taking a night hike. This is actually a popular activity in Arizona and is a great way to see nature from a different point of view.
Hiking Trails in Phoenix FAQ
Still have questions about hiking in Phoenix? No worries! We have answers.
Below are some of the most frequently asked questions on this subject. We've done our research and answered each one, so you can skip the research and hit the trails as soon as possible.
How many hiking trails are in Phoenix?
There are literally hundreds of hiking trails in and around Phoenix, AZ. The All Trails website has 230 of them listed, but there are likely even more hidden throughout the area. Once you've experienced the hikes we've listed above, we recommend asking locals to find some gems you'd never find otherwise.
Where can I hike in Phoenix?
As mentioned before, there are hundreds of trails in the area. Some of the best hikes near Phoenix can be found in the Mountain Preserve and Sonoran Preserve, both of which are located just outside of the city. If you're looking to go on a hike and aren't sure exactly where to do that, either of these preserves should suit you just fine.
Is Squaw Peak harder than Camelback?
Some of the best advanced hiking trails in Phoenix are Squaw Peak Summit Trail (also known as Piestewa Peak) and the two hikes up Camelback Mountain. All of these are difficult hikes, and many people are simply not physically fit enough to handle them.
If you'd like to give a hike up one of these mountains a try, but want to start with an easier option, you might try Freedom Trail to Squaw Peak. This trail is a tiny bit easier than other options. It's also on the shorter side, measuring in at only 1.9 miles.
All that said, even Freedom Trail is very challenging, meaning it probably isn't the best choice for a beginner.
Which trail is easier on Camelback Mountain?
One of the most popular mountains to hike in Phoenix is the aforementioned Camelback Mountain. As we said earlier, the trails on this mountain are all difficult, and certainly not for beginners.
That said, those looking to hike this mountain for the first time and wanting the easiest option available should look into Echo Canyon Trail. This one is slightly shorter and may be a bit easier.
Where can I hike at night in Phoenix?
Because night hiking is such a popular activity in this hot state, there are several night trails in Phoenix, AZ.
Piestewa (Squaw) Peak is a nighttime favorite. While the Phoenix Mountains Park and Recreational Area that houses the trail closes at 7pm, those that are already in the park at closing time are allowed to hike until 11pm. The daytime views at the top of this peak are incredible, and the nighttime views are just as magnificent.
Another great night hike option is Holbert Trail in South Mountain Regional Park. Again, the park closes at 7pm, but hikers are allowed to continue until 11pm. This is considered one of the best places to watch the Arizona sunset, so keep that in mind when timing your hike.
As you can see, Phoenix is easily one of the best places in the entire country to get in some scenic hiking, and it's an ideal hiking vacation destination overall. That said, the beautiful views don't make these hikes any less tiring. Therefore, you will want a comfortable place to return home to each night during your hiking getaway.
This is where Phoenix RV rentals come into play. Grab a rental RV in Phoenix (or in another nearby Arizona town), and you'll be all set with comfy accommodations that can be parked smack-dab in the middle of the wonderful Arizona nature.