The Best Aquariums Across the Country
Travel Inspiration
June 9th, 2019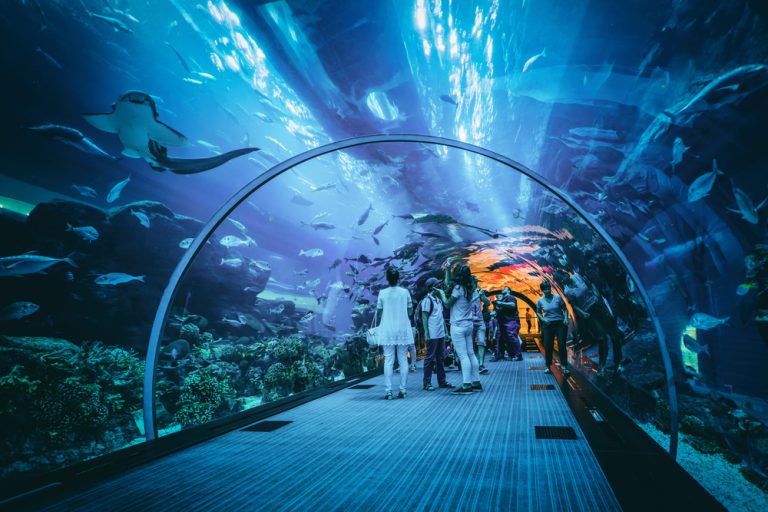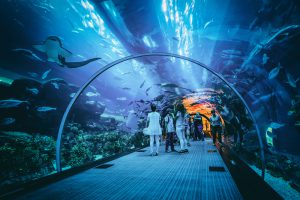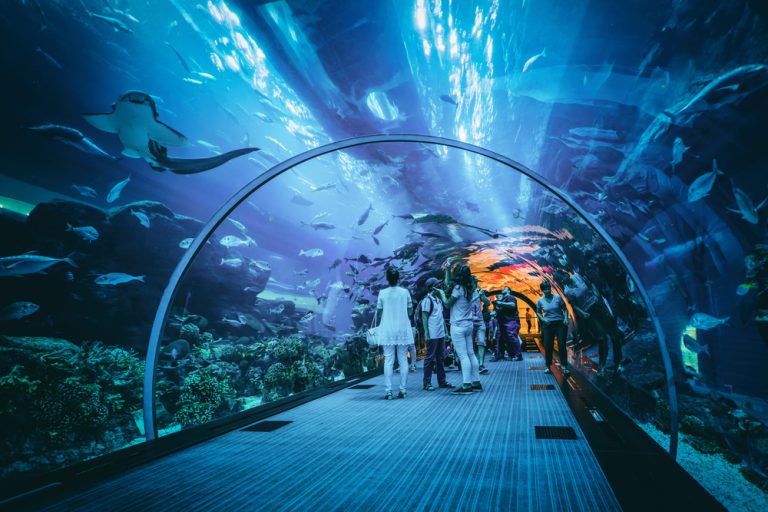 From playful porpoises to surreal sea lions and everything in between, a trip to the aquarium is a favorite family activity for many travelers. And the good news is, a ton of U.S. cities set aside space and resources to get you up close and personal with some new seafaring friends — even if the towns themselves are miles from an ocean.
Whether you're looking for something to do on your next camping trip or just hoping to find the best aquarium in your area, here are a few scenic sea spots to add to your itinerary!
Best Aquariums in the U.S.
"Where's the best aquarium near me," you ask?
Well, if you live in any of these towns, you're in luck. Here are some of the best aquariums in the country, just waiting to be discovered by a sealife lover like you.
Monterey Bay Aquarium; Monterey Bay, California
One of the most famous aquariums in the world, let alone the country, the Monterey Bay Aquarium is more than just a visitor experience. It's also a forerunner in the world of wildlife conservation and educational programs, which means you can feel good about the money you spend on admission — which is, we'll admit, a fairly pricey expenditure at $49.95 for adults and $29.95 for children aged 3-12. (Kids under 3 get in for free, and students and seniors get a middle-of-the-road price at $39.95.)
Along with helping the aquarium maintain and amplify its programming, you'll also get access to some of the most exciting and unique marine and freshwater exhibits in the world, including flamboyant cuttlefish, regal Giant Pacific octopuses (which, yes, is the correct pluralization), a "rocky shore" touch tank, an "open sea" exhibit complete with sea turtles, and more. And let's not even get started on the rest of the stuff there is to see along the central California coast. We'll just put it this way: you're not going to be bored, that's for sure.
Click here to see RVshare rentals near Monterey Bay, California.
Audubon Aquarium of the Americas; New Orleans, Louisiana
You might more readily associate the Big Easy with the party scene than sealife — but it's actually home to one of the biggest and best aquariums in the world. A subset of the larger Audubon Nature Institute, the Aquarium of the Americas offers tons of interactive fun suited for the whole family, including a stingray touch tank, 400,000-gallon Gulf of Mexico exhibit, a penguin habitat, southern sea otters, and more. Plus, you can grab a package deal and visit the organization's suite of other attractions, like the Insectarium, Nature Center, or Zoo. When you're done, you'll find yourself in the heart of one of the most exciting cities in America, with tons to see and do even if Bourbon Street isn't your style.
Click here to see RVshare rentals near New Orleans, Louisiana.
Biggest Aquarium in the U.S.
Good things often come in small packages…  but when it comes to aquariums, the more room you have, the better. After all, lots of sea animals aren't exactly small! Here are a few of the largest aquariums in the country.
Georgia Aquarium; Atlanta, Georgia
Atlanta may be landlocked, but that doesn't mean it's not an amazing destination for sea life lovers. The Georgia Aquarium is not only one of the top aquariums in the U.S. based on its diversity of species and exhibits, but it's also the largest in the country — and, with 10 million gallons of sea- and freshwater habitats, was the largest in the world until the Marine Life Park opened in 2012 in Singapore.
That much water means you'll have the opportunity to see some serious sea-dwellers, including massive whale sharks, beluga whales, and manta rays whose wingspans will knock your socks off. You can even take the special "Behind the Seas" tour to get a unique, backstage look at some of the aquarium's most popular exhibits, including its one-of-a-kind filtration room.
Click here to see RVshare rentals near Atlanta, Georgia.
Shedd Aquarium; Chicago, Illinois
Featuring a three-level ocean exhibit, interactive educational exhibits, and a host of unique events to participate in including a penguin party and overnight stays — we'll avoid a "sleeping with the fishes" pun — Chicago's Shedd Aquarium brings the amount of oomph you'd expect from the nation's largest midwestern metropole. (And besides, the Windy City is definitely already on your to-visit list, is it not?
Shedd Aquarium also offers private, personalized tours as well as summer programs aimed at kids, adults, and teens, so you're sure to find something suited to everyone in your camping party. Once you're sick of the sea — if that's even possible — spend some time enjoying Chicago's vibrant cultural and foodie scene. (Have some deep dish for us!)
Click here to see RVshare rentals near Chicago, Illinois.
Want to Check Out the Coolest Aquariums?
We're not quite done yet! Here are a few more amazing aquariums to check out in the U.S.
Miami Seaquarium; Miami, Florida
Where better to see what's under the sea than this beloved seaside metro? Miami Seaquarium has been a renowned destination for ocean life lovers for decades, offering a host of unique activities including the chance to swim with dolphins.
Better yet, if you've decided you've had enough of looking through glass, you can get up close and personal with the real thing at any of the area's many beach and waterscapes. You're also right next door to Biscayne National Park, a mostly-aqueous recreation site that's perfect for swimming, snorkeling, SCUBA diving, and boating — and, of course, learning even more about the flora and fauna that live under those scenic waves.
Click here to see RVshare rentals near Miami, Florida.
Tennessee Aquarium; Chattanooga, Tennessee
Nestled on the Tennessee River in the heart of Chattanooga, one of the hottest up-and-coming American destinations, the Tennessee Aquarium offers visitors way more than the opportunity to look at some glass-encased fish. It's also home to a huge 3D IMAX theater, which screens wildlife-themed films with themes ranging from oceanscapes to pandas, and also offers a stocked calendar of events to get you and the kids involved in the aquarium's program in a hands-on way.
Daily events include live feedings, secret reef dive shows, playtime exhibits with feisty otters, and so much more. Plus, a portion of proceeds go to conservation measures that help to protect America's rivers, which are a critical component of the health of our overall ecosystem.
Click here to see RVshare rentals near Chattanooga, Tennessee.
How to Take an Unforgettable, Low-Cost RV Trip
What better way to enjoy access to any of the aquariums on this list — or even one near you, which we've missed — than to take an RV getaway? When you road trip in a travel trailer or motorhome, you combine all the freedom and flexibility of the road with the comfort and convenience of having your very own place to stay, no matter where that road may lead you.
Of course, travel isn't free. And here at RVshare, we know you want to get the most bang for your buck when it comes to seeing the country. That's why we're so excited about the way our platform connects people across the camping community, making affordable camping opportunities accessible to campers like you — and putting money back into the pockets of regular, everyday RV owners. (The better to fund their own future adventures!)
What's more, when you rent through RVshare, you never have to worry about the safety of your sensitive information or wonder what might happen if you get into an accident or come upon some other surprise on the road. Each of our rental periods is backed by A-rated insurance coverage offered by the most reliable insurers in the business, and our unique and easy-to-use platform means all of your communications and monetary transactions are totally secure.
Finally, the best part of all: because you'll be renting from regular RV owners as opposed to a big, nationwide dealership, you'll benefit from serious cost savings when compared to what you'd spend at your typical franchise. After all, the travel trailer owner down the street doesn't have to worry about footing the bill of keeping lights on at a dealership; they're just looking to make a little bit of extra cash to help them better enjoy the hobby — and that means they can pass on those savings to you in the form of lower per-night rental prices. In short, it's pretty much the definition of a win-win situation.
To learn more about RVshare rental rigs available in your area, head to our homepage and pop in your zip code to check out the listings near you. Whether you're hoping to experience the modest campervan lifestyle or go all-out in a large, Class A motorhome, your dream rig is waiting… and there's so much out there to explore!
This post may contain affiliate links.