Travel Inspiration
March 23rd, 2021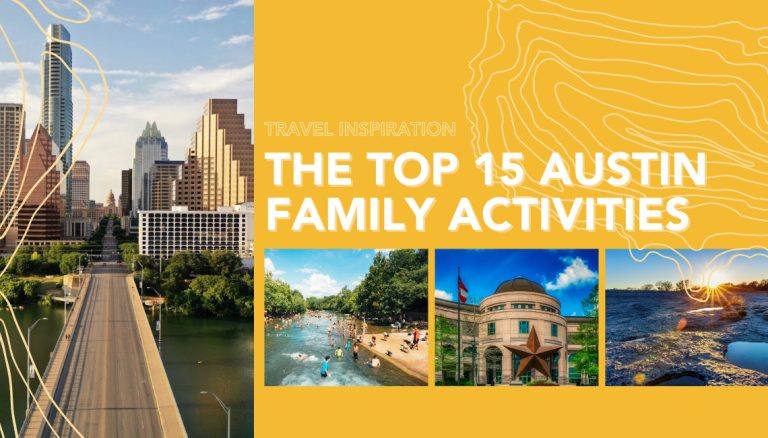 If you enjoy weird and artsy things, Austin is a must-see destination. This place is full of amazing artwork around every corner, and there are plenty of quirky sights to keep even the most eccentric individuals happy. Of course, the music scene is also a huge draw, especially the Austin City Limits Music Festival, which draws thousands of visitors every year.
On top of all that, the food in Austin is absolutely spectacular. Barbecue is a specialty of this south Texas city, and we recommend trying a few different barbecue joints while you're down there. Some of our favorites include Black's Barbecue, Cooper Old Time Pit Bar-B-Que, and of course, the amazing Franklin Barbecue. Other fantastic food options include Amy's Ice Creams and the many fantastic Mexican restaurants in the area.
All of this is wonderful, but parents of younger kids may be wondering if this is the kind of place they can take their kids on vacation. Read on to find out!
Are There Family Activities in Austin?
So is an Austin family vacation a good idea? The answer is absolutely!
There are tons of excellent attractions that will entertain kids and adults alike. Whether you're looking for outdoor fun, a place to learn something new, or something free to see, you're sure to find it in this incredible part of the Lone Star State.
Not sure where to begin? Below are the best things to do in Austin when visiting with kids.
Outdoor Things to Do in Austin Texas
Let's begin by talking about some of the amazing outdoor attractions Austin has to offer. These are just a handful of the amazing spots where families can have a good time while also soaking up some sunshine and enjoying Texas nature.
Zilker Botanical Garden
Check out some seriously amazing plants at Zilker Botanical Garden. This is an excellent opportunity for the kids to walk off some of their seemingly endless energy, and a great chance to learn a little about the world of flora. Best of all, this garden is located in Zilker Park where several other attractions can be found as well. This means you won't have to wander far to find even more fun.
The garden is open from 9am to 5pm daily, and does charge a small admission fee that depends on the age of the visitor and whether they are a resident of the city. The garden does offer free days from time to time.
McKinney Falls State Park
Want to go on some seriously awesome hiking trails and connect with Texas plants and animals? If so, McKinney Falls State Park might be just the stop for you. Here you'll find some historic sites, a huge number of plants, some Texas wildlife, and an awesome set of waterfalls.
McKinney Falls State Park does charge an admission fee of $6 per person 13 and over. It is open from 8am to 10pm daily.
Inner Space Cavern
Caverns are seriously cool places that absolutely should be explored at every opportunity. The Inner Space Cavern is no exception. This super cool underground attraction features all kinds of beautiful and fascinating cave formations that kids will adore.
This attraction is open from 9am to 4pm Monday through Friday and from 10am to 5pm on the weekends. It does close for some holidays, so be sure to check the hours beforehand. Tour prices vary.
Austin Zoo
Every kid loves a good zoo day, and every day at the Austin Zoo is a good one. Whether you prefer to check out the big cats and other animals of Africa or head over the petting zoo, there's something for you in this amazing place.
Admission to the Austin Zoo is $11.95 for kids and $14.95 for adults. Discounts are available for some, so make sure to ask. Hours for this attraction are Monday through Friday from 9:30am to 5pm, and Saturday and Sunday from 9:30am to 6pm.
More Austin Family Attractions
Looking for more Austin family activities? The attractions below are indoors, making them ideal for rainy or super hot days. And as a bonus, every single one offers some sort of learning opportunity.
The Thinkery
We cannot get enough of The Thinkery, and we know your kids will go bananas for it. This amazing children's museum is chock-full of exciting hands-on activists that the whole family can enjoy together. Kids adore the super cool outdoor play area, and the many building toy options are incredible.
Currently, the museum is open from 9am to 3:30pm on weekends and from 9am to 1:30pm Tuesday through Friday. Guests must reserve a session and purchase tickets in advance.
Austin Bouldering Project
Do you have some little monkeys on your hands? The Austin Bouldering Project is a great place to let them climb to their hearts' content. This is an awesome and enormous bouldering gym that also includes a yoga studio, cafe, and more. While it isn't really geared specifically toward kids, children are welcome to climb.
Hours are Monday through Friday from 6am to 10pm, and weekends from 9am to 10pm. Day-use passes are $18 for adults and $14 for kids. Rental shoes are free for first-time guests and $4 for everyone else.
Austin Nature and Science Center
Looking to learn something about science? Austin Science and Nature Center is an excellent attraction pick. This is one of the many attractions options located in Zilker Park, and the exhibits here are top-notch. Learn about dinosaurs, honey bees, and more with fun hands-on exhibits.
It should be noted that right now this museum is closed, but we expect to see it reopen in the future.
Austin Aquarium
Aquariums are super cool places that families can all enjoy together. The Austin Aquarium is no exception, and the many amazing sea creatures and fun interactive experiences that call this place home are sure to leave a lasting impression on the kids, ensuring memories that last for years to come.
Austin Aquarium's hours are 10am to 7pm daily. Admission prices are $19.95 for adults and $14.95 for kids. However, many discounts are available.
Bullock Texas State History Museum
Texas is an interesting state with some unique history. For this reason, many people want to learn more about the state during their visit. If this sounds like you, you might appreciate the Bullock Texas State History Museum. Here, Texas history is presented in lovely exhibits that are sure to capture your attention.
The museum is open from 10am to 5pm Wednesday through Sunday. Cost to enter is $13 for adults, $11 for students, seniors, and military, and $9 for kids ages 4–17.
Free Family Activities in Austin
Wondering what to do in Austin on a tight budget? Check out these amazingly free Austin family activities that are sure to keep everyone smiling throughout your trip.
Barton Springs Pool
One of the many attractions found in Zilker Park is Barton Springs Pool. This enormous pool is filled with water from the nearby natural spring. The water is perpetually between 68 and 74 degrees Fahrenheit, meaning it offers a comfortable swim all year round.
Barton Springs Pool is not free all the time. However, those who are willing to swim without the supervision of lifeguards can visit at certain times of day free of charge.
Congress Bridge Bats
For a super unique experience, be sure to head to the Congress Avenue bridge one evening to witness the hundreds—sometimes thousands—of bats emerging from beneath the bridge. This is a fantastic experience unlike any other, and one we think everyone should check out while in Austin.
To see the bats, you will want to make sure to arrive 40–60 minutes before sunset in order to find a spot. You will see bats begin to emerge about 20 minutes before sundown.
Zilker Park
We've mentioned Zilker Park attractions several times in this article. However, we feel the park itself deserves a mention as well. This is an excellent green space found right in the middle of the city. Yes, it does feature a variety of paid activities, but there are also playgrounds, walking paths, and more available for free.
While the park is completely free, depending on the time of day and the crowd levels, you might need to shell out $5 for parking.
Mount Bonnell
At 775 feet, Mount Bonnell is the highest place in Austin. Hiking up the mountain is a quick 30-minute activity that even kids can participate in. Once you reach the top of the stairs, you'll be treated to incredible views of this amazing city.
Cathedral of Junk
An Austin classic, the Cathedral of Junk is quite possibly the oddest of the Austin family activities on our list. It is literally a cathedral made from discarded objects and is located in a local man's backyard. That said, it is really cool and definitely worth seeing.
To check out this awesome piece of art, call Vince (512-299-7413) and ask when he's available to show it. There is no fee, but a donation of $10–$15 is greatly appreciated.
As you can see, you definitely won't have a hard time finding things to do with kids while in Austin. Pick a few of these, book an RV that'll fit your crew, and get ready to have an amazing vacation in the Lone Star State!