Luxury Campgrounds That Are Worth the Pricetag
Travel Inspiration
September 28th, 2020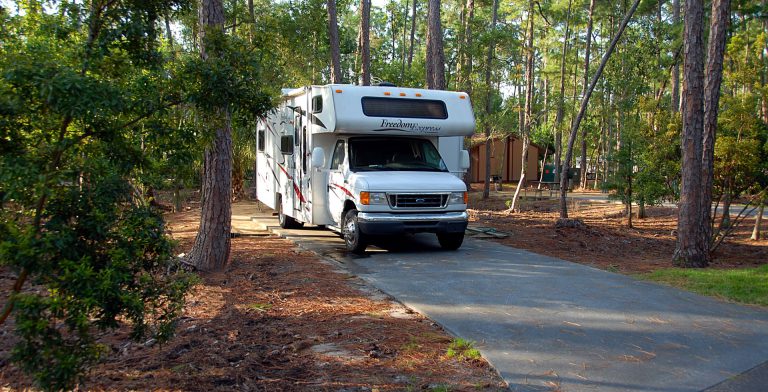 Luxury Campgrounds
Camping is great, and for many, roughing it is a jolly good time. However, for a great many others, "glamping" is where it's really at. This form of camping involves a comfy bed, plenty of electricity, endless water, and a whole slew of amenities and modern-day comforts.
Of course, if you want the most comfortable glamping experience possible, you're going to have to head to one of the most comfortable RV parks out there. This is where luxury RV campgrounds come into play. Luxury camping resorts offer some of the most comfortable and fun vacation opportunities out there.
Are they worth the cost? Absolutely! All you have to do is find the right one, and you'll be well on your way to an absolutely amazing glamping getaway.
What Makes a Good Luxury RV Park
What should one be looking for in luxury RV campgrounds? What makes an RV resort a luxury destination, and what would count it out of the luxury category? To be honest, it's a combination of things that make luxury RV camping resorts the more comfortable and upscale option.
Room to Move
Most people go camping to get away from it all. Unfortunately, many RV parks make this difficult by cramming RVs into tiny spots, forcing campers to sit almost on top of each other. Luxury campgrounds, on the other hand, almost always include spacious sites with plenty of room to stretch out and breathe.
Beautiful Views
Many upscale RV parks are found in beautiful locations. This makes sense, as these are the places that tend to attract visitors. It's also a huge perk because it means your upscale campground is likely to offer some pretty terrific views right outside your window.
Amenities
Another thing you will want your luxury RV park to have? Amenities. Level concrete pads, full hookups, and free Wi-Fi are pretty typical. Often, you will even get pull-through sites and cable TV.
A swimming pool, spa, restaurant, dog park, camp store, lodge, tennis court, and shuffle board or horseshoes are also found in many of these parks, and each of these amenities adds to the upscale vacation experience.
Activities
Amenities are fabulous, of course, and many amenities actually run over into the activities category. After all, a tennis court or swimming pool offers an opportunity for activity. That said, a lot of luxury RV campgrounds also offer planned activities within the park. These can include things like Bingo nights, line dancing, and potlucks as well as holiday-centered parties.
Attractions
What about outside of the park? You're going to want something to do during your getaway. For this reason, most premium RV parks can be found in areas where there are plenty of sights to see and things to do. Attractions such as museums, national parks, and theme parks can almost always be found near these resorts.
Friendly Staff and Campers
An RV park can have all the amenities and activities in the world. It can have the best location there is, or even offer the prettiest of views—but if the staff is grouchy, the experience can be spoiled pretty quickly. Not only that, but grumpy neighbors can also mean trouble.
For this reason, it's important to read reviews before booking a luxury RV resort in order to ensure the staff and campers are generally kind and welcoming people.
How Much Do Luxury RV Parks Cost?
Luxury RV parks come in a wide variety of shapes and sizes. Therefore, it only makes sense that they also vary quite a bit in price.
While it is possible to find luxury accommodations for as little as $30 or $40 a night by pouncing on discounts, most upscale RV parks will cost at least $50 a night. Some of the most expensive RV parks charge as much as $150 or more for each night of your stay, so be prepared to pay a pretty penny for your luxurious accommodations.
The Best Luxury RV Resorts
Not sure where to begin your luxury RV resort research? That's okay, because we've started the process for you! Below we'll list some of the most exclusive RV parks in the country. These places offer comfort and amenities one would never expect from a campground, and we love them all for it.
Fort Wilderness Campground
If you want the magic of camping without the negatives, Fort Wilderness is the place for you. Considering it's located on Disney property, is run by the Disney company, and is just across the way from the Magic Kingdom theme park—you know, the one with the iconic Cinderella Castle—it should come as no surprise that a stay here is absolutely magical.
The campground is enormous and features a few different pools, including one with slides and a hot tub. Onsite dining is available, with options such as takeout, a buffet, and even a dinner show.
Horseback riding, archery, carriage rides, and nightly campfire sing-alongs with Disney character meet-and-greets are just a few of the awesome activities you can expect when staying here.
Ocean Lakes Family Campground
Located right in the middle of the hustle and bustle of Myrtle Beach, South Carolina, Ocean Lakes Family Campground is another large RV resort that offers plenty to do.
The park is located right on the ocean, meaning you can walk to the beach from your site, no matter where you may be parked. Some RVs will even have a view of those beautiful ocean waves!
The bathhouses here are some of the cleanest and nicest we've ever seen. The onsite dining and water park are fantastic, and the organized activities are out of this world.
Speaking of activities, if you can visit during the Halloween season, do so. This campground and the campers who stay there know how to do Halloween right, really pulling out all the stops to make it an incredible experience every year!
Paradise by the Sea Beach RV Resort
Heading to California? We highly recommend Paradise by the Sea Beach RV Resort. Just as the name suggests, this place is an absolute paradise by the sea.
Guests of this resort can access the beach without ever leaving the campground. This alone makes staying here worthwhile. However, that is far from all the campground has to offer.
In addition to easy beach access, guests will also enjoy full hookups, cable TV, Wi-Fi, a heated pool and hot tub, incredible bathhouses, a recreation room with video games, pool, shuffleboard, and more.
On top of all this, the resort is in an absolutely fabulous location. From here, guests can choose to visit LEGOLAND California, which is just ten minutes away. Disneyland is also relatively nearby, as are Sea World, the San Diego Zoo, and Knott's Berry Farm.
Zion River Resort RV Park and Campground
One of the best places to RV in the whole country is Utah. Why? Because Utah has some of the most stunning landscapes you'll ever see. Not only that, but a huge number of national parks are located in this state, and each and every one is well worth seeing.
If you're wondering where your home base should be while experiencing all that Utah has to offer, look no further than Zion River Resort RV Park and Campgrounds. This incredible place is located just minutes away from Zion National Park and offers some of the most stunning views we've ever seen at any campground.
Amenities include the typical full hook ups, Wi-Fi, and cable TV, as well as super clean bathhouses. Additionally, you'll find plenty of things to do onsite, such as a playground, take-out eatery, dog park, and even a mining sluice where you can mine for real gem stones.
Of course, the organized activities are also a hit, especially with children and their families.
How to Find the Best Luxury Parks Near Me
Looking for a quick weekend getaway but can't make it to the fabulous parks listed above? If so, finding something nearby is important. Our advice for finding luxury campgrounds close to home will be key. Fortunately, this is easy enough to do.
Our best advice for finding premium RV parks in your area is to first determine what beautiful or exciting place you'd like to head to. From there, a quick search for that area should turn up the luxury motorhome parks nearby, and reviews will help you narrow those results down to the best of the best.