Travel Inspiration
Last updated on December 19th, 2022. Originally published on February 17th, 2018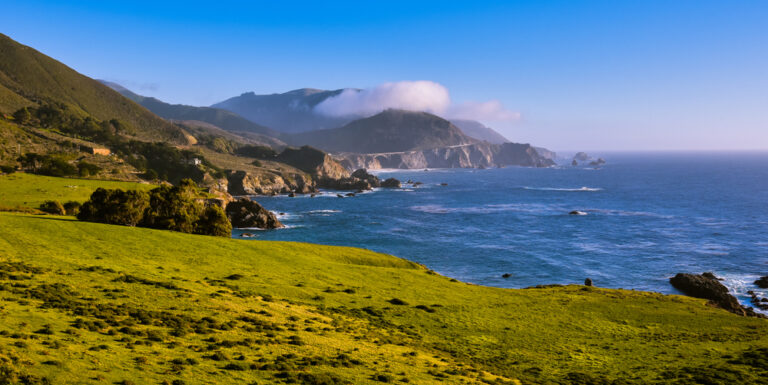 From New York to Los Angeles and everywhere in between, America has some of the most exciting and well-loved metropolitan areas in the world.
But let's focus in on that "everywhere in between" for a second. Because when it comes to camping, sometimes, bigger isn't better.
From coast to coast, this beautiful country of ours is dotted with small towns that pack a big punch, whether you're looking for culture, art, or just a friendly face or five eager for some campfire conversation.
So make sure your Passport America membership is up to date and grab your best road atlas. We're going to go off the beaten path to some of the best small, all-American towns the highway has to offer!
American Coastal Towns
Sure, most big cities are on a coastline — but so are a whole host of wonderful small towns, too! Here are some of our favorites.
1. Saint Augustine, Florida
When you think of colonial America, Florida might not be the first town that pops into mind — you're more likely to conjure up Plymouth or Jamestown.
But make no mistake: This city was here before both of them! Settled in 1565 by the Spanish, it's the oldest continually-run settlement in the States.
Its coastal local means you'll want to bring your beach blanket and sunglasses, especially if you camp in its beautiful Anastasia State Park, well-known for its dunes. The city itself is full of enough shopping and dining to keep you busy for a lifetime, not to mention all the tours you'll need to take to catch up on this hidden gem of a history lesson!
2. Portsmouth, New Hampshire
From Prescott Park's riverside vistas to the slippy slides at Water Country, you'll want to be sure to bring your swimsuit to this beautiful northeastern town. Don't fancy a dip? No problem — give the Strawberry Banke Museum a visit to see costumed staff demonstrate traditional 17th- and 18th-century crafts. You'll stay totally dry (and endlessly entertained).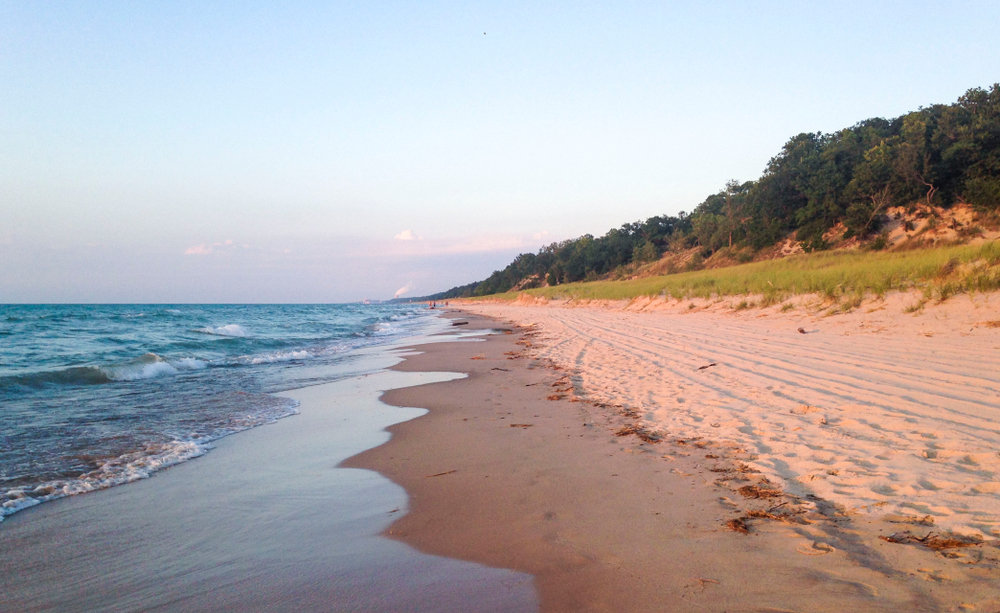 3. Porter, Indiana
Not all coastlines are on the ocean! If you're looking for a beachy midwestern getaway, check out this town, which sits right next to the Indiana Dunes State Park on Lake Michigan. Primitive campsites start at just $12 per night, or spend $30-$44 for full hookups.
4. Carmel-by-the-Sea, California
Come see why Clint Eastwood calls this tiny town home — and for a while, even held the mayorship. From sipping your way through its wine-tasting rooms to frolicking on its breathtaking, dog-friendly beaches, you'll quickly share his love for this little seaside villa.
Quirky American Towns
Quaint, cute, quirky, and art-filled — these small American towns have it all.
5. Athens, Ohio
One of the most quintessential American college towns, this southeastern Ohio burg is home to only about 2,000 people before the undergrads roll in… but judging by its culture, you'd never know it. Filled to the brim with art, music, and festivities, this town more than earns its ancient Greek namesake — and it's just a ten-minute drive from some of the most striking hillsides you'll ever stroll through.
6. Northfield, Minnesota
With a population of about 20,000 inhabitants, Northfield, Minnesota is a perfect midwestern getaway if you're looking for a charming spot with ample opportunities for outdoor activities. Whether it's meandering through the Farmer's Market, which is open three days a week between May and October, or a canoeing trip on the nearby Cannon River, there are plenty of ways to enjoy the area's beautiful summer weather.
What's the quirk factor, you ask? Well, back in 1876, the infamous Jesse James and his gang set out to rob the city's First National Bank — and were swiftly sabotaged by angry, adventurous locals. The event is still celebrated today during a weeklong annual festival called the Defeat of Jesse James Days.
7. Marfa, Texas
An artsy oasis in the middle of the desert? That's exactly what you can expect if you make the journey to this tiny west Texas burg, whose population was last reported as 1,747 in 2016. Despite its lack of inhabitants — or perhaps because of it — it's got several campgrounds to choose from, as well as El Cosmico, a hotel whose non-traditional accommodations include not only trailers but also yurts, teepees, and safari tents.
Charming American Towns
Turn down the population and turn up the charm — these small American towns will make you feel like you fell into a fairy tale.
8. Ketchum, Idaho
Although fewer than 3,000 people call this Sun Valley town their home, thousands of tourists flock to Ketchum to enjoy both the quaint city streets and the ample outdoor activities the local landscape offers. Whether you're into fishing, hiking, horseback riding, or the valley's most famous adventurous endeavor — skiing — you'll find everything you need in the middle of one of America's biggest farming regions. Tips up!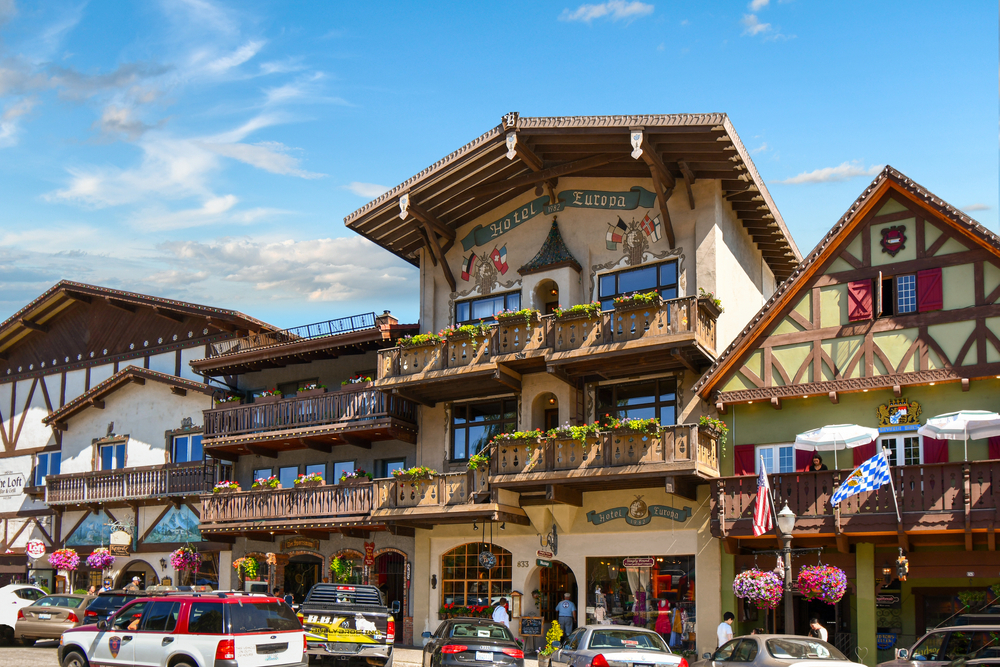 9. Leavenworth, Washington
Nestled in the stunning Cascade Mountain range, Leavenworth is a Bavarian-style village — which means it's full to the brim with gingerbread-trimmed facades and delicious German cuisine like beer and pretzels. We can't think of a more charming place to weather out a Washington winter… or enjoy its sunny summer skies either, for that matter!
American Country Towns
Looking to get as far from civilization as possible? You're in luck — because when it comes to quiet, charming country towns, America's got lots of options. Seriously, just hit the road and head west and you'll probably drive past half a dozen an hour.
But if you happen to find yourself in the Silver State, we do have one specific suggestion in mind.
10. Virginia City, Nevada
Founded during the silver rush in the 1860s, this boomtown still boasts its wild, wild west feel — though since only 800 or so souls call it home these days, you probably won't have to worry about a saloon shootout. Boondock on nearby BLM land for an authentic old west experience, or head to nearby Lake Tahoe to follow up your trip down memory lane with a little bit of luxury.
See? Told you bigger isn't always better.
This post may contain affiliate links.