RV Owners
June 24th, 2020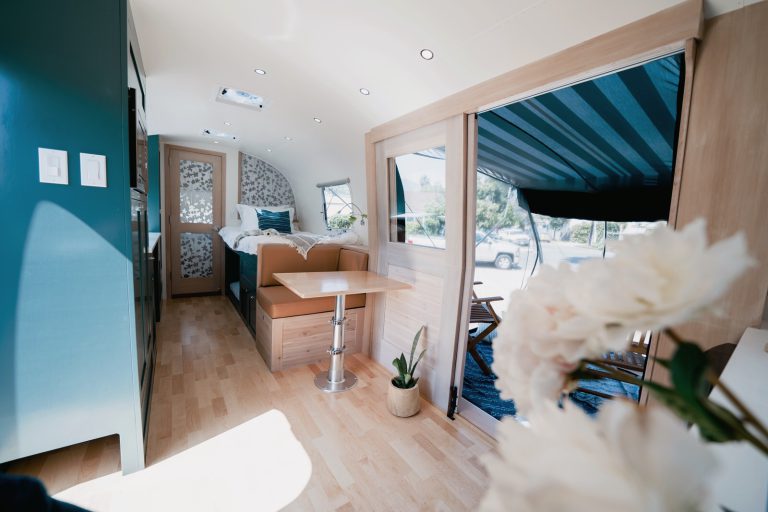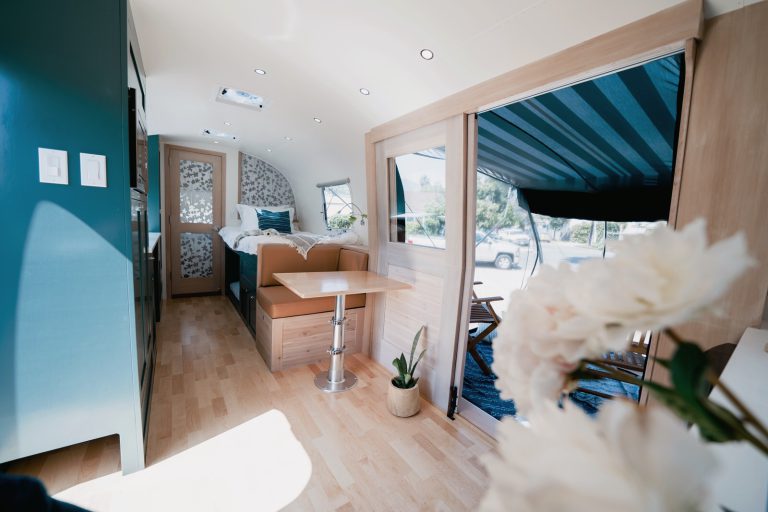 We just adore this Airstream transformation from Innovative Spaces. Check out the amazing before and after shots throughout.
Creating the possibility of new adventures from old, seemingly unpromising vehicles is a labor of love that few can resonate with more than builders. As a custom mobile space design/build team with decades of hands-on experience, there are always a few memorable projects that come to mind. One project that we'll never forget is 'Airstream Alice,' which was born from an outdoor and sports enthusiast's dream to live life comfortably off-grid for weekends, or even months at a time, with her furry family. 
The Layout
After a thorough evaluation of our client's lifestyle needs and design aesthetic, we initiated the first step of our design process: Airstream sourcing and purchasing. Our design called for a mid-sized Airstream, so we used our nationwide network of Airstream pickers to help us source a 25' 1973 Airstream Tradewind for our client's project. Once we made our decision on the trailer model and dimensions, we designed the reconfiguration of the original layout in a 3D CAD program to serve as a planning and visualization tool for design feedback and final approval prior to the build. 
The layout incorporated:
Extensive ground-level storage

Uncluttered headroom areas

Spacious spa bathroom

Open kitchen to accompany her joy of cooking

Custom-built deck 

Breakfast nook

Work desk

Bright windows

Dog bed and cat bed
The Build
Although many might assume that a trailer's condition would affect our project's progress and timeline, it rarely matters as we replace just about everything on the interior, and often also do quite a bit of customization on the exterior. In this case, as you can see from the images, it was your typical 1970's trailer: it was pretty funky inside after years of sitting around. As a result, we simply did a complete shell-off restoration, which in essence, consists of gutting the entire trailer and lifting the shell off the chassis to ensure that we're building on a solid foundation. 
Airstream chassis are made of steel and often either have rust issues, bending, or damage from years on the road. For this project, we completely rebuilt the chassis out of aluminum, which made it significantly lighter and stronger than its original condition. We spend thousands of man-hours on these renovations, and our clients pay a pretty penny for us to build them, so it's critical that we start with a solid foundation that will last another five decades on the road. 
Once we rebuilt the aluminum chassis, we dropped in all the sub-floor systems like grey and black water tanks, wiring, and plumbing, and installed fiberboard subfloor that was lighter, stronger, and rot-proof. Once the subfloor was secured, we reattached the shell to the chassis, installed new wiring throughout, added spray-in foam insulation and installed new aluminum interior skins. With the interior skins in place, it was time for the custom interior design and buildout. 
Off-Grid Capabilities
To accommodate the client's plans to take her mobile space off-grid for extended periods, we installed three batteries, two 100W solar panels, and an inverter and converter system. The exterior of the Airstream was also in pretty good condition, so we did a bit of restoration to prep it for sprinter blue grey paint. All in all, we estimate that we rebuilt over 90% of this Airstream, including all new electrical and plumbing systems, which we do for all of our projects. 
Interior Design
Our interior designer, Lauren Ravenhill, collaborated extensively with the client to plan the interior decor and materials that would withstand the wear and tear of her cat and dog and her active lifestyle while also achieving a timeless, luxe and cozy space to call home. They decided Kahrs maple flooring to set a warm foundation to the space, comfy and durable leather cushions, and maple shelves and table top to complement the flooring and anchor the spaces. We used Hafele ceiling lights and cabinet push-button knobs for a clean and modern feel. We also made sure that the pets had their own place settings at pet eye-level, as well as individual sleeping spaces. To wrap up, we installed a central vacuum system.
Kitchen
In the kitchen, we used ultra light plywood for all of our 100% custom-built cabinetry constructed with shaker style doors, and custom sliding dual plane deck doors made of cedar. To complement, we installed Glacier White Corian countertops and used maple for the shelves and table top to match the maple flooring. We also installed a deep double sink paired with a double burner stove and Smeg microwave to complete an inspired kitchen. The interior skin was painted in Swiss Coffee and the cabinets were painted in Inchra blue. However, the cherry on top was the installation of a custom wine rack to secure libations while in tow. 
Bathroom
The spa-bathroom was built as a completely waterproof wet bath. The walls were white-washed Cedar with a water-based finish, combined with teak flooring and bench, flushable RV toilet and Glacier White Corian countertops. To add light to the space, we also designed and built a see-through wall.

The Deck
One of our favorite features is the drop-down deck which can raise and lower at the push of a button. To support our client's desire for indoor/outdoor living, we incorporated a deck to increase the square footage of the living space and create a more airy design. Engineered with a 1,500 lb. capacity, it's suspended from two metal cables that drop down from our structurally reinforced door frames to achieve a floating illusion. The deck itself is covered with a non-skid rubberized paint, and is constructed with aluminum to keep it light but strong. Above the deck, we added a custom awning with mosquito netting to create an entirely new room out of the sun or rain. 
Based on the reaction we received from our client, we can confidently say that this project was a complete success. If you have a tired trailer or a dream RV that you need help transforming into your vision, visit our website at innovsb.com to view our portfolio, learn more about our process, and get in touch with us.