Travel Inspiration
Last updated on December 13th, 2022. Originally published on January 15th, 2018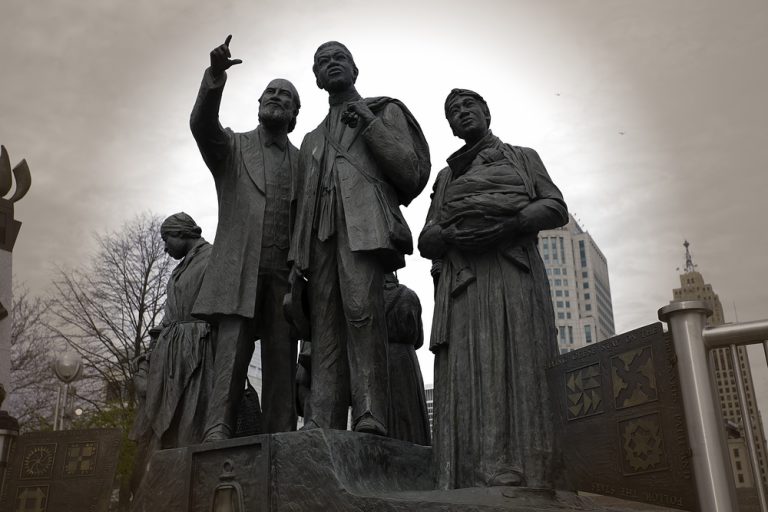 On January 15, we celebrate the life and achievements of a true American hero: Martin Luther King Junior.
Along with the critical part he played in the progress of the Civil Rights Movement, Martin Luther King Jr. was admirable simply in his consistent optimism and kindness. He never gave up on his dream for a better world, nor on his belief, despite a life full of injustices, in innate human goodness.
Even though Black History Month isn't until February, we can't think of a better time to take an RV trip geared toward celebrating and learning more about African American history and heritage. It might be chilly, but everyone could use a break after the hectic holiday season.
It's time to take our favorite kind of trip: one that combines vacation with education!
Celebrating African American Heritage
What does it mean to be black in America today? How does racial history impact all of us as Americans?
African American heritage and culture has played a part in a huge amount of American history, influencing art, food, traditions, and celebrations across the land. That means no matter where you're heading, chances are there's a site of historical significance to African American history nearby.
But on this special weekend, we want to call out a few destinations that are especially steeped in the rich culture of African American people. They're perfect to visit during the long weekend you have off from work… or any time of year.
African American Heritage Road Trip
Ready to hit the road and learn a thing or two while you're at it? Here are some excellent stops to make on your African American heritage and history trail.
1. Atlanta, Georgia
What better way to celebrate MLK weekend than by visiting Martin Luther King Jr.'s hometown? You can even visit his birth house, which is open to the public for tours.
Atlanta also has a host of other African American heritage museums and activities, such as the APEX Museum and the Hammond House museum of art. And after all, we are talking about a very prominent Atlantan's birthday, so the city pulls out all the stops, hosting a wide array of events for the occasion, as well as a parade. The King Center even hosts a 10-day-long celebratory festival in Martin Luther King Jr.'s honor, including performance art, lectures, and workshops.
2. Birmingham, Alabama
Martin Luther King Jr. was famously imprisoned in this Alabama town, the namesake of his world-renowned "Letter from a Birmingham Jail." The door to the institution is on display at the Birmingham Civil Rights Institute, which provides an interactive overview of the Civil Rights Movement.
Just across the street, take a moment to reflect at Kelly Ingram Park, which was the meeting point for many Civil Rights events and protests, including the famous 1963 day when Commissioner of Public Safety Bull Connor unleashed fire hoses and dogs on the activists. There are plenty of other relevant historical sites to explore in the city, which was a hotbed of political and protest activity during Martin Luther King Jr.'s heyday.
African American Heritage Sites
Here are some more stops not to miss on your African American heritage tour trip.
3. Detroit, Michigan
One of the most historically black cities in America, Detroit's population is over 80% African American — and despite a hard few years economically, it's finally on the road to recovery. That means there's plenty to see and do in town, both in the African American history vein and otherwise. Don't forget a visit to the famous International Underground Railroad Memorial, which memorializes those who bravely helped slaves escape and claim their freedom. You should also make sure the Charles H. Wright Museum of African American History is on your must-see list.
Finally, get a taste of current African American culture by sampling the city's vast array of soul food options, or experiencing a service at one of its baptist churches. And don't forget, you're in the heart of Motown, so it's worthwhile to make time to catch some live music!
4. Memphis, Tennessee
We included Martin Luther King Jr.'s birthplace, so it's only right to include the city he died in, too. Along with this important historical significance, however, there are a variety of other educational pursuits you can explore while you're in town.
For example, Memphis is home to the National Civil Rights Museum, which houses one of the largest collections of Civil-Rights-related artifacts in the country. It's housed in and built around the historic Lorraine Motel, which is where King Jr. was fatally shot on April 4, 1968.
On a lighter note, you'll also be able to explore and enjoy the Beale Street Historic District, famous across the nation for its significance in the development of African American musical styles, including blues, R&B, jazz, rock and roll, and gospel.
5. Chicago, Illinois
Chicago in January might be a hard sell for some, but hear us out. This lakeside city has a special place in the African American story.
In fact, it was actually founded by an African American by the name of Jean Baptiste Point DuSable, who helped establish the colony with his trading activities in the 1780s. He's the namesake of the city's DuSable Museum of African American History, where you'll find a vast array of artifacts and exhibits to help you learn more about its importance in Black History. Chicago is also, of course, the city Barack Obama lived in before he became the first African American president.
African American Heritage and Culture
African American history isn't just important for those of us with darker skin tones. It's a critical story for of us who call this nation our home.
For more information on Martin Luther King Jr. and African American heritage, check out the following excellent titles:
"Strength to Love" by Martin Luther King Jr.
"Martin Luther King, Jr.: A Life" by Marshall Frady
"1001 Things Everyone Should Know About African American History" by Jeffrey C. Stewart
May we never forget the sacrifices of those who devoted their lives to making our country a better, more just place to live in.