9 of the Best Camping Spots in Texas Hill Country
Travel Inspiration
September 2nd, 2015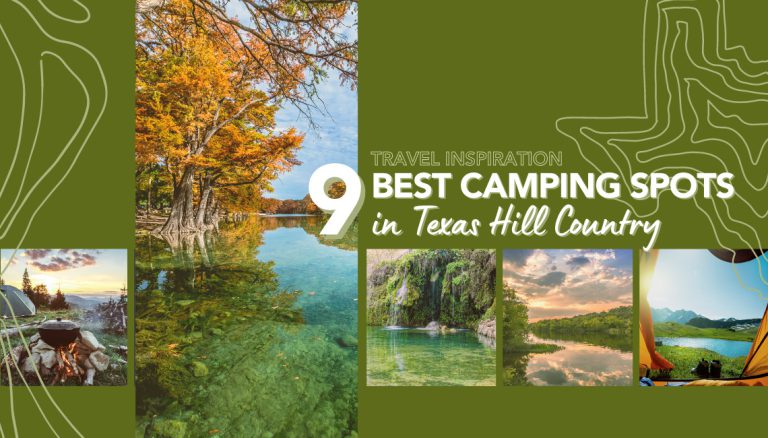 The absolute best way to experience the beauty of the Texas Hill Country is with a camping trip. The water is clearer, the air is cooler, and you can spend all night gazing at the starry sky.
If this is a place you've always wanted to visit, but don't know where to start, I've compiled a list of 9 of the best camping spots in Hill Country. These premiere camping spots offer endless opportunities for fun. Some of these include fishing, hiking, rock climbing, and more.
But, before you go camping, it's important that you perform your due diligence. That is, you should check on the water conditions, weather, and the pet policy at the campsites. Also, you should learn the differences between an improved and a primitive campground. Having this information handy will ensure that you are prepared for almost any eventuality.
Guadalupe River State Park is a 1,938 acre park that encompasses a four mile section of the gorgeous Guadalupe River. Pitch your tent in one of their secluded riverside sites, or choose one of their RV sites with water and electric hook-ups. The park offers many water recreation activities for visitors to enjoy including tubing, kayaking, and canoeing.
Lost Maples is located on the shores of the Sabinal River in the Sabinal River Canyon. It offers visitors the chance to go fishing, swimming, or hiking. This is a popular summer destination, but the very best time to visit in in October and November when the fall foliage colors are at their height. Lost Maples offers primitive hike-in tents sites or RV sites with electric and water hook-ups.
Garner State Park sits on almost 2,000 acres. It is located in the city of Concan less than from the Frio River. It's easy to see why this is the most popular state park in Texas. With over 10 miles of hiking trails, a wide variety of water recreation activities including fishing, tubing, and canoeing, a picnic area, golfing, biking, and much more, this park has something for everyone. They even hold jukebox dances during the spring and summer.
This area is home to an ancient batholith — or in other terms — a gigantic rock. Its sheer size offers visitors an unsurpassed hiking experience. From the top you can enjoy sweeping views of the Hill Country. It's important to note that when visiting in the summer you should bring plenty of water along on your hiking trips as the summer sun in the Hill Country can be pretty brutal.
Located just outside of Driftwood, Krause Springs is something truly beautiful to behold. A trip here offers visitors a chance to see a 30 foot tall waterfall and a grove of old cypress trees where some of the trees are rumored to be around 1,000 years old!
Krause Springs is a popular summer camping destination, so campers are encourage to arrive early to get a good site. Reservation are taken for RV sites only.
This park is a great place to find relief from the hot Texas sun. As the home of the picturesque Devil's Waterhole, this popular swimming hole offers cool water, over 20 screened-in shelters, seven miles of trails, and waterfront campsites.
Canyon of the Eagles Campground is a protected wildlife habitat located on the shores of Lake Buchanan which ensures that campers will have tons of water recreation activities to keep them busy. Visitors can chose from camp primitive camping sites or a room in the beautiful resort.
This beautiful park lies on the banks of the Colorado River. It offers visitors numerous activities to keep them entertained such as cave exploring, bird watching, hiking, swimming, and kayaking.
The Colorado Bend State Park is home to the awe-inspiring 60-foot Gorman Falls. This unique waterfall is a travertine waterfall which means that rather than eroding (like most waterfalls), it's actually growing in size.
Leifeste is a primitive campground that has been open for about 50 years. It is located on the banks of the Llano River. A trip here offers visitors the chance to enjoy many water recreation activities including boating, swimming, and kayaking. This area also offers some of the best fishing on the Llano River. This campground is quite popular so be sure to make a reservation.
What did you think of the list? Did I forget any of your favorite Hill Country camping spots? Share your thoughts in the comments below and, as always, happy camping.