RV Owners
September 20th, 2021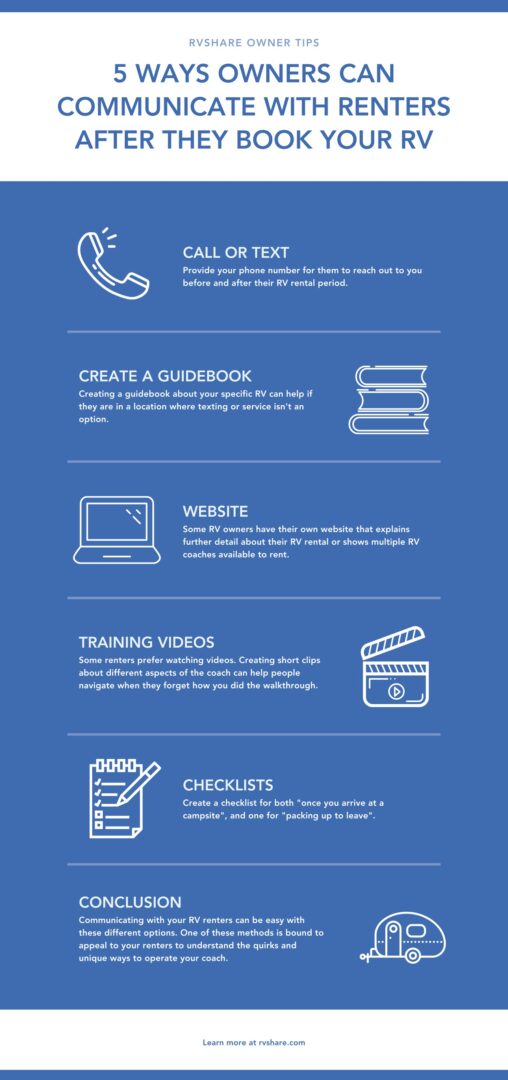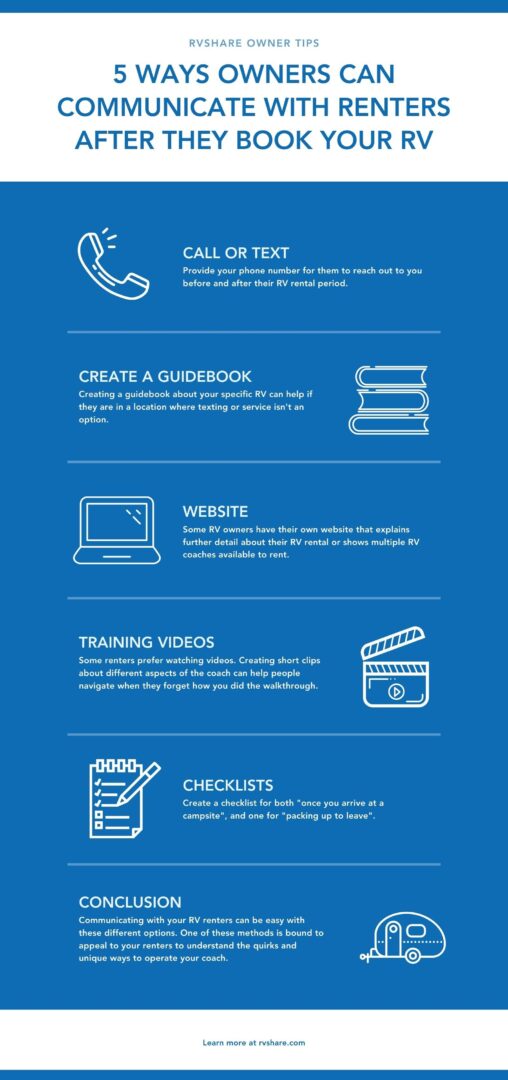 So you just got your first renter…now what? Or you've been renting for some time with RVshare.
You've been communicating with prospects, but now you have a renter that's booked with you. Feel free to continue chatting on our platform, but take a look at these 5 additional ways that can help connect you with your renters.
The goal is to make it as easy as possible for both you and your renters to communicate.
And who doesn't want easy?
1. Call or Text
Once you get a verified renter it's best to reach out as soon as possible and give them your direct contact information.
I typically introduce myself and let them know my schedule and the best way to keep in touch. I then find out their best contact method. Some people like email, phone calls, or texts. I make a note of this and let them know how the process will go.
I establish and reconfirm the pickup or delivery time and date. If they change things based on when they booked or become very difficult, then this is the time to move on if it doesn't work out with you. Plus, I have so many people who say they really appreciate the quick response.
This is your chance if you haven't already let them know, to share that you provide a walkthrough of your coach and additional resources. You want them to feel comfortable when they take it out on their own. They may say they've rented one before, but if it wasn't yours, then it could be very different.
2. Create a Guidebook
A handy guidebook is something that's tangible or available online. Your renters can refer back to the topic they have questions about when you aren't available. You can even design it for in-page navigation with clickable links to different chapters. The guidebook can be sent to people immediately when they book so they can get some additional ideas for vacation spots or to review before meeting with you.
What to include in your guidebook?
Operating your RV
Setting up your RV for boondocking
Setting up your RV for a designated campsite
Top vacation destinations people can visit in your RV
What inventory supplies are available to your renters
How to reach you
Specs of your RV, gas or diesel, water, sleeping arrangements
What to do in case of emergency, insurance, roadside assistance
Checklists
How to arrange your guidebook
Name your guidebook
Use concise phrases
Break content up into sections that are easy to read
Provide headings, subheadings, and bullets
Structure most important content so it shows up in the beginning or go in chronological order from the front of RV to back
Add photos to break up the words
Decide on the platform to create your guidebook
You can make your guidebook as sophisticated or as simple as you want. Use Microsoft Word or invest in a program that offers presentation templates and slide decks. Some programs that help are www.canva.com, www.venngage.com, or www.guidebook.com just to name a few.
I've used both canva.com and venngage for slide presentations. You can upload photos of your choice or use stock photos to illustrate your purposes.
3. Website
I've noticed some RV owners have a website with multiple RVs they rent. Some owners have vacation rentals also and combine these on their website. You can market this as a vacation rental on wheels or just provide valuable information for your renters. Create simple websites or more complex ones.
The website can provide all the information that I suggested above and you won't need to create different PDFs or worry about trying to send photos, videos, or content over email. Sometimes different email servers will say the email is too large to send.
This alleviates that problem and you can provide a link to your renters.
4. Training Videos
Videos are powerful training tools that can be broken up into bite-size content. Create short clips on different topics for your RV. Many people pay more attention to video vs text or audio content. Make sure you label each video for the training it provides.
Examples of training videos
Using the TV and stereo system
Hooking up to a designated campsite
Dumping the black or gray tank when they become full
Pulling in or extending the slides
Leveling your coach
These step-by-step videos can educate your renters so that you don't have to walk them through the process again…over the phone, or while you're sleeping.
Different platforms to create and host your videos
I'm sure if you look you'll find many other platforms with templates. It's actually fun to create them. You might even find that you like to design videos featuring different travel destinations close to your home or use them in social media posts.
5. Checklists
People rely heavily on checklists. Rather than going through a full guidebook for an answer, you can create different checklists for your renters. I've got a two-page checklist that someone can follow when they arrive at a campsite and one to pack up from the campsite.
I've noticed people get overwhelmed with too much information so this condenses it. I put it on my stove in a clear cover with the first page showing "What to do when they arrive at a campsite" and the second side is "What to do when packing up."
Listed below is my sample checklist for step by step arriving at a campsite.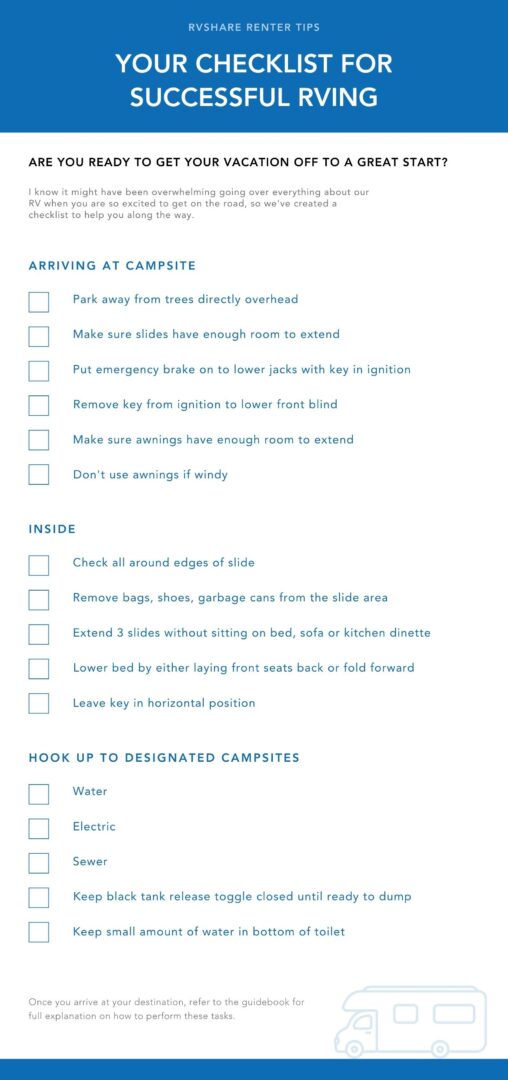 Conclusion
Hopefully, you've got some ideas of how you can improve your communications with your renters. Perhaps you've even used some of these tips before.
Remember that people get overwhelmed with too much information but people also want to know they have multiple resources to choose from.
When renters arrive and go through the walkthrough they may ask things multiple times, or they may just nod their head pretending they understand. You want them to have a mind-blowing experience…in a good way. Convey the necessary information whether that is in print, video, or available by phone so they stay safe, bring your RV back in working condition, and have fun.
It's the perfect way to keep your rental business organized, connected, and engaged with renters from anywhere.
Choose a couple of these methods and let us know what's worked for you. We'd love to know some of your tips and techniques.