5 Easy Steps to Van Conversion or Bus Conversion – Ask Yourself These Questions
RV Owners
April 23rd, 2015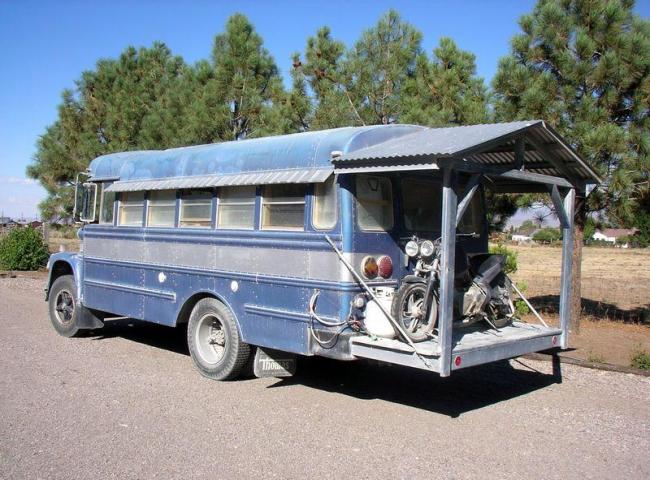 It seems like there comes a time in many people's lives when they are ready to throw in the towel and travel the country in an old bus or van. Whether you are in your 20's and just don't buy into societal norms, or you are in your 50's and can't wait for retirement, perhaps you've had the same thought.
I know I have.
But here's the beauty of the dream of converting an old bus or van: if you really want it, and you aren't afraid of some hard work, it's completely attainable.
Now let's be honest, you've got to have some ingenuity, and some mechanical ability, to be able to go out and do it, but if you're willing to put in the work, the options are almost endless.
How can you do it? Let's find out.
1. What is your budget?
As with any project, you need to determine what you can afford. While you can make a go at this project with almost any budget, it's important to remember that you not only have to purchase your bus or van, but you also have to make sure you have the funds to fix it up, clean it up, pretty it up, and make it road worthy.
As a suggestion, assume that whatever amount of money you spend on purchasing your rig, you are going to need to also spend that much, fixing it up. Of course, your expectations need to be realistic, based on the budget you decide upon, but there are multiple options available out there for you to explore.
2. What are you looking for?
This is both the easy and the hard part. You need to find an old bus or van that you can afford, one that still leaves you room in your budget for modifications and repairs, but also one that is as mechanically sound as you feel comfortable with.
For example, let's say you find an older van that is in fantastic shape on the inside. The interior is relatively clean and well kept, the seating is still intact, and it doesn't need a lot of work to become your dream cruiser! Having said that, the engine is in rough shape. It doesn't run well, the owner mentions it might need transmission work, and it smokes a little bit when you drive it.
Now, if you are a mechanic, or an avid do-it-yourself-er when it comes to car and engine work, you may be completely comfortable going after this van as an option.
If you don't know where to locate a dipstick, or even know what one is, you probably want to pass this one up.
3. How are you going to find it?
Almost every town has a used car lot, and while most of those used car lots like to keep their best-looking, and most expensive vehicles, out in front for the world to see, they also usually keep a few… let's say, less-slightly vehicles in the back. So check out your local used car dealerships for vehicles that were recent trade-ins. You never know what you'll find.
If that sounds like a lot of work, or you don't want to deal with a car salesman, searching online is a great option.
In addition to websites like AutoTrader, there are a lot of places to find used vehicles online. There are several Facebook pages dedicated to listing used vehicles, and there are local "garage sale" pages on Facebook for many areas, where people list items they are trying to sell.
Perhaps the greatest resource of all is Craigslist. Craigslist allows people, for free, to quickly and easily list items that they want to sell. You never know when someone, who has an old van or bus sitting in their yard, might think to themselves "Oh, who would want that old thing?" but then they decide to post it on Craigslist anyway.
4. Is it safe?
Priority #1 is getting your new rig safe and reliable for driving. Whether you plan to do the mechanical work yourself, or whether you are going to take your new find to your local, trusted mechanic, the first thing you need to do is to get it running properly.
Getting the vehicle running, driving, and stopping properly could potentially be the most difficult and expensive portion of your project, so it's important to tackle it first.
Is the engine running well? Are the tires roadworthy? Do you need new brakes?
All of these things can add up quickly if they need to be attended to, so don't put them off.
5. How should you convert it?
This is where the fun part comes in! There are so many things you can do to make your new rig unique, and make it work for you, there's just no way we can explore them all here, but here are some questions to consider:
How many people does your van or bus need to sleep?
Do you need electrical power when your van or bus isn't running?
Do you need running water, so that you can wash your hands?
Do you require a toilet?
What kind of entertainment would you like in your rig?
How much privacy do you want?
Are you comfortable with people knowing that this vehicle is a converted van or bus, or would you like to be more stealth?
Depending on your answers to these questions, there are multiple ways your conversion could go.
Fortunately, for all of us who may decide to go after this dream, we aren't alone, and we aren't the first. There are several blogs, websites, video blogs, YouTube channels and message boards dedicated to those who have done a van or bus conversion. Researching these avenues will give you a lot of ideas for your own conversion, and in many cases, you can even find some good "how-to" references for what you'd like to do.
Whether you are converting a van or bus to go off the grid, or just to do some weekend camping, the experience of converting your rig is a big, but rewarding job. Nobody has a van or bus like yours.
Now get out there and see the world!