Travel Inspiration
Last updated on November 7th, 2022. Originally published on September 21st, 2015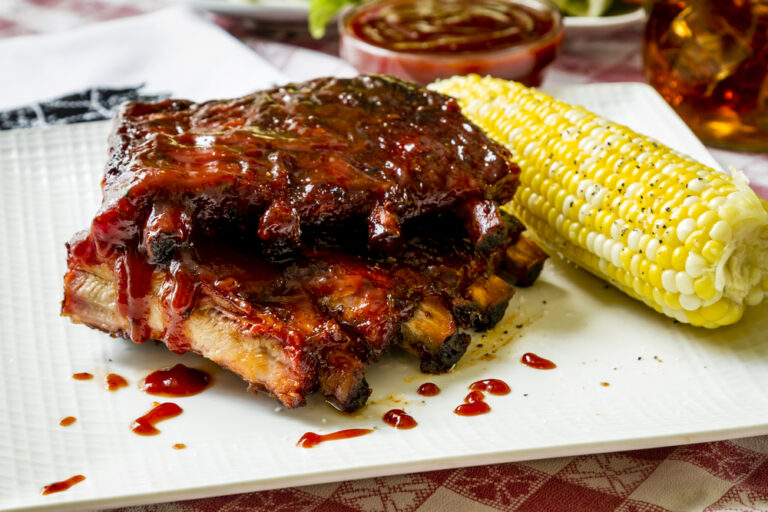 There are few states whose residents know their barbeque like Arkansas. If there isn't a cookout during the summer, chances are someone got BBQ at one of the local joints. These BBQ spots serve some of the best barbecue you'll ever taste.
Interested in learning more? Check out our list of the 32 best barbecue restaurants in Arkansas:
This popular Conway barbecue restaurant offers the usual fare of turkey, pork, ham, and beef. But what really sets them apart are their selection of six barbecue sauces for you to sample. Located at 740 South Harkrider, Conway, AR.
This family-operated BBQ restaurant believes in treating the customer right. Plus, their pork sandwiches and ribs aren't bad either. Located at 2278 Alpert Pike Rd, Hot Springs, AR.
Ridgewood Brothers is an established food truck in Russellville. You'll get delicious barbeque Fridays and Saturdays from open until they sell out.
This family restaurant serves its customers succulent barbecue including the standard chicken, ribs, beef, and pork, along with steak and fish. Their sides include biscuits, fries, baked beans, coleslaw, and much more. There are also fried pies available for dessert. As an added bonus, breakfast is served all day long. Located at 1107 North Main Street, Brinkley, AR. Roadfood.com
Hoots serves slow-barbecued chicken, beef, and pork. They also offer burgers, seafood, steaks, and sandwiches along with homemade cookies and pies. But that's not all! There's also a bar, live entertainment, and outdoor seating. A trip to Hoots is definitely worth it, no matter the distance. Located at 2008 US 65 North, McGehee, AR.
Capitol smokes all their chicken, pork, and beef dishes to tender perfection with a variety of special sauces for flavor. Their side dishes and ribs are especially good. When you're in the Little Rock area, try one of their plate lunch specials — you won't be disappointed. Located at 915 West Capitol Avenue, Little Rock, AR.
Jones is an award-winning neighborhood BBQ restaurant in Marianna. They have been open for over a century, and have been featured in numerous magazines! They smoke their meats on-site and serve them on plain white bread with a dash of their secret sauce and coleslaw. Located at 219 West Louisiana Street, Marianna, AR.
This classic Truman restaurant has a variety of American homestyle dishes, but their barbecue sandwiches and platters are easily the most popular. If you ever get a chance to visit, make sure you try the ribs — they are one of the house specialties. Located at 405 Arkansas 463 South, Trumann, AR.
The menu at this delightful restaurant includes barbecue pork, chicken, and ribs. They also serve wings, catfish, baked beans, hush puppies, coleslaw, and fried pies. Located at 847 East Main Street, Blytheville, AR.
#10: Craig's BBQ
Craig's is an authentic Southern BBQ shack whose history stretches all the way back to the 1940s. They are famous for their slow-smoked meats, spicy sauces, and tasty bar sandwiches. The savory coleslaw, burgers, and ribs are good options as well. Located at US 70, De Valls Bluff, AR.
Although it is part of a franchise, this restaurant is based out of Little Rock. They offer delicious, mouth-watering barbecue along with tasty sides like beans, dinner rolls, coleslaw, and potato salad. Other specialty treats include loaded baked potatoes and barbecue nachos. They have nine locations around Arkansas.
Sassy's is a casual barbecue restaurant with a festive, sports bar feel. They offer brisket, pulled pork, ribs, and more for you to savor. Located at 708 College Ave, Fayetteville, AR.
This barbecue joint has been open since 1956, and it looks like it will be in business for quite a while longer. Lindsey's serves chopped barbecue pork, ribs, beef, and chicken. They also serve catfish and fried chicken. The side items at Lindsey include pinto and baked beans, onion rings, potato salad, and more. Desserts include home sweet potato and egg custard pies. They serve fried pies as well. Located at 207 East 15th Street, North Little Rock, AR.
HB's Barbecue is in a quaint neighborhood spot that seats 32. They only serve ribs on Tuesday, but their great slabs of meat and spicy barbeque sauce are worth it. When you stop by, make sure you try their pork sandwich. It's served on a delcious onion roll and is a great alternative to the ribs. Located at 6020 Lancaster Rd, Little Rock, AR.
Kibbs' claim to fame is their delicious sauce — and their ribs are pretty good as well. But no trip to Kibb's is complete without a pork combo. It will make your tongue dance with pleasure. Located at 436 West 2nd Street, Stuttgart, AR.
This local favorite serves up some of the best smoked beef, pork, and ribs in the area. Their selection of sides includes corn, fries, coleslaw, and baked beans. They also serve potato salad and barbecue nachos. Located at 301 Southridge, Heber Springs, AR.
The Dixie Pig is a third-generation BBQ restaurant that has been open for almost 100 years. They are well known for "the pig sandwich", i.e. their chopped pork sandwich. They also serve homemade onion rings, chicken, fries, beans, other sandwiches, and more. Located at 706 North 6th Street, Blytheville, AR.
This popular little spot specializes in genuine barbecue chicken, pork, ribs, and beef. It's a BBQ purist's dream. Located at Highway 13 North, Carlisle, AR.
This popular little restaurant has been open for over 20 years. Each location is unique and the menu varies slightly from restaurant to restaurant. But they all serve the barbecue classics that originally made them a Fayetteville favorite. They have four different locations around Arkansas.
They serve their smoked meats in one of three ways around here; sassy, healthy, and traditional. You are welcome to dine in the restaurant, but if you are in a hurry, they also have a drive-thru to better serve you. Located at 3024 Central Avenue, Hot Springs, AR.
Rivertowne smokes its meats on-site every day. They offer both a barbecue sauce and a dry rub, per your preference. Their sides include coleslaw, baked beans, and potato salad. Located at 205 South 3rd Street, Ozark, AR.
Based in Texarkana, this customer favorite has some barbecue dishes that are really exceptional. They also pride themselves on having the best customer service in the state. They have five locations around Arkansas.
This BBQ joint is the epitome of a neighborhood joint. They have a ton of old pictures that tell the story of the restaurant, the family, and the community. They also sell handmade crafts  — and, of course, amazing BBQ! Located at 10508 Mann Road, Mabelvale, AR.
This hometown barbecue spot has been in business for almost 80 years. They are known for their delicious ribs and addictive sauces. Their spare ribs, chicken, and beef aren't half bad either. Located at 7601 Geyer Springs Road, Little Rock, AR.
This Magnolia restaurant serves barbecue pork and beef, along with a wide variety of desserts. Their sides include barbecue baked potatoes, slaw, and potato salad. Located at 1407 East Main Street, Magnolia, AR.
Last, but not least, is the award-winning and family-operated restaurant, McClard's. They serve beer, fries, and hearty ribs in a charming diner-style setting. Located at 505 Albert Pike Road, Hot Springs, AR. McLards.com
What did you think of the options on the list? If you don't like manning the grill, make sure to give at least one of these a chance. Do you know of any BBQ joints in Arkansas that are missing from the list? Share your thoughts in the comments below.