23 Astonishing Tiny Homes That Will Melt Your Heart
RV Decor & Unusual RVs
September 4th, 2015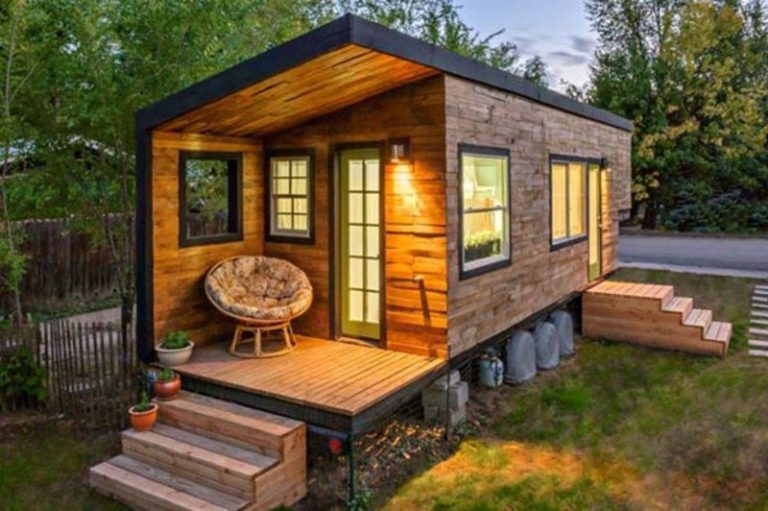 People often find comfort when they purchase a giant house to suit their every need. But as time passes that house becomes more expensive with every utility bill. If most people knew from the start how easy and cheep it is to live small, they wouldn't have purchased such a mansion in the first place.
More and more people are turning to tiny homes to stay balanced and economically stable. Take a look at these captivating tiny homes that will surely make you want to live small.
The Vertical Eco Home
Since Japan is a small country in constant development they had to think of ways to save space while living comfortably. The Vertical Eco Home was just what they needed, and the investment to built this house is only 15,000 USD.  You don't need a giant traditional house if you have everything you need right here.
The Solar Power Group Living
This captivating house is called Halo. It was created by a group of students from Chalmers University in Sweden. It has 645-square-feet and a solar-panel roof-top. The "Team Sweden" students were amazing enough to make this out of renewable materials for an energy-efficient lifestyle. I am sure they will have loads of fun when they all gather in this spacious but tiny house.
The Extending Cabin House
This might look like a perfectly normal cabin in the woods, but this tiny house is actually built on wheels and you can take it with you almost everywhere. It was designed by Cavco Park Home & Cabins out of Phoenix, AZ and it looks absolutely perfect for recreational use. I know I would enjoy spending time in one of these tiny houses.
Residence In-Between Trees
Sometimes people don't have the heart to ruin nature in order to build themselves their dream house. Designers like Keisuke Kawaguchi choose to built around and with nature instead of tearing it down. Keisuke built a series of living spaces that curb around the giant trees near Yonago City, Japan. This is a multi-room house connected through short passageways and completely surrounded by nature.
Grain Silo Homes
A simple, yet interesting design. This energy-efficient home provides up to 2,000 square feet of living space. With imagination you can create practically anything and some people even combined three of these grain bins to create a silo mansion. Brilliant, right?
The ESCAPE Cabin
This cabin looks absolutely amazing. These tiny houses are modular and portable homes, which you can customize as you please. Simply  choose the one you like, add some modifications, then order everything online. The model will be delivered to you as soon as they are built. Pretty neat huh?
The Mobile Log Cabin
Not even a bear will think about searching for you in here. This could be a great hiding spot if you want to get away from someone — or simply the perfect tiny home for enjoying your vacation. This house cabin was design by Hans Liberg and is located in Hilversum, Netherlands. Although the outside might be rustic, the inside has a minimalist, contemporary design.
A Fairytale House
If you loved fairytales when you were young, then you will definitely enjoy spending time in this house. I don't know if you will find any fairies, but you will surely be captivated by nature's magic. This tiny house was created by Dan Pauly, from Elk River, Minnesota. Maybe you should give him a call if you want your own dragon's den or a Hansel & Gretel gingerbread house.
A Microhouse With A Sky Loft
Although this looks like a greenhouse, I guarantee that this lovely home that is worth experiencing. Imagine sitting by the fireplace at night and gazing up at the stars through the glass roof. This coastal home can be found in California and it was built by Mickey Muenning. It even has removable windows to keep the place cool.
The Japanese Forest House
Yet another home that can be built with materials found in the forest. This design of this cozy cabin is based on traditional Japanese architecture. Brian Schulz created this wonderful tiny house with a budget of less than $11,000. Now that's what I call a bargain.
The Transforming A-Frame House
Who says you need something extravagant when you go camping? This house is valued at $1,200 and it can be repacked and carried away at the end of your vacation allowing you to live comfortably anywhere you go.
A Modern Microcabin
If you don't want to settle for simple, you can aim for this wonderful "Treehouse". This modern beauty sits 12 feet from the ground is downtown LA and it's probably the greatest place to spend your weekend.
The Mini Double-Loft Rock House
People often choose an environmentally friendly house when they live in the woods. Tiny houses often fit the bill, but that doesn't stop you from living in a multi-story home with a marvelous view of the forest.
Homemade Micro Housing
You don't need to pay a lot of money to build a home like this. A small caravan with the necessary comfort, sustainability, and the option to move it from one place to another and constructed from recycled materials, is s simple and affordable way to build a tiny home.
The Modern Low Impact House
When I saw this tiny house, I thought to myself, wow, the future looks amazing. This very cool house is called the Minimod and it is a great sustainable and innovative alternative to traditional housing. Campers often order this house, which is built off-site, so they don't impact the environment in any way. I don't know about you, but to me this looks like the place where James Bond relaxes before a nearby mission.
A Hobbit House
Admit it, after you saw The Lord of the Rings you wanted to live in a Hobbit House. Well, with only $5,000 and four months of your time you can achieve just that. Or at least that's what photographer Simon Dale proved to us. He made this wonderful eco-friendly house that comes straight from our fantasy. He used only environmentally friendly materials like scrap wood for flooring, lime plaster for the walls, bales of straw on dry stone walling, solar panels for power, a composting toilet, and he connected his water supply through a nearby spring. I love how imagination can create amazing things.
A Japanese Tetsu Tree House
Designer-Architect Terunobu Fujimori wanted a fantasy home to relax in for the rest of his days. He came up with this delightful treehouse that sits comfortably in Hokuto City, Japan.
The Floating House
This house gives new meaning to the concept of water front living. This interesting floating house was designed by architect Dymitr Malxew. The man thought of everything. He built his mobile home on a buoyant platform that keeps it floating on the water. The platform also offers a scenic view of the surroundings and keeps the house from having an impact on the environment.
The Dome House
If you want to move to Thailand, know that you can do that at a low cost. If you don't believe me, you can ask Steve Areen, the man who built himself this incredible dream house. Steve worked tirelessly for six weeks on a $9,000 budget. He made the basic structure of the home with two-thirds of the budget and used the remaining three grand to furnish the home and work on the extra details. You will find everything you need in this home and much, much, more. This tiny house has a hammock, a lounging space, a personal pond, a cool bedroom and state of the art sanitation. Everything inside this dome is made entirely out of all-natural materials.
A Tiny Dream Home
When people decide to create something mortgage free, they actually have to work for it. This was the case of Macy Miller, an architect from Idaho, who worked for two years in order to pay for this $11,000 house. With love and care she created this cute, simple yet efficient, portable home. Now she can spend her time relaxing and enjoying life.
Casa do Penedo
At first glance, this house looks it's from the Flinstones, but upon closer examination you will find something modern and astonishing. This rustic "House of Stone" is built between four large boulders and comes with its very own swimming pool. If you want to see it for yourself, you can find this marvelous house in the pittoresque Fafe Mountains.
The Balancing Rock House
If you don't fear global warming or unexpected tides, you should build yourself a house on a rock. This one is located in Serbia and it's been sitting here for over 45 years. A group of young swimmers completed this interesting house in 1969. Maybe it's not the greatest place to live in, but if you enjoy swimming and you're looking for a place to rest, this is the spot for you.
The Small Traveling Micro House
A cute, rustic, micro house created to inspire people. Rachel Ross spent $8,000 to build this caravan out of recycled materials. She must have been inspired by a nearby fairy, since the house looks like it came out of her dreams. Rachel uses this caravan as a cozy writer's retreat.
Source: Architectural Design