Class C RV Rentals In Kauai Hawaii
©Mapbox ©OpenStreetMap
Top Rated Class C Motorhome Rentals In Kauai, HI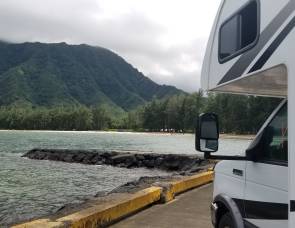 Rent a Class C RV in Kauai
Search and compare Kauai Hawaii Class C RV rental prices, reviews, and photos. Get the best deal on Class C RVs for rent in Kauai Hawaii. RVshare has the largest selection of Class C motorhomes in the Kauai area so you're guaranteed to find the perfect RV for your next road trip.
Kauai Hawaii Class C RV Rental Reviews
Jacquelyn did a great job of supplying the RV with all the amenities (pillows, sheets, blankets, towels, kitchen and cooking equipment) which made it convenient and comfortable for us as we did not have to worry about bringing those items. She provided a complete inventory list of all items and did a thorough walk-through of the RV. She and her husband even drove to our campsite the first night when we had trouble with the water pump. They were very easy and professional to work with. We look forward to renting their RV again on our next trip to Hawaii and highly recommend them if your considering an RV rental.
Jackie is great at communication.
DO NOT RENT FROM THIS OWNER! ABSENT, IRRESPONSIBLE, IGNORANT TO RV RENTALS. This RV was just sitting in Storage and Jacquelyn (owner) is NOT present for any of the transactions but instead sends her "RV Manager" which is definitely just one of her friends that agreed to walk us through. Jacquelyn tells me to meet her at 6:30pm because we have to get the RV out before 8pm otherwise it is stuck in storage for the night and we are stuck in too if the gate shuts. Day of pick up she emails to change the time to 6:45pm. We get there at 6:45pm and we wait. At 7:15pm we get finally get a text from Jacquelyn with the code to get in the gate, the numeral spot location of the RV and then tells us it's not her, its the RV manager meeting us. I'm pretty sure this manager has never taken that RV out and doesn't have much experience with RVs either. So now its getting close to 7:30pm so she has to zip through all the set up and how to basically operate the RV, doesn't mention the propane needs to be on to keep the fridge and freezer cold (goodbye meats and anything we wanted to keep cold that first 24 hours), I ask when to use the different power sources and her responses are just along the lines of it doesn't matter and it should work since there are 3 of them. The story gets good here...the RV manager asks me if I am going to Stagecoach and I tell her No, Im going camping with the RV next to a friends house and we are walking over to a small music festival out on the Indian reservation. I was thinking this was a good thing since Stagecoach is fueled with booze and drugs so no big deal right? WRONG! I start getting messages from Jacquelyn accusing me of not disclosing what I am doing and messages lecturing me that I am the only one allowed to drive the RV and she is contacting RV Share because I lied to her…WTH?! Im well into my 30s but this woman is treating me like a high school kid! And here is the kicker….She is giving me a hard time about not disclosing my whereabouts (which I absolutely did tell her where the RV would be but as a grown adult I didn't think I needed to share with her what I would be doing outside of the RV) while the RV is completely dead! So its now 755pm and the RV manager left without even seeing us off or making sure the RV would restart once the sliders were pulled in, and the gate is about to close, locking us and the RV which we have planned a whole trip around and suppose to leave that night with 6 friends, inside the RV storage place. Jacquelyn rented me a dead RV but she is giving me a hard time! I call her and she is ZERO help, her response was exactly "Do you want me to call AAA for you?" Followed by "you should cancel this trip." Is she serious?? We have 6 people waiting to leave in that RV that night, 4 of them flew in that same day from across the country for this trip, and she CARES NOT ONE BIT ABOUT OUR PLANS! The trip hasn't even started and this RV has a dead battery :( Thankfully with quick thinking I used my car to block the gate so it didn't shut on us at 8pm and a little before 10pm AAA arrived to jump the dead battery we were stuck dealing with BEFORE WE HAD EVEN LEFT THE LOT! Oh and Jacquelyn didn't call AAA, we did. And AAA showed up but only after the Police came because the car blocking the gate set off the silent alarm so add dealing with police into this horrible pick up experience. Ok now let's talk dropping off the RV. I get in contact with Jacquelyn and she informs me to No one will be there when I drop off the RV so Im just to leave it. We leave the RV not thinking anything of it and happy to be done with this whole thing and this is on 4/30 before 3pm. Days go by and Im not hearing anything about my deposit. Then I get the generic email from RV Share saying Jacquelyn is holding my deposit for damages. More Days go back and she can't tell me why she holding the deposit. After a few more days she says the generator isn't working which I refute. The she says all the power is dead to RV since I didn't shut off the main power? Was I suppose to? That is not stated anywhere in the RV, not on the papers provided, nor was I told to shut if out when I left it. And really where is the RV manager to do the intake?? Then Jacquelyn actually admits no one will be going to look at the RV until Thursday 5/10, a full 10 days after I dropped off the RV!! Now she is saying there is damage to a slider so she has to get estimates. There was absolutely no damage to this RV and I have 7 people that can attest to that. This owner is irresponsible and treats her property as such. She had zero concern about withholding this deposit for so long and I absolutely think she is trying to keep this deposit. I will be fighting these charges because 10 FULL DAYS the RV has been sitting there, we even had an earthquake here in CA, any damages would have to had to happen in her RV Storage. Jacquelyn does NOT care for this RV so don't make the mistake we did. She is going to try and use our deposit to fix pre existing problems with that RV. DO NOT MAKE THE SAME MISTAKE WE DID! My entire crew of 8 all agreed that we would NEVER rent from Jacquelyn again and if we could go back we would have cancelled when we first got the feeling she was irresponsible and absent.
Renting A Class C Motorhome In Kauai
Class C RV Rentals Near Me