Top RVs Nearby
Where Can I Rent an RV?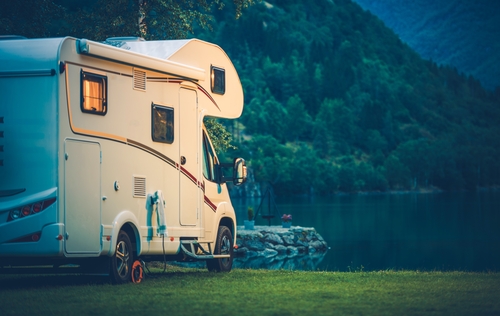 Traveling is one of the most epic things you can do in life. A foolproof way to make memories with your family that'll last a lifetime is by traveling by RV. Vacationing in an RV offers an experience like no other because it's fun, convenient, and flexible.
Many people love RVing and have witnessed the advantages first hand. The perks are so obvious that more families than ever before have chosen to relive the adventures year after year by purchasing their own rig. Owning an RV isn't a reality for most people, so renting has become a wise option.
Renting an RV cuts costs, adds flexibility, and creates, even more, excitement with a customized vacation experience. In this post, we're going to learn why renting is such a popular option, where you can rent an RV, and how the process of doing so works.
Can I Rent an RV One Way?
For most people, renting an RV makes a lot more sense than buying one. Why? Because RVs spend around 90% of the year in storage. Your rig may be dormant but the costs of owning it aren't. You'll still have to make sure to cover monthly payments, maintenance costs, and storage costs.
Why pay for an RV 100% of the year when it's only in use 10% of it? If you rent a travel trailer, you only need to pay for the time you're using. This makes it possible for families to enjoy their vacations even more. Keep the funds you'd be spending every month on owning a rig in a special travel savings fund. When vacation time comes around, you'll have a bigger budget and legroom for more excursions. Isn't that much better?
A discount RV rental gives families the flexibility of choosing what style of RV they need for their trip. There's no reason to take a humongous Class A bus on a weekend trip for two. Likewise, if you're planning on going for a long cross-country road trip with your entire family and a few extra friends, your family's small Class B campervan may not cut it. At the end of the day, having the ability to pick and choose which kind of rig you need for specific trips helps you have a much smoother and easier time.
The flexibility doesn't just make for a smoother experience. It also makes for a much more fun time as well. As much as we love our RVs when we first buy them, after a few years and many camping trips, their layouts start to get a bit stale. What was once a beautiful, unique layout may soon start to feel like a dull, predictable box.
Keep things fresh by changing up the RV class, style, amenities, and features.
Where Can I Rent a small RV in my Area for the Weekend?
Some of the most popular models to rent are mid-size motorhomes and campervans. How do you know what the best option for your family is? Let's take a quick look at the differences to find out.
Class B: These RVs are cozy motorized units built from the chassis of vans. They're great for couples or small families going on shorter trips. They've got the best fuel economy of any motorized RV and don't require any special storage space when not in use. Class B RVs come loaded with all the basics for a comfortable trip.
Class C: These RVs are between Class A and B in size. Built from the chassis of trucks, they can usually accommodate between four and eight adults. They're ideal for groups who need a little more space and luxury, without the need to spend Class A prices.
Travel Trailer: These are non-motorized rigs that require a tow vehicle to get around. What's nice about these is that because they don't have a cabin, they've got a little extra living and storage space. However, you can only access them while you're stopped and are considered more dangerous to drive than the former two RVs types.
If by now you're wondering, "Where can I rent a small Class B camper van for a week?" RVshare can help you. We're the world's largest RV sharing marketplace and our goal is to provide all of our customer's high-quality motorhomes and travel trailers for rent by owner.
Regardless of your criteria, you'll find exactly what you need in as little as a few minutes.
"But I need cheap pop-up and RV rentals near me!" No worries. From the largest buses to the smallest pop-ups, we've got hundreds of available listings across all 50 states. The steps to finding your perfect match are quite simple.
Enter your location and travel dates.
Search through hundreds of qualified units located exactly where and when you need them.
Read all about the RVs features, amenities, rules, customer reviews, prices, and more
Contact the owner and if approved, set up a meeting.
Meet, get a demo, get the keys, and enjoy your rental!
Starting at only $10 per night, our rates are the lowest in the industry. Most of the units you'll find are between $100 to $200 per night. Average rates are as follows:
Class B: $75 to $100 per night
Class C: $125 to $185 per night
Travel Trailer: $100 to $150 per night
The only other things you're responsible for are taxes, a refunded deposit, and fuel.
Where can I rent an RV in the USA?
The truth is that with all of the advantages, renting tends to be a much better alternative to owning an RV
Cheaper costs lead to more money to be spent on having fun while on vacation. Having the ability to change your RV class every year makes for more fun and the ability to travel to more places. If you're a fan of savings and variety, consider RVshare for where you can find a top notch RV rental for your family. Happy Travels!