Unlimited Mileage RV Rental
Search For RV Rentals
---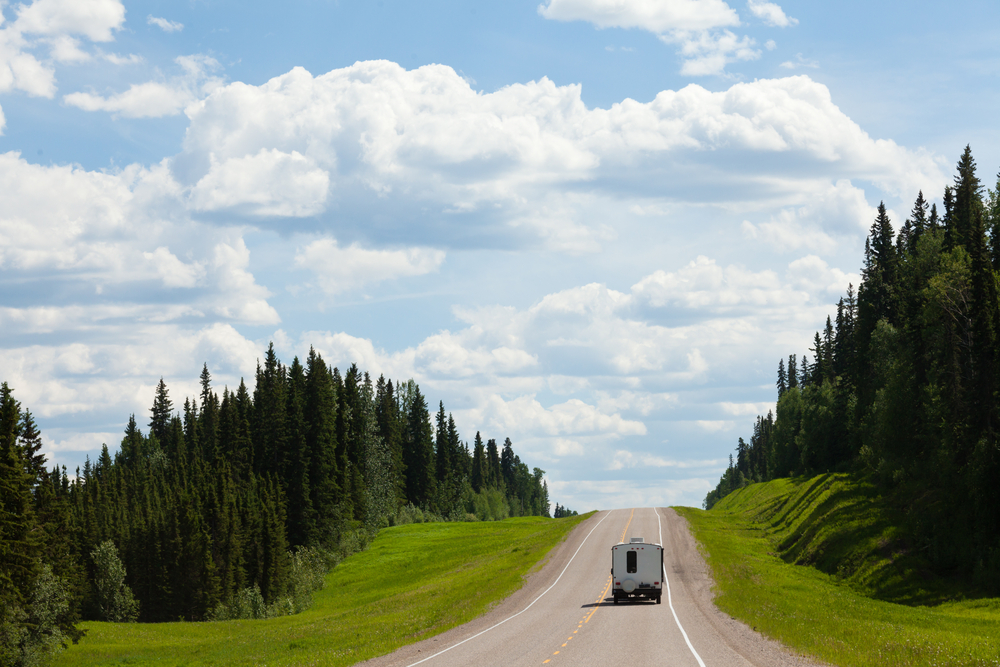 Your Guide to Finding an Unlimited Mileage RV Rental
RV rentals are all the rage lately. People are spending their vacation money getting outdoors and exploring the country, rather than flying to exotic locales and staying in expensive resorts. And we have to say; we're all for it!

RV trips can expand your sense of culture and open your mind. Plus, they're affordable, comfortable, and flexible. If you're hoping to find an RV rental USA unlimited mileage so you can explore freely, then keep reading. We'll tell you how and where to look for the best rentals.
Options for One Way RV Rentals Unlimited Miles
Renting an RV can seem an arduous task. Not only to you have to plan the rental itself; you also have to plan the trip and where to stay! Finding an RV rental with free mileage can take a lot of digging around on the internet if you don't know where to look. Some rental services are more apt to include free mileage than others. Let's take a look at the three ways to rent:
Big-name companies are a dime a dozen. With locations across the country, you'll have no trouble finding a nearby RV rental. However, they're also the least likely to offer unlimited miles. Occasionally, you might find a one-way deal or factory delivery special with free miles, but you'll have to be okay with whatever specific destination they're advertising. Start looking early, as these deals sell like hotcakes!
Local RV rental companies, which are usually privately owned, offer a wide selection of deals and promotions. For example, some companies might offer cheap RV rentals with unlimited mileage if you book far in advance. Or, you might find other promotional deals for specific events in the area, like music and art festivals.
RVshare is a peer-to-peer network that puts RV owners and potential renters together. Owners can use our site to list their RV and rent it out when they're not using it. Since the owners create their own listing, rates, and rules, you'll find a ton of different price points and deals here. In fact, you're more likely to find RV rentals with unlimited miles here than anywhere else.
Why Use Peer-to-Peer to Rent RV Unlimited Miles?
Let's talk a little more about how RVshare works since you'll likely start here if you want to find cheap RV rentals with unlimited mileage. The peer-to-peer model is a recent one, and it's catching on in almost every industry you can think of. From renting someone's house to renting their dog-watching services, people participate in the sharing economy every day. RVshare positions RV owners as small business owners - they get to make some extra income; you get to rent an RV for an affordable price. But wait! There's more:
Our inventory is enormous and widespread. With RVs all over the United States, finding a rental is just a few clicks away. Our inventory is also diverse, which means you can find any type of RV, from simple popup campers to luxury RV rentals. That means there's an RV for every budget.
You'll still have plenty of insurance coverage when you're on the road. We offer up to $1 million in liability and collision coverage, plus free roadside assistance. If you need to get separate auto insurance coverage, you may be able to hop on the RV owner's policy for a small daily fee.
Since the RV owners set the prices themselves, the rates are often lower than what you would find at a large company or local business. There's also a huge variety of specials and deals, like unlimited miles, free delivery and setup, free linen and kitchen kits, and more.
Unlimited Mileage RV Rental Rates and Other RV Rental Costs
Regardless of where you rent, you'll want to keep an eye on your budget. Even with unlimited mileage deals, RV rentals still have a slew of other costs involved. Look out for things like:
Damage and security deposits. These may be a flat fee, or they may be a percentage of the total rental cost. Usually, security deposits go toward your overall rental, and any extra fees will be taken out of it before it's returned to you. Damage deposits are refundable when you return the RV clean and unscathed.
Generator usage costs. Though free mileage rentals rates can be as low as $80/day for a small RV rental, you might still have to pay to use the generator. Generator use can cost up to $5 per hour, depending on where you rent.
As we previously mentioned, you might need to acquire auto insurance for your rental. This is different from your regular car insurance. You can either get it through your insurance provider, the rental company or RV owner, or through a third-party website like MBA insurance. On average, insurance costs around $25 per day.
Extra fees and fines, which many companies often "hide" in the fine print. This includes fees for things like returning the RV with full holding tanks or forgetting to fill the gas tank before you bring it back. Thankfully, RVshare owners put the rules right on the front page of their listing, so there shouldn't be any confusion as to what's expected of you.
Lastly, a lot of companies will try to get you to buy optional extras, like linen kits, pots and pans, camping chairs, and other RV essentials. These extras can cost you upwards of $200! Save your money and bring your own stuff! Or, look for RVshare owners that offer free linen and kitchen kits – a lot of them do.
Ready to Hit the Road and Put Some Miles on Your RV?
If you find an RV rental with unlimited miles, use it to your advantage! Get off the highway, take the scenic route, and go someplace you've never been before! The United States is one of the best countries to explore in an RV, with vast open roads and constantly changing scenery. So what are you waiting for? Happy trails!
---
Search For RV Rentals
$100
Las Vegas NV
Sleeps 4 / Class C Motor Home
$39
Loveland CO
Sleeps 2 / Travel Trailer
$120
Morrison CO
Sleeps 6 / Toy Hauler