Search For RV Rentals
---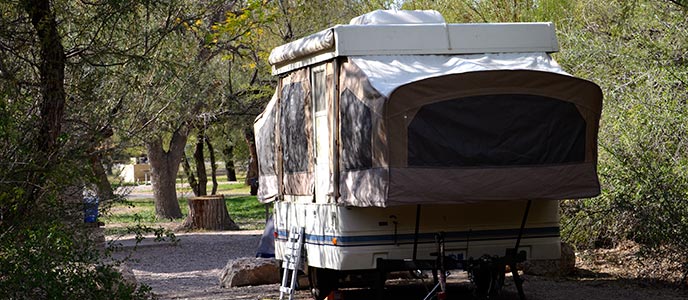 Whether you're hankering for a camping trip or planning to visit a friend in another state, having an RV around comes in handy. You will have a secure place to rest your head at night if you're looking for a new place to live. You can also find temporary RV housing if you're staying in a town for a few weeks or a month.
Photo Credit: National Park Service
Thanks to RVshare, you don't have to commit to buying a recreational vehicle to meet these goals. The website has the honor of being the biggest marketplace for RV rentals in the world, meaning you can choose from thousands of vehicles.
Why Rent an RV
Around 8.9 million U.S. households own an RV, according to the Recreation Vehicle Industry Association. They love them for a variety of reasons. Travel is flexible. They can explore the country at their own pace and go where they want. They can get the best of both worlds when they camp, enjoying nature while still sleeping in their own beds. Plus, staying in an RV can be more affordable than splurging on a hotel room.
As RVIA notes, the $350 million-dollar RV rental industry is exploding. Renting an RV, you can hop on the bandwagon without shouldering the obligations of RV ownership. Especially if you are seeking for a short-term rental, costs are more affordable, for one. While the average RV owner spends more than $700 a month on caring for their vehicle, renters pay only when they actually need an RV to use.
Plus, renting means you can try a variety of types of RVs without committing to a single model. You can rent a fancier RV for a romantic night away with your partner and a more practical vehicle for a weekend campout with the kids.
Short Term RV Rental Prices
Short-term RV rental rates vary depending on the recreational vehicle and experience you're seeking. Though they can cost as little as $99 a day, more spendy options let you have a luxurious experience if you would like, as well. Compared to longer-term rentals, your price range may be more flexible with a short-term rental because you are away for less time.
Make sure to remember a variety of factors in your cost calculations. Figure the distance you're traveling, as well as for how long. Keep in mind many rentals have a minimum number of days you can rent them for. They're not typically more than several nights, however. Luckily, this information is conveniently posted on each potential rental RV's profile. You will know upfront if the recreational vehicle you're eyeing is a possibility for your trip.
The average nightly rates vary depending on the class of RV you rent. Class A RVs are often the most spacious, so they cost more at around $200 every day. Think of this accommodating 2013 Coachman Mirada 34B. It sleeps seven, an impressive feat for just $250 a night.
Class B RVs, also called camper vans, are in the ballpark of $100 if you're looking for a deal. Something compact like this 1993 Volkswagen Westfalia Weekender is a fun option for couples or small families to explore.
Class C RVs are the mid-priced option. At an average $150 per night, they straddle the line between being comfortable and roomy and protecting the pocketbook. Take this 1999 Fleetwood Tioga.
No matter your needs, there is a type of RV that will probably fit them. After you get a basic idea of your budget, it is time to find a place to rent your RV.
Where Do I Find a Short-Term RV Rental Near Me?
Cheap monthly RV rentals can be a challenge to find if you don't know where to look. Compared with local shops and corporate dealerships, RVshare can be the more convenient option to rent an RV affordably.
Let us count the ways. Some motorhome rental services mislead you to think that a vehicle is available at their dealership because it's listed on the site, but it's actually at another location. In contrast, RVshare's listings are constantly updated, so you can have the confidence your desired rental will be where you want it.
The platform is also easy to use. Just type in the place and time you want your short-term RV rental, and hundreds of vehicle options will pop up. You can narrow down the choices to the characteristics that matter to you, from the class of RV to the age of the vehicle.
Click on the RV you are interested in to discover details about it. If you plan on bringing Fido, make sure your option is pet-friendly.
Make the Most of Your Camper Rental
In a short-term RV rental agreement, you want to watch out for a number of potential issues. You want to notice the fine print, any hidden fees or deposits that aren't prominent at first glance. You want to see if your rental is insured, if you have roadside assistance if something goes wrong, and how much it costs. You want to make sure your personal information is protected.
Luckily, RVshare offers secure payments, free roadside assistance 24/7, a $10,000 peace-of-mind guarantee, and an impressive 5 percent cash savings the next time you rent with us. The contracts make sense. You see all fees transparent on each rental's page, so there are no surprises.
With RVshare, RV rental deals are easy. Whether you're looking for a campervan hire, travel trailer rental or a motorhome hire, RVshare is there.
---
Search For RV Rentals
$100
Las Vegas NV
Sleeps 4 / Class C Motor Home
$39
Loveland CO
Sleeps 2 / Travel Trailer
$120
Morrison CO
Sleeps 6 / Toy Hauler