Search For RV Rentals
---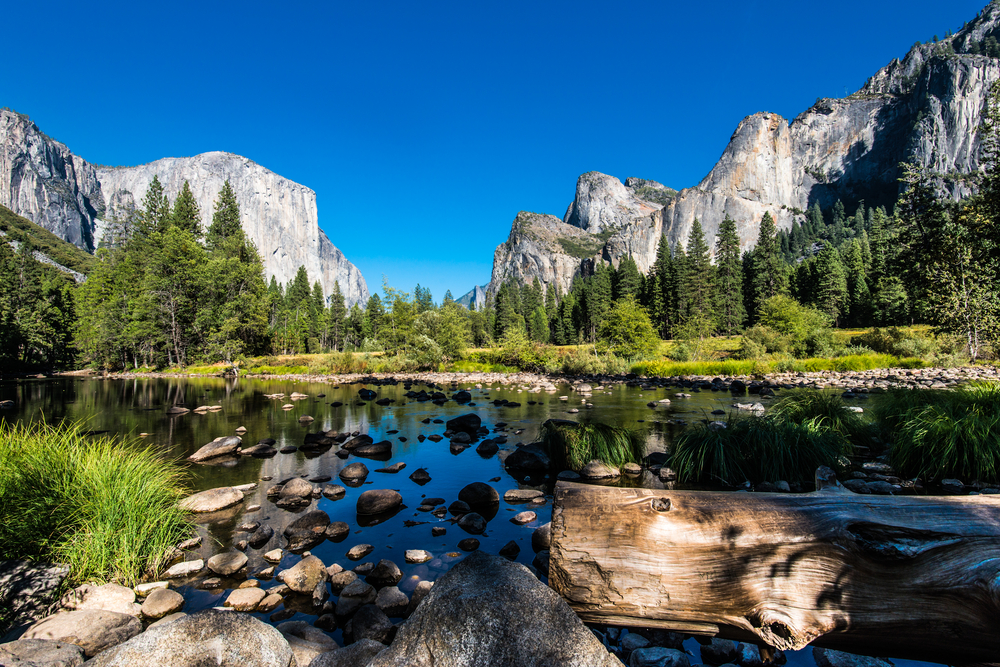 Everything You Need to Know Before You Book an RV Yosemite Rental
The beauty of Northern California attracts millions of visitors each year. It's a particularly popular area for RVers, campers, and other outdoor enthusiasts. For many, Yosemite National Park is the primary destination. Well known for its diverse habitat and its abundance of wildlife, The Park is a mecca for all types of nature-lovers. For those looking to camp in comfort and save on travel costs, a Yosemite camping RV rental offers just the right balance of convenience and affordability.
How to Find an RV Rental for Yosemite National Park
If you've never rented an RV before, you might be a little confused about how it works. Though it's a lot like booking a flight or a hotel room, it's definitely not as simple as that. There are several steps to the process:
First, you need to find the RV you want to rent. You can rent an RV either through a commercial rental company, a small, local business, or a peer-to-peer network like RVshare. More on this in a minute.
You'll put in your travel dates to pull up a list of available RVs. Be sure to start looking long before your vacation; RV rentals in Yosemite sell out quickly during the peak traveling seasons.
Once you find the RV you like, you'll look at the base rate to see if it fits your budget. This is where it gets tricky, as there are a handful of other costs associated with RV Yosemite rental agreements. Better get your calculator ready!
Aside from the base rate, you'll also need to look out for security deposits, insurance costs, and mileage and generator use costs. Some companies may offer free daily miles, others may make you pay for blocks of miles, and a few may offer unlimited miles. Make sure you pay attention to the company's mileage policy, if you end up going over the limit, you'll have to pay up to $0.45 per mile!
So now you've booked your RV, and you've figured out your budget for the trip. But what if you've never driven an RV before? No sweat! You'll be given a walkthrough and a demonstration of the RV when you pick it up. Some companies even have you watch a tutorial video for driving different types of RVs.
What to Look for in RV Yosemite Rental Rates and Specials
We mentioned before that there are three possible ways to rent an RV. Though the process will be the same across the board, there will be some significant differences in things like rates, policies, and RV Yosemite rental reviews. For example:
Large rental companies, since they have multiple branches throughout the United States, sometimes offer one-way deals and factory delivery specials. You can save a lot of money if you happen to find one for the destination you're planning. One thing to look out for with big companies, however, is their mileage limits. You'll probably have to pay for your miles upfront.
Local companies tend to have different types of vacation specials and packages. For example, you might be able to find an RV rental to Yosemite with free delivery and setup, so you don't even have to worry about driving the RV! However, packages like this are usually on the expensive side, and local companies have limited inventories that sell out fast.
Peer-to-peer networks connect RV owners and renters throughout the country. You'll work directly with the owner to flesh out the details of your rental. You'll have access to a nationwide inventory, which gives you more options for budget-friendly RVs. For example, you can rent an older camper for as little as $70 per day! Furthermore, many RV owners offer great deals, like unlimited miles and long-term discounts.
Where to Stay in an RV Rental Near Yosemite
Planning your campground stays is one of the most important parts of planning an RV trip. Not only will it affect your budget, but it will also affect how you travel and how well you sleep. Plan carefully; there's nothing worse than being turned away from a full campground when you just want to get some rest. If you're looking to camp your RV rental in Yosemite National Park, you're in luck! There are several campgrounds inside the Park boundaries:
There are three campgrounds that allow RVs in Yosemite Valley: Upper Pines, Lower Pines, and North Pines. Both Lower and North Pines allow RVs up to 40-feet in length. Upper Pines accepts RVs up to 35-feet, and they have by far the most sites (238). All three campgrounds charge $26 per night.
Just south of the valley lies two campgrounds: Wawona and Bridalveil Creek. Both allow RVs up to 35-feet in length. Wawona charges $26 per night, while Bridalveil charges $18 per night. It's important to note that though Bridalveil has more than 100 sites, they operate on a first come, first served basis, so get there as early as possible!
There are four campgrounds north of the valley that allow RVs of varying lengths. Travelers with longer RVs can go to Hodgdon Meadow or Crane Flat, which accept RVs up to 40-feet long. Tuolumne Meadows allows RVs up to 35-feet, and White Wolf only accepts RVs that are 27 feet long or less. Nightly charges range from $12 to $26, and most of the campgrounds are first come, first served.
Plan Your Dream Vacation in an RV Rental for Yosemite
Yosemite National Park offers something for everyone in the family. From rare plants to unique geology, Yosemite is a park full of wonder and awe-inspiring sights. Whether camping in a luxury RV rental Yosemite, or a simple pop-up camper, you'll fall asleep to the sounds of the forest around you, and wake up to a veritable playground of wildlife and natural beauty. And if that doesn't sound like a dream vacation, then we don't know what does! Happy camping!
---
Search For RV Rentals
$100
Las Vegas NV
Sleeps 4 / Class C Motor Home
$39
Loveland CO
Sleeps 2 / Travel Trailer
$120
Morrison CO
Sleeps 6 / Toy Hauler