Top RVs Nearby
RV Timeshare - When Renting Beats Owning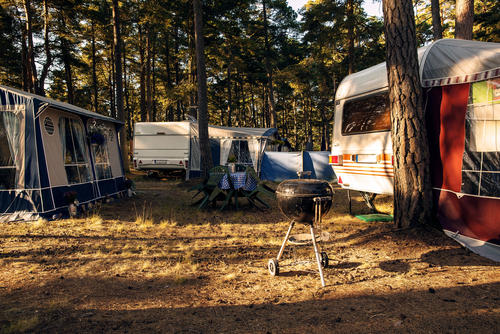 Vacations are no longer just a luxury. Taking time off to unwind and share with loved ones is extremely important for your physical, mental, and emotional well-being.
Because many families don't find the time to take much-needed R&R unless they've got a strong motivator, getting an RV timeshare rental has become very popular. Families then pack, jump in their rig, drive to their campground, have a blast, and when it's over, they realize they're happier and closer. Those warm feelings cause the desire to get an RV or campground timeshare, so they can keep doing it again.
Companies and families alike have benefited greatly thanks to RV lot timeshare vacations because of their guaranteed vacations (and RV units), but maybe there are better alternatives? In his article, we're going to learn a little more about what RV campgrounds timeshare is, what a better alternative is, and where you can find the best deals on RV rentals by owner.
RV Camping Timeshares
When people normally think of timeshare, they think of fractional ownership at luxury resorts. But, as you may have realized, campgrounds have recently gotten into the game of "vacation ownership," by offering different RV timeshare deals. Let's learn a little more about how they work.
First and foremost let's make a quick distinction. There are two ways that you can go about camping timeshare. Primarily, there's RV lot timeshare, where you can purchase a space at a campground and then there's timeshare for the actual RV. The latter is shared ownership of actual RV units. Let's focus on the first one for a minute.
Just like with resorts, companies involved with RV timeshare offer partial ownership of a lot for a certain amount of time per year; usually about two weeks, but can range depending on your budget. Some campgrounds even offer unlimited usage of their lot and facilities.
You pay an upfront cost of a few thousand dollars minimum (again, depending on your budget) and may even pay yearly maintenance fees depending on the campground. Since you're technically part owner, your maintenance fees work just like a homeowners association. If the RV park facilities need any repairs or redecorating, or upgrades, you help pay for those.
It's normal for families to put part of the costs upfront as an initial cash outlay, then just pay off the rest of the membership costs monthly by means of a loan. If you're owning in a park that offers things like cabins and other amenities, you're always allowed to upgrade to have access to those accommodations.
RV Fractional Ownership
In the same way that lot timeshares offer you the opportunity to have a guaranteed space throughout the year, RV timeshares allow you to access a network of RVs available for use when you're ready to go camping.
RV timeshare programs are advertised as having all of the benefits of owning your very own RV, without having to worry about things RV owners have to worry about, such as storing them, cleaning them, etc.
Again, you agree to terms and pay a specific price, based on budget, but this time, you're paying a recurring payment to stay a member. Depending on what you've paid for, you can get more RV options to choose from and different insurance options that'll fit your needs.
Timeshare RV Rentals
As great as those options sound, there is a third, much easier option that is designed to benefit not only RV renters but RV owners as well. That option is to get involved with the peer-to-peer industry. Instead of sharing an RV with the company who owns them, you can share a high-quality rig with a private RV enthusiast!
RVshare is the world's largest RV sharing marketplace and making use of our platform is advantageous for renters and owners.
For renters, it beats out other options because you only need to pay for the time you're actually using. Unlike RV timesharing, there are no recurring fees or costs for renting. You pay a nightly rate, taxes, a refunded deposit, and your own gas! If for some reason you can't make an RV trip this year, or your family wants to stay at a resort instead of a campground, you're still in charge of paying membership fees whether you use a rig or not.
Above all, where RV timeshare companies have a pretty finite number of rigs available for use, which can be very limiting for larger families. RVshare has literally thousands of options of RV motorhome rentals in every state in the USA. From small pop-up trailers to massive class A trucks, whatever your rental needs are, you'll find a satisfactory rig.
Prices are the least expensive in the industry as well. Our rates start at just under $10 per night and are consistently below average. Typically, you can expect to pay around $175 per night for a class An RV, $75 per night for a class B, and $125 per night for a class C unit.
If you own your own rig and are wondering, "Can I rent out my RV?" the answer is yes. It costs absolutely nothing to create a profile and lists your RV on our platform. You're in total control of who can rent from you, what you want to charge, and when you want to make it available.
If you're keeping score, you've probably already realized that besides getting the opportunity to make other family's dreams come true, you're also getting the huge advantage of owning an RV that pays for itself. All while you still get the benefit of full ownership instead of partial.
My RV Timeshare Final Thoughts
Nowadays there are so many different ways families can spend time together. From making sure you always get a space at a campground, buying partial ownership, or renting from a peer-to-peer platform, it's never been easier to enjoy that much needed time off.