RV Rental Western California
Search For RV Rentals
---
Rent an RV in Western California
If you're exploring western California, you're probably planning on being near a beach. While the western part of the state does have plenty of pristine beaches to boast of, there's so much more to do as well. Whether you're planning to park your chair on the shore and watch the waves for an afternoon, hike the bluffs above many of the beaches, or explore the state's impressive redwoods, western California has much to offer. Let's start at the top of the state and work our way down, shall we?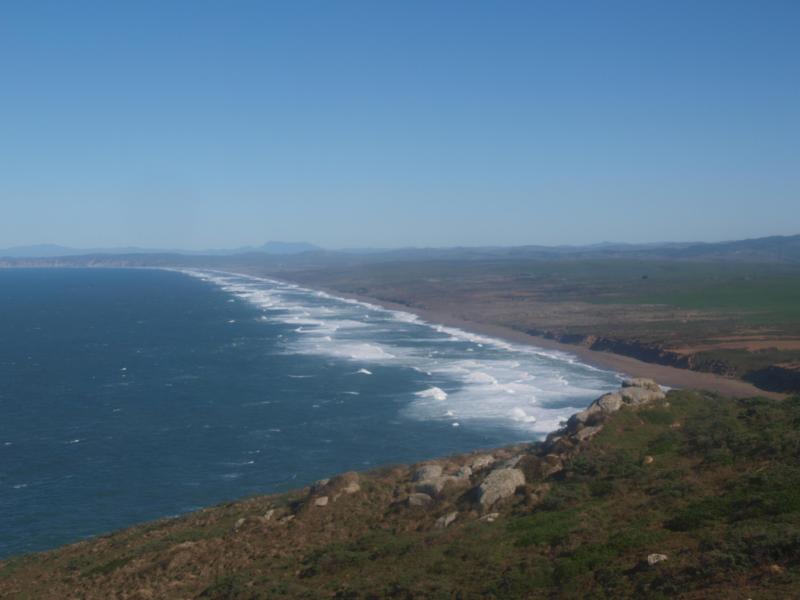 Photo courtesy NPS
An RV is the perfect way to travel western California. In fact, a one way RV rental to travel from northern to southern California would make an epic road trip. Whether you're planning on a small RV rental for just a few people (or just yourself!), or a larger one to accommodate a family, you're sure to find something to do in western California in your motorhome rental.
Crescent City
Just 20 miles south of the Oregon border, Crescent City is a breathtaking mix of coastal views and ancient redwood forests. The ever-present morning fog gives the area a mystical feel (and also means sweatshirts are always a good idea!). Visit the state's northernmost lighthouse, the Battery Point Lighthouse, built in 1856 and situated on a tiny island that can only be accessed on foot during low tide. Visitors can climb the spiral staircase to the lamp room, then up a ladder, through the trap door to the top.
Be sure to leave time to explore the Redwood National & State Parks, which begin at the state line. The northern coast is home to some of the world's tallest living things.
Where to camp
Camping is available at Redwoods RV Park
RV Rental in Western California
Napa Valley
If you continue down the coast and slightly inland, you'll come to the famed California wine country. You could spend an entire day (or several!) wine tasting at some of the premier wineries in the country, if not the world. Begin with this list of the top 10 best winery tours in Napa Valley.
But there's more to do in Napa Valley than winery tours. You can float over the countryside in a hot air balloon or explore the area on bicycle (or combine the bike and wine tours into one outing!). The area also has world-class golfing and horseback riding available.
Where to camp
Camp at the Bothe-Napa Valley State Park
Small RV Rental in Western California
Western California is the perfect place to explore in a small RV, with lots of nooks and crannies to find. RVshare can help you find a small RV rental in western California or anywhere else in the country. You can click on their map to find private RV rentals in western California for your trip.
Point Reyes National Seashore
After Napa, jog back over to the coast to see Point Reyes National Seashore. If you're there between January and April, be sure to view the annual gray whale migration. Also, spend some time exploring the seashore, the historical structures, the lighthouse, and the visitor centers at the park. Don't miss the replica Coast Miwok Indian Village near the Bear Valley Visitor Center.
Where to camp
Motorhome Rental in Western California
San Francisco
As you travel south down the coast, a stop in San Francisco is a must. Walk out onto the Golden Gate Bridge (and stop at the Welcome Center) and visit Fort Point in the shadow of the bridge. Grab a sourdough bowl at Fisherman's Wharf, and walk down to Pier 39 to pick up some souvenirs. Take a cable car ride through the city (if your especially obsessed, you can also visit the Cable Car Museum), and finish off your day with a giant sundae at Ghirardelli Square.
Where to camp
Rent a Campervan in Western California
Santa Cruz
Santa Cruz is the perfect place to rent a campervan or try out a camper trailer rental. It's a funky, fun beach community, and a great place to explore in a small RV. Be sure to stop at the Santa Cruz Beach Boardwalk, and make time to ride the Giant Dipper wooden coaster. But also check out Santa Cruz's spectacular beaches, including Natural Bridges and New Brighton (a great place to camp). You can also ride a train at Roaring Camp Railroad, visit the Surfing Museum, and check out the Mystery Spot, where balls seem to roll uphill and people can lean over past their toes without falling over.
Where to camp
Carmel-Monterey Area
Further down the coast, make a stop around the Monterey Bay area. Visit the Monterey Bay Aquarium, one of the top aquariums in the world. Walk down Cannery Row (this is Steinbeck country, after all), and visit the Carmel Mission, one of 21 missions along California's coast. Also save time for an afternoon at Point Lobos Natural Preserve. You'll find hidden coves, amazing views, and quite likely a sea lion or two, along with tidepool creatures.
Where to camp
Rent an RV in Western California
While you can enjoy a trip down the coast in an RV, you could also pick one destination in the state and rent and RV there for a bit. Santa Barbara is a wonderful choice, with scenic beaches, old adobe buildings, world-class shopping, and excellent places to eat.
Santa Barbara
You could just sit on the beach in Santa Barbara, and that itself would be an amazing trip. But you can also do some shopping along State Street, visit the Santa Barbara Zoo (be sure to feed the giraffes!), and see the Santa Barbara Art Museum which is a beautiful smaller museum with a delicious cafe. Also, get a local coffee at the Santa Barbara Roasting Company -- the Hawaiian Hazelnut is especially tasty.
Where to camp
Rancho Oso RV & Camping Resort
Camper Rental in Western California
Santa Monica
If you like to bike, or rollerblade, or just stroll, wander down the bike trail at the beach for a spell. You get beautiful views of the water, with the Santa Monica Mountains in the background. Also along the bike path, stop to look through the Camera Obscura and check out the rides at the Santa Monica Pier. Hop up to Palisades Park above the beach, and see artwork along the path or stop and rest at one of the many benches. You can also shop at the 3rd Street Promenade, and visit the Farmer's Market for a mind-boggling variety of fresh fruits, vegetables, flowers, and local foods.
Where to camp
San Diego
Visit Sea World, the San Diego Zoo Safari Park, or head to the beach for a day. Drive the long bridge out to Coronado Island and see the stunning Hotel del Coronado. Or you can catch a Padres game at Petco Park.
Where to camp
RV Rental Locations in Western California
RVshare can help you with RV rental locations in Western California. Whether you're looking for an action-packed trip to Sea World or the Santa Monica Pier, or a leisurely drive down the coast, there are rental locations everywhere.
Private RV Rentals in Western California
Traveling western California in an RV is going to afford you spectacular views -- both of the ocean and of the impressive cliffs and trees along the shore. You'll encounter marine life, forest animals, and people from all walks of life. It's an experience like no other. And a private RV rental is the perfect way to ensure you have a trip you'll remember for a lifetime.
---
Search For RV Rentals
$100
Las Vegas NV
Sleeps 5 / Class C Motor Home
$39
Loveland CO
Sleeps 2 / Travel Trailer
$120
Morrison CO
Sleeps 6 / Toy Hauler