RV Rental Western Arizona
Search For RV Rentals
---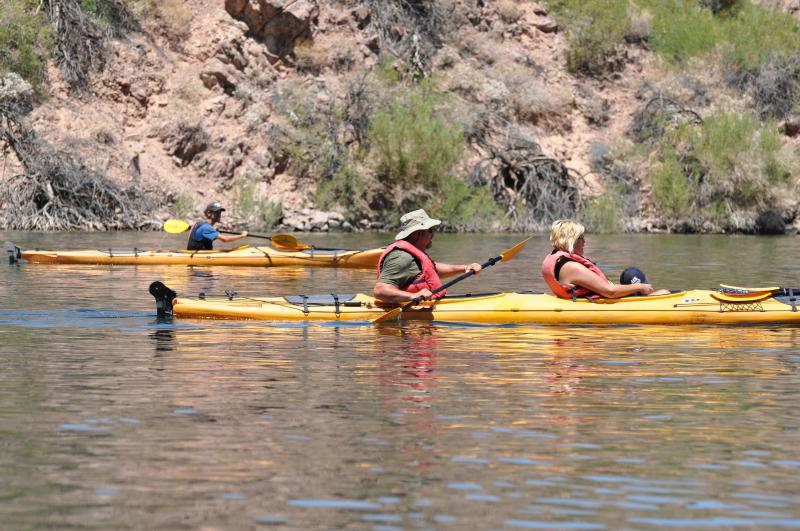 Rent an RV in Western Arizona
Arizona is not just for snowbirds.
The Grand Canyon State's warm winter weather attracts visitors of every age. But western Arizona's lakes also attract summer travelers looking for a place to cool off and have fun in the sun. The area has something for everyone -- an English landmark for those obsessed with British culture, burros roaming the streets for animal lovers, hot springs for visitors in the cooler months (yes, Arizona does have cooler months!). There's even a historic prison, in case you want to tell everyone you went to jail on your vacation. And, of course, western Arizona has several large lakes for waterskiing, swimming, fishing, and indulging in other water activities.

Photo credit: NPS
Whatever you enjoy doing on your RV vacation, western Arizona has an outlet (and an available RV rental!) for it. We've rounded up some great options for your western Arizona RV vacation.
Rent an RV in Western Arizona
There are so many places to explore when you rent an RV in western Arizona. Whether you're a family traveling with small children, or a couple just looking to relax near the water, the area has something for everyone. You can also find an RV rental by owner in western Arizona, if you're looking to rent one for your stay. An easy, stress-free way to vacation!
Motorhome Rental in Western Arizona
When exploring western Arizona in a motorhome, Lake Havasu is a must.
Lake Havasu
45-mile long Lake Havasu is the most visited lake in the state. With over 2 million visitors a year, it attracts everyone from fun-seeking college students, to families looking to waterski and swim, to people just looking to unwind and relax next to the shore. Be sure to visit the London Bridge, which was dismantled brick by brick in London and rebuilt in Lake Havasu City in the early 70s. On the 90 minute walking tour, you can see scars from WWII...along with present-day speedboats anchored in its shadow.
Where to camp
RV camping along the lake is plentiful, and you have lots of areas to choose from.
Rent a Campervan in Western Arizona
The Arizona Hot Spring is the perfect place for a campervan. Outdoor enthusiasts, rock climbers, and other nature lovers come to take in the beauty of the slot canyon and soak in the springs.
Arizona Hot Spring
A trip to Arizona Hot Spring requires a hike down a beautiful slot canyon to the Colorado River below Hoover Dam. Be sure to wear your bathing suit or clothes you can soak in, so you can reward yourself with a hot bath, courtesy of Mother Nature. The views of the canyon are spectacular, the water is warm -- a perfect way to spend the day. Note that the trails are closed during the summer months because of excessive heat, so plan your trip during cooler weather.
Where to camp
Campsites at nearby Lake Mead are plentiful. Be sure to save some time to enjoy the lake as well as the surrounding springs.
Hoover Dam
Visit the dam that helps power three different states and has enough concrete to stretch across the entire United States. Hoover Dam borders Arizona and Nevada, and offers frequent tours. Guests learn about the dam's construction, its purpose, and are treated to several "dam" jokes along the way.
Where to camp
Camping at nearby Lake Mead offers a variety of options.
Small RV Rental in Western Arizona
Sometimes you don't need anything too big -- you just want a small RV rental. RVshare can help you find the perfect rental to fit your group, and they have small RV rentals available across the country.
Yuma Territorial Prison
Go to prison on your vacation. Some of the first inmates at the Yuma Territorial Prison in 1876 were actually pressed into service to build their own cells. Now guests can tour the facility, and kids can even earn their Junior Ranger button at the prison. Also make time for the neighboring Yuma Quartermaster State Park to investigate the depot and other historic buildings.
Where to camp
Camper Rental in Western Arizona
Oatman
One great idea for a driving vacation? Do a one way RV rental. Pick up your camper rental at the start of Route 66 and follow it for as far as you'd like, then fly home at the end. This former mining town, one of the first Arizona stops along Route 66, is best known for its four-legged residents. In fact, Oatman has more wild burros than people. The burros are descended from beasts of burden the miners brought to town, and freely wander the streets. You may even get a curious nose in your window if it happens to be down. As a mining and gold rush town, Oatman also has staged shootouts, stagecoach rides, and souvenir shops along the wooden sidewalks that are just like those that would have been there in the 1800s.
Where to camp
Kingman
If you continue east on Route 66 from Oatman, you'll come to Kingman (remember it from the song?). Kingman is worth its own stop along the route. Kids will love checking out the trains at Locomotive Park in the Kingman Historic District. You can also learn about the heritage of Northwestern Arizona at the Mohave Museum of History and Arts. And since you're traveling it already, be sure to check out the Route 66 Museum nearby as well. Located in Kingman's old powerhouse, the museum has photos and dioramas showing the travelers along this key roadway. Kids can learn about the pioneers who originally crossed using this route (maybe they'll complain less about today's road trips? One can dream), and visitors also learn about the people who traveled the road during the Great Depression and the Dust Bowl.
For an offbeat outing, be sure to pop in to Southwest Alpaca Tours, a fully operational alpaca ranch. Guests of the ranch can feed the alpacas and take pictures, and you can pick up some alpaca socks as unusual souvenirs or gifts as well.
Finally, unwind and relax with a winery tour. The Cella Winery and the Stetson Winery both produce their own wines, using grapes grown locally. Be sure to leave room to bring a few bottles back with you!
Where to camp
Grand Canyon Caverns
Continue along Route 66 and you'll come to Grand Canyon Caverns -- the largest dry caverns in the United States. The caverns are 200-300 feet below the surface, and are accessible by the park's exploration elevator. There are easily accessible tours, which are paved and have handrails, and also off-the-beaten-path "Explorer's Tours" for the more adventurous. The resort at the Grand Canyon Caverns also offers horseback rides for exploring the surrounding areas. And if you're heading east on Route 66 from the caverns, be sure to make a pit stop in Seligman to eat at The Roadkill Cafe. Yum.
Where to camp
The Grand Canyon Caverns offers on-site RV camping with full hookups.
RV Rental Locations in Western Arizona
RVshare can help you find RV rental locations in western Arizona and across the country. Their handy map allows you to click on the area where you want to vacation, and you'll find plenty of options to choose from.
Private RV Rentals in Western Arizona
Based on the law of supply and demand, if you're looking for cheap RVs for rent in western Arizona, your chances are good. RVs are plentiful, and private RV rentals are a good way to explore the state. From water sports to exploring western Arizona's history to the nostalgia of driving Route 66, you're sure to find something to do on your trip.
---
Search For RV Rentals
$100
Las Vegas NV
Sleeps 4 / Class C Motor Home
$39
Loveland CO
Sleeps 2 / Travel Trailer
$120
Morrison CO
Sleeps 6 / Toy Hauler