Search For RV Rentals
---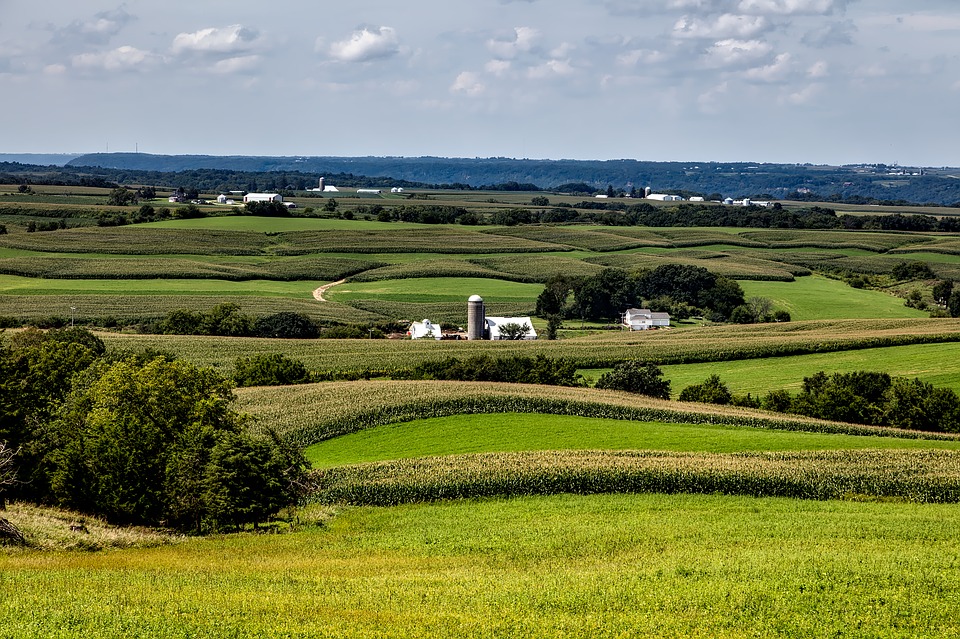 Rent an RV in Southwest Iowa
If you're looking to travel through wide open spaces and explore the heart of rural America, there's no better way to do it than to rent an RV in Southwest Iowa and hit the road.

Photo credit: CC0, Public Domain
The Heart of the Midwest
While large interstates that stretch across flat land and farm country make for fast, easy to navigate, and convenient travel in a motorhome rental, much of Southwest Iowa's beauty is seen off its interstates.
Small, charming Midwest towns are plenty, and with a small RV rental in Southwest Iowa, you can easily reach most of them. If you have a bigger motorhome rental in Southwest Iowa, you'll want to research routes beforehand as gravel roads and narrow bridges can make certain routes more difficult.
RV Rental Locations in Southwest Iowa
Council Bluff, Des Moines, Atlantic, Villisca, Audubon, and More
When you search for RV rentals in Southwest Iowa, there are some more populous areas that may offer a wider array of RV rental options. These areas are Council Bluff, Atlantic, Villisca, Audubon, and especially Des Moines. You also have the option of choosing a one way RV rental to Southwest Iowa from your hometown.
Take the Scenic Route with a Camper Rental in Southwest Iowa
If you're looking for a scenic route to take with your camper rental in Southwest Iowa, Route 29 is a great option. You'll drive along the Missouri River for the majority of the trip, from Sioux City, through the Missouri River Valley, all the way to Council Bluff. You can even continue on into Omaha, Nebraska. Along the way, you'll have the chance to get in the Missouri River and go for a swim, go river rafting, or spend a few days fishing on the river.
Riverwest RV Park is a great place to spend a few days along the way, with fun activities for the whole family. The park has 16 RV sites and offers movie nights, a relaxing beach, and tubing within the campground. It's also close to the popular Loess Hills Park, where you'll find endless rolling green hills and picturesque Iowa landscapes.
Reserve a Motorhome Rental in Southwest Iowa Today
Loess Hills National Park
Loess Hills National Park and scenic byway is a worthy destination in itself if you've got a travel trailer rental in Southwest Iowa. Proof that Iowa's landscape goes beyond flat rural farmland, these hills overlook mottled brown and green windswept hills and offer countless picturesque scenes.
For even better views, come when the nearby lavender farms are in bloom, offering vibrant purple to contrast the greens and browns. You can also visit the farms and local shops, which offer homemade lavender products such as soaps and teas. In the fall, you can also do historic tours of the Loess Hills area, which offers a rich history from the times of Lewis and Clark. Cabin rentals abound if you want to take a break from the RV for a night.
Just north of Loess Park, Lewis and Clark State park offers more history and state campgrounds with water, sewer, electric, plumbed restrooms, and showers. The park is serene, clean, and spacious, with lovely lake views and extensive walking trails.
Onawa Blue Lake KOA is another nearby option. It's quiet and isolated and situated right on a large lake close to a small casino. Lot sizes are generous and offer sewer, water, and wifi.
See Iowa Farm Country with a Small RV Rental in Southwest Iowa
Route 680 and Route 80 are also great fun for the whole family in both winter and summer, offering expansive views of traditional Iowa farm country. The route begins at the Mt. Crescent Ski Area, which offers winter sports in the winter and ziplining and a "mud run" obstacle course in the summer. The route continues on into Des Moines, Iowa, which is a city that anyone with a motorhome rental in Southwest Iowa should visit.
Take Your Camper Rental in Southwest Iowa to the State Fair
If you're planning a trip with your RV rental in Southwest Iowa in August, the Iowa State Fair in Des Moines should definitely be on your list. The fair is more than just corn dogs and fried foods, although you'll definitely find those. But it also showcases an array of agricultural and food products from Iowa. You can also attend a unique antique car show that's been called "the Pebble Beach of the Midwest" for its classic gems.
Within the city itself, you can visit a number of historical sites, such as the Civil War era capitol building and the Salisbury House, where you can take a guided tour and see artifacts, art, furniture, and more. For lovers of art and sculpture, be sure to stop at Pappajohn Sculpture Park. The Blank Park Zoo is also well worth a visit, even if you're without children - a 21+ "Zoo Brew" event is held regularly.
The Des Moines West KOA offers a huge variety of amenities, including a swimming pool, kid's activities, and scenic views, as well as sewer, water, wifi, spacious lots, and public restrooms. It fills up fast during the state fair, so reserve in advance.
A less popular option is Island Park, which is more secluded and rarely full. There are 30 amp hookups but no on-site trash service. Walnut Woods State Park is a bit farther outside of Des Moines, but offers full amenities and beautiful walking trails as well as bird watching and wildlife. The park offers access to Racoon River, which has great fishing spots.
Rent an RV in Southwest Iowa
History and Nightlife in Council Bluff
Council Bluff is a medium sized town that most people with a camper trailer rental in Southwest Iowa will pass through at some point. The town provides visitors with historic Lewis and Clark sites, a large shopping mall, and ample gambling opportunities from major casinos to Greyhound racing. Bluffs Run Casino and RV Park and Tomes Mobile Home Park are two options if you want to stay within Council Bluff.
There is plenty more to do and see when you rent a camper in Southwest Iowa. RV travel is the most affordable, convenient way to travel, and RVshare makes it easy for everyone, everywhere to experience the unique joy of the open road.
Private RV Rentals in Southwest Iowa
Our peer-to-peer RV rental network offers a wide variety of cheap RVs for rent in Southwest Iowa and beyond. Once you've booked your RV rental, your purchase is protected by our $10,000 peace of mind guarantee. While traveling, you have 24/7 access to our roadside assistance services.
Reserve your dream RV today, and get ready for an unforgettable trip to Southwest Iowa!
---
Search For RV Rentals
$100
Las Vegas NV
Sleeps 4 / Class C Motor Home
$39
Loveland CO
Sleeps 2 / Travel Trailer
$120
Morrison CO
Sleeps 6 / Toy Hauler