RV Rental Southwest Delaware
Search For RV Rentals
---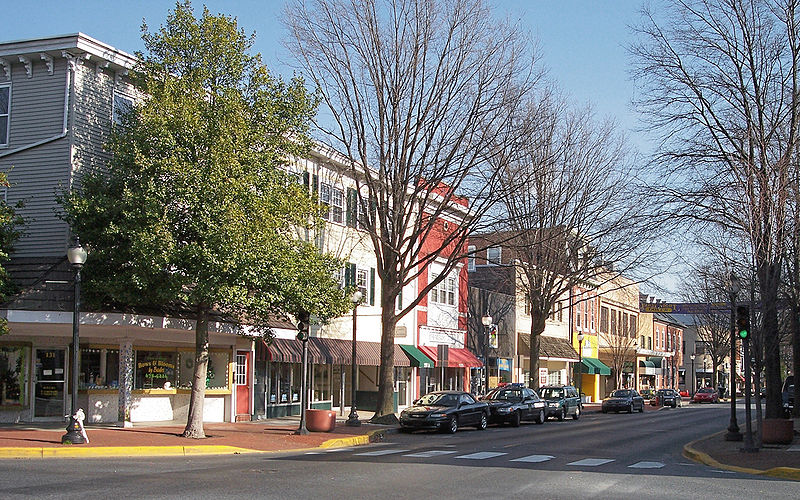 Rent an RV in Southwest Delaware
Prviate RV Rentals in Southwest Delaware Made Easy
Delaware, "The First State," is a place filled with both history and beautiful nature. With ample deciduous forests, autumn is the more colorful time of year to visit, but Delaware can be traveled through year-round.

Photo credit: Tim Kiser, W:User:Malepheasant, via Creative Commons
As the second smallest state in the USA, it is easy to see it all with an RV rental. However, if you're looking to rent a camper in Southwest Delaware, you can easily fill your vacation with sights and activities in the corner of this small state. Be aware that state law does require you to pull over and let others pass.
See Parks & Historic Towns with a Small RV Rental in Southwest Delaware
If you're looking to pass through both small towns and state parks with your travel trailer rental in Southwest Delaware, route 13 is a great route to follow. It will take you through the heart of Southwest Delaware, passing through the quaint towns of Bridgeville, Laurel, and Seaford, as well as Trap Pond State Park and Redden Forest Complex.
Rent a Campervan in Southwest Delaware
Bridgeville's Apple Scrapple Festival
Bridgeville offers many fun events and local festivals, especially in the fall. Antique Alley is a great place to go shopping for interesting, unique finds. Be sure to check out the Bridgeville Historical Society Museum as well.
If you're there in October, the Apple Scrapple Festival is a delicious event that's great fun for the whole family. In November, the town holds its annual World Champion Punkin Chunkin festival. This is one event you won't find anywhere else.
G&R Campground is just north of Bridgeville. It offers 50 amp electrical hookups, water, sewer, showers, and pit toilets, as well is big rig access and pull through sites. Pets are allowed, and the park even has a pool.
Farm Tours in Laurel
Laurel will likely be your next stop. Here you'll find Chickberry Farms, where you can go on a farm tour, as well as watermelon picking in the summer. Skydiving is also a popular activity for visitors to Laurel. If you're interested in discount shopping, don't miss the Route 13 Outlet Market.
Rent an RV in Southwest Delaware
Trap Pond State Park & Campground
Just outside of Laurel is the Trap Pond State Park and Campground. This area is an extensive wetland that's home to the Bald Cypress Nature Center, a must see for all nature and wildlife enthusiasts. Other activities in the park include fishing, bike rentals, walking trails, kayaking, row boating, and pontoon boat tours.
Camping within the park is available, and provides 50 amp hookups, electric, water, pull through sites, and big rig access. No sewer is offered here. Woodlawn Campground is just across the border in Maryland but offers easy access to the park. It has electric, water, sewer, pull through sites, and big rig access.
Explore Nature with a Camper Rental in Southwest Delaware
Redden State Forest
Redden State Forest is a little off the main route, but well worth a visit. The forest is just north of Georgetown, and the educational center there is a popular destination for local school field trips. The forest itself is great for hunting as well. Aside from hunting, you'll find ample opportunities to spot wildlife, bird watch, and go horseback riding.
There are no RV facilities within the Redden State Forest, but you are allowed to rent a space in the local lodge and bring a cot to sleep on. Homestead Campground is very close by and offers pull through sites, big rig access, restrooms, showers, hookups, sewer, water, and wifi. They are also pet friendly and have a pool, playground, and recreational area.
RV Rental Locations in Southwest Delaware
Regardless of where you travel in Delaware and beyond, having an RV rental is by far the cheapest and most flexible method of travel. You can easily find cheap RVs for rent in Southwest Delaware by searching RVshare for an RV rental that meets your needs.
RVshare is a peer-to-peer RV rental network, and therefore we offer many cheap RVs for rent in Southwest Delaware of all types and sizes. Refine your search results until you find the RV rental of your dreams, and then book it!
You'll communicate directly with the owner in order to arrange key pick up. Upon picking up your RV rental in Southwest Delaware, the owner will give you a walk through and demo so you know how to use everything. You can also book a one way RV rental to Southwest Delaware.
Private RV Rentals in Southwest Delaware - How Does it Work?
While on your trip, you will have 24/7 access to our roadside assistance. If you ever have any problems, big or small, you can always give us a call. Our representatives will help you get your issue resolved and get you back on the road in no time.
What's more, your RV rental purchase is backed by a $10,000 "peace of mind" guarantee. At RVshare, we want to make sure that your trip is affordable and convenient as well as worry-free. Read up on our RVshare FAQ for more information
RVshare even offers a rewards program for loyal customers who enjoy using our peer-to-peer network to book their private RV rentals. As an RVshare customer, you'll enjoy 5% cashback rewards on all of your reservations, and these can easily be applied to future reservations with RVshare.
Browse our private RV rentals in Southwest Delaware, and start planning your trip today.
---
Search For RV Rentals
$100
Las Vegas NV
Sleeps 4 / Class C Motor Home
$39
Loveland CO
Sleeps 2 / Travel Trailer
$120
Morrison CO
Sleeps 6 / Toy Hauler