RV Rental Southwest Colorado
Search For RV Rentals
---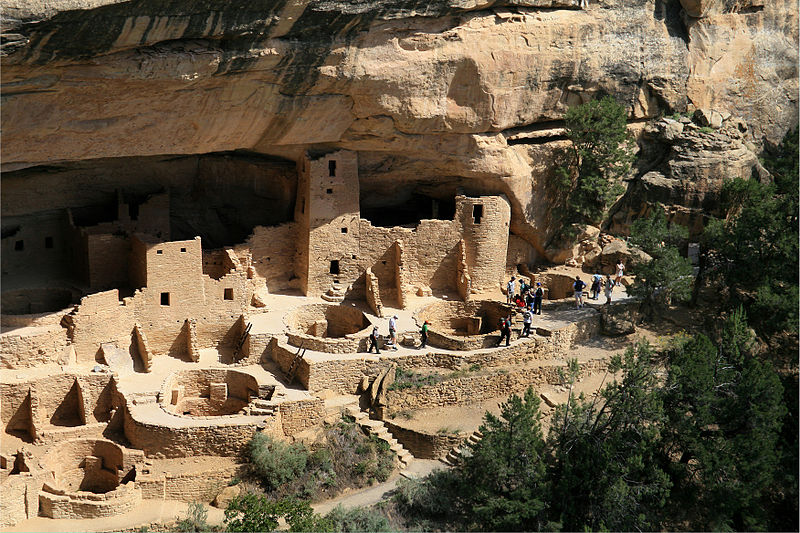 Rent an RV in Southwest Colorado
Colorado, in general, is paradise for RV travelers, but traveling with an RV rental in Southwest Colorado is a special experience.

Photo credit: Andreas F. Borchert, via Creative Commons
Explore Mesa Verde Country
This region of Colorado is also known as Mesa Verde Country. Here, you'll find some of the country's most memorable landscapes, rich cultural heritage, and interesting history. It's also a prime destination for anyone looking for a little outdoor adventure.
Mesa Verde National Park with a Camper Rental in Southwest Colorado
Mesa Verde National Park is a must see destination, especially when you're traveling with a camper rental in Southwest Colorado. Within this UNESCO World Heritage Site, you'll not only find dramatic and stunning landscapes, but also well-preserved cliff dwellings hiding within the desert landscape. It's certainly one of the most memorable archeological sites in the United States.
You'll find plenty of interesting wildlife in the park, including mules, black bears, coyote, mountain lions, wild turkeys, grey foxes, elk, and porcupines. It's also a great place to spot a wide variety of birds, from small woodpeckers to hawks and golden eagles. While winters are relatively mild, and summers are quite hot, this park is located in desert climate, so it gets cold at night year round.
If you go into town, be sure to check out the Chapin Mesa Archeological Museum. It's a great way to get some cultural context before visiting the park. Guided ranger tours will take you to all the major archeological sites in the park, which are many. They include Cliff Palace, Balcony House, Long House, and Spruce Tree House. You'll find rare pictographs along the way.
The only campground within the park limits is Morefield Campground, but it offers 15 RV sites with full hookups. Sites include tables, grills, and benches as well as clean restrooms and free showers. There is also a camp store, a dump station, and a laundry facility.
See the Country's Most Unique Landscapes with a Motorhome Rental in Southwest Colorado
Cortez, the closest major community near Mesa Verde National Park, is well worth a visit in itself. The town is known as the archeological center of the entire United States. If you don't stay within the park, this town is the best jumping off point to access the park.
Four Corners, the only spot in the entire United States where four state borders touch, is a fun stop, if only for the novelty of standing in four states at once. Arizona, Colorado, New Mexico, and Utah meet at this site, which is managed by Navajo Nation.
You can purchase traditional Native American handicrafts in the park, including dreamcatchers, Navajo rugs, Navajo pottery, and Navajo jewelry. The park is also a great place to sample some Navajo cuisine, such as fry bread and Navajo tacos. Camping is not allowed within the park, so it's best to make this a day trip from the nearby town of Cortez, Colorado.
For views of one of the most spectacular river gorges in the country, check out the Black Canyon of the Gunnison National Park. The cliffs here exceed 2,000 feet in height, one of which is Colorado's largest sheer cliff. The South Rim offers the best facilities and campgrounds as well as the best views of the Painted Wall, the tallest cliff in the park.
Park rangers offer guided boat tours through the canyon, moonlight walks, snow-shoe hikes, and stargazing. You can also horseback ride along the Deadhorse Trail.
Rent a Campervan in Southwest Colorado
Endless Outdoor Adventure
If you're a true expert kayaking, the river offers advanced level kayaking, but it can be very dangerous. Both South and North rims have ample hiking trails for beginners and avid hikers, and you can even fish wild trout in the Gunnison River. Rock climbing in the canyon is also a possibility, but only for the most experienced of climbers, as it is also quite dangerous.
North Rim Campground offers sites for RVs, but if your RV rental is larger than 35 feet it may be difficult to accommodate. There are no hookups on this campground, which includes vault toilets, tables, and grills. South Rim Campground is larger and offers more amenities, and it includes some 30 amp electrical hookups. The grounds still may not be able to accommodate an RV rental longer than 35 feet.
Sitting just outside of Gunnison National Park lies another natural gem and favorite destination for anyone with a camper rental in Southwest Colorado: Curecanti National Recreation Area. If you're looking for a great spot to boat, swim, or fish, this is it. Situated on the Gunnison River, it offers some of the best access to the river in all of Southwest Colorado.
The area includes three reservoirs that offer plenty of water activities, including boat tours, salmon and trout fishing, hiking, incredible canyon views, and 10 campgrounds. Most of these campgrounds accept RVs. The two largest - Elk Creek and Lake Fork - provide showers and a dump station and can be reserved in advance. Only Elk Creek provides electric hookups.
RV Rental Locations in Southwest Colorado
There are many other destinations that are perfect for taking your pop up camper rental in Southwest Colorado. Crested Butte and Telluride offer the region's best skiing opportunities in the winter, while Ourey offers hot springs and ice climbing.
Durango, the largest town in Southwest Colorado, is another popular destination. Here you'll find beautiful scenic drives and historic railways. There are plenty of options for RV camping in and around Durango. Durango KOA Holiday, Alpen Rose RV Park, and United Campgrounds of Durango are some of the more popular parks.
It is impossible to do justice to all the beautiful and exciting destinations and sights that exist in Southwest Colorado. It is one of the best places in the country to travel with a camper rental or motorhome rental.
Private RV Rentals in Southwest Colorado
If you're ready to book your travel trailer rental in Southwest Colorado, simply search for RV rentals on RVshare. Filter your results by price, size, type, and location. You can even book a one way RV rental to Southwest Colorado.
Once you've chosen your favorite camper rental, send a message to the owner to arrange key pick up, and you're set!
Enjoy your trip through Southwest Colorado, protected by our $10,000 peace of mind guarantee and 24/7 roadside assistance services. The canyons and rivers of Southwest Colorado are calling your name.
---
Search For RV Rentals
$100
Las Vegas NV
Sleeps 5 / Class C Motor Home
$39
Loveland CO
Sleeps 2 / Travel Trailer
$120
Morrison CO
Sleeps 6 / Toy Hauler