RV Rental in Southwest California
Search For RV Rentals
---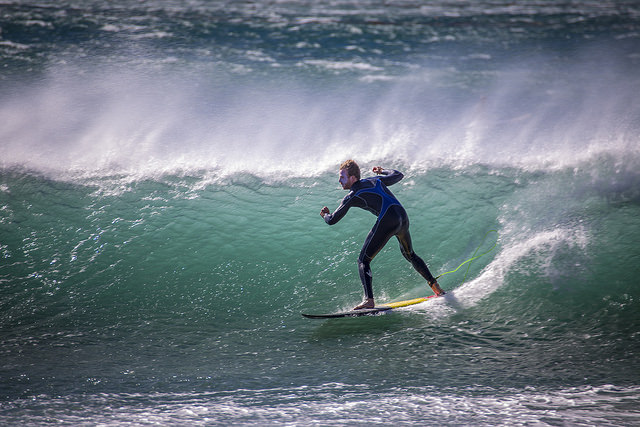 Southwest California is a diverse and population-dense region of California with much to offer RVers. From surfing in Orange Country to hiking in the San Bernardino Mountains to the big city lights of Los Angeles, you'll find something to keep you busy for weeks. Renting an RV in Southwest California is the ultimate way to explore one of the best parts of California.
Not everyone can afford a motorhome, but everyone can rent one. Renting an RV from a private owner is an excellent way to get a taste of the wide-open road and a life of freedom on wheels. Renting an RV in Southwest California is the ultimate adventure.
Image Source: Nathan Hoyt via Flickr
Points of Interest
USS Midway
The USS Midway is a maritime museum located at the Navy Pier in downtown San Diego. Serving from 1945 to 1992, the USS Midway was America's longest-serving aircraft carrier. Today it's a museum that hosts more than 700 events a year.
Border Field State Park
Border Field State Park is a unique state park where you can see the big wall between Mexico and the US. It's not uncommon to see families on either side of the fence talking to each other. No matter your stance on the issue, it's a sobering experience to witness life on either side of the wall.
Salvation Mountain
Located in Calipatria, this colorful mountaintop is a unique spot in the lower desert of Southwest California. Salvation Mountain is Leonard Knight's tribute to God and his gift to the world with one simple message: "God is Love."
The Beaches of Orange County
Orange County might be home to the "Real Housewives," but it is also home to some of the best beaches in California for sunbathing and watersports. Many of the beaches have been compared to those of the French Riviera and Costa del Sol. Aliso Beach is popular amongst families, and Huntington City Beach is popular with surfers and beach volleyball players.
Hollywood
Every year thousands of people move to Hollywood to become actors. Few succeed. If you want to see the stars then heading to Hollywood and Beverly Hills and maybe you'll catch a glimpse of some A-lister as they leave from their yoga class or grabbing a cup of coffee.
San Diego
San Diego offers big city living right next to the beach. With trendy restaurants, great surfing, and a hip art scene, you can easily spend a week exploring the best of this popular city where it's 70 and sunny every day.
RV Parks in Southwest California
Mission Bay RV Resort – San Diego
Mission Bay RV Resort, located right off I-5, is a pet and family friendly RV resort next to all the best attractions in San Diego. With Mission Bay just a short walk away and a pet stop, Mission Bay RV Resort is the perfect park to park your RV rental.
La Pacifica RV Park – San Diego
Offering affordable rates and full hookups, the La Pacifica RV Park is just a short drive from beaches and the city. With free Wifi, a heated pool and spa, and a large clubhouse with cable TV and games, La Pacifica RV Park is family and pet-friendly.
Malibu Beach RV Park – Malibu Beach
As the only RV park in the city of Malibu, the Malibu Beach RV Park is open year-round. With stunning views overlooking the ocean, the park operates 142 RV sites with full hookups and a dump station.
Balboa RV Park – Van Nuys
Located just 13 miles from Universal Studios and other major LA attractions, Balboa RV Park has cement patios, Wifi, full hookups, and a gym. Rates are affordable, and the park is open year-round.
Crystal Cove State Park Campground – Orange County
Despite the mega mansions in Orange County, there are surprisingly a few RV parks sprinkled around. Located in the Crystal Cove State Park, the campground is open to RVs up to 35 feet long. With 3.2 miles of sandy beach and 2,400 acres of Wilderness, Crystal Cove State Park is a great escape from the big city lights.
Small RV Rental in Southwest California
Southwest California is one of the most densely populated regions in the United States so a small RV rental might be the ideal way to explore Southwest California. Campervan rentals are popular, and they can be parked at the beach while you surf the morning away.
Motorhome Rental in Southwest California
Class A motorhome rentals are popular in Southwest California. You'll find a range of motorhomes from luxury RVs and older well-loved motorhomes that are willing to travel hundreds of miles for you to discover the beauty of California. Average nightly rates fall around $200.
RV Rental Locations in Southwest California
You'll find many RV rental locations in Southwest California. With the major cities like Los Angeles, Anaheim, and San Diego, you'll have your choice of RV rentals with RVshare. Once you're done with your vacation, just return your RV rental where you picked it up or choose a one-way RV rental from Southwest California.
RV Rental Rates in Southwest California
RV Rental rates vary in Southwest California depending on the type of RV rental you choose. Luxury motorhome rentals average around $250 a night while campervan rentals average about $150 a night. If you're on a budget and have a truck, travel trailers are an affordable option for RV rentals.
Renting an RV gives you the freedom to take the road trip of your lifetime. Southwest California is home to some of the best attractions in all of California. Spend the morning surfing the big waves and the afternoon at the famous San Diego Zoo and finally dance the night away at a big-name club in LA. An RV rental can help you do that.
---
Search For RV Rentals
$97
Las Vegas NV
Sleeps 4 / Class C Motor Home
$39
Loveland CO
Sleeps 2 / Travel Trailer
$120
Morrison CO
Sleeps 6 / Sport Utility