RV Rental Southern Maryland
Search For RV Rentals
---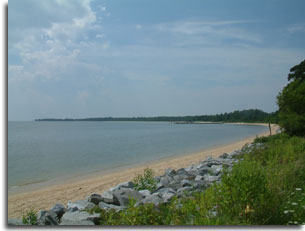 If you're looking to vacation near the soothing sound of the lapping waves, with cries of seagulls overhead, look no further than southern Maryland. The charm of the Chesapeake makes this area the perfect spot to relax and soak in some sea life.
Photo credit: dnr.maryland.gov
RV Rental in Southern Maryland
Rent an RV in southern Maryland and use it to explore the thousand miles of shoreline along the Chesapeake Bay. While the area has grown in recent years as Washington DC suburbs have expanded, southern Maryland still has many state and national parks, small towns, historic sites, and areas for fishing and crabbing. On a long drive through southern Maryland, you'll also get a sense of the area's agricultural roots.
Rent an RV in Southern Maryland
Get a sense of some of the state's history by visiting a city that prides itself on preserving the past.
Historic St. Mary's City
Head to Historic St. Mary's City to see the site where Maryland began. St. Mary's City offers a variety of living history encounters, hands-on activities, archaeology, and nature trails to learn about the wildlife that has been on-site since long before the people have. Costumed interpreters take you back to 17th century life during Maryland's first years, and allow you to try your hand at the skills early settlers would have needed to survive. Learn even more as you listen to their stories of Maryland's first capital, and of the people that immigrated from around the world to settle there. Visitors can see many facets of the state's history, including the Godiah Spray Tobacco Plantation, a working colonial farm, and the Maryland Dove, a replica ship. It's no wonder the museum is recognized as one of America's best-preserved colonial archaeology sites. The Freedom of Conscience Monument at the entrance to the city was erected almost 80 years ago to commemorate a 1649 Act passed by the General Assembly mandating religious tolerance that set the foundation for the First Amendment. You can also wander various hiking and walking trails that wind through the museum property and around the grounds.
Where to Camp
Camping is available nearby at Point Lookout State Park.
Small RV Rental in Southern Maryland
If you rent a small RV in southern Maryland, you can drive the Religious Freedom Tour, visiting quaint old churches that allowed early settlers escaping religious persecution to worship how they wished. The tour winds by St. Ignatius Catholic Church in Chapel Point, Trinity Episcopal Church in St. Mary's City, and St. Clements Island State Park.
Point Lookout State Park
Point Lookout State Park has beaches, a boat launch, fishing, and camping at the park. Visitors can also see the beautiful Point Lookout Lighthouse on the grounds as well. However, the park also has a darker history. During the Civil War, Point Lookout served as a notorious prison camp where over 52,000 Confederate soldiers were imprisoned and more than 4,000 of them died. The region has been called the most haunted place in America. A museum on-site now recounts the Civil War history of the park.
Where to Camp
Camping is available at Point Lookout State Park.
Rent a Campervan in Southern Maryland
St. Clement's Island State Park
Stop at the St. Clement's Island Museum on the mainland to learn about the history of the colonists and why they left England for Maryland. You will also learn about George Calvert, who founded a colony where he envisioned religious tolerance as a cornerstone. After visiting the museum, board the ferry to explore St. Clement's Island State Park and the 40-acre island where Maryland's first European settlers landed. Along with learning about the history of the colonists, visitors to the park can fish, hike, hunt, and picnic on the island.
Camper Rental in Southern Maryland
Sotterly Plantation
Sotterley Plantation has buildings dating back more than 300 years, and once welcomed George Washington. Today, guests can tour the plantation house and grounds, including a rare, preserved slave cabin. The plantation is also home to some of the most breathtaking Colonial Revival gardens in the nation, overlooking the Patuxent River. Walk the nature trails and view local plant and wildlife, relax on a bench made from Sotterley's own trees, check out the visitor center, even try a wine tasting or concert on the grounds.
Where to Camp
Camp at the Take It Easy Campground in Callaway.
Motorhome Rental in Southern Maryland
Calvert Marine Museum
If you're traveling with kids, spend some time at the Calvert Marine Museum. The museum has something scheduled almost every day including skates and rays feedings, otter feedings, and other critter feedings. There is a touch tank where children can touch a live skate or ray, and a paleontology prep lab where they can see a 35-foot long Megalodon Shark skeleton. After the museum, visit the woodworking shop to see the traditional craft of Chesapeake boat builders. The museum even offers a toy boat building workshop once a month.
Private RV Rentals in Southern Maryland
Patuxent Wine Trail
Maryland has a thriving community of wineries and vineyards. Be sure to spend some time along the Patuxent wine trail, visiting some of them for tastings or picnics or to pick up a souvenir or two. The Cove Point Winery is a small boutique winery near Cove Point Lighthouse, Maryland's oldest operational lighthouse. They offer tastings and tours. The Fridays Creek Winery has tastings and tours and welcomes picnics on-site. The Romano Vineyard and Winery is south of Washington, DC, and features regular music in the vineyard, wine tastings, and picnics.
Where to Camp
Camp at the Take It Easy Campground in Callaway.
RV Rental Locations in Southern Maryland
From historic sites that mark where the first European settlers came to Maryland, to sites that celebrate religious freedom, to nature trails and wine tastings, southern Maryland has a variety of activities for visitors. If you're looking to rent an RV in southern Maryland, the coastal charm of the Chesapeake is waiting! RVshare can help you find a small RV rental in southern Maryland, or an RV trailer rental for your vacation. They can help you figure out the RV rental cost, and since they have a great search feature, you can narrow your search down by cost or location as well. It's a great way to find a motorhome rental or other vehicle for your next trip.
---
Search For RV Rentals
$100
Las Vegas NV
Sleeps 4 / Class C Motor Home
$39
Loveland CO
Sleeps 2 / Travel Trailer
$120
Morrison CO
Sleeps 6 / Toy Hauler