Search For RV Rentals
---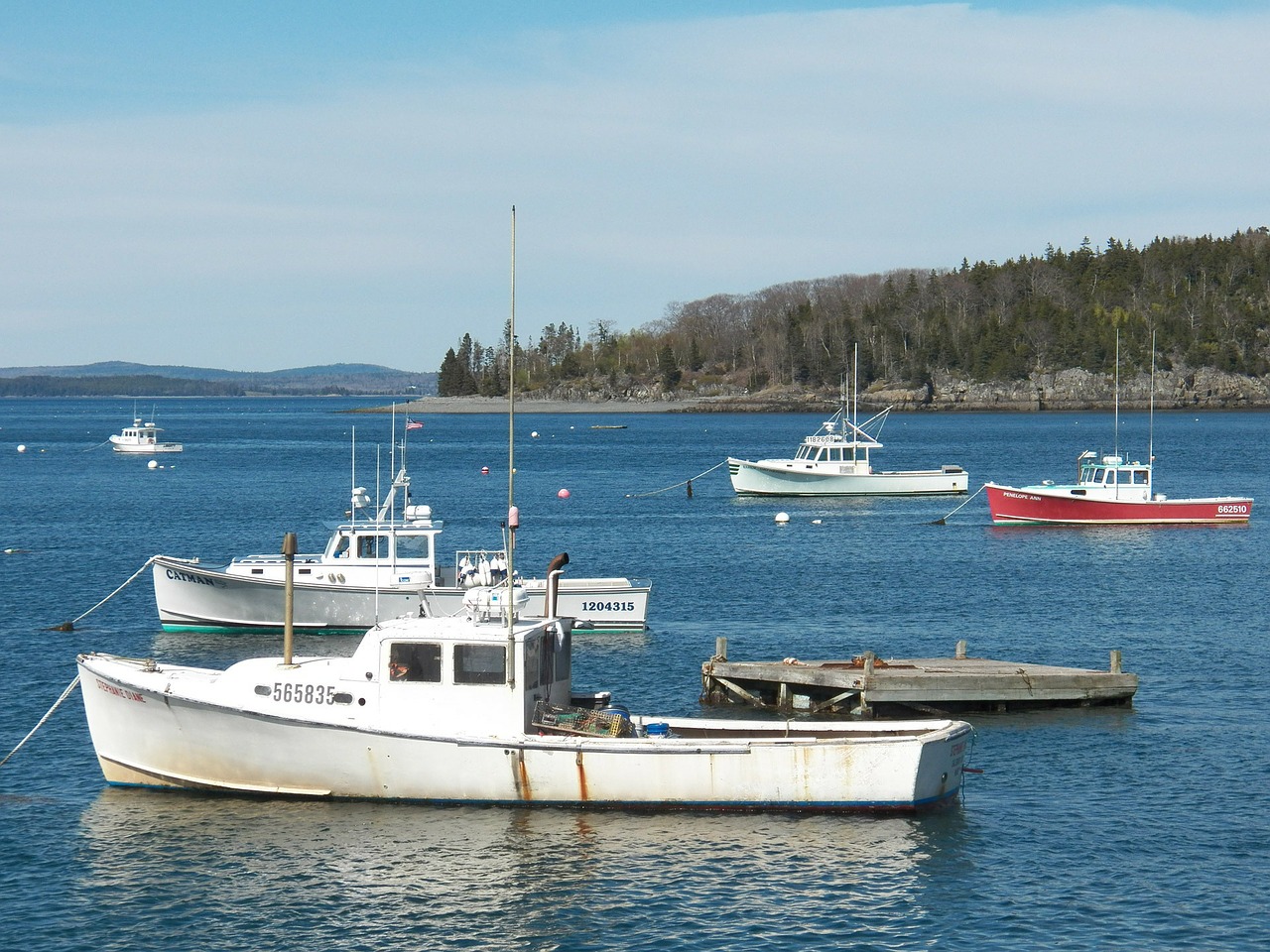 The country's easternmost state is known for its lighthouses and lobster. Maine's rugged coast, beautiful vistas, and dense forests make it a picturesque place to vacation. In fact, at least one presidential family frequented Kennebunkport for summer trips. Southern Maine is an excellent place to explore in an RV rental.
photo credit: pixabay
RV Rental in Southern Maine
If you're going to rent an RV in southern Maine, the area's breathtaking beauty makes it a wonderful spot for road trips and frequent stops to take in the scenery...and grab some fresh lobster to snack on, of course.
Casco Bay Islands
You'll want to spend some of your time in Maine investigating the Casco Bay Islands off the coast. Peaks Island is home to artists, retirees, and commuters who take the ferry to Portland to head to work. You can bike or take a golf cart to get around the island, and you can kayak there as well. Pop into the Fifth Maine Museum to learn about the island's past, or spend a while at the world's only Umbrella Cover Museum. Hunt for sea glass along the shore and if the tide is out, look for low tide pools. Long Island boasts a large conservation area with nature trails and plenty of sandy beaches for sunning yourself. Chebeague Island is one of Maine's most beautiful islands and has restaurants, shopping, and a golf course. Cliff Island is the smallest in Casco Bay and has a cafe, general store, and market. Transportation to the islands is ferry service via the Casco Bay Lines.
Where to Camp
Camp at Bailey's Resort in Scarborough.
Rent an RV in Southern Maine
Bike Portland
Portland has a 6.5 mile loop of flat riding, which is very doable on a bike. You can find all sorts of places to visit on a bike by using the maps the city provides here. Most of the trails are also easy to walk. You can rent bikes at Gorham Bike & Ski, or several other places around Portland.
Visit the Wadsworth-Longfellow House
The Wadsworth-Longfellow House is the home of Henry Wadsworth Longfellow, but the entire family made significant political, literary, and cultural contributions to New England and the country. Most of the household items and artifacts are original to the Wadsworth and Longfellow families.
Take a Wine Cruise
You can take a wine sail or harbor cruise where you will join a sommelier and take a wine class. Enjoy trying world class wines and cheeses while sailing around the Maine coastline and seeing lighthouses and islands.
See Portland Head Light
The Portland Head Light is a lighthouse on Cape Elizabeth, along the shores of Fort Williams Park. The museum at Portland Head Light is in the former Keepers' Quarters and contains a number of lighthouse lenses and interpretive displays.
Where to Camp
While exploring Portland, camp at Bailey's Resort in Scarborough.
Small RV Rental in Southern Maine
Lobster Shacks A trip to Maine isn't complete without a good healthy dose of lobster! While everyone has a place to recommend, you can try one of these to get started. The Cape Pier Chowder House at the tip of Cape Porpoise in Kennebunkport has fried seafood plates and sandwiches as well as the required lobster. The Clam Shack has been in Kennebunkport since the '60's and is the winner of the Lobster Roll Rumble in NYC for two years in a row. The Clam Shack is takeout only so plan on a picnic.
Camper Rental in Southern Maine
Seashore Trolley Museum
While you're in Kennebunkport, be sure to visit the largest electric railway museum in the world -- the Seashore Trolley Museum. The museum features vehicles from almost every major city in the U.S. that had streetcar systems, and from other cities around the world. The museum's purpose is to show how generations before us moved around for work and play and to show the craftsmanship that was required to construct the trolleys.
Rachel Carson National Wildlife Refuge
The Rachel Carson National Wildlife Refuge
protects salt marshes and estuaries for migrating birds. The proximity of the refuge to the coast and its location near local forests means it has a composition of plants and animals found nowhere else in Maine. Visit and look for native birds, plants, and other wildlife.
Where to Camp
Camp at Sandy Pines Campground in Kennebunkport.
Rent a Campervan in Southern Maine
Maine Wildlife Park
The Maine Wildlife Park features animals native to the state of Maine. You can see over 30 species of native wildlife including moose, bears, porcupines, lynx, cougars, and turtles. In the visitor center, kids can weigh a moose antler, visit with reptiles, or feel pelts from moose, bear, and smaller furry animals. They can also learn about the different places in Maine to spot these creatures in the wild. You can also visit the adjacent Dry Mills Fish Hatchery and see the interpretive building and trout pond, and you can feed the round pond trout.
Where to Camp
Camp at Kokatosi Campground in nearby Raymond.
Motorhome Rental in Southern Maine
Pineland Farms
Pineland Farms is a working farm that is open to the public. You can visit the farm to see their renowned Holstein herd or bring the kids to learn about farmyard animals. Visitors can stop in at the creamery to see award-winning cheese as it's being made, and then you can purchase some cheese of your own to try. The farm also has 30 km of trails that are available for mountain biking, hiking, or trail running. In the winter, guests can cross-country ski or snowshoe. The herb and vegetable garden at the farm is another beautiful place to stroll along the walkways, or to have a picnic on the lawn by the shady apple trees.
Where to Camp
Camp at Kokatosi Campground in nearby Raymond.
Private RV Rentals in Southern Maine
Southern Maine is the perfect place to explore in a private RV rental. The coastal views and forests make the state the perfect place for a road trip. Learn about the state's agriculture, fishing, and lobster industries (and sample the food that comes from them!), learn about the history of the area, or wander through nature preserves and watch for native wildlife. The sights of southern Maine will take your breath away.
RV Rental Locations in Southern Maine
RVshare can help you find RV rental locations in southern Maine. Whether you're looking for a small RV rental or a motorhome rental, RVshare will find the perfect match for your trip. You could even consider a one-way rental -- drive your vehicle one way and fly home afterward. RVshare will also help you find reasonable RV rental prices in southern Maine. They have a search feature that helps you narrow down what you're looking for and your budget so you can find a great fit for your trip.
---
Search For RV Rentals
$100
Las Vegas NV
Sleeps 5 / Class C Motor Home
$39
Loveland CO
Sleeps 2 / Travel Trailer
$120
Morrison CO
Sleeps 6 / Toy Hauler