RV Rental Southern Kentucky
Search For RV Rentals
---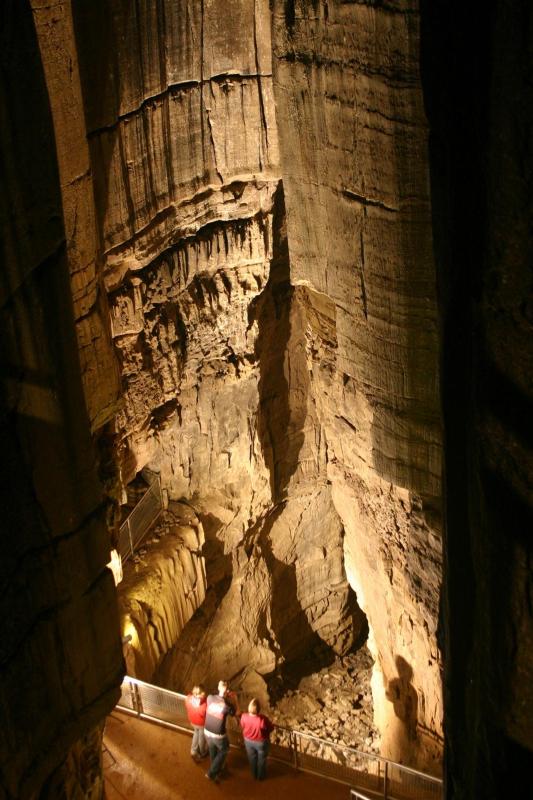 Kentucky may be known for its bourbon and for hosting the most exciting two minutes in sports each May, but the state has much more to offer to visitors. Southern Kentucky, known as the Caves, Lakes, and Corvette Region, is home to all those things plus outdoor sports, wineries, and renowned golf courses as well. You're sure to find something to fit your fancy in the Bluegrass State.
photo credit: NPS Photo
RV Rental in Southern Kentucky
If you're going to rent an RV in southern Kentucky, be sure to investigate the numerous caves the region is famous for.
Mammoth Cave National Park
Mammoth Cave National Park has the world's longest cave system, with more than 400 miles of explored caves so far. In 2016, the park celebrated 200 years of cave tours. Learn about the caves at the visitor center, find out more about the bats who are native to the caves, and take a cave tour. You can also kayak, canoe, and fish on the Green and Nolan Rivers which run through the park. You may catch any number of game fish including bluegill, crappie, perch, and catfish.
More Caves
Kentucky has seven other "show caves" -- Cub Run Cave, Diamond Caverns, Hidden River Cave, Mammoth Onyx Cave, Onyx Cave, Outlaw Cave, and Lost River Cave, which has Kentucky's only underground boat tour.
Where to Camp
Camp in the park at Mammoth Cave Campground.
Rent an RV in Southern Kentucky
Cumberland Gap National Historical Park
Cumberland Gap National Historical Park claims to be "where Daniel Boone created the original gateway to the western frontier." Native Americans, pioneers, and buffalo all traveled the Cumberland Gap route through the mountains into Kentucky. Visitors today will find hiking for all levels of adventurer -- from 1/4 mile walks to multi-day treks through the backcountry. Ranger-led hikes are also available so you can delve more deeply into the history of the park and learn about the natural resources that are there today. Historic sites also abound at the park. See Civil War fortifications, the ruins of an iron furnace, and hand-hewn cabins and fences at the Hensley Settlement. If you're traveling with kids, be sure to check out the pioneer playhouse in the visitor center, where they can dress up in pioneer clothes and learn about the era. Kids are also able to touch animal skins and learn about the wildlife that lives in the area. They can also participate in the Jr. Ranger program and earn a badge if they complete all the requirements.
Where to Camp
Camping is available 3 miles from the park visitor center at the Wilderness Road Campground.
Small RV Rental in Southern Kentucky
National Corvette Museum
Indulge your need for speed at the National Corvette Museum in Bowling Green. Tour the assembly plant where every Corvette in the world is made. See the exhibit commemorating the Corvette Cave-In in 2014, when eight Corvettes were swallowed in a massive sinkhole. Or try your hand at high-performance driving at the NCM Motorsports Park.
Where to Camp
Camp at the Bowling Green KOA nearby.
Camper Rental in Southern Kentucky
There are plenty of water sports available when you rent a camper in southern Kentucky.
Dale Hollow Lake
Dale Hollow Lake is over 27,000 acres, with plenty of room for boating and fishing. The lake is renowned for setting a world record with a smallmouth bass catch in 1955, and the lake also held the state record for a muskie catch at one point. Today, you can fish for bass, muskie, trout, walleye, and catfish among other species. There is also a boat ramp and full service marina. The park has 15 miles of trails and an 18-hole premier golf course that has been recognized by Golf Digest as well.
Where to Camp
Camp at the Star Point Resort on the lake.
Rent a Campervan in Southern Kentucky
Kentucky Down Under Adventure Zoo
Stop in at the Adventure Zoo and see alligators, bison, fainting goats, pythons, lemurs, and kangaroos. Tickets include entrance to both the zoo and the Mammoth Onyx Cave. The cave is one of the most beautiful and easily accessible caves in the U.S. You can see stalactites and stalagmites along with other cave formations like cave popcorn and cave cauliflower.
Where to Camp
Camping is available at the Horse Cave KOA & Kabins.
Motorhome Rental in Southern Kentucky
Big South Fork National River and Recreation Area
The Big South Fork National River and Recreation Area is one of the most popular destinations for adventurers in the southern part of the country. If you're a river rafter, the area has some of the best rafting in the country with rapids up to class IV-V, depending on the season. If you're an equestrian, there are more than 180 miles of horse trails, plus overnight boarding and stalls for the horses at night. If you love mountain biking, the International Mountain Bike Association has recognized five trails in the Big South Fork as EPIC mountain bike destinations. If you're a hiker, or an angler, or a boater, or a hunter, there are plenty of places in the recreation area to do those activities as well.
Where to Camp
Camp at the Blue Heron Campground in the Kentucky portion of Big South Fork.
Private RV Rentals in Southern Kentucky
Southern Kentucky has some nationally recognized golf resorts in the area as well. The aforementioned Dale Hollow Lake and General Burnside Island State Park were both designed by Brian Ault and feature beautiful landscaping and award-winning greens.
General Burnside Island State Park
General Burnside Island State Park was named for Civil War general Ambrose Burnside, who led patrols along the Cumberland River while on the lookout for Confederate soldiers. Today, the park has a newly renovated golf course on an island in the middle of Lake Cumberland. The course features Zoysia fairways, bent grass tees and greens. In 2009, the course received the 1st place Commonwealth Journal Readers' Choice Award as the "Best Place to Play Golf."
Where to Camp
Camp right at General Burnside Island State Park.
Wineries
Southern Kentucky is also home to several wineries. The Purple Toad Winery in Paducah is open and offers tastings seven days a week. Crocker Farm is a small winery, and the first bonded winery in the area to open after prohibition. The two-acre vineyard sells to commercial and home winemakers. Though they don't have tastings, they do offer tours of the vineyard and winery. Lake Cumberland Winery is on the shores of its namesake lake. They offer tastings and have wine by the glass or bottle available for purchase. They can also commemorate your visit by making you your own unique wine bottle label.
Where to Camp
You can camp at Fern Lake Campground in Paducah.
RV Rental Locations in Southern Kentucky
Southern Kentucky has a variety of activities to try. From whitewater rafting to wine tasting to golfing, vacationers in southern Kentucky are sure to find something to do. If you're looking to rent an RV in southern Kentucky, RVshare can help. The company has a search feature to help you find a private RV rental in southern Kentucky, or wherever you're heading on vacation. Whether you're interested in a motorhome rental or a small camper rental, the website can match you with the perfect vehicle for your trip.
---
Search For RV Rentals
$97
Las Vegas NV
Sleeps 5 / Class C Motor Home
$120
Morrison CO
Sleeps 6 / Sport Utility
$39
Loveland CO
Sleeps 2 / Travel Trailer