Top RVs Nearby
Get Free RV Rental Quotes Online From RVshare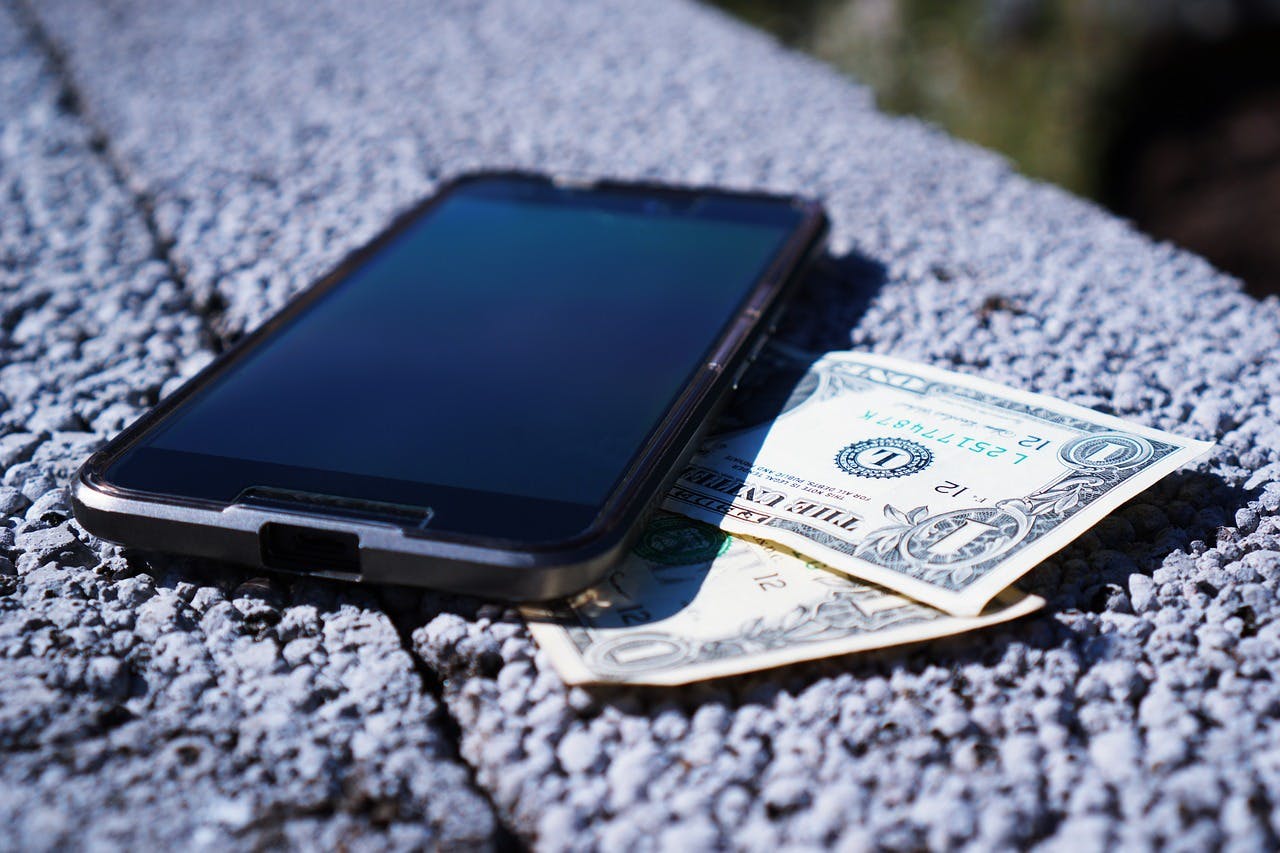 Renting an RV online has never been easier. Simply enter your travel dates, choose your favorite RV, and request a reservation. The tricky part about it, however, is figuring out exactly how much you'll pay. Sure, most chain rental services post their daily rates where they're easy to find, but a closer look at the fine print reveals enough additional fees to make your head spin. So, what's the best way to get an online RV rental quote for your budget and stick to it?
RVshare – A New Way to Rent
Before apps and online platforms made life easier for everyone, people had to rent RVs through large chains or small companies. Peer-to-peer networks have revolutionized the way people rent and sell goods and services. RVshare brought that technology to the RV industry. Now, you can connect with RV owners throughout the country and rent an RV directly from them. No more indifferent staff members, no more waiting on hold, and best of all – no more hidden fees! Here's a look at why P2P networks make a better choice than other services:
Our marketplace spans the country, which means you can find just about any type of RV, anywhere in the U.S. Most dealerships only have one or two types of RVs, so if you're looking for something unique or specific, you're out of luck. With RVshare, you'll find everything from tiny teardrop trailers to massive toy haulers.
You'll work one-on-one with the owner of the RV. You can message them through the website to ask questions or negotiate pricing. When you pick up the RV, they'll be there to show you how everything works. Of course, all this means that you'll have better customer service, right from the start.
Since owners set the rates and rental terms themselves, you'll often find rentals for much less than you would at a dealership. After all, RV owners don't have all the overhead that big-name rental services do!
You'll still have the same liability coverage that you would get with a big company. We offer up to $1 million in liability coverage. You'll get free, 24/7 roadside assistance, too.
Everything you need to know is right there in the listing. Daily rental rates, security and damage deposits, and optional extras are all listed in one place, so you don't have to read over fine print with a magnifying glass. The platform also features a rating/review system, which means you can get an unbiased opinion about the owner.
Owners usually offer seasonal and long-term rental discounts that can net you some pretty big savings. Plus, RVshare gives you 5% cashback rewards, which you can use toward your next RV rental!
How to Get an RV Rental Quote Online
If you're looking for an RV rental quote in the USA, check with RVshare first! Our market includes hundreds of thousands of RV throughout the nation, and requesting a quote takes seconds. Simply plug in your location and travel dates to pull up a list of available RVs in the area. You can browse through photos of the RV and check out a list of its amenities. About halfway down the page, you'll see the rates for daily, weekly, and monthly rentals. In many cases, you'll get a discount if you rent for longer than the minimum. You can click "request a quote" button to get a breakdown of charges from the owner.
Don't Forget to Add the Rental Fees!
Getting a motorhome rental online quote is easy, but not all quotes include the myriad fees for additional services. Luckily, calculating the extra fees through RVshare is simple. Everything you could possibly be charged for is right there in the listing, right underneath the nightly rates. Depending on what the owner charges, you may see fees like:
A security deposit that goes toward the cost of the rental
A refundable damage deposit
How many miles are included with your rental, and how much you'll pay if you go over (charged per mile)
How much it costs to use the generator if it's not included in your rental
Prices for optional extras, like linen kits or kitchen kits
Fees for pets, if any
Dumping or cleaning fees, if any
Cost of auto insurance, if the owner offers it
The owner's cancellation policy, and how much you'll get refunded if you cancel on short notice.
As you can see, it's not difficult to find each line item for your RV rental budget. With other motorhome rental quotes, this information is usually buried in other parts of the website or hidden in fine print. With RVshare, you don't have to go digging around to figure out the real cost of renting an RV.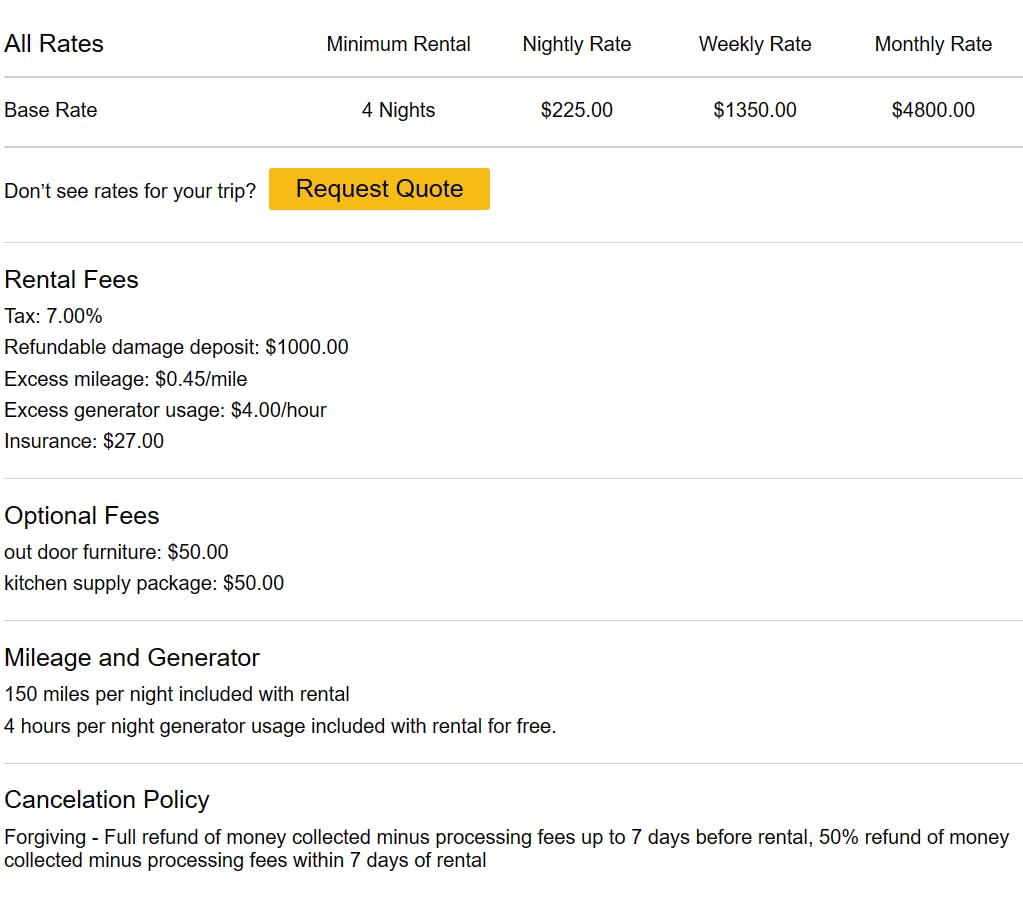 Safety First – What to do About Insurance
RV rental insurance can be a tricky subject. Most RV rental services (including RVshare) offer liability insurance included in the rental price. Liability insurance protects you against third party claims. But you still need to have auto insurance coverage to rent an RV. In some cases, the owner will let you jump on their coverage for around $20+ a day. In other cases, however, you'll need to get an RV rental insurance quote from another company, like MBA insurance. They offer affordable, flexible coverage options on RV rentals. To get a quote from them, fill out their online form to see which plans work best for you.
Conclusion
Getting a rental quote is the most important part of budgeting for your RV trip. Unlike other services, RVshare has low RV rental quotes that are easy to figure out – you don't have to be a registered accountant to estimate your expenses! All you have to do is get a quote for the rental rate, add any extras from the listing, tack on the cost of insurance, and you're done! If you have any questions, or if you want to try your hand at haggling, just send the owner a message. Good luck and happy camping!