RV Rental in Northwest California
Search For RV Rentals
---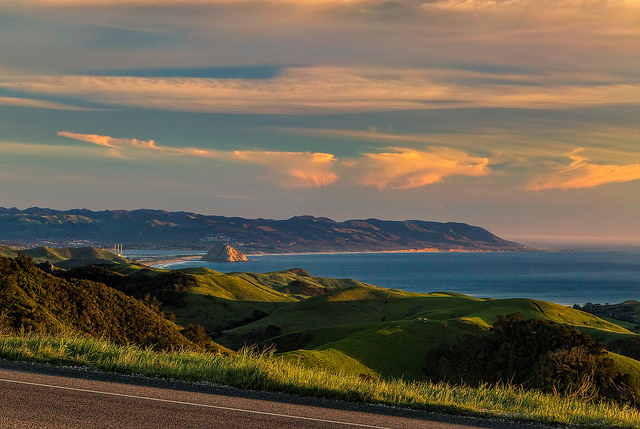 Camper Rental in Northwest California
Northwest California has it all. From ancient redwood forests to vineyards to the rugged coastline dotted with whales spouting from the sea. Rent an RV in San Francisco and head north over the Golden Gate Bridge along the infamous California Highway 1.
An RV rental in California is the best way to explore this massive and diverse state. California Highway Route 1 is one of the most iconic highways in America and its northern section is perhaps the most gorgeous and wild.
With nearby wineries, seaside towns, and over seven state parks, renting an RV and exploring northwest California at a slow pace is a must do. RV rentals, including motorhomes, campervans, and campers, are abundant in northwest California and range in costs, but no matter what your budget is, you'll find the perfect RV rental for your northwest California adventures.

Image Source: Sheila Sund via Flickr
Points of Interest
California Highway 1
California Highway 1, also known as the Pacific Coast Highway, is one of the most iconic American highways. Attracting millions of visitors every year, Highway 1 winds along the Pacific coast offering epic views for those who dare to take their eyes off the road. From Highway 1, you can find most of northwestern California's best points of interest.
Humboldt Redwoods State Park
Humboldt Redwoods State Park, located just 30 miles from Eureka, is Northern California's most visited state park. As you probably know, the park is famous for its redwood trees that can grow up to 350 feet tall. Humboldt Redwoods State Park is best explored by its famous Avenue of the Giants drive. The Avenue of the Giants is a 32-mile drive through the park with eight stops along the way giving you the highlights.
Point Reyes National Seashore
Just across the Golden Gate Bridge and the hectic city of San Francisco lies the Point Reyes National Seashore. The park is a 71,000-acre national seashore opened in 1962 to protect one of the best stretches of seashore along the west coast. During the winter months, you can spot migrating Gray Whales and you'll find plenty of Tule elk on Tomales Point throughout the year.
Mendocino
Mendocino is a charming village nestled between thick forests and a restless sea with only 1,000 year-round residents. Artists come from near and far to paint amongst its bluffs while others enjoy a morning cup of coffee on the porch of their Victorian-era homes. Mendocino is also a great place to go winetasting outside of Napa Valley.
Napa Valley
Speaking of Napa Valley, no California roadtrip is complete without a visit to Napa Valley. Home to over 400 wineries throughout the region, Napa Valley is the place to go if you love wine. Famous for its Cabernet Sauvignon, you don't want to miss a chance to go wine tasting here.
RV Parks in Northwest California
Shoreline RV Park – Eureka
Just minutes from the world's tallest trees and the ocean, Shoreline RV Park in Eureka offers a variety of RV pull-thru and back-in sites with full hook-ups. The historic town of Eureka is just a 15-minute walk from the park and nearby hiking trails and the beach will keep you active.
Vineyard RV Park – Vacaville
Nestled in the heart of wine country, Vineyard RV Park is the perfect place to park your RV for the night. This pet-friendly RV park has a large swimming pool, game room, and wireless internet. The office staff is knowledgeable and is happy to book you on any wine-tasting tour. This luxury RV park can handle motorhomes up to 64 feet.
Casper Beach RV Park & Campground - Mendocino
Nestled along the Pacific coastline, Casper Beach RV Park & Campground is one of Mendocino's best-kept secrets. RV sites can accommodate rigs up to 50 feet long and offer both full or partial hookups with wireless internet. The beach is just across the parking lot and several state parks are just a short drive away.
How to Find the Perfect RV Rental in Northwest California
RVshare is a community driven RV rental marketplace comprised of independent dealers and private owners who offer peer-to-peer RV rentals. Whether you're looking for a small RV rental or a motorhome rental, RVshare can help you find the perfect private RV rental in northwestern California.
Just head to our site and enter your city and see what RV rentals pop up. You can filter for things like price, type of RV, length, and year. Popular RV rental locations in northwest California include San Francisco, Humboldt County, and Napa Valley.
Once you've found the perfect RV rental, all you need to do is book your dates. Still not sure? You can always contact the owner for more information. You can even read the reviews to see what past RVers thought about their RV rental in northwestern California experience.
RV Rental Rates in Northwest California
RV rental rates in northwest California vary depending on the size and type of RV you're looking to rent. A Class A motorhome rental in the San Francisco area averages around $240 a night whereas small camper rental will cost about $150 a night depending on size.
And don't forget about the cost of fuel. If you're driving California Highway 1 from San Francisco north then you'll need to factor in the price of fuel as you'll be doing a lot of driving. Instead of a large motorhome rental, you might want to rent a campervan in San Francisco instead to save money on fuel.
Driving California Highway 1 through Northwest California is a once-in-a-lifetime trip. You'll drink coffee in tiny seaside villages, stand next to ancient redwood trees, and see the wild beauty of California's North Coast.
---
Search For RV Rentals
$100
Las Vegas NV
Sleeps 5 / Class C Motor Home
$39
Loveland CO
Sleeps 2 / Travel Trailer
$120
Morrison CO
Sleeps 6 / Toy Hauler