RV Rental in Northwest Alaska
Search For RV Rentals
---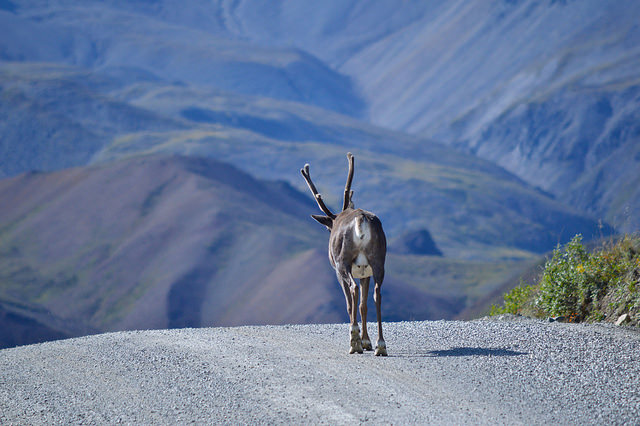 Out of all the states in the United States, Alaska tops the travel bucket list for many RVers and travelers. With millions of acres are pure wilderness, large native animal populations, and delicious fresh caught seafood, how can you not want to visit Alaska?
While thousands of people choose to visit Alaska by cruise ship, exploring Alaska by RV is the ultimate dream for many who prefer to travel off-the-beaten path. RV rentals are available in Alaska so you'll have no problems finding the perfect motorhome rental or camper trailer rent. Some people might prefer driving up to Alaska from the lower 48, but renting an RV in northwest Alaska will not only save you time but also money.
Image Source: Laura Pontiggia via Flickr
Rent an RV in Northwest Alaska
Alaska is home to pristine, untouched wilderness that just begs to discovered slowly. Whether you're looking for a luxury RV rental or small RV rental, RVshare has you covered with hundreds of private RV rentals in Northwest Alaska. You'll find a wide range of motorhomes, small campers, and camper trailer rentals around Fairbanks and Bethel in northwest Alaska.
Motorhome Rental in Northwest Alaska
Unfortunately, you won't find many Class A motorhomes in Alaska as they are often too big to travel the roadways of Alaska. Thankfully there are many Class C small RV rentals available in the Fairbanks region that will be perfect for your Great Alaska Roadtrip. Size doesn't matter as you'll be spending most of your time outside anyway!
Rent a Campervan in Northwest Alaska
Renting a campervan in Northwest Alaska is a great way to explore the best of Alaska and save on fuel. Just be careful as most campervans can't handle the rough Alaskan roads.
RV Rental Locations in Northwest Alaska
Alaska has several RV rental locations throughout the state. Since most of northwest Alaska is very remote with no access for vehicles, you'll have to rent an RV in major cities like Fairbanks, Anchorage, and Bethel.
Points of Interest in Northwest Alaska
Museum of the North
Housed in the University of Alaska, the Museum of the North is a museum of Alaska Native cultures, natural wonders, and diverse wildlife. It's opened daily and a great way to discover a little bit about the Alaskan way of life.
Denali National Park
Encompassing over six million acres of Alaska's wilderness, Denali National Park is one of the most beautiful and remote national parks in the United State. Home to America's tallest peak and thousands of grizzly bears, wolves, moose, and more, Denali is the place to go if you love the outdoors.
Chena Hot Springs
Alaska is cold and what better way to warm up than spending the evening at Chena Hot Springs! Located just outside of Fairbanks, the natural hot springs lake is open daily for adults to enjoy some relaxation and peace.
Trans-Alaska Pipeline
While you might not agree with the Trans-Alaska Pipeline, but it does bring vital crude oil to the United States. The Trans-Alaska Pipeline is one of the world's largest pipeline systems running over 800 miles from Prudhoe Bay to Valdez.
Riverboat Discovery
Due to Alaska's remoteness, one of the best ways to discover the beauty of the state is by boat. The Riverboat Discovery is a three-hour boat tour into the heart of Alaska and a family who has made the Alaskan rivers a way of life for over five generations. Make sure you bring your camera for all the wildlife you'll see!
Denali Flightseeing Tours
Very few people are brave and crazy enough to climb North America's tallest peak. Standing at over 20,000 feet tall, one of the best ways to catch a glimpse of her peak and surrounding national park is by air. There are many flightseeing tours in the area that will be willing to take you up in the air.
The Best RV Parks in Northwest Alaska
Riley Creek Campground – Denali National Park
Riley Creek Campground is a wooded campground in Denali National Park open to vehicles and RVs of modern size. Prices are very reasonable, but some of the spots are small. If you have a campervan or small RV rental than Riley Creek Campground is a great park to stay in.
Teklanika River Campground – Denali National Park
Located in Denali National Park near the visitor center, Teklanika River Campground is an RV-friendly campground. Sites are big enough for big rigs and most are pull thru, however, hooks are not available.
Riverview RV Park – Fairbanks
Located just 9 miles from both Fairbanks and the North Pole, the Riverview RV Park is a quiet escape from the city. The RV Park has 160 sites with full hook-ups, 30/50-amp electricity, and free cable TV and WiFi.
Chena Hot Springs Resort – Fairbanks
Opened seasonally from May through September, the Chena Hot Springs Resort offers affordable camping for both tents and RVs. Twenty-four sites are available, but there are no hookups. However, potable water and a dump station are available to use.
Planning Your RV Rental in Northwest Alaska
Alaska is a very remote state so it's important that you plan your RV adventure well. Alaska has long stretches of highway without any fuel stops so plan your stops accordingly. Even if you're not empty, always fuel up at every fuel station you see.
If you're traveling in the summer months, make sure your RV is outfitted with curtains or blackout screens as Alaska gets close to 24 hours of sunlight during the height of the summer, making sleeping difficult.
And, be prepared for high gas prices. You're in Alaska after all.
An RV Rental in northwest Alaska is a great way to explore the natural beauty of Alaska's wilderness. Whether you prefer a motorhome, campervan, or small RV rental, RVshare has you covered.
---
Search For RV Rentals
$100
Las Vegas NV
Sleeps 4 / Class C Motor Home
$39
Loveland CO
Sleeps 2 / Travel Trailer
$120
Morrison CO
Sleeps 6 / Toy Hauler