Search For RV Rentals
---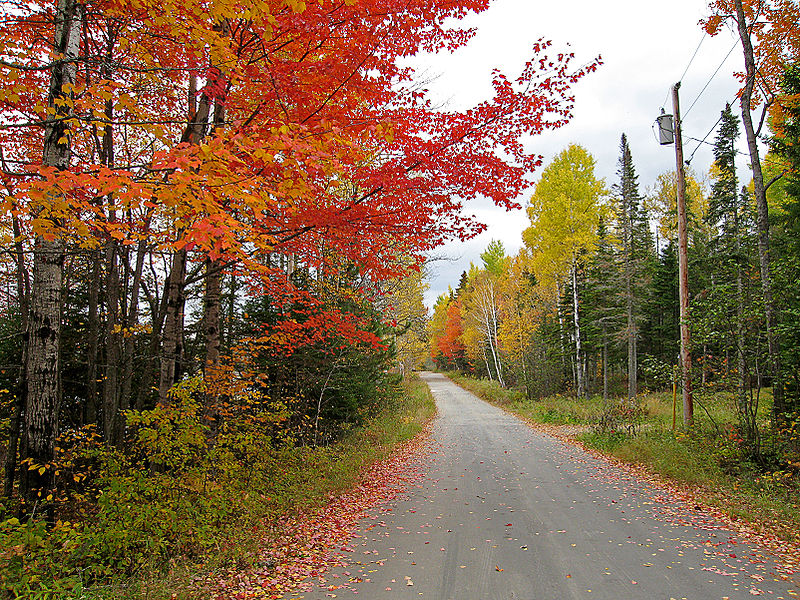 Traveling with an RV Rental in Northern Maine
Traveling by RV rental in Maine will lead you through some of the country's most stunning landscapes in every season of the year.
Photo credit: By pfly from Pugetopolis, upload by Herrick 07:31, 26 September 2007 (UTC) (Autumn in Maine) [CC BY-SA 2.0 (http://creativecommons.org/licenses/by-sa/2.0)], via Wikimedia Commons
See the Beauty of Northern Maine in a Camper Rental
In the spring and summer, visitors can enjoy Northern Maine's blossoming highlands and rugged coastline. In autumn, the interior forests of Maine provide travelers with vibrant fall colors at every turn. And in the winter, this region just south of the Canadian border becomes a snow-filled wonderland for wilderness enthusiasts and wildlife lovers alike.
Hancock and Washington County cover the most popular coastline in Northern Maine, which you'll find dotted with quaint beach towns to explore. Winter Harbor, for example, is a lovely peninsula popular for bicycling, hiking, and kayaking.
Drive Along the Schoodic Scenic Byway with an RV Rental in Northern Maine
The Schoodic Scenic Byway will take you through this town and out to the Winter Harbor Light on Mark Island, a lighthouse dating back to 1865. The town is also home to a vibrant arts scene, an annual lobster festival, a number of great seafood restaurants, and even a lobster co-op.
Also along the Schoodic Scenic Byway is Acadia National Park, the country's first national park along the eastern coastline. Apart from housing the tallest mountain on the east coast, the park is also filled with Maine's quintessential rugged granite cliffside beaches. Take a hike along one of the cliffsides for unreal views of the Atlantic Ocean, go on a bicycle ride down historic carriage roads, or relax on Cadillac Mountain and watch the incredible sunrises from the first place in the U.S. to see the sun rise each day.
There are several options for camping within the park with your motorhome rental in Northern Maine, but only the Schoodic Woods Campground accommodates large RVs. It's situated 3 miles from Winter Harbor and offers full hookups.
Birch Point Beach State Park
Birch Point Beach State Park is another popular coastal park for travelers with a travel trailer rental in Northern Maine. Just south of Owl's Head, the park offers panoramic views of the Penobscot Bay, sandy beaches, and great, calm swimming in the ocean. You can also go fishing, picnicking, and keep your eyes peeled for some of Maine's wildlife.
Although no camping is allowed within the park, there are some nice campgrounds just north of Owl's Head in Rockport, Maine. Camden Hills Campground has full amenities and even a large swimming pool and recreational area. Megunticook Campground has modern facilities with wonderfully maintained bathrooms, spacious camp sites, and a large picnic area that overlooks the ocean.
Take a Motorhome Rental in Northern Maine to Caribou
The Most Northeastern City in the United States
If you want to visit the most northeastern city in the United States, you can do that with an RV rental in Northern Maine. You'll want to drive up to Caribou, Maine, just minutes from the Canadian border.
Here you'll find some of the best snowmobiling in the country and hints of Nordic culture. Visit the Scandinavian gift shop in town or check out the Swedish colony just down the road. Trout and salmon fishing are popular, and if you're there during harvest, there are lots of local farms where you can pick your own berries and pumpkins.
Visiting Fort Kent with a Small RV Rental in Northern Maine
Fort Kent, located at the northern end of Highway 1, which starts all the way down in the Florida Keys, offers some great sights and activities as well. The Heritage Trail is a snowmobiling, shoeshoeing, and walking trail that takes you through the backroads of Fort Kent.
Dogsled races can be enjoyed at Can-Am, and the area has tons of great festivals throughout the year, such as the Scarecrow Festival, the Muskie Derby, and the Ployes Festival. You can also canoe down the lovely St. John river in the summer.
Exploring Bar Harbor with an RV Rental in Northern Maine
Bar Harbor, a small village on Mount Desert Island, is one of the best places to visit with an RV rental in Northern Maine, especially if you love recreational activities. There is no shortage of things to do here, from golfing and whale watching to sailing the Atlantic and hiking the several mountains that can be found in the area. The whole town can also be explored by canoe or kayak, and local companies do kayak tours as well as lobster boat rides and nature cruises.
Bar Harbor campground is a great place to stay if you want to be close to it all. They offer full hookups, plumbed restrooms, showers, and wifi. You can also enjoy several walking trails within the grounds and a recreation room.
Experience Bangor with a Camper Rental in Northern Maine
Of course, you can't visit with a motorhome rental in Northern Maine and not go to Bangor. Although it is fairly small, its rich culture and wealth of activities rival other more bustling cities. Several theater companies and a symphony and orchestra in Bangor are great places to catch a show.
If you come in August, you can check out their American Folk Festival, the Kahbang Music & Arts Festival, and even the Senior League World Series. In April the town holds canoe races.
The Paul Bunyan Campground is the only RV park located in Bangor. However, just 5 miles outside of the city you'll find the Pleasant Hill Campground in Herman, Maine. This option is preferable, as they offer more amenities: full hookups, water, sewer, wifi, and pool access.
How to Book a Private RV Rental in Northern Maine
If you're ready to reserve your travel trailer rental in Northern Maine and explore all of the beauty that the pine tree state has to offer, search for RV rentals through our peer-to-peer network. You'll find many options for private RV rentals in Northern Maine, so there's something for everyone.
If you want to learn more about how it works, check out our FAQ.
---
Search For RV Rentals
$100
Las Vegas NV
Sleeps 5 / Class C Motor Home
$39
Loveland CO
Sleeps 2 / Travel Trailer
$120
Morrison CO
Sleeps 6 / Toy Hauler