RV Rental Northern Louisiana
Search For RV Rentals
---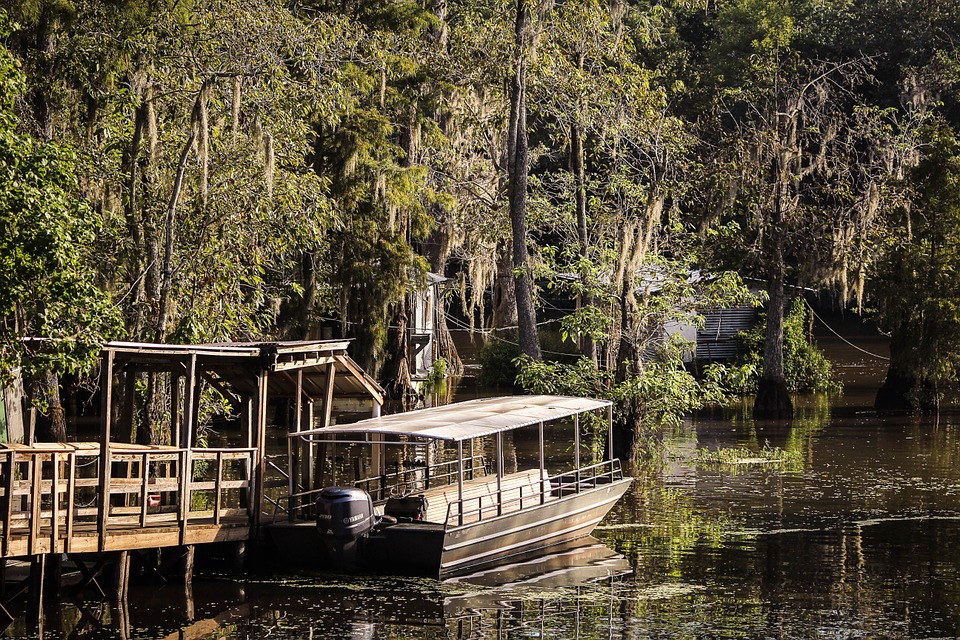 Rent an RV in Northern Louisiana
If you're ready to head to the deep south and explore the Bayou State, there's no better way than with an RV rental in Northern Louisiana.
Photo credit: James DeMers on Pixabay
Scenic Routes with an RV Rental in Northern Louisiana
The Boom or Bust Byway is the perfect route to start your trip off. Paying tribute to the tumultuous past of the area and its make or break attitude, the Boom or Bust Byway passes through beautiful scenery that will give you a good idea of the region's heritage. In a fairly short drive, you'll cover white fields of cotton, large pastures, and several of the area's exotic crops.
If you're heading toward Mississippi, take the historic US 80, starting in Ruston and ending at the state line. You'll pass vibrant farms, large forested landscapes, and vistas of wide open lands. The areas you drive through were significant logging and farming regions throughout the state's history.
Visiting Monroe and Shreveport with a Camper Rental in Northern Louisiana
Located just an hour and a half distance from each other, Monroe and Shreveport are two hubs to visit and stay in while traveling with a motorhome rental in Northern Louisiana. Monroe is a good spot for cultural activities and shopping, while Shreveport is known as a "sportsman's paradise".
Monroe is a small metropolitan town with several golf courses on Louisiana's lush grasslands as well as great shopping areas and outlet malls. You can also visit the Chennault Aviation and Military Museum and take a tour of the area's history from colonial times all the way up to modern day. You'll even find one of Louisiana's famed bayous, the Bayou Desiard, in Monroe. You can fish and boat through certain areas.
Bayou Boeuf RV Park is right on the bayou and offers hookups, pull through sites, wifi, restrooms, and showers. It features large shaded sites and fire pits as well as wonderful views.
For some truly excellent fishing, do not miss Shreveport. There are a number of great fishing and boating spots on the city's numerous lakes and rivers, and the family can partake in a number of recreational activities in the area. A visit to the rose garden is also worthwhile.
However, Shreveport also offers some great events and cultural activities. You'll find a handful of historic sites dedicated to the region's rich oil culture and the mansions that were commissioned by old oil tycoons. The city also has five casinos.
In May, Shreveport is host to an impressive air show complete with Air Force machinery. Mardi Gras in the spring and CORK, a wine tasting festival in the fall, are also very enjoyable. For some excelled boiled crawfish and other typical bayou foods, be sure to check out the Summer Festival.
Bossier City KOA is a lovely nearby campground with full hookups, restrooms, and showers as well as paved sites. Lake Bistineau State Park offers RV camping as well and features large sites with wooden decks, full hookups, and wifi. You can walk the campground's many trails or go biking or fishing while you're there.
Take a Small RV Rental in Northern Louisiana to Kisatchie National Forest
Once you're ready to head out into the wilderness with your travel trailer rental in Northern Louisiana, check out the Kisatchie National Forest, covering 600,000 square acres of land. There you'll find some very interested flora, including large cypress trees, pine forests, and wide open bayous. Louisiana's only national forest, the region also boasts frequent bird and wildlife sightings and ample hiking and biking trails.
The fishing in the Kisatchie National Forest's bayous is a dream, and hiking the forest's trails will lead you to countless wide open vistas of the area. If you don't feel like walking or biking, the park also has paved roads for pleasant scenic drives.
Colfax Recreation Area RV Park and Campground is nearby and offers bathrooms, showers, hookups, very good wifi, and big rig access. It is a federally managed facility, and also has boat launches and a pier for fishing.
How to Find Private RV Rentals in Northern Louisiana
RV Rental Locations in Northern Louisiana
If you're ready to take your family on a trip with an RV rental in Northern Louisiana's historic cities and beautiful bayous, simply search for RV rentals on our peer-to-peer database of private RV rentals in Northern Louisiana.
You'll find a huge variety of options, and you can filter your results by type, size, and price to find the best rental for your needs. You can even look for a one way RV rental from Northern Louisiana if you're interested in taking your RV rental down to New Orleans or beyond.
Rent an RV in Northern Louisiana the Safe and Easy Way
Your payments on RVshare are always protected by our $10,000 peace of mind guarantee. What's more, your trip is completely covered by our 24/7 roadside assistance. If you love your RV rental, which we're sure you will, we even offer a rewards program with discounts for return customers.
With so much to see in this beautiful country, and with private RV rentals being the most affordable and flexible means of travel, there's no reason not to hit the road with a travel trailer rental in Northern Louisiana.
Book your motorhome rental in Northern Louisiana on RVshare today, and get ready for your journey!
---
Search For RV Rentals
$100
Las Vegas NV
Sleeps 4 / Class C Motor Home
$39
Loveland CO
Sleeps 2 / Travel Trailer
$120
Morrison CO
Sleeps 6 / Toy Hauler