RV Rental Northern Kentucky
Search For RV Rentals
---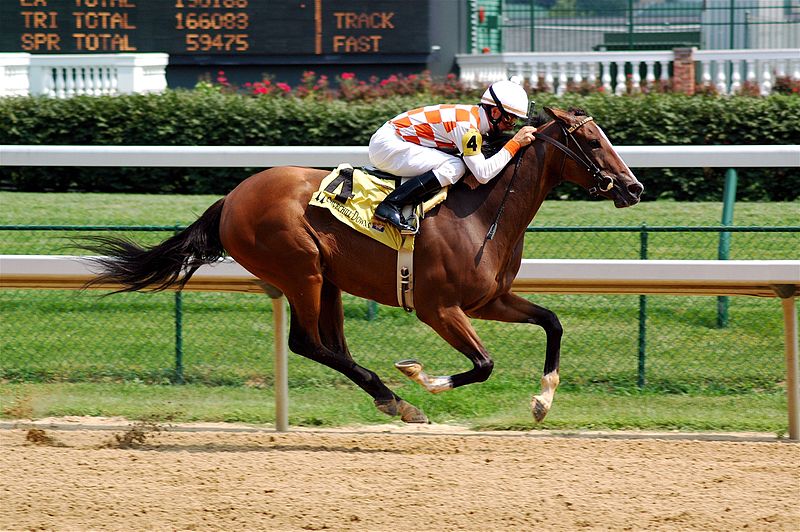 How to Find an RV Rental in Northern Kentucky
Anyone planning to travel with an RV rental in Kentucky probably already knows that this corner of the United States is full of great sights and activities, from river gorges to horse races to national heritage sites.
Photo credit: By Flickr user Jeff Kubina (Flickr here) [CC BY-SA 2.0], via Wikimedia Commons
Exploring Northern Kentucky with a motorhome rental or travel trailer rental is one of the best ways to get around. Not only is it the most affordable and flexible method of travel, but it also allows you and your family to stay in some beautiful RV parks and campgrounds right in the midst of the region's natural wonders.
Exploring the Red River Gorge with a Camper Rental in Northern Kentucky
The Red River Gorge route area is one of Kentucky's greatest and most unique sights. Here you'll find stone arches, cave systems, cliffs, ravines, and a number of waterfalls. Within the route, you're completely surrounded by preserved lands that offer stunning views of mountains and steep cliffs that line the road.
The gorge features a number of fantastic hiking trails that lead to the many waterfalls and natural bridges that dot the region. There's a trail here for everyone, from paved trails for more relaxed walks and off-the-beaten-path trails for the more advanced hiker.
Due to the many boulders and steep cliffs in the area, there are plenty of opportunities for avid rock climbers as well. The Nada logging tunnel is a must see within the gorge. It's a 900-foot tunnel that was used for logging and mining and can now be hiked through.
There is camping available within the Red River Gorge itself, but it does not offer any amenities. For something more RV-friendly, it's recommended to stay in or near the town of Lexington.
Stop in Lexington with a Motorhome Rental in Northern Kentucky
Lexington itself is a stop that can't be missed, especially if you're a horse enthusiast -- it is actually the horse capital of the world.
Tied to the University of Kentucky and dominated by the horse industry, much of the area's culture and scenic beauty revolves around the horse farms that line the landscape and the many shows and events related to them. While you're in town, touring the horse training, racing, and breeding sites is well worth your time.
Triangle Park is one of Lexington's central meeting points and an area with many fun events and activities. In the summer, the park offers a cute cafe and restaurant and lovely illuminated fountains. In the winter the park installs an ice rink that visitors can go skating on. You'll also find a number of historic buildings and restored old theaters in Lexington, as well as the Lincoln House, the Waveland Historic Site, and the Hunt-Morgan House.
Cummins Ferry Campground and Marina is very convenient to Lexington and offers pull through sites with big rig access, plumbed toilets, showers, full hookups, and wifi. It's a little bit outside of common routes, but the drive there is beautiful and it makes for a tranquil, secure campground.
Fort Boonesborough State Park is another option offering all the same amenities as well as paved roads and over 150 sites. It's a little less out of the way, situated right in historic Fort Boonesborough with access to a museum that houses items from Daniel Boone.
Where to Go with a Camper Rental in Northern Kentucky
Drive the Wilderness Road Heritage Highway & Visit Louisville
The Wilderness Road Heritage Highway is another route that's not to be missed if you've got a motorhome rental in Northern Kentucky. This historic route was critical to the settlement of the west during the Civil War and thus is home to many historical stops along the way. You'll also pass by both Cumberland Gap and Renfro Valley as you head into Berea, the capital of Kentucky's arts and crafts culture.
Of course, you can't Louisville if you're traveling with an RV rental in Northern Kentucky. The largest city in the state, Louisville is full of fun activities for the whole family. If you're a baseball enthusiast or horse race fanatic, it's surely not to be missed. Check out Louisville Slugger Field or the horse races at Churchill Downs.
Located right on the Ohio River, with beautiful historic architecture and a small, walkable downtown area, Louisville is a great city to spend a day just walking around. Stop by the Highlands shopping district for bustling shops, art galleries, bars, coffee shops, and upscale boutiques.
For some outdoors time in the city, check out one of the area's many wonderfully landscaped parks, such as Cherokee Park, Iroquois Park, and Shawnee Park. From there you can enjoy views of the entire city and beyond, out the the rolling hills of greater Kentucky.
Charlestown State Park is near Louisville and offers a lovely lakeside getaway with RV camping. Sites include paved roads and full hookups as well as plumbed restrooms and showers. The lake offers boating, jet-skiing, and fishing. Deam Lake State Park is another nearby option that includes plumbed restrooms and showers as well as wooded campsites and fire pits, but they do not offer hookups.
Frankfort, Kentucky with a Motorhome Rental
If you've got some extra time with your pop up camper rental in Northern Kentucky, stop by Frankfort and stay for a couple days. Deep in the valleys of the Kentucky River area, this town offers lovely views, old cemeteries, and historic bridges like the Switzer Covered Bridge.
You can also visit the early 20th century Berry Hill Mansion, or the Liberty Hall Historic Site and Orlando Brown House, home to one of Kentucky's most important families. Two wildlife sanctuaries in the town are also worth the stop.
Elkhorn Campground and Whispering Hills RV Park are two great options for accommodation in Frankfort. Both offer hookups and well-maintained amenities, although Elkhorn Campground is closer to Frankfort and features as swimming pool.
How to Book Private RV Rentals in Northern Kentucky
When you're ready to start planning your trip, head on over to RVshare and search our huge database of private RV rentals in Northern Kentucky and beyond. You'll find an array of options, from large motorhomes to small camper vans. Whatever you're looking for, you'll find plenty of cheap RVs for rent in Northern Kentucky.
Head over to our FAQ to learn more about how it works, and start planning your next family vacation today!
---
Search For RV Rentals
$100
Las Vegas NV
Sleeps 5 / Class C Motor Home
$39
Loveland CO
Sleeps 2 / Travel Trailer
$120
Morrison CO
Sleeps 6 / Toy Hauler